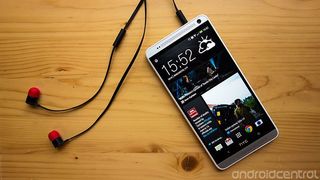 Does the world n​​eed a 5.9-inch HTC One?
We like the HTC One. Twice this year we've said it was the best Android phone you can buy, and there's a strong argument for saying that's still the case today. When it arrived back in March, the HTC One bucked some of the major high-end smartphone trends of the time. A metal shell, not plastic. A quirky two-button setup. A 4-megapixel camera that focused on pixel size, not megapixel count. And a screen no larger than its predecessor, at 4.7-inches, in a world of rapidly ballooning display sizes.
Nevertheless, big phones are, and look set to remain, a thing. The success of the Samsung Galaxy Note series has inspired competitors to have a crack at their own unashamedly large smartphones. This year we've seen the Optimus G Pro from LG, the Xperia Z Ultra from Sony and even the Ascend Mate from Huawei. It was only a matter of time before HTC arrived — fashionably late, of course — at the oversized smartphone party.
It's easy to look at the One Max and assume you're just dealing with a bigger HTC One. That's not untrue, but there's more going on than a mere expansion of an existing phone into a new form factor — and that's both good and bad. The Max delivers some subtle differences in design and build, a fingerprint sensor around the back, expandable storage and an array of new software tricks thanks to HTC's new Sense 5.5.
But does the world need a 5.9-inch HTC One? And what of the competition from the likes of Samsung, which has just launched its Galaxy Note 3 amid much fanfare. Let's find out after the break, as we take an in-depth look at the new HTC One Max.
Pros
Big, bright display. Solid build quality. Speedy performance. Sense 5.5 adds some really useful features without complicating things too much. Great battery life.
Cons
Enormous size makes it difficult to handle. Disappointing camera. Only 16GB of base storage. Fingerprint scanner offers questionable value.
The Bottom Line
The One Max is more than a big HTC One, but also a lesser phone than the HTC One. If you're after the full HTC experience on a larger display, well, for the most part, this is that device. And right now it's the closest you're going to get to an HTC tablet. But for most buyers the smaller, better-looking HTC One, or the higher-end and more manageable Galaxy Note 3 will be better options.
Swipe to scroll horizontally
HTC One Max and HTC Sense 5.5 vide​o walkthrough
Hardware, design and build quality
Over the past year, HTC has developed its own iconic design language. Unlike previous generations, which came in all shapes and sizes, the HTC phones of 2013 are characterized by big, bassy front-facing speakers, metal back panels and a bold new two-button setup. So pull the "Max" out for the first time and it's clear exactly what it is and who's behind it. The phone's enormous display is sandwiched between two large "BoomSound" speakers, with an HTC logo sitting between the home and back keys. Turn it over and you're greeted by a familiar brushed aluminum back etched with the company's insignia. Yep — this is an HTC One.
And yet there are subtle differences around every corner. Like the One Mini, the Max eschews the exposed metal edges of the HTC One in favor of a more plasticky trim (this time matte, not glossy.) As such there are no exposed, lustrous chamfers around the outside of the device, meaning the Max looks and feels a little less high-end than the 4.7-inch One. (Fortunately the speaker covers on the Max are back to being aluminum, rather than the cheaper-feeling plastic found on the front of the One Mini.)
The basic geometry of the One Max mirrors that of other recent HTC phones — the front is completely flat, but the back has a pleasing, hand-friendly curve to it that makes it easy enough to palm despite its gigantic size. Beneath the rear-mounted "Ultrapixel" camera there's a new addition — a capacitive fingerprint scanner, which can be used for lock screen security or quickly launching certain apps. We'll get to how useful this is later in the review, but in purely aesthetic terms it does look a little odd, interrupting the smooth curve of the back panel.
Due to the Max's larger size, some of the buttons and ports have moved around a bit. Helpfully, the power button is no longer located along the top of the device. Instead it's situated on the right edge, below the volume rocker. Up top there's still a front-mounted IR port — for use with the built-in Sense TV app — and headphone jack, with microUSB down below.
The Max also has a removable back cover, accessible by releasing a small latch on the left edge of the device. Beneath the door sit the microSD and microSIM slots. There's no removable battery here, though there are official options for expanding upon the capacity of the Max's built-in 3300mAh juicer, which we'll get to later in the review.
Our review unit is a near-final, but still pre-production European One Max, and HTC pointed out to us that on these specific models the battery door has some alignment issues. That's certainly true of the device we've been using — getting the back panel re-sealed properly after installing a SIM or SD card is an exercise in frustration. Hopefully, as the manufacturer claims, these build issues will be worked out in final retail devices, because right now it's kind of a pain in the ass.
As with many hybrid devices that straddle the line between smartphones and tablets, the Max's sheer size is its main differentiator and selling point, as well as a major weakness. It's clear that care has been taken to keep the device as narrow as possible — in fact, it's only a hair wider than the 5.7-inch Galaxy Note 3. But like its smaller siblings, the addition of front-facing speakers makes it very tall indeed. Good luck reaching the notification shade — or anything north of halfway up the screen — with one hand.
But let's not kid ourselves here — the HTC One Max is in no way a one-handed phone. In fact, it's barely a phone at all. As we've said of even larger handsets like the Galaxy Mega 6.3, devices of a certain size cease making sense as phones and start coming into their own as miniature, 4G-connected tablets. That's where the Max sits, too. Its large screen makes for a better reading, viewing and gaming device, and the frontal BoomSound speakers give it a leg up on the Note 3, which includes a comparatively weak single speaker on its bottom trim.
And BoomSound on the Max sounds just as loud, clear and bassy as on the regular HTC One. In fact, we'd even say the Max is a bit louder than the regular One, likely due to the larger chamber size.
There is, however, one notable gap in the HTC audio equation in this instance. The One Max is the first high-profile HTC phone for more than two years to ship without Beats Audio, likely due to the brief marriage between the two companies coming to an abrupt end last month. You won't see any Beats branding on the back of the Max, nor will you find any reference to it in the settings. The impact on audio quality is less striking, though still noticeable. With the same tracks playing on an HTC One and a One Max, side by side, with identical volume levels, we were able to tell the difference. The Max's output sounded just a little bit flatter, whereas Beats on the One produced noticeably bassier music. It's probably not something you'll notice unless you have an earlier HTC phone to compare, but it's there nonetheless. What's more disappointing is that there's no traditional EQ menu to replace the absent Beats Audio software tweaks.
Of equal importance is the One Max's display, a 5.9-inch 1080p LCD panel that's about as good as what we've witnessed on the HTC One and One Mini. Pixel density may be reduced on account of the Max's larger size, but the screen is no less bright and clear. A few differences worth noting — like the HTC One Mini, the Max's colors are slightly warmer than those of the original One, and just a little less punchy. But really, that's something you'll only notice with the two side by side.
HTC's screen doesn't quite match the insanely vivid colors offered by AMOLED, nor the pitch blacks associated with that technology, but images (and colors in general) do appear more realistic than the OLED-based competition, and daylight visibility and viewing angles are as good as we've seen on any smartphone display.
Beneath the hood, the One Max shares much of its internal hardware with the HTC One. It's powered by a 1.7GHz quad-core Snapdragon 600 CPU with 2GB of RAM and 16 or 32GB of storage, expandable through the microSD slot. This places HTC's big-screened device a tier below the Galaxy Note 3 and Sony Xperia Z Ultra in terms of raw hardware muscle, but despite this the Max is far from sluggish. In regular use it's every bit as fast as the HTC One, which is itself a very speedy smartphone.
Connectivity options mirror those of the One — Wifi a/b/g/n/ac, Bluetooth 4.0, DC-HSDPA up to 42Mbps and Cat. 3 LTE with 100Mbps down and 50Mbps up. And it makes calls perfectly well too, despite its enormous frame, with HTC's Sense Voice tech kicking in to boost call volume in noisy environments.
Nevertheless, for what's apparently a premium product — this is the One Max, after all — there are parts of the phone's hardware that seem oddly compromised. The step down to 16GB of storage as a base is perplexing when the original One ships with 32 as standard. The rear camera lacks OIS (optical image stabilization) to compensate for hand motion, and the move to a "wrap-around" plastic trim means it doesn't look as classy as the regular One, nor feel as nice in the hand. The fact that Beats Audio has vanished, apparently with nothing to replace it, also gives the Max one less bullet point on its box.
None of these things are deal-breakers, but they make for an odd situation where, in many ways, the older handset is both technically superior and better-looking. Perhaps the Max will target a price point near or below the HTC One, but with little info on pricing it's hard to make that determination.
HTC One Max accessories
As with earlier handsets, HTC will offer official first-party accessories for the One Max. The leading accessory is the HTC Power Flip Case — similar in appearance and function to the official flip cases for the One and One Mini, this one includes a built-in 1200mAh battery in the front part of the case, and connects to the phone through the pogo pins on the back. Like other HTC flip cases, it doubles as a stand for the phone, and it'll sell for $90 in the US, £79.99 in the UK and $89.99 in the eurozone.
In certain markets (not including the U.S. or Europe) a capacitive stylus will also be offered for the One Max.
Hit up the ShopAndroid newsletter to learn when new accessories come into stock.
Software, features and Sense 5.5
The HTC One Max runs a brand new version of HTC's Sense software atop the latest Android 4.3 Jelly Bean. HTC Sense 5.5 builds upon the new modern, minimalist Sense 5 with a bunch of new features, mainly focused on the BlinkFeed home screen launcher, the Gallery app and the lock screen.
So the overall look and feel of Sense hasn't changed, and that's a good thing. HTC's UI remains our favorite Android "skin," with speedy performance, attractive visuals and subtle animated flourishes that add dynamism without getting in the way. For more on the basics of Sense 5, check out our reviews of the HTC One and One Mini; in this review we'll focus on the new stuff in Sense 5.5.
BlinkFeed and the home screen
First is HTC BlinkFeed, the vertical-scrolling list of news, social updates and other stuff that's a central part of HTC's 2013 portfolio. It also proved somewhat controversial on Sense 5 devices, as there was no way to disable BlinkFeed without using a third-party home screen launcher. That's no longer the case in Sense 5.5 — an easy toggle now allows you to switch BlinkFeed on and off at a whim, which will please those looking to keep the stock launcher and its widgets without HTC's news reader.
For regular users, BlinkFeed is better than ever — and not just because you can turn it off. A slide-out menu now allows you to view all the sources for your feed, add new ones and search your feeds. You can even save topics of interest and pin them to the sidebar for quick access, which is a neat way to make sense of the firehose of information BlinkFeed delivers.
BlinkFeed also supports a lot more sources now. In addition to the standard news topics, Twitter, Facebook, Gallery updates and other on-device stuff, BlinkFeed gets support for RSS, Instagram (recently added to the HTC One through a software update) and Google+ — including the ability to post directly to your G+ circles.
If you're a big Google+ communities user, though, you may want to think twice before adding it to your BlinkFeed, as it's not possible to filter out communities spam from your feed besides removing individual posts. RSS support, a long-requested feature for news hounds, has been implemented — though you'll need to import feeds one at a time through the HTC browser.
In a nutshell, BlinkFeed has taken a big step towards a one-stop destination for social and news content. It's still not going to replace your RSS reader, if you use one, but it's getting closer to catering to all the needs of power users, and that's a good thing. As is the ability to turn it off if it's not your cup of tea.
As for the home screen itself, you can now add up to five non-BlinkFeed home screens — one more than before — and icons are arranged in a 5x5-icon grid layout, on account of the larger amount of screen real estate on offer. Most HTC widgets will expand gracefully to fill the larger home screen arrangement, but there are some notable exceptions, including the agenda widget and old-style flip clock widget.
Fingerprint scanner
As we mentioned — and as you can plainly see on the back of the device — the HTC One Max has a rear-mounted fingerprint scanner. The scanner's function is twofold — firstly, as a form of biometric security, to keep prying eyes away from your phone. Secondly, as a way to quickly launch apps when you're unlocking the phone.
Setting up fingerprint security is easy enough — find it in the settings, then swipe your finger of choice four times on the sensor to calibrate it. From there you can use it for basic lock screen security — swipe your finger on the scanner to unlock the phone — or tie it to an app shortcut, letting you unlock and immediately launch that app. Up to three fingers can be saved at any one time.
Used for security alone, the fingerprint scanner works well enough. In our testing of the feature we didn't run into any reading errors, provided we swiped down the middle of the scanner each time. But despite the fact that it (mostly) works as advertised, there are a few problems with HTC's implementation of the fingerprint scanner. For many people the Max will just be too large to make use of multiple fingers easily — it's a one-handed feature on a two-handed phone. And even with one hand, the action of pressing the back of the phone is a little awkward, and eliminates the ability to easily check notifications when the phone is lying flat on a surface. These are many of the same complaints we leveled against the LG G2's funky back-mounted buttons.
It's also not possible to use the fingerprint scanner solely as an app-launch shortcut, as you can't use your fingerprint to load apps unless you also have security enabled.
So we suspect a majority of One Max owners will try the fingerprint scanner once before ultimately turning it off and ignoring it. For us at least, it's an oddity, not a value-adder; as always, your mileage may vary.
Gallery and video highlights
The HTC Gallery app has also been re-tooled in the new Sense, making it easier to navigate and giving users more control over video highlights and HTC shares. In place of the dropdown lists of old, you can now swipe left and right to navigate between events — your photos grouped into specific windows of time — albums — a traditional folder view — and your HTC shares, as they're stored online. From the top-level menu it's easy to choose exactly how you want to view your stuff, and manage the 250MB of share storage you get from HTC, too.
Similarly, once you've got an event or album selected, you can swipe between a traditional gallery view, a location-based view and a video highlights. The latter is another area that's been overhauled in Sense 5.5, giving much more granular control over video highlight reels. Individual photos, videos and Zoes — little three-second video clips that include a photo — can be tagged for inclusion, before selecting a theme and, if desired, custom music too.
There are 12 new video highlight templates on the HTC One Max, though bizarrely none of the themes from the HTC One are included. In general, the new themes in Sense 5.5 are a little more laid-back (though some, like "Swellington" are pretty energetic), and on the whole they sound a bit less like movie trailers than the video highlights of old.
Video highlights in Sense 5.5 are arguably less effortless and immediate than before. (You need to swipe over to the correct pane to see them, for example.) But the new interface also empowers users to tweak their highlight reels and create something truly personalized.
Other apps
Scribble is a new note-taking app in Sense 5.5, which allows you to take written or typed notes, along with audio recordings and photos. There are a bunch of different templates to choose from, and notes can also be linked to calendar events for easy access. Unfortunately there doesn't see to be any online sync support for Scribble notes, however.
And finally, the One Max's front-mounted IR blaster works with the built-in Sense TV app, just as it does on the HTC One. Sense TV requires a bit of setup (you'll need to input your TV manufacturer and go through some trial and error at the start). But before long you'll be presented with a grid of currently-airing shows to choose from.
Sense TV can also integrate with BlinkFeed, showing you when favorite shows are about to start.
Additional Sense 5.5 bits...
You can now customize the list of quick settings and shortcuts in the notification shade, choosing 12 from a list of 21 total shortcuts, with new additions including fingerprint scan, do not disturb and screen timeout.
HTC has partnered with Google to offer 50GB of free Google Drive space for One Max owners, on top of the 15GB free storage. This replaces the Dropbox integration in earler HTC phones, and the HTC Backup feature now backs up the phone to your Google Drive instead of Dropbox.
A new "do not disturb" mode lets you block incoming calls and turn off sound, vibration and notification LED
Lock screen widgets, implemented half-heartedly in Sense 5.0, gets revamped in version 5.5. Swiping from the right corner lets you view lock screen widgets of which a few are available out of the box. A side effect of this is the old "lock screen style" setting has been removed.
The task-switcher has been redesigned with larger app previews and less dead space.
For some reason HTC still includes Adobe Flash Player and supports it in its stock browser app.
There's a lot to like in HTC's latest software suite, and we can't wait to try it out on the HTC One and One Mini. In the meantime, HTC One Max owners can enjoy one of the best Android-based software packages around.
Battery life and power management
The HTC One Max includes a built-in 3300mAh battery, which is among the highest capacities even for large form factor handsets, and the device met our high expectations for longevity. We were able to get more than 16 hours of heavy use from a single charge in our first full day with the Max. This consisted of time split equally between LTE and Wifi networks browsing and social networking, streaming music from Google Play Music and taking a few dozen photos, videos and Zoe clips. Auto-upload to Dropbox was enabled during this time, and we later exported 12 video highlight clips. Brightness was set to "auto" for the duration of our test.
To put that in perspective, that's a full day of thorough use starting with unplugging the phone at around 9am and charging again at 1:30am, with 16 percent charge remaining. With more conservative use you'll certainly be able to pass the 24-hour mark in a single charge.
HTC also offers a power-saving mode that allows you to cap CPU power and display brightness, kill the vibration motor and put the data connection to sleep when the screen is off, if you're looking to extend the Max's battery life even further. We've used this feature on earlier Sense 5 phones like the HTC One and found it works pretty well.
But the Max has another battery-saving trick up its sleeve in the form of "sleep mode." This instructs the phone to turn off data connections between certain hours, when they're less likely to be needed. (For example, when you're sleeping.) The device can also be set to learn when to apply sleep mode automatically, which is pretty neat.
We'll continue our testing of the HTC One Max in the days and weeks ahead, and update this review if we notice any changes in battery performance.
Camera and image​ quality
The HTC One Max features an "Ultrapixel" rear camera with a wide-angle f/2.0 aperture lens, the same setup found on the HTC One and One Mini, in addition to a 2.1-megapixel front-facer. We've been using the "Ultrapixel" camera on various devices over the past six months, and so in many ways the One Max's rear camera delivers little we haven't seen before. With pixels measuring 2 microns and a relatively low megapixel count of 4MP, the camera excels at low-light photography but struggles in some outdoor scenarios due to its narrow dynamic range.
Photos generally look good when viewed on the Max's large, high-res display. But show them on a large monitor or laptop display and the four-megapixel ceiling quickly becomes evident. At full resolution you'll see evidence of visible noise, as well as a reduction in fine detail due to the software filtering required to eliminate noise. We should point out that our daylight images didn't look terrible, but at the same time they're an order of magnitude below what you'll get from the latest Sony and Samsung phone cameras. The painful truth is that HTC's "Ultrapixel" camera just isn't much good in daylight.
On the upside we found capture speeds to be near-instant for regular shots, though if you're shooting in Zoe or video mode and saving to external storage — remember, the One Max has a microSD slot — you'll have to deal with a short delay while the phone saves stuff to your card.
Like the One Mini, there's no Optical Image Stabilization on the One Max's rear camera. On paper that makes it less capable, but we've found the real-world effects to be more subtle. Motion-blurred shots were never particularly problematic on the HTC One, though we did notice that the Max was a little less forgiving of hand movement in very dark night shots. Similarly, you'll miss OIS if you're recording video footage without a steady hand.
The HTC camera app itself hasn't changed a whole lot in Sense 5.5. You get a software stabilization mode to compensate for the lack of OIS, and there's also a dual-capture mode that lets you shoot with the front and rear cameras simultaneously. (We're sure we've seen that somewhere before.)
Image 1 of 13
The Max's video performance mirrors our experiences with the HTC One and One Mini, which is to say it's also something of a mixed bag. Footage is recorded at up to 1080p resolution with 30 frames per second — and again, the Ultrapixel sensor's narrow dynamic range plagues daylight recordings, leading to washed-out skies or underexposed landscapes. The lack of OIS becomes problematic in some moving shots, as you'll see in our sample reel. What's more, the "HDR" mic from the HTC One is also absent on the Max, on account of the ongoing legal dispute with Nokia, making the Max less capable at capturing both loud and quiet tones.
HTC's Ultrapixel camera showed promise early in the year, but in late 2013 there are better camera experiences to be had elsewhere. That's a shame, because we really like what HTC's doing with Zoes and video highlights. It's just unfortunate that we can't have those software capabilities paired with more competent imaging hardware.
The botto​m line
Like most phones around the six-inch mark, the HTC One Max is not a mainstream handset, and the average consumer is likely to have a better experience with the smaller but similarly capable HTC One. But let's assume for a moment that you are in the market for an oversized phone. If that's you, and if you can deal with the size, then you could do a lot worse than the HTC One Max.
Despite the move to a more plasticky border, HTC's curved metal chassis still feels great in the hand, delivering a premium that's lacking in the polycarbonate-based competition. What's more, the "BoomSound" front-facing speakers are unequaled in this class of device. We're also big fans of HTC Sense 5.5 — particularly the changes to BlinkFeed and the Gallery app that demonstrate HTC is listening to feedback and adding stuff that customers want. With support for more services, custom searches and RSS there are more reasons to than ever to use BlinkFeed, and it's also easier to get rid of it if it's not for you.
But one new addition we're not so enamored with is the fingerprint scanner, which we think will be of limited value to most users. It's a one-handed feature on a two-handed device, and the aesthetic price — that is, an unsightly black square on the back of the phone — in our opinion isn't worth paying.
Similarly the Max finds itself, ironically, with some of the best gallery features out there — Zoes and the new, expanded video highlights system, for instance — paired with what can only be described as a subpar camera.
There's also a nagging feeling that you're no longer getting the cutting edge in the same way you are with the HTC One. The Max has an OIS-less camera, half the internal storage and less striking industrial design than HTC's flagship. And it launches with a Snapdragon 600 CPU just as much of the big-screen competition is moving to the faster Snapdragon 800. The latter doesn't affect day-to-day performance much, but it will make the Max a less capable gaming device over the life of a two-year contract.
The choice between the One Max and a competitor like the Galaxy Note 3 is going to come down to what you want to do with the device. The Note, with its smaller screen and shorter chassis is certainly more hand-friendly, as well as speedier and capable of taking better photos. But the One Max delivers a better audio experience and a more premium-feeling chassis. On the other hand HTC offers little on the software side to justify the Max's enormous frame, whereas Samsung brings clever multitasking tricks like multi-window and pen window to the table.
So the One Max is more than a big HTC One, but also a lesser phone than the HTC One. If you're after the full HTC experience on a larger display, well, for the most part, this is that device. And right now it's the closest you're going to get to an HTC tablet. But for most buyers the smaller, better-looking HTC One, or the higher-end and more manageable Galaxy Note 3 will be better options.
Get the Android Central Newsletter
Instant access to breaking news, the hottest reviews, great deals and helpful tips.
Alex was with Android Central for over a decade, producing written and video content for the site, and served as global Executive Editor from 2016 to 2022.