Should you upgrade to the Pixel 2 XL from the Nexus 6P?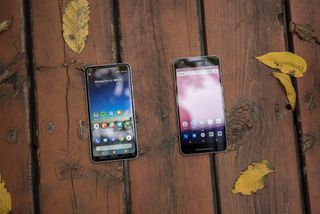 It's been two full years since Google released the Nexus 6P, the final entry in the celebrated Nexus brand. Despite releasing a very solid debut with its new Pixel brand last year, many diehard Nexus fans have stuck by their trusty 6P well into 2017.
But with the Pixel 2 XL officially on sale, there may never be a better time to upgrade to your next phone. If you've been considering it, you're not alone — there are a number of Nexus 6P users in the forums who've said they're set on upgrading to the latest Google phone for various reasons, but most frequently because they see the writing on the wall.
Should you be considering the upgrade to the Pixel 2 XL, too? Let's compare.
Hardware and specs
It's easy to fall in love with the design of the Nexus 6P, which is likely why Google borrowed from it so heavily with the first Pixel XL. Both were built out of aluminum with familiar port placements and comparable specs on the inside.
With the Pixel 2 XL, Google has reintroduced great features found in the Nexus 6P like the front-facing speakers while refining the design direction started with the Pixel XL. You're also going to get more RAM, the latest Gorilla Glass 5, and a bigger and faster-charging battery.
This year saw phone manufacturers doing their best to minimize the bezel around the screens. Google accomplished this goal by curving the corners of the Pixel 2 XL's 18:9 pOLED display, but first reviews have revealed less-than-spectacular results compared to the rivaling Samsung Galaxy S8+. You may have read about issues with the Pixel 2 XL's display — the blueish tint and the screen burn-in. Well, Google is attempting to address the issues with a software fix and has also expanded the warranty period to two years which is a nice move for consumers.
It's also worth noting that Google has done away with the headphone jack on the newest Pixel phones. In its place is a single USB-C port and a USB-C to 3.5mm dongle included with every phone.
The core camera hardware specs haven't changed too much since 2015, but with the Pixel 2 XL Google has a wider aperture (ƒ/1.8) and OIS. Coming from the Nexus 6P, you're going to notice a marked improvement in your photo and video quality. You're also sure to notice a significant improvement overall camera speed and performance thanks to the Pixel XL 2's increased processing power.
Here's a full specs comparison between the two devices.
Category
Google Pixel 2 XL
Nexus 6P
Operating System
Android 8.0
Android 8.0
Processor
Qualcomm Snapdragon 835
Qualcomm Snapdragon 810
RAM
4GB
3GB
Display
6-inch 2880x1440
POLED
Gorilla Glass 5
3D glass, 538ppi
100% DCI-P3 color space
5.7-inch 2560x1440
AMOLED
Gorilla Glass 4
Rear Camera
12.2MP ƒ/1.8
1.4μm pixels
OIS, EIS
PDAF, LDAF
12MP, ƒ/2.0
1.55-micron pixels
LDAF
Front camera
8MP, 1.4μm pixels
ƒ/2.4, fixed focus
8MP, ƒ/2.4
Battery
3520 mAh
Non-removable
3450 mAh
Non-removable
Charging
USB-PD, 18W rapid Charging
Rapid Charging
Connectivity
USB Type-C, Bluetooth 5.0
USB-C, Bluetooth 4.2
Fingerprint sensor
Yes
Yes
Storage
64/128GB
Non-expandable
32/64/128GB
Non-expandable
Dimensions
157.9 x 76.7 x 7.9 mm
159.3 x 77.8 x 7.3 mm
Weight
175 g
178 g
How's your battery life?
The two-year upgrade cycle for phones has been hammered into our collective minds by carriers and phone manufacturers even for devices we've taken good care of that are still working fine. But one place where you're going to see the biggest improvement is in battery life.
The estimated life of a typical lithium-ion battery is around two to three years, which means that if you haven't already noticed your Nexus 6P battery performance slipping it's only a matter of time. Google and Huawei were even taken to court back in April over the Nexus 6P's performance issues and the jump to Android 8.0 has led to mixed results at best.
Not only does the Pixel 2 XL have a slightly larger battery capacity, its Snapdragon 835 chipset is significantly more efficient than the 810 found in the Nexus 6P, meaning you should be able to get more use out of your phone on a single charge. And when it's time to plug in, you'll be able to rapid-charge up even faster with the included 18W power brick.
Google has also been offering customers a Pixel XL for out-of-warranty issue claims since September. If you bought your Nexus 6P through Google and are experiencing performance issues it may be worth reaching out to support to see what they can do.
On the topic of trading in phone, if you've managed to keep your phone in immaculate condition you may also be interested in Google's trade-in program which lets you exchange your Nexus 6P for up to $165 towards a new Pixel 2 XL (or $400 if you happen to have recently had your Nexus 6P warranty replaced with a brand new Pixel XL).
Camera improvements galore
The Pixel 2 XL may have the same number of megapixels on the box, but its camera is all new — and it's powered by Google's improved HDR+ algorithms. Not only is HDR+ itself much faster to process on the Pixel — the Nexus 6P was notorious for forcing users to wait a few seconds between HDR shots — but it is much better in low light.
There are also features unique to the Pixel, including Portrait Mode, Motion Photo and more.
Be set for future software updates
Hardware specs only count for so much — it doesn't matter how much RAM or processing power your phone as if its no longer being supported with software and security updates.
Google has confirmed that the Pixel 2 and Pixel 2 XL will receive three years of software updates and security patches, meaning you'll be able to rock the latest version of on the phone you buy today well into the year 2020. If your the type who commits to a phone for multiple years, that's great news.
According to Google's support documents, the Nexus 6P will stop receiving crucial security updates after November 2018. So while you can still safely rock your Nexus 6P for another year, there's no better time to upgrade then right now.
Should you upgrade?
Upgrading to a Pixel from a Nexus 6P last year was a toss-up call — the Pixel was a great phone, but not leaps and bounds better than the Nexus 6P.
But a full year of heavy usage and a freshly updated operating system finds a way of making issues bubble up to the surface. If your Nexus 6P is still running smoothly you're probably best to count your blessings and capitalize on the existing trade-in value of your phone towards a new phone.
The Nexus brand catered toward hardcore Android enthusiasts, and you'll still run into folks proudly rocking the Nexus 6P or 5X because they're still good phones. But if the battery or performance issues haven't already started popping up two years on the clock is ticking — and the timing is right to upgrade to the Pixel 2 XL.
Marc Lagace was an Apps and Games Editor at Android Central between 2016 and 2020. You can reach out to him on Twitter [@spacelagace.
YES! Bought 6P as a presale and it was time. It's almost exactly the same size, but less slippery. I haven't put a case on my Pixel 2 XL yet and it feels great in the hand. So fast! Battery life is way better. I was struggling to get 2 hours of SOT. I charged at least once in the middle of the day and was still sitting on the couch at night with a battery pack nearby to get to 11 PM. Yesterday. I went to bed with over 5 hours SOT at 7% battery having unplugged at 6:30 am. Amazing

For the first time I went with a dbrand skin and really like it. I'll still get a case for when I'm out hiking with it or in the city or something, but I'm pretty careful with my phones and surprisingly the skin has been more than sufficient.

Any new phone is going to have better battery life than a presale 6p. Why not spend $60 to put a new battery in your 6p?

I replaced my own 6P battery for less than $40 including new camera cover glass and case back (I scratched it slightly removing the glass strip). Local phone shop, ubreakifix, told me their price to change battery was $180.

I still have my 6p and held them both side by side. Was surprised to see the XL 2 and 6p were the same dimensions pretty much. I'm liking the XL 2 so far. The blue tint is noticeable but it's not a deal breaker for me since I'm usually looking head on. The display otherwise looks fine to me. I used my OG Pixel on sRGB mode so the colors look normal to me as well. I really missed dual front facing speakers for sure.

No, thanks. I replaced the battery last week, and I'm currently sitting at 6: 35 SOT, about to top up again. Sure, with my usage case, I'd probably get 8 hours easy on the 2 XL, but aside from the upgraded processor and camera (the latter of which isn't important to me), hardware-wise, the 6P is just fine, and actually, imho, is BETTER than the 2 XL. And I still have the headphone jack. If I do upgrade at some point, it'll either be to the HTC U11 Plus, for that 4,000 mAh battery and BoomSound, which is awesome, or I'll wait and see if Google gets its act together with the Pixel 3. Til then, I'm good.

In what ways could it possibly be better?

I would also like to know this? Besides headphone jack and that's becoming a personal preference.

It has a Samsung display panel.

Isn't everything a personal preference?

if camera and processor speed is that important, the 2 XL really is a great phone imo. I wouldn't begrudge anyone for not getting based on the simple fact that they chose to use an inferior display despite charging a premium price, but at least the one I got hasn't seen any of the burn in others have reported. the blue tint is a non issue for me, as I never hold it at an angle and never even thought about it til it was brought to my attention. As far as the saturation, I've always chosen to keep the brightness as low as possible, so fortunately for me it's a non issue. Still love the 6p, probably my favorite phone ever, but I was having problems on multiple fronts and it was time. I'm shocked at the camera/video though. You read reviews and watch videos, but it's really spectacular and since I take so many before and after photos for work, I no longer have to carry a separate camera, it's that good!!

Can you please tell us which battery did you buy? There are tons of ripoffs and there's no way to order original Huawei-made battery, at least to my knowledge...

My 6P didn't even last long enough to be in the market for a Pixel replacement (battery issues like everyone else). Got a LG G6 and couldn't be happier

I also switched from a 6P to the G6 for the same reasons. The G6 was OK, but I frequently experienced processing lag, the phone would just freeze at times for a few seconds. The camera would give me issues, take a long time to launch and take a picture. I wonder if any of that was attributed to the added SD card to expand memory since it literally only offers 32GB of storage. The battery life was OK, but I would usually charge on my way home from work as it was usually right around 40% or less by then. The 6P was about the same in terms of battery life, but the processing was better IMO. Although, I have to give the G6 pictures were pretty cool...cooler than the 6P. Now I have the Pixel 2 XL. By far, this phone feels A LOT better than the 6P and G6 in terms of build and even with no case, the black finish has a great grip. The "squeeze" feature is great. Just paying attention to screen issues mentioned in other posts and something I noticed with phone calls. The audio coming in was slightly distorted, it sounded as if there was some loose material right in front of the speaker and there was a frequent buzzing sound when the other person would talk. The lack of a headphone jack is really irrelevant to me, but I'm sure that's just a personal preference. The adapter really isn't inconvenient but I did pre order the Pixel Buds, hope they don't disappoint. My point to this long story is that the Pixel 2 XL so far is a better phone than the G6, especially if you are particular to the true Android OS feel. The G6 wasn't bad, not nearly as bad as Samsung but I am not a fan of the extras some manufactures add to the OS.

Amazon now is selling a G6 plus which has 128GB of storage. Cost for Prime members is $499 and if you register with LG, you get a two year warranty. Only downside is lock screen Amazon advertising. I may go for this but my Nexus 6P still works great after I put in a new battery. I have an Nexus 5X as a on the shelf spare which I used for a week while waiting for a Nexus 6P part to arrive (the back battery cover which I scratched). It sure is SLOW! I would get rid of it if it weren't just a spare.

I sold the 6P and upgraded into a Pixel 2. I've been surprised that it didn't take much to get used to this size (I did use Nexus 5 before 6P). Seeing a family member on a Moto G5Plus at 5.2" looks so big--crazy. I am very pleased, and look forward to using the software that's already in Pixel 2, as well as what comes with 8.1 (still no DP1 ota though).

I was upgraded to the pixel XL from my 6p and I used the trade-in for the 2xl and I'm really happy with this device other than the amount of lint that gets captured along the raised bump haha.

I just upgraded to the original Pixel XL from a 6P. The Pixel XL was on sale at £400 and I was already on my 2nd 6P due to the bootloop issue (my brother's 6P did exactly the same). Thought it was best to move on before my 2nd 6P became worthless. Honestly I was totally happy with the 6P and wouldn't have upgraded if the risk of bootloop wasn't there.

With my battery shut down issues. I've had enough. I know I can replace the battery but didn't want to hassle with it. Just got my XL 2 over the weekend and will send in the 6P to offset some of my cost.

Not sure what I am going to do yet, but am waiting until November 2nd to see what HTCs U11 plus, and U11 life have, and if anyone of them will be supported on Project Fi

Google sent me a Pixel XL as a replacement to my 6P that had battery issues (like most people had with that device). Glad I got in on that before they stopped doing it. One thing I really miss though is the front firing speakers but (since I take a lot of pics and vids of my kid everyday) the full quality backup for life makes up for the occasional times I have to ramp up the volume level higher or cup my hands to hear it better. I didn't trade my Pixel in for the Pixel 2 because I can wait until at least the Pixel 3 now that have this. That unlimited full quality backup will also mean I'm going to keep this thing as long as it will live so that any high quality videos (or pics if they get over 16mp on my future phones) can be backed up via my Pixel 1 to keep them at high quality

I think the "Full quality" backups are only for 3 years, not life. At least in the case of the Pixel 2, it's said that the unlimited storage for full quality is until 2020. Most people see that as an opportunity to attack the Pixel 2. But hey,
1. Other phones don't offer that at all.
2. This is only a problem if you choose to use the Pixel 2 for more than 3 years. I'll likely be getting the Pixel 3 and the Pixel 4... With each release of another Pixel phone, you'll likely get a more years of unlimited storage on the new phones. So I don't mind the Pixel 2 losing "Full Quality" storage in 3 years.

He has the Pixel, not the 2. The original has full quality for life. Only the 2 is limited to 3 years.

Other phones don't have to offer that.

Should you upgrade from a phone that was plagued with problems halfway through it's life span to a phone that's plagued with problems at release? Sure, why not? It has stock Android and I'm a ********* with money to burn.

I'm sensing some sarcasm..

I'm sensing some bitterness.

I sense a disturbance in the Force.

This is exactly what I was going to do. I loved my 6P but the battery had seen better days. I was ready to part with my cash for the Pixel 2 XL but when I looked at the screen I instantly changed my mind. Move the screen anywhere from dead straight and hideous blue screen. At this price, no way. I was gutted, I really wanted the phone, 6 inch screen, those lovely front facing twin speakers and pure Android goodness, but there is no forgiving that truly crap screen, not at been half the price. Google's loss is Samsung's gain, I'm loving my Samsung S8+. Google need to seriously raise their game.

Yes. I bought the Nexus 6P at launch and used it until I received my Pixel 2 XL. Huawei screwed the phone by putting defective batteries in them. I get <2 hours of screen on time. By the time I turn the phone on and drive to work, the phone is nearly at 90% battery LMFAO... I was charging the phone to whole 3 times a day to get bye. When I would travel, I would have to bar myself from using it so that it would be available in case of an emergency... Aside from the Phone reaching 30% battery after less than 2 hours.. It would die at 30%... I even had it die once at 40%. FML I couldn't be more happy with the Pixel 2 XL. Everytime I pick up the Nexus 6P, now I feel like i'm picking up a garbage can... The phone is literally heavier, thicker, and feels worse than the coating on the Pixel 2. Plus, the Nexus 6P can't be squeezed, and it has a sub-par camera.

I didn't have the issues you and a lot of others had with the 6p, but I'm loving the 2 XL also. I never dropped from anything greater than 10% to dead, and until recently I was getting approx 3-4 hours SOT (I keep brightness almost all the way down and take the typical battery saving measures. But my God, this camera is just ridiculous. And I'm usually at 30-40% left end of day, after what for me is heavy use (texting, taking, browsing, music at the gym with some games/YouTube sprinkled in).

Saturday I turned off my Nexus 6P once I got my hands on my Pixel 2 XL. My 6P was good to me, but the battery was definitely struggling. I must have struck the phone lottery, because this phone is absolutely fantastic. Battery is amazing, I love the colors (never been one for bright, oversaturated colors) and it is so, incredibly, fast. The one thing that I am loving is the fact that I can use this phone while wearing sunglasses, and it stays visible in any orientation or angle. I live in SW FL, and I wear polarized glasses anytime I'm outside, and it always drove me crazy that most phone screens would just go black if you turned the phone horizontally or tilted the screen certain ways. That's huge. Should be a bullet point on a spec sheet (unless every phone does this now, I have not clue.) Going from a 6P to the Pixel 2 XL is like going from a Pinto to a Porsche. I almost feel bad for those who decided not to get this phone due to the negative coverage over the past couple weeks, but whatever, I have mine and I am loving every bit of it.

Couldn't agree more. I live in FL, too, and was parked in the car yesterday sitting in the sun, looking at my new Pixel 2 XL through sunglasses, and it looked great. For me, the Pixel 2 XL is perfect.

This is almost a plus for me. I wear transition lens glasses, so I am almost always wearing "sunglasses" when outside in the sun.

"According to Google's support documents, the Nexus 6P will stop receiving crucial security updates after November 2018. So while you can still safely rock your Nexus 6P for another year, there's no better time to upgrade then right now." Based on this statement, it seems to me that there is a better time to upgrade ... Next year, or at least waiting til Black Friday. If you love new tech and have the means, sure, upgrade. But I went from the 6p to the Pixel 2 XL, and though the improvements are significant, if you're one of the lucky ones that isn't having an issue with your 6p, it's still a more than capable device.. At the very least I'd recommend waiting til Black Friday.

You will get little trade in value (if any) waiting till then.

Right, but the statement made in the article that there's no better time than now, was based off it not getting updates after Nov 18 which is why I pointed it out. Also, I'd argue the trade in price won't be significant enough between now and Black Friday, to offset the potential saving e by waiting a few weeks.

I skipped out the the OG Pixel, part of the reason was I was over working and missed the launch of the Pixel, and then got confused with the whole "Verizon exclusive" non-sense I would see on TV. So I ended up using the 6P until now. If money is an issue, and your 6P isn't experiencing some of the well known issues, then by all means, continue to save money for the Pixel 3.

Upgrading from my beloved 6P. Battery life just isn't cutting it anymore. No bootloops, and the ROM I am running eliminated the problem with the battery dying at 20% or more, but half an hour of YouTube sucks my battery down to 50%. Also getting issues with my LTE disconnecting several times a day, throwing the phone back to the lock screen, and sometimes it just doesn't come back requiring a reboot. It could be a problem with the SIM, but I'm not sure. I love this phone, but I purchased it from Swappa, so it was already used for about a year. Looking forward to my Pixel 2 XL, and pleased with the upgraded warranty.

Have loved my 6P although the Battery is definitely starting to drain quicker nowadays. After 2 years of constant use I have no screen burn-in whatsoever - so there's that. I would've upgraded to the PXL2, but the screen problems and ridiculous price range means that I will continue with my 6P and pick up a current flagship in 6 months time when the prices have become more palatable. I'm patiently awaiting the Huawei Mate 10 Pro review as I'm thinking it will be a stunner, and should have a good price cut by the time I'm ready to upgrade.

If you look at the screen burn in on the P2XL, literally everything is burnt except the navigation bar. Thisis because black=off, so there is no burning happening most of the time. The buttons from the nav bar are burnt though, however they match the rest of the screen. So in theory, if you make the navigation bar any color other than black, the entire screen would be burnt after a while. When this happens, you would have no way of telling if the screen had burn in. It's possible on a 2 year old phone, such as the Nexus 6P, you have already reached full burn in, so you're not seeing it.

I replaced my battery last week with a battery bought off of eBay, and my phone feels like new again. The battery itself cost me $15, while the actual replacement cost $40. The battery itself is genuine, because it has a thicker connector ribbon, as well as temperature control. AccuBattery has reported 103% capacity as well, so I'm quite pleased. I got 6:48 SOT on my last charge before topping up this morning. Give replacement a try: Look for one that looks like this: http://www.androidcentral.com/e?link=http%3A%2F%2Frover.ebay.com%2Frover... Notice the thicker ribbon, and the fact that it says, "Temperature Control." If you decide to go this route, you may love the phone again, since you have no other issues, like myself. Good Luck. :)

Thanks for the heads up... I may give it a go. To be honest - my battery isn't too bad, so I could live with it until I get a new phone - but it's a good option to have.

Oh, I agree. My original battery wasn't too bad, either. I'd still get around 4:30 SOT with it, but having been used to getting 6+ hours consistently, I figured, why not? I especially went ahead because of my disappointment with the 2 XL. It's nice to have that piece of mind until Google hopefully gets their act together for the next go around. But I have to admit, if everything works out, the HTC U11 Plus has a shot to lure me away from Google. We'll see.

I still have my 6P. Battery life has been less-than-stellar, not to mention it sometimes auto shuts off when it drops to around 20% or so. Going to DIY putting in a new battery since I'm long past warranty (and past the OG Pixel XL deal). I may still upgrade to the Pixel 2 XL, but plan to keep the 6P and pass it on to my son.

It will get even worse over time. Mine went from dying at 10%, to 15%, to 20%, then now dying at 35%. Not only does it die at 35%, but it reaches 35% probably 3 times faster than it should. I sent the phone away to be repaired now that I have the P2XL. I might gift it to someone after it gets a new battery

Yes I am upgrading but from the Pixel XL and keeping my Nexus 6 & 6P as my backups. I took the $400.00 trade-in.

If your 6P is holding up enough for one more product cycle, I bet the Pixel 3XL will have no screen issues, no bezels, wireless charging and IP68. Table stakes, for all future top end phones.

and... the headphone jack. LOL I can already see the Google preview ads (commercials) now

Don't forget flex screens, if the rumored Galaxy X phone is true. Could start a trend. :-)

I got a free replacement 6P from Google about 4 months ago because my battery was failing. They sent me a brand new unit instead of a refurb. The new phone is still running smoothly and has great battery life. I'll probably hold on to this until it either starts having issues, or I stop getting security patches.

Does anyone with an old school unlimited data plan know if the Mobile Hotspot works on Verizon with the unlocked version Pixel 2 XL? I upgraded through Verizon last week, and I got my phone, but that feature doesn't work, I have to subscribe, with my Nexus 6P I was able to use it with no problems? Any thoughts? TIA!

Since you bought a Verizon version, they tweak the build property file to ask for if tethering provisioning is enabled.
The Nexus 6P did not check but any phone sold through version will check.
Since, I'm pretty sure the Pixels sold through VZW have a locked bootloader. I think you are stuck.
This is one reason why I switched from my GUDP before they discontinued the Feb. UDP.

Nope, I'm going to keep my 6P for another year. Google replaced my original 6P out of warranty due to a defective battery. The new one is working like a charm. Hopefully, Google figures it out for the Pixel 3 as I'm too concerned with all of the issues to put down $849 just to have a stock Android phone.

And at least Nexus 6P has Oreo, and will continue getting updates till the end of 2018.

This was the decision I was left with. I loved my 6P but the battery had gotten sooo bad (3 hours SOT) and the display developed a yellowish tint. Then when I saw how huge the the Pixel XL 2 was, and how I still hated the back design, and removed the head phone jack, and how it had early display issues already, then I went with a LG V30. I have had no display issues with the V30 and I absolutely love it! So many more features for less money. But I am still very sad that I have not been excited for any Google phone since the 6P. A Nexus 5 and Nexus 6P buyer has now skipped 2 Google phones 2 years in a row. Google has lost this customer and yet to win me back.

Wow... Just read the other comments and it seems the battery degradation has been a wide spread problem for most users who have had their 6P for a year or more. Thats unacceptable for a battery to not maintain at least most it's capacity for 2 years. Another reason not to trust a Google phone.

Like I said, upgrade from a phone plagued with problems halfway through its life span to a phone plagued with problems at release time? What's not to like? The Pixel 2 XL is ahead of its time - by a year.

I did; I had too... my 6P battery started dying at a 15% to 30% charge six months ago (the same for my wife). There really wasn't any question for me (as to where I was going next); I can't imagine running on Android with anything but the 'stock Android experience'. I will say this; prior to the battery issues, I loved my 6P (hell, loved the original Nexus 6 for that matter). But the 6P was the first phone I decided to hold more than one generation... i would get a new phone every year prior to that. GREAT phone, and while it killed my inner tech side to pass on the Pixel, I just didn't feel the need to upgrade... Had it not been for the battery issues, probably wouldn't have this year either. I received the PXL 2 last week, and I couldn't be happier. I have zero issues with the screen; colors look so amazing compared to the 6P (far more depth). The blue tint thing is way over played... I don't even see it until a 45 degree angle, and it's really not that bad at all (probably wouldn't even had noticed if it weren't for all the b.s. online). And while I thought the camera was more than fine on the 6P, let me tell you.... the quality enhancement is insane for the pictures on PXL2. The overall size is the same, but the bezels are much smaller (giving you about a centimeter more screen). Again, thought the responsiveness was great on the 6P, but after using the PXL2, all I can say is that it's ridiculously snappy/fast. I'm happy I upgraded for sure.

Nexus 6P was the worst phone I have ever owned. Soft restarts all the time, terrible battery life with SOT less than 2 hours, phone dying at 30 - 40%. Lagging like every 10 minutes.! And every update made things worse and added more problems. The camera app was terrible and needed like 15 seconds or more to open up. So many problems. I promised myself never to buy any other phone from Google again. And the lies about stock android lol. Smooth, buttery, light were all the complete opposite. I ditched that crappy phone with its crappy software and got a Samsung S8+. This one is turning to become my favorite phone ever. If it remained this way it will take over Note 3's spot in my heart. I was so wrong that I believed the hype and lies of google and its stock android. Paid reviews will not work on me anymore.

Jeez, apparently you're not the only one. I hear that from lots of customers of the 6P. I have a Nexus 6 and have never encountered any of the issues you describe. I did have to replace battery at some point, and the screen at another point (when I shattered the original) but I've been disgustingly happy with this phone. I was really looking forward to the Pixel 2 XL but now that info is out and price is known I'm starting to lean towards the regular Pixel if my N6 finally fails and I can't fix it. My wife has had a 5x for a while now and her only complaint has been the lack of space since she uses it as a video camera constantly to record the minions. I'm thinking she can definitely benefit from something with expandable storage, so I'm not sure she'll be on the upgrade list for a Pixel.

I'm having some of the same issues on my 6P, but my take away is never a phone from Huawei again. I tried the S8 for two weeks and while I liked it, it did have occasional stutters and lag.

I sold my 6P to buy an Essential PH-1 (don't laugh).
I returned the PH-1 and bought a LG G6 for what I got for the Nexus.
My 6P was a refurb. I think the guy that bought it returned it for warranty and got a Pixel.
It had Nexus Protect.

No Prixel for me. I'll stick with the better phone...Nexus6P.

Wrong. Quit saying MOST people had 6p battery issues. MOST people did NOT have. Some did. My 6p has done just fine, thank you very much, as have MOST 6p units. Most, but not all. Some, but not most.

My 6p had battery issues. Seems like I'm not even close to alone.

it prob depends on if you used their quick charger
i charge mine with my pc or my nexus 5 regular speed charger and i have no battery issues.

Upgraded from my old 6P to the 2 XL and I couldn't be happier. Like most 6P users out there, the battery life had gotten so bad I was counting the days until the Pixel 2 launch, Other than that, I had no serious problems, so I take issue with users who describe the 6P as "plagued with problems." I usually work on a 2-year refresh anyway; I went from Galaxy Nexus to Nexus 5 to 6P, Yes, there is a blue tint when you tilt the screen. But, who looks at the screen at an angle? This is an over-hyped non-issue to me. The screen is gorgeous compared to the 6P, I couldn't possibly care less about the blue tint at an angle. The battery life on the 2 XL is nothing short of fantastic. I use a golf app to get my distance to the hole via GPS, and this used to kill my 6P. I played golf last Friday and when I was done I still had 75%. On the 6P, I had to attach a battery pack if I wanted to use the phone after a round of golf. Many times I've forgotten to plug the 2 XL in at night, and it still gets me through the next day. It's just great, period. And of course the phone is lightning fast, I expected nothing less. But the camera app is amazing! I'm not used to instant shutter when I press the button. I love the photos and videos from the 2 XL, it is a phone well worth upgrading from the 6P.

Yes, that would be a great idea, since my Nexus 6P started with the bootloop of death just yesterday...
Oh wait, i can't buy the Pixel 2 neither the first Pixel because I'm not in one of the markets google decided to sell its devices...
I guess i will be returning to Samsung or give a shot to LG.
Thanks, Google!

Until the out of the gate problems get sorted, the answer to the question in the article should be "No"

Hmm, let's think about this. I have a 128 gb Verizon Nexus 6p that I bought used for $400. It has a headphone jack that I use all the time. It's updated to the latest version of Oreo. It does everything I need it to do and the battery is still working just fine. Should I ditch it for a phone with less RAM that's going to cost me almost $1000 and doesn't have a headphone jack? Ummm, no.

If I were a Nexus 6P owner, I'd probably look at getting a first gen Pixel. Yes it's not the 18:9 screen (which is cool, but nothing really wrong with the 16:9 standard), but it is a really solid phone, with no real common issues.It's just a solid phone, that can be had for a decent price Or at least wait until the hardware revision I'm sure Google will come out with in a couple of months when they figure out the screen issues. I'm guessing they will either go with a different panel entirely, or an revision of the same panel, which might carry a different part number. This wouldn't be unheard of in a Google device. The Nexus One started out with an AMOLED panel, but ended its run with a LCD. Even some early HTC smartphones did the same thing around the time Samsung was stepping up their AMOLED game.

If they change the panel in any way, I sure hope they offer free replacements to all the people who got the crappy one.

I've been using 6P for almost 2 years. Its a great phone; With latest upgrade to Oreo, battery is slightly better and so is the camera. Sometimes, phone is bit slow;

I decided to get one more year out of my Nexus 6P even before the Pixel 2 announcement as I haven't been affected by battery issues and it's a phone I've loved owning. The Pixel 2 would be an undoubted improvement but I'm content to wait for the Pixel 3.

Funny for this has a been topic to me for the past week, once the Pixel 2 XL has been in the news due to the quality issues. I have a 6P. Loved it. Did not upgrade to the Pixel due to the recommendations. However, in the past 3 months, the battery life is getting very dismal. Almost to the point I wanna shuck this baby through my wall when it shuts down at 30% power! I ordered the Pixel 2 XL. Suppose to deliver at the end of November. An upgrade to anything, from the 6P, is going to better. Actually, with the recent rollouts/upgrades to the Essential and it's new low price, I'm on the fence for the Essential.

I went from "I might upgrade" to "NOT ON MY LIFE!" when they announced the removal of the audio jack. Better luck next time Google.

8.1 runs a whole lot better on my XL 2 than my 6P. I also like having the bigger screen in the smaller form factor. Definitely worth the upgrade.

if i was you i will wait for Pixel 3 XL...and hope Samsung Manufacturers it.
or at least OLED screen from Samsung

Negative. Nexus 6P with a battery replacement still rocks. Screen is awesome, speed is fine, sound is fantastic, pictures are still more than adequate for most everything. Extra bonus, a headphone jack. I'll wait and see what next year's Pixel brings. Love being part of Google's ecosystem and would find it difficult to switch to another manufacturer. Hoping the Pixel 3 gets it all right.

I'm upgrading to the 2 xl from a 6p. I have 8.1 beta on my 6p and I still love this phone the cameras are great speakers are awesome and the display ismalso fantastic. The software experience is still amazing and was made smoother with 8.1 beta with the bug fixes. If anybody wants a more inexpensive phone with great hardware and software the 6p is it especially if you don't want or needs the latest and greatest phones even though this has the most recent version of android unlike brand new not even a year old Samsung or lg.
Android Central Newsletter
Get the best of Android Central in in your inbox, every day!
Thank you for signing up to Android Central. You will receive a verification email shortly.
There was a problem. Please refresh the page and try again.