Seidio Desktop Cradle review - simple stylish syncing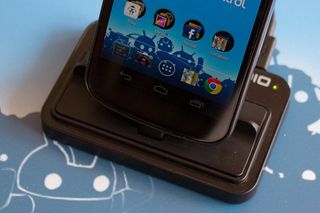 The Seidio Desktop Cradle offers a simple, stylish way to charge and sync your phone. The flexible USB connector allows the phone to lean free-form against the backrest, while the heavy based with grip pads keeps it from moving around too much.
The pivoting USB plug is the big seller for this cradle. It offers just enough flexibility to accommodate a device, even if it has a case on. The resting viewing angle without a case is well under 45 degrees, so your device stays mostly upright with just enough of an angle to stay viewable.
Style
The LED indicator on the rear is a really good brightness, which has been a sticking point for me ever since one cradle's light was so blinding that I had to cover it up with sticky tack. It would be nice if the indicator changed color depending on if something was successfully plugged in or not, and maybe even something a little more advanced to show if a device is fully charged would be nice.
The model compatible with the Samsung Galaxy Nexus model has the device mounted upright since the plug is on the bottom, but I'm not sure if I would be as happy with a phone that needed to be mounted in landscape orientation. Unless you load up an application or lock the screen again after dock, you'll be locking cock-eyed at the lock screen that's stuck in portrait orientation just to figure out the time.
In terms of looks, the black color scheme ensures that it will go with just about any office style, and remain subdued in brighter surroundings. The sharp edges might be a little too pronounced for some people, but I find it's generally a bold and classic look.
Function
The Seidio desktop cradle has a good amount of weight to it and two large grip pads on the bottom, making it a stable anchor for your device, even for larger phones that stand upright when mounted.
If you're charging over PC, using the cradle regularly may get irritating, as you'll likely get a pop-up window every time the phone is mounted. That can be handy if you do a lot of syncing or data transfers, but if you're just looking for a charge (which is usually the case), those pop-ups can be annoying if mounting and unmounting regularly through the day.
Of course, you can always just plug the cradle's USB cable into a wall charger instead, which is the most likely scenario if you're setting this up beside your bed. Of course, in that instance the LED light might cast too much light in the dark to make sleeping easy, in which case you'll want to cover it up with something. As a bedside accessory, I could also see this working a bit better for devices in landscape, since that's the natural orientation for most clock apps.
Pros
Simple, bold style
Pivoting plug offers easy connection
Cons
Not ideal for portrait devices
Bottom line
The Seidio Desktop Cradle offers a simple, classy way to showcase your device while it's charging or syncing - be it in the bedroom or on your desk. More modest folks may be just as happy saving $29.95 and having their device lay flat on a table and leaving a loose wire kicking around. If you'd like to pick one up, the Seidio Desktop Cradle is currently available in the ShopAndroid store for 10% off.
Android Central Newsletter
Get instant access to breaking news, the hottest reviews, great deals and helpful tips
Simon has been covering mobile since before the first iPhone came out. After producing news articles, podcasts, review videos, and everything in between, he's now helping industry partners get the word about their latest products. Get in touch with him at simon@futurenet.com.
How does this cradle deal with the Seidio 3500 extended battery and the convert case for the extended battery? I just switched from the galaxy note to the galaxy nexus and am looking at the extended battery/convert case combo. This looks like a nice addition to that combination if it were to fit.

Have you tried this with a Nexus 7?

I have a Nexus 7 with the Moko case. I am wondering if this cradle will work for me.

I think a Nexus 7 or any tablet would just fall over. Doesn't look like enough height to support the back properly.

I have both a Nexus 7 and a Galaxy Nexus. The USB port on the Galaxy 7 is upside-down compared to the one on the bottom of the Galaxy Nexus. So the tablet would be facing backwards on this dock.

A really big "con" for me would be that my Motorola Droid RAZR MAXX would be upside down, since the charging port is on the top of the phone. LOL

Just received the Sedio case for my GN after it was on sale, this looks like a good option for a new charging cradle.

May be unwarranted, but I'd be a little concerned about the stress this could cause on a device's USB port.

It doesn't stress the USB port as the plug is what pivots. That is why it can accommodate a bare phone and one in a case. I have one for my HOX and it works quite well. I use it on my nightstand. The only negative thing I have found is that vibration is muted while on the cradle. I have missed calls.

Best $30 I've spent in a while. Got it for my E4GLTE and it works great, very sturdy.

I wonder what kind of stress this will put on the MicroUSB port. It doesnt have any back support to support the back of the phone/tablet, so I'd think there would be a lot of pressure.

Glad I watched the video because your written review covers none of the most damning points like: Dock needs to be held down when removing.
Devices don't sit well.
Devices are held up entirely by the micro usb connection. Gosh I wish more pogo pin docks would come out.

I just received this and plugged it in. It just sits there - doesn't charge at all. Is there a trick I'm missing?
Android Central Newsletter
Get instant access to breaking news, the hottest reviews, great deals and helpful tips
Thank you for signing up to Android Central. You will receive a verification email shortly.
There was a problem. Please refresh the page and try again.