Saygus pushes back V2 launch, opens Indiegogo campaign to fund fresh start with new features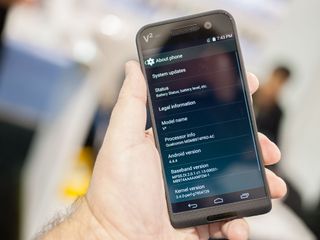 Though we've held the phone in our hands and the V2 actually went up for pre-orders at one time, Saygus says that manufacturing problems are going to push back the launch of its dual-SD card behemoth. In a press release today, Saygus explained that the phone is expected to ship now in fall of this year.
Those who paid to have their place reserved to get the first V2s off the production line will still have their places held, but Saygus is also offering refunds for those who don't want to wait. But if you do wait, you'll be getting the same phone Saygus promised (they promise this time again) plus the addition of dual SIM slots and the bump to Android 5.1 up from the previous Android 4.4 build it had.
While it makes the transition to a new manufacturer, Saygus has also launched an Indiegogo campaign to raise an additional $1 million. The campaign shows over $850,000 raised, but it's mostly by "anonymous" donors (who all gave the same $599 apparently before the campaign even started) and the number of each donation level claimed doesn't seem to add up at our first glance. Anyone who is that excited about the Saygus V2 already has money down on the table, and everyone else should be able to wait it out — this has gone on plenty long at this point.
More: Saygus (Indiegogo)
Press release:
Saygus Launches Indiegogo Campaign and Introduces New Feature to Saygus V-SQUARED
SALT LAKE CITY—June 15, 2015— The progressive American smartphone manufacturer, Saygus, today announced that it is launching an Indiegogo campaign at http://igg.me/at/saygus. Along with the campaign, Saygus is introducing a new feature to the V-SQUARED that customers around the world have been asking for—a dual SIM card option.
"The Saygus V-SQUARED combines technologies that the mobile world has never seen in a smartphone such as the Wireless HD beaming feature and mega storage capacity of dual microSD card slots," said Chad Sayers, Founder of Saygus. "Earlier this year, we conducted a pre-registration sales event through our website where people could secure an early place in line for our V-SQUARED smartphone. Customers ordered from 54 different countries across the globe confirming the demand for the V-SQUARED handset. Those who ordered during our pre-registration event will receive their phones as soon as they are ready to ship.
"We are now excited to announce the launch of an Indiegogo campaign. Saygus has combined incredible technology in the V-SQUARED and through this campaign we plan to bring together early adopters from around the world to join us. We believe people want to do more with mobile, and that they will, if they don't have to compromise. Indiegogo is a great platform to assist us in bringing together a global community of technology enthusiasts who want to collaborate with Saygus to create the future of mobility," he said.
Sayers continued, "Indiegogo is another vehicle to let people know about the V-SQUARED smartphone and enable consumers to understand the unique features and their benefits. This is one more way to inform consumers around the world about the V-SQUARED as it delivers unprecedented features, that combined, create an unparalleled mobile experience. All phones ordered through Indiegogo are scheduled to ship in the fall of 2015."
One of the features that drove initial excitement in the Saygus V-SQUARED was the dual microSD card slots that provide its user 464GB of potential storage capacity. Saygus has implemented a new feature that provides the ability for a second SIM card. This feature has been requested from consumers around the world because it allows a user to switch between SIM cards for personal or work data or swap between carriers for plan savings.
Regarding the shipping plans, Sayers said, "We recently informed our customers who pre-registered for our phone that the shipment will be delayed due to our need to switch manufacturers because they were not meeting our stringent quality requirements. While we were changing manufacturers, we made the phone even more incredible by adding the capability for two SIM cards as well as moving from Android 4.4 (KitKat) to Android 5.1 (Lollipop). In the meantime, for any of our original customers, we can provide two options. First, we will ship them the V-SQUARED from our upcoming production run, or second, we can provide a refund, if preferred."
About Saygus Saygus is a US-based mobile device designer and manufacturer located in Salt Lake City. Saygus is focused on delivering leading-edge cellular devices that introduce new, innovative features to the mobile marketplace for the benefit of the consumer. For more information on Saygus, please visit: http://www.saygus.com
Be an expert in 5 minutes
Get the latest news from Android Central, your trusted companion in the world of Android
Andrew was an Executive Editor, U.S. at Android Central between 2012 and 2020.