Samsung's 2020 flagships will only get major updates until Android 12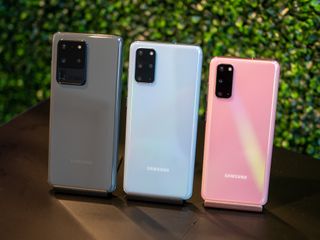 (Image credit: Andrew Martonik / Android Central)
What you need to know
Samsung has released its update schedule for its latest phones.
As expected, the company will only provide full software support for the S20 series and the Galaxy Z Flip for the next two years.
After that, they receive one more year of monthly security updates, following by quarterly security releases in the fourth and final year.
Despite the Galaxy S20 series and the Galaxy Z Flip being among the most expensive phones to be released by the company, Samsung is reportedly not planning on extending software support for these phones beyond its usual two years of full support plus two years of security updates, as per SamMobile.
Samsung has improved a lot in recent years with regard to the speed at which it updates its phone. While it was once lambasted as one of the slowest phone makers in providing new software to users, it now often releases monthly security updates for its phones even before Google does for the Pixel line.
Yet, while it's become faster at providing updates, Samsung has unfortunately not made much of an effort toward improving the lifetime of its phones. For years now, the company has stuck to a 2-year schedule for full software support (meaning it'll provide both security updates, as well as the latest feature updates from Google), followed by one more year of monthly security updates. All software support ends in the fourth year after a phone's launch, with security updates released on a quarterly cadence at this point before stopping entirely.
As the company added its 2020 flagships to its list of devices slated to receive monthly security updates, it's clearly signaling that it's business as usual for the company, and it's not planning on giving the S20 or the Z Flip special treatment compared to its previous flagships. And if it were making a change, that almost certainly would have been a major part of its marketing for the phones. Yet, we've heard nothing.
This means that since the phones ship with Android 10, they'll be in line to receive Android 11 and Android 12, but nothing more in terms of major OS updates. In contrast, OnePlus phones — which often cost significantly lesser than the Galaxy lineup — are assured three years of updates. So, too, is the Pixel line. The grass is even greener in Apple's walled garden, where all iPhones are promised five years of major updates.
There's no doubt that Samsung makes some of the best smartphones in the world — you might even say it's got the best Android lineup of them all — but if it truly wants to compete with Apple or even the likes of OnePlus, the Korean giant really needs to up its game when it comes to ensuring the longevity of its devices. So far, it's refused to do that.
Android Central Newsletter
Get instant access to breaking news, the hottest reviews, great deals and helpful tips
Such BS. Support these very expensive devices for 5 years. 3 full updates and monthly security patches. Going to iPhone as next phone.

Agree! Going to Pixel or hold my breath... iOS.

I'll stick with Samsung. Devices aren't built in China, 2 years of major updates is acceptable, 4 if security update is okay. If course I'd like longer, but even Apple doesn't provide complete updates for it's older phones every time.

Samsung should try to commit at least as long as the Pixel. The challenge for Android phone manufacturers is that they can't reliably support phones past the support Qualcomm offers. Apple doesn't have this problem because they make their own chips.

My S10e has an Exynos SoC, so it'll get Android 14, right?

While I agree that this sucks and 5 year should be the minimum instead of the current 4 year. I think Samsung know that most of us swap phones on a yearly basis so it really isn't a sticking point for 99.9% of the s20 customers.

Most of *us* do, but a lot of normal people don't buy a new phone until they actually need one. Hard to believe, I know.

Yep. The kind of people on this forum don't constitute up to 1% of the the people using phones. Our behaviour isn't "typical".

Historically, I would agree. For this year, Samsung drastically increased the price. I think it's reasonable to expect such expensive devices will be supported for at least 5 years. Samsung made the iPhone seem affordable and Apple updates their phones for a much longer period of time. Apple is Samsung's main competitor at the high end, not other Android devices.

LOL... Very few people will be keeping the S20 for 5 years. Let's get real now...

Very few who obsessively upgrade and those who know Samsung barely goes 2 years of meaningful updates. The rest of folks ... do keep them for 3 or 4 years.

3 years... Yes. 4-5 years? That's pushing it. Serious battery problems and other aging Android phone issues. We can criticize Samsung without being disingenuous.

4 years of meaningful updates, feature updates are not meaningful, they are niceties. I don't buy a car and expect new features in three years. I don't buy a refrigerator and expect new things added next year. I do expect both would get updates if a flaw was found that risked my privacy or security.

"Most of us swap phones on a yearly basis...", says who?! Speaking for myself only, I change my device after a minimum of two years. Always aiming for more years of use, depending on the device...

Actually most of the people I know don't upgrade every two years. For example my sister has an iPhone 6s, my wife has a S8 active and my poor mom is still carrying around a S6 active. And that's just a few examples off the top of my head. The economy is tough these days a lot of people can't be spending $1000 on a phone every two years. Even i , who used to upgrade twice a year as I was addicted to smartphones am still using a OnePlus 6T which is almost 2 years old and I'll definitely hold onto it for another year, maybe 2 depending on how fast 5G matures. Right now their is absolutely no reason to upgrade.

So basically you might as well stick with entry level or midranger devices. Nokia under the Android One programme guarantees pretty much the same. Plus three years of security patch updates next to the two years of software updates...

This is why I'm typing this comment on a OnePlus 6T. I mostly focus my attention on the OnePlus and Pixel phones because they are supported with timely updates for 3 - 4 years. I also look at Android one phones , mostly Nokia but they haven't come out with anything that impressed me enough. Samsung updates are crap, especially given the prices they charge.

Don't care. Lol. Moved back to the iPhone 11 Pro. So, I'll let the fanboys validate Samsung by blindly wasting their money on unnecessary upgrades and signaling to them that it's okay. Want better support, stop buying Samsung for a couple of years. That's the only way you're going to change it. Otherwise, stop crying.

Keep trying to convince yourself that you made the right decision.

He did make the right decision. He wants support for many years. And Apple has the longest support for their products. Sad but true.

And next year you'll but the iPhone 12 pro max plus 5G. Then you'll get a lot out of that update commitment.

Nope. 5G won't be worth sh*t for another couple of years. No different than LTE in 2011. Enjoy that. If I were going to upgrade yearly, I'd have stayed on Samsung. Bad support doesn't matter when you never keep a device long enough to see how bad that support is. I used to upgrade yearly, as well. I'm tired wasting money; and I'm not nearly the enthusiast I used to be. I'll have this phone for at least two years, at which point it will resale for a better price than a 1 year old Samsung flagship. /shrugs #Value

I did the same moved to the iPhone 8 plus in 2018 and planning on keeping that for a few year's minimum until. I also have Pixel2XL and will keep that until Google up their battery game and bring back the finger print scanner.

I do get a new phone every year but I don't buy expensive ones. $300 or less usually. Sometimes I go 18 months. Id really like a Nokia 7.2 but Im pretty sure they don't work on Verizon.

Spending $1,400 on a phone that will only last for 2 years is horsesh!t.

Oh.... Wasn't aware that the lack of feature updates makes a phone useless.

And this is my biggest issue with Android phones. Seeing that Apple provides 5 years of support is just absolutely bonkers. Even Google doesn't provide that type of support for their devices.

I can agree with this. It's why I carry an iPhone as a backup.

All the Android news chains and tech reviewers always bashing Samsung on software support is complete BS. Especially when they always compare it to other Android phones like the Pixels or OnePlus's. Unless they're comparing it to the iPhones where Apple has Samsung beat by a long shot (or any other mobile company). But when comparing it to other Android phones Samsung typically provides more updates, just not very timely, but more than every other Android manufacturer.

As I've said many times before- $1400.00+tax for 2 years of software support. Lol 😂, Hell No.

Then don't buy a 2020 Android flagship lol

I just dont get why i should care. A Samsung device 2 OSs behind will have more features than a pixel. None of the new features have been compelling or i already have them. And my Samsung will get security updates longer than a pixel. I just dont understand why I should care about version number if i have more features and get security updates for longer.

Spending that amount of money on those phones and getting anything less than 4-5 years of full support is foolish. Samsung is laughing all the way to the bank. Apple fully supports their phones for 4-5 years which works for me. No more Samsung and bum a** Android for me.

What do you feel you're missing with the major Android updates? The security updates are more important, and my S7 is still getting them despite being released in 2016. It received the February update last week, and it includes the updates from all the prior updates it didn't receive up until that point. Apple controls the hardware and software and can more easily support older devices. Only Google has a similar level of control.

Take a look at the recent major Android updates and tell me what features they provide that Samsung didn't already make themselves? Android 11 is the first one in ages that has a feature I want with the chat bubble text app, but that's also something I could live without. The security updates are more important in the long run. With the level of customization Samsung does, it's not feasible for them to do that for 4 year old devices. My S7 got the February update recently, S8+ got it a couple weeks earlier, and my S20+ is on the March update. If getting every major update is that important to you, there are plenty of other great devices out there. That's the benefit of Android over iOS, options.

Samsung has the chat bubble feature, its called smart pop up view.

Being on the current Android API level, meaning you're compatible with even the most innovative apps using the features and APIs in the latest Android version. Your argument is like someone saying "Windows 7 still has a lot of features and gets security updates" in 2018, yet couldn't run any of the newer DirectX 12 games. < 2 years of platform update means a 3 year old phone bought for $1,400 can find itself potentially unable to run a high end app or game that required a more recent Android API level than the phone officially supports (via first party/official firmware updates). The more these phones cost, the more pressure there is to keep them for longer periods of time - so the comparative lack of support is becoming a bigger problem as prices get pushed up. There's a reason why people keeping iPhones until they basically died has been a thing since the first model... Those phones were super expensive, so people who invested in them kept them forever to extract as much value as possible out of them. This update situation is a bad value proposition, and results in a phone that is only superficially future proof - and only to people who evaluate these things in terms of processor cores and RAM/Storage Capacity (basically, spec hawks). This is especially true for the Note series, where the Note 20 is likely to release in August or September with Android 10 - on the eve of Android 11's release. The Note series only really gets about 18 months of Android platform update support! This is why platform updates are important. Of course, this is less of an issue on Android, because fragmentation has forced developers to lag the platform SDK to support older phones - so, most apps are developed against an Android API level 2-3 years behind the current revision. However, the rate at which iOS developers uptake new APIs and features in that OS can be seen as a comparison, and even people on 4 year old iOS devices can run them without issue. This compromise is not necessary, there. This is also devalues the device quickly, since anyone buying second hand will get very little platform update support, if any - so the market generally doesn't want to pay much for them. This is why trade in values for 1 year old Samsung flagships are comparable to 2 year old iPhones.

I just bought a samsung phone....the A50. It ought to get Android 11 and even if it doesn't, I only spent $260.
Is it the best phone in the world? Nope. But I can buy 7 of them for the price of 1 Ultra S20. I really wanted a Nokia 7.2 but it's still not rated for Verizon (grrrrrrrr). My wife's Pixel 3a XL wasn't much more, I think it was $300. I'd have got that but I like to keep a lot of stuff on my phones so I wanted the SD card along with the slightly larger screen.

I was looking at the Galaxy A71. Looked interesting. Not a power house, but nice setup.
Android Central Newsletter
Get instant access to breaking news, the hottest reviews, great deals and helpful tips
Thank you for signing up to Android Central. You will receive a verification email shortly.
There was a problem. Please refresh the page and try again.