Samsung has announced a 4G LTE version of the Gear S3 Classic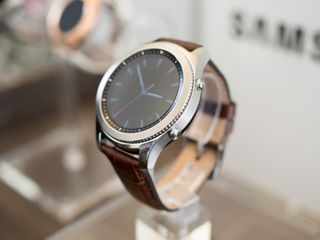 Samsung is set to release a new version of its Gear S3 Classic smartwatch that will feature 4G LTE connectivity. This adds the same optional functionality found on LTE version of the Gear S3 Frontier, allowing users to make and take calls, text, navigate, pay, and more without needing your phone. The LTE version of the Gear S3 classic will be available from AT&T, T-Mobile and Verizon, with each carrier expected to announce the pricing and availability.
This will give those looking for LTE functionality in a smartwatch the option to choose between both the Gear S3 Classic and Frontier. But, as Andrew Martonik found in his review of the LTE version of the Gear S3 Frontier, the LTE functionality does take a bite out of the overall battery life of the watch depending how frequently you use the feature. Certainly something worth considering before you buy.
While we don't know how much the new Gear S3 Classic will cost, but based on the pricing differences between the LTE and non-LTE Grea S3 Frontier (opens in new tab), you should probably expect to play somewhere between $349.99 and $399.99 for the LTE version of the Gear S3 Classic, on top of roughly $10 a month for data from your preferred carrier.
Have you held off buying the new Gear S3 waiting for an LTE version of the more stylish Classic model? What are your thoughts? Let us know in the comments!
Get the Android Central Newsletter
Instant access to breaking news, the hottest reviews, great deals and helpful tips.
Marc Lagace was an Apps and Games Editor at Android Central between 2016 and 2020. You can reach out to him on Twitter [@spacelagace.
Simply the nicest wearable on the market.

i just bought the Frontier a month ago... I would have totally got the classic if it had LTE at the time

The classic is an awesome looking watch. Just saw it in person, just beautiful. It's like a better looking huawei gen 1 with a rotating bezel. I just wish you could use Google maps on it and save reminders to Google.

Even though they just announced more Tizen app partnerships, and the Gear S3 Classic is a looker, I still think I am going to stick with my LG Watch Sport. I've had a great time weight training and logging everything with Google Fit while controlling my music at the gym. I get a full day without LTE on and it's comfortable. I definitely think you can't go wrong with either the Gear S3 or the Watch Sport.

If only Verizon would get on board...

I read on another article that this is AT&T/T-MOBILE and Verizon. The VZW version has been through FCC approval. Fingers crossed.

If true, the Verizon version will be bought first day 😎. Time for an upgrade.

Seriously! So sick of waiting on them. I chat them all the time and nothing. Just release the damn watch. Frontier and Classic. I know the Frontier LTE version has been out awhile.

I know it's ridiculous. I have the GS2 LTE with Verizon and want to upgrade already.

I have the same watch. I like it but damn thing just slows down when doing too much. Like when I'm using GPS for my run, streaming Spotify, and all goes to hell if I get a text or something during all that. Verizon needs to get on it.

Does it still run Tizen? Yes? Oh, then nevermind...

Tizen OS is outstanding! It's only a smart watch no need for 10k apps you will never use.

He's just being a troll ignore him

Don't be a fanboy.. in no way does Tizen do as good as Android Wear 2.0 does. I mean s voice don't even understand what your saying half the time.

Haha fan boy the buying public has spoken with there wallets and the numbers say they've given up on Android ware . Last quarter Samsung sold three times as many tizan base watches as all the AW watches compined .More then half of all the s3 buyers where previous Android Wear users . Now chew for a minute. Don't let your obvious bias Cloud your better judgement

Yep cause Android ware watches are so popular that almost no one what's one . With its Ton of apps that won't gets used , and a battery life that sucks worse the the Apple watch . ....Pass... sean 1 Robertson

Love my Gear S3 classic, returned Frontier wifi model. I don't have a need for LTE since I can use Samsung pay in standalone mode now, and don't need to look like a ********* talking into the watch. Haha

Hahaha... D0uch ebag is censored.

No. This is stupid. I have gear classic and gear 2 these size is ok but when it goes 45mm bezel ? Really? Samsung must understand that they need to secure their customers with new models and decant size to wear watch.

May I interest you in a gear s2 then ...See Samsung has a watch for everyone

Without a doubt the VERY BEST SmartWatch to date. Best looking, built and has all the bells & whistles. This watch with the right band IMO cant be beat.

Why isn't Sprint going to carry it?

Insert obligatory Sprint diss comment ..... BTW, I have 2 Sprint Liens and the sevrice in Houston is pretty good where I am. Sometimes my wife gets better coverage than my Verizon device when we are at some locations!

FYI, typo: "expect to play"

LOL, good luck getting that corrected.