Samsung will give away Galaxy Buds+ with S20+ and S20 Ultra pre-orders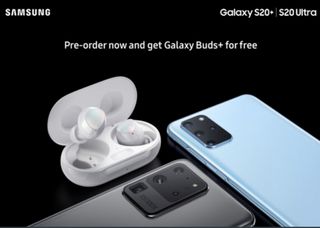 What you need to know
A leaked promotional image confirms the existence of Samsung's Galaxy Buds+.
You'll get them for free when pre-ordering the Galaxy S20+ or S20 Ultra.
Another leak showcases official case options Samsung will offer for the S20 series.
We're less than a month away from Samsung's Galaxy S20 Unpacked event, and while it seems like we already know everything about the upcoming phones, there's apparently still more to learn. Most recently, new details surfaced regarding a pretty sweet pre-order promotion Samsung will offer.
Thanks to a leaked promotional image Evan Blass shared on Twitter, it appears that Samsung will give away its upcoming Galaxy Buds+ earbuds for free if you pre-order the Galaxy S20+ or Galaxy S20 Ultra. Based on the image, regular S20 pre-orders won't qualify you for this freebie.
The Galaxy Buds+ are shaping up to be pretty solid true wireless earbuds, with the biggest improvement rumored to be better battery life. We aren't expecting any active noise cancellation similar to what's found on the AirPods Pro, but perhaps Samsung is saving that for Galaxy Buds Pro later on in the year.
Source: Ishan Agarwal
Speaking of the S20, Ishan Agarwal also shared renders of some upcoming cases for the S20 series. All three phones (the S20, S20+, and S20 Ultra) will get Samsung's official Protective Standing Cover, LED View Cover, and Clear View Cover.
Samsung will likely offer more color options than the black/gray ones shared in this render dump, but at least this gives us an idea of what we have to look forward to.
The Galaxy S20 family and the Galaxy Buds+ will be unveiled on February 11, meaning we don't have too much longer to go before everything is made official.
Samsung Galaxy S20: News, Leaks, Release Date, Specs, and Galaxy S11 Rumors!
Joe Maring was a Senior Editor for Android Central between 2017 and 2021. You can reach him on Twitter at @JoeMaring1.
If they offer it with a trade in amount of $500-600 like last year, I will instantly trade in my S10+ for it.

I hope they offer more than that since I have a 1TB S10+. That's probably wishful thinking.

They don't really take memory into consideration, only model

Would be great if Samsung sold their dual sims phones directly from them.

Still debating if I should "upgrade" my Note 10+ to the S20 ultra 🤔. That 120hz display is really calling my name.

would be nice if this isnt true and they included the regular s20 for the free buds it isn't like the regular s20 is a budget model at $1000. So tired of the normal sized phones being gimped (no ToF... couldnt fit that on 6.2 really). I know im in the minority but I am so sick of the giant phone trend. I am also not looking for super small like 10e size or anything but regular s20 at 6.2 is perfect these 6.7 and 6.9 is getting ridiculous imho (I guess most people dont need to one hand or multi task (physically) anymore)

You lost me when you said "super small like s10e size" that size would be a giant phone a few year ago, now you want a regular size phone... but the 5.8 inches (19:9) phone is super small xD

ok maybe I shouldn't have said the words super small. "taken back". I just think the phones sizes are getting insane and something more one handed /pocket friendly (shall we call it?) always getting shafted of things

So disappointing
1. Buds with no ANC (hello Samsung, it's 2020)
2. Exynos processor in most areas
3. The same small slow fingerprint sensor
4. Price

I think the main reason for not adding the ANC feature is that samsung wants their pods to become a fashion trend also. If there was an ANC feature, people would need to remove it to hear people talk. Whereas without the feature, people can wear it all the time without the need of removing it. Just my opinion

Well they lost me as a model for their trend.

You do know That ANC is a feature that can be turned off and on
Android Central Newsletter
Get the best of Android Central in in your inbox, every day!
Thank you for signing up to Android Central. You will receive a verification email shortly.
There was a problem. Please refresh the page and try again.