Samsung Transform Ultra available now on Boost Mobile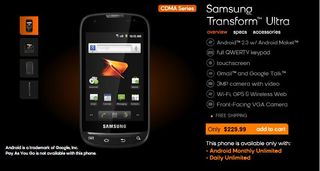 The Samsung Transform Ultra, the QWERTY slider we first met last month, is available now on Boost Mobile for $229.99. In case you've forgotten, the Transform Ultra has got some respectable guts under its hood:
Android 2.3
1GHz processor
3.5 inch HVGA Touchscreen
Full QWERTY Keypad
3MP rear camera with video
VGA front-facing camera
Wi-Fi®, GPS and Wireless Web enabled
Front-facing VGA camera
Easy access to Gmail™ and Google Talk™
Bluetooth® capable
Speakerphone with voice-activated dialing
Supports microSD® cards up to 32GB (2GB card included)
Voice mail, caller ID, call waiting and three-way calling
You'll have to choose between Boost's $55/month unlimited Android plan and its $2/day unlimited daily plan for your Transform Ultra, but that doesn't seem too shabby for a contract-free Gingerbread device. Is anyone planning on hitting the source link to grab one today?
Source: Boost Mobile
That is a very sweet deal... To my knowledge, there is no data throttling either.

walmarts straight talk is a way better deal and they have an android phone now.

Not really due to shrinkage. After 18 months you will be paying $40/month instead of the $55/month. That and the Straightalk android is crap. Unless you just grab one of the phones that use the good SIM and put it in your choice of at&t android phone. ;)

That Walmart phone is not as nice as this.

And yet another specs article with no mention of how much memory. 512MB? 768MB? 1GB? Boost has low prices, but you have to beware- it has NO ROAMING AT ALL, so you are restricted ONLY to the Sprint native network. This won't be a problem if you live in a city and travel mostly interstate. But if not, don't expect the coverage of Verizon, like you have with regular Sprint service (which includes free roaming).

I would have to slightly disagree with some comments here check out more
www.boostmobilereview.com/samsung-transform-ultra-review/
Android Central Newsletter
Get the best of Android Central in in your inbox, every day!
Thank you for signing up to Android Central. You will receive a verification email shortly.
There was a problem. Please refresh the page and try again.