Samsung rolls out 50% guaranteed buyback program for Galaxy S20 series phones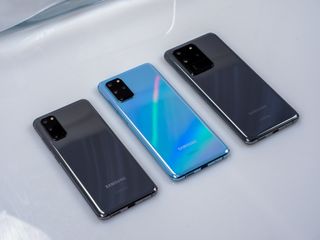 (Image credit: Android Central)
What you need to know
Samsung has launched a new '50% buy-back guarantee' program for its flagship Galaxy S20 series phones in the U.S.
As part of the program, you can get 50% of the phone's full retail price back if you return it to Samsung within 24 months.
To receive the buyback credit, however, your device will have to be in "satisfactory condition."
A recent report had claimed that sales of Samsung's new Galaxy S20 series have been 'very disappointing' so far, mainly due to the coronavirus pandemic. Samsung has now launched a guaranteed buyback program for the Galaxy S20 series phones in the U.S., likely aimed at boosting consumer interest.
The 50% buyback guarantee program, as spotted by Droid-Life, gives buyers the option to purchase a Galaxy S20 series phone and return it within 24 months for 50% of its full retail value. It is important to note, however, that only Galaxy S20 series phones purchased on Samsung.com or the Shop Samsung app will be eligible for the buyback program. You will also have to make sure that you opt into the program while placing your order.
To take advantage of the buyback guarantee program, all you will need to do is visit the My Orders page and initiate a return request. Samsung says that the device must be in "satisfactory condition" to be eligible for buyback credit. You will not receive any credit in case the device is not in satisfactory condition.
As per a report from BankMyCell, Samsung's Galaxy S10+ lost nearly 50% of its value by the end of 2019. So if you opt for the 50% buyback guarantee program, you will be able to get a lot more for your phone by returning it to Samsung than selling it on the second-hand market after two years.
BUT.....you get about $250 LESS for trading in your current device for an S20.

This is actually great! I like this idea given how it's expensive and you'll want to keep it two years.

Instead of giving back 50% in two years, take 25% of the price now!! Not only would this help people's pocket books in real time, but would sell more units.

Wouldn't it be better to offer a 100% refund? The virus does have an impact on sales, but I think that is compounded by the high price. $1400 for a phone with a poor FP sensor, no secure face unlock, and a camera that struggles to focus? I'd hesitate too, especially with the Note 20 around the corner.

U.S only once again.....FU Samsung

Watch out for Samsung's requirement that the phone be in "Satisfactory Condition"! In addition to your phone's body being in perfect to near perfect condition, your phone's screen will have to be in PERFECT condition (with no visible OLED burn in). Samsung will not consider OLED burn in (caused by using your phone with the screen brightness at high level) to be normal wear and tear.
Samsung will ding you for OLED burn in (even though the phone's Settings allow you to choose a high brightness level). Samsung will punish you for using your phone as their design of the phone allows it to be used! A few years ago, I traded in my Galaxy Note 5 to Samsung for a discount on the new Galaxy Note 8. (My two year old Note 5 had been in a Otterbox Defender Case and had a glass screen protector on it from the moment that I unboxed it. It was physically perfect, with not a speck of physical damage to the body or screen. It still looked brand new- but it did have some OLED burn in after two years). After Samsung shipped me the new Note 8, they took back nearly half of the discount they gave me on it (charged back to the Samsung Finance account I had at the time). Samsung claimed that my Note 5 trade in phone had a damaged screen. Needless to say, I WILL NEVER GIVE SAMSUNG TO OPPORTUNITY TO RIP ME OFF AGAIN WITH THEIR BS PHONE TRADE IN PROGRAMS!!!
Android Central Newsletter
Thank you for signing up to Android Central. You will receive a verification email shortly.
There was a problem. Please refresh the page and try again.