Samsung resumes international Galaxy S3 Android 4.3 updates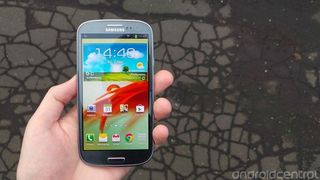 The Android 4.3 firmware rollout for Samsung's Galaxy S3 didn't go exactly to plan, leading to the manufacturer suspending the rollout to investigate numerous issues reported by S3 owners. Now it appears Samsung has completed its work squishing bugs in the 4.3 firmware as a new update is being pushed out to international Galaxy S3 (GT-i9300) owners in parts of Europe.
According to reports from SamMobile and XDA, the new firmware carries the build number I9300XXUGMK6, and was built on Nov. 28. Early reports from forums suggest that the performance and stability issues affecting the earlier update have been fixed in the latest build. As before, the 4.3 update also brings Samsung's KNOX enterprise security platform, as well as support for the Galaxy Gear smartwatch.
As always, the OTA will likely take at least a few days to filter out to all users; if you've got a European Galaxy S3, hit the comments and let us know if you've got this latest update.
Alex is global Executive Editor for Android Central, and is usually found in the UK. He has been blogging since before it was called that, and currently most of his time is spent leading video for AC, which involves pointing a camera at phones and speaking words at a microphone. He would just love to hear your thoughts at alex@androidcentral.com, or on the social things at @alexdobie.
My friends SG3 on sprint was updated two nights ago to 4.4.21 and he sent me the screen shot, I was shocked. I thought maybe he upgraded to a newere phone but he didn't and still have the same sg3 tw icons in the top and its stock, he doesn't know anything on roms or unlocking and rooting. Verizon will still not say what happened to their Nov 22nd timeline Samsung said it would be released on Verizon for 4.3 on the SG3

My galaxy s3 T-Mobile got my update I'm in the U.S also

Considering that they just put out 4.4.1, I would say your friend is messing with you

No update here. I'm on a Verizon gs3. Posted via Android Central App

I don't think Verizon will release it at all. Probably stuck on 4.1.2 till 2015 when my contract is up. Posted via Android Central App

+1000 Posted via Android Central App

T-Mobile gs3 lte still stuck on 4.1 I thought we were getting it on 11/25 Posted via Android Central App

Woke up this morning in Canada to a message saying update was available. Other than a change to email look, unlock screen, and having to re-organize my widgets and apps all over again I haven't seen much of a difference, but then again I'm not sure what i'm looking for so I'll have to check out the articles on what's actually included in 4.3. Update and features after updating all work fine though

Android 4.3's biggest features are actually under-the-hood. You'll get OpenGL ES 3.0 (if your SoC is supported)and also a nifty little feature called TRIM. I don't know much about it, but this quote should explain everything. "TRIM is essentially the paging channel through which the OS tells an SSD or eMMC controller that a block is no longer in use, and thus ready for garbage collection. This is critical for maintaining performance on the controllers in use across smartphones and tablets and preventing aging-related I/O performance slowdown." - Brian Klug, AnandTech

Settings layout is different, can add widgets to lockscreen, new customization for the notification bar, and a few other tweaks. As someone mentioned already, a lot of the changes are under the hood. Posted via Samsung GS3 Wishing It Was A N5

No love for the superior s3 LTE? Posted via Android Central App

Nope and that's my frustration Posted via Android Central App

Meanwhile here in the US on Verizon....

Not to get anyone's hopes up, but I just saw this: https://community.verizonwireless.com/thread/811308 Take it with a grain of salt....

Alex, Good to get a heads up, cheers.

This may or may not eventually come to my S3 on Sprint, but it's one more sign that I'm making the right call in continuing to tolerate the update notifications while I decide what to do, instead of just giving in and updating OTA.

It's good news, but after the previous debacle, I'll think I'll wait a few weeks to make sure that this is actually working properly before I attempt to update. Don't want to spent Xmas trying to fix my phone!

I have a Sprint S3 that was updated by Kies ultimately. The OTA loader would go idle instead of rebooting and installing. After a lengthy bit of time, Sunday 4 am - Tuesday 130 am, the update was installed and stable. Once the update was in none of my apps would update. I had to delete my Google Play information and resign in to get past that SNAFU. Some of this can be followed via Twitter (Big_Al_URPal) as I spoke with Sprint, Samsung, Google Play and the Geek Squad using tweets to get tech support, also phone calls and more phone calls helped this endeavor. I could describe it as a nightmare but it wasn't, truly it was a good learning experience.
So far none of the people I know with S3's on any of the carriers have gotten the update (8 or 9). As far as I can tell the updated version of Android is bug and glitch free. I want to thank all the techs that helped me get my phone running. Android 4.3 is a nice piece of coding.

Is there any news on an update for the galaxy tab 3?

That's pretty doubtful Sent from my Nexus 7 2013

Still waiting here in the UK, wonder how king this is going to take Posted via Android Central App

I have the i-747M on Telus in the great white north and I haven't notice much in terms of changes other than my bluetooth devices no longer automatically synching and the new "protection" when load noises are to be output to my headphones (and as such I can no longer use my credit card reader on my device). This started on Android 4.2 (on thing that iOS has done is to allow override of this). Battery life seems a bit better (for today). A lot of changes in where to find specific setting and I like how you can now re-order the button placement on the pull down switches. If my Bluetooth issues could be solved I would be a fairly happy camper after the update.

Living in Texas and am currently a Galaxy S3 owner(Sprint customer). I have been getting the annoying notification to update to the 4.3 version since this morning but I am a bit squeamish in doing so. I've had very bad experiences in updating my device right away. I've noticed that ever since its asked me to update my device has been lagging and battery drains. So I'll try and wait a few days to keep reading reviews on this new update.

From 4.2.2 leak firmware to 4.3 I don't see much of a difference. Posted via Android Central App

So Samsung attempts to make customers buy a new phone to get an upgrade early.... Nicely played Posted via my weird GT-P3113

I'd this update bricks my phone, I will upgrade: to a Moto X. Posted via Android Central App

To solve battery drain first backup all your data and execute hard reset procedure. This work fine for SG3 and SG4 :) Posted via Android Central App

I m from india & still waiting to andriod 4.3 jell been new version..
:) How long we will wait... Posted via Android Central App

Found a notification this morning on my Galaxy S3 on Virgin Mobile USA, but I'm kind of afraid to instal it still, cause of all the problems.
Anybody else installed this yet?

I also got the notification yesterday morning when my children were using it, they updated it and then said that something popped up on my phone. Since then my battery drains extra fast and every time I connect to wi-fi it installs the same 15 jpgs I assume that they are for the new look of all of the pages because it says that it cannot find the file if you tap it but it is really annoying. I suggest not updating.

I'm from Romania, the new update didn't arrive yet.. :) Posted via Android Central App

Metro PCS hasn't got it yet and probably won't till everyone else does. Way too much bloatware! Posted via Android Central App With A Galaxy S3

Has there actually been a fix for the Galaxy S3 Firmware that got released in the UK?
Have had to move to Cyanogenmod until Samsung confirm they have fixed the problem. 4.4 would be a good solution as it is designed to work on the specs of all of the Galaxy S range.

At last they have fixed the issue, now the only thing remains is when it's coming to my country, cause last time It didn't show, let it be soon... Samsung, please be fast on rolling it to other countries... Posted via Android Central App

Still waiting from Malaysia :\ Posted via Android Central App

Has the update been pulled again as i don't know anyone that is getting it. Posted via Android Central App

Hello from Romania!
This is the last update and the latest firmware: PDA:MJ9 / PHONE:MJ3 / CSC:MJ5 (CNX) So, no update for Vodafone/Romania yet, and lot's of problems with this one!
Thank you!

USA --Sprint Network. GS3
I have been getting the upgrade notice for several days but waited to hear from others.
INSTALLED TODAY. Works great!
We can finally silence the camera sounds by muting the phone!
Feels and looks great.
Good job Samsung!

Actually if you download the latest version of kies air for your desktop...there should be an update...if you plug your s3 phone into the computer while running kies...there's a chance that the s3 model you have can be updated...I have Boost mobile and I have 4.3 Posted via Android Central App

i am in Edmonton Canada and i updated my Samsung S3 to version 4.3. but it doesn't work well. my phone send errors. i cant see my contact. it is close some apps on its own. extremely slow. what is solution? how can i go back to previous version or if there is other solution please thank you Maya

Hey there, I woke up just now to a notification asking me to install this update... and I know that the earlier version from November was very buggy, do you think it is safe to install this firmware or not?

Verizon may be pushing out the 4.3 update today in small batches for the Galaxy S3. Look for VRUCML1!

I'm in the Netherlands and just recieved the update from 4.1.2 to 4.3 today. After the update I cannot use the phone app anymore as it contioniously runs in error. Freezing the screen and reporting the error message "contacts has stopped (Ducth actually is Contacten is gestopt)".

Hi I'm in the uk and got fed up with waiting, so I downloaded the Dutch 4.3 firmware for my galaxy s3 GT-I9305 LTE and flashed it with Odin. Phone is as smooth as silk and although battery life was shorter at first it now seems ok. Be carefull if you root phone after update and install custom recovery as this will trip the knox counter which I did, but I don,t care about things like that, love to experiment, hope this helps!

Still waiting ........-___-

I have a Galaxy S3 GT-I9300.I got the OTA 4.3 update 2 weeks ago! Also, I have to say, it works great! I've had no problems! I was having a problem connecting to the TMO network,(this is an unlocked phone).since the update the TMO mobile network has been working quite fast! I don't get the 4G, but I do get the H+ and that runs VERY fast! From what I've read the H+ is 3.99G and it works great!!

i got the last update but my phone does not work any more. I have S3 GT-I9300. I got it from Dubai, and i tried to fix it here in the U.S but they told they can not fix it because its international. So I tried to do factory reset but once i turn it on the process does not complete. the phone will stuck after the drop box screen. SO PLEEEEEASE GUYS I NEED YOUR HELP.
Android Central Newsletter
Get the best of Android Central in in your inbox, every day!
Thank you for signing up to Android Central. You will receive a verification email shortly.
There was a problem. Please refresh the page and try again.