Samsung Pay adds virtual debit card and international money transfers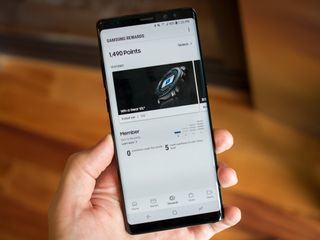 What you need to know
Samsung Pay is adding a virtual debit card and international money transfers.
The virtual debit card will allow you to add funds to it and can be used anywhere Samsung Pay and Mastercard are accepted.
The international money transfer service will allow users in the U.S. to send money to 47 countries.
Samsung's mobile payment service, aptly titled Samsung Pay, has a couple of new features for users to get excited about. For starters, Samsung Pay now offers a virtual debit card which you can sign up for within the app.
The virtual card (called Samsung Pay Cash) will allow you to request, send, or add money to it through any card in Samsung Pay. The Samsung Pay Cash card works anywhere Samsung Pay and Mastercard are accepted.
Next up, Samsung will now support sending money internationally. The service is powered by a foreign exchange company called Travelex which is owned by the Finablr payment platform.
While the transaction will be initiated with Samsung Pay, the recipient won't have to be a Samsung Pay user in order to access the funds. Instead, there will be payout options including bank deposits, cash pickup, and premium.
Users of the service will be able to send money to 47 countries, including China, India, Mexico, and the Philippines. When sending money internationally, the service will automatically show you the currency conversion along with any applicable fees upfront before completing the transaction.
Initially, the money transfer feature will launch for users in the U.S. and Samsung plans on expanding it to more countries next year.
It might be worthwhile to clearly state that these things are only available in beta and the latter is closed to the participants "due to the overwhelming demand"... original XDA article, you are linking to, puts this fact in the article heading.

The virtual card feature seems interesting... Shame the app refuses to work on my phone and isn't supported by my bank anyway lol.

sounds interesting. It is something to consider since I have been using american express serve prepaid. But since I also use google pay, I will only use cards that will work on both.

Routing number they gave me to transfer money from bank account says it's invalid
Android Central Newsletter
Get the best of Android Central in in your inbox, every day!
Thank you for signing up to Android Central. You will receive a verification email shortly.
There was a problem. Please refresh the page and try again.