Samsung opens pre-orders for the Galaxy Tab S6 in the U.S.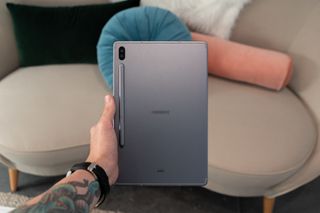 (Image credit: Hayato Huseman / Android Central)
What you need to know
Galaxy Tab S6 can now be pre-ordered in the U.S. directly from the Samsung website.
The flagship Android tablet starts at $650.
Galaxy Tab S6 variants with 4G LTE connectivity are expected to be available sometime later this year.
Samsung introduced its high-end Galaxy Tab S6 Android tablet last month. The tablet, which happens to be a significant step-up over its predecessor in many areas, is now available for pre-order from the company's website in the U.S.
For now, Samsung is only offering the Tab S6 in Wi-Fi only variants, which will begin shipping on September 6. As announced by the company last month, it plans to release variants of the tablet with built-in 4G LTE connectivity later in the year.
Samsung Galaxy Tab S6 comes in two storage variants: 128GB and 256GB. While the 128GB variant is priced at $650, you will need to pay $730 for the 256GB variant. You can pre-order any of the two variants from Samsung's website in Cloud Blue, Mountain Gray, or Rose Blush colors.
Those who pre-order the tablet can get 50% off the Book Cover keyboard, which has a list price of $180 on the Samsung website. Additionally, Samsung is offering 4 months of free YouTube Premium subscription and up to $350 when you trade in your old phone or tablet.
The Galaxy Tab S6 comes with a 10.5-inch Super AMOLED panel surrounded by quad speakers that have been tuned by AKG. It runs on a Qualcomm Snapdragon 855 processor, paired with up to 8GB of RAM. On the back of the tablet is a dual camera setup with a 13MP primary camera and a 5MP secondary camera offering a 123-degree field-of-view. The tablet also features an optical in-display fingerprint sensor, 7,030mAh battery, DeX 2.0 support, and an all-new S Pen.
Samsung Galaxy Tab S6
With a Snapdragon 855 processor, DeX 2.0 support, and a versatile S Pen, the Samsung Galaxy Tab S6 is a compelling alternative to Windows-based convertibles. For a more laptop-like experience, however, you will need to get the tablet with the Book Cover keyboard.
Best Buy had the Surface Pro this week on a one day sale for $549 including keyboard. That seems like a much better deal than the S6.

True if you still need a pc. Some people would rather pay more for a tablet than to go through windows update hell.

It baffles me how people are choosing Android OEMs with regards to how they update their phones and those same people still complain about updates on Windows.

There are pros and cons to both. If it is your only computer or you are doing heavy lifting then I would definitely suggest the SP, but as a secondary device this makes an attractive option especially since it is significantly lighter and comes with the pen (an added $99+ for SP). I'm thinking of getting one to use in lectures (I teach organic chemistry, so inking is a plus) where the SP has proven to be just a tad too heavy for multiple lectures a day and the battery a tad too weak when running wireless projections.

Not to mention the $550 SP is the 2017 model with an m3 (7th gen) and 4GB of RAM. I have one, it is functional but not spectacular. Especially in newer releases of W10 that RAM is a choke point. My daughter's upgraded 8GB Surface Go feels peppier. My Note 9 is peppier for presentations but doesn't have the inking room I need. The i5 SP6 with 8GB/128GB is price equal to the 6/128 Tab S6 right now (no keyboard for each, but pen on the Tab)

I do wish they hadn't left the keyboard flat like the original SP.

The perfect time to look for a Galaxy Tab S4 and keyboard cover on sale? I recently nabbed an S4 from Best Buy for $399, and a Samsung keyboard cover on Amazon for $89. Granted, it's older hardware, but that's also a significant price difference for what many will see as an iterative difference.

Big changes to S-pen, two generation jump in processor, better keyboard and kick stand, thinner and lighter... lots of changes and more than just iterative. Yes, it is a matter of personal debate whether the changes are worth the premium... I'm still on the fence.

Pre-ordered the 128GB Cloud Blue today to replace my 7yo 16GB Nexus 10 which can't hold a charge. Used a 10% birthday discount at Best Buy and beaucoup gift cards so no out of pocket! Wife will get the 32GB Pixel C which should last several more years. Psyched!
Android Central Newsletter
Get the best of Android Central in in your inbox, every day!
Thank you for signing up to Android Central. You will receive a verification email shortly.
There was a problem. Please refresh the page and try again.