Samsung Mobile Instagram teaser all but confirms the Galaxy K camera phone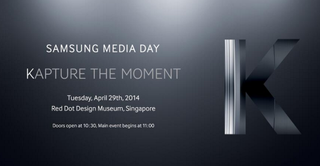 Samsung Mobile has posted an Instagram video to its account that pretty much confirms the new camera focused phone that we're expecting to be known as the Galaxy K. Also previously referred to as the Galaxy S5 Zoom, Samsung is hosting an event tomorrow, April 29, in Singapore and the video clip below is the clearest indicator yet that optical zoom is the thing.
We're also told that we'll be meeting "The Next Galaxy," if we needed further proof that the photography focused event was indeed the introduction of a new smartphone. We've seen some leaked images of the purported device in recent days and weeks, showing what looks to be a much improved – at least design wise – successor to the Galaxy S4 Zoom.
Things are going down at 11 a.m. local time in Singapore, which means if you're in Europe or the U.S. it'll be a late night to find out exactly what we're looking at. That translates to 4 a.m BST, 11 p.m EDT and 8 p.m PDT. We'll update with a link to a livestream if there's going to be one.
Please let them join forces with the Kardashians, it would be the ultimate shark jump.

Whatever technical wizardry they've used to keep this cameraphone slim; I hope they use for the Note 4. Posted via Android Central App

Did anyone buy the S4 Zoom??
Seems kinda pointless to me. Posted via Android Central App

I wanted to, but it design wasn't easy to carry around. If they solved the design problem I'm in. Looks like the perfect phone for parents who need something for work and to take pictures of the kids.

Eh im with you but the lack of phone prowess turns me off. I am a parent who relys solely on my phone to take pics of my kids. Since I am doing that my phone not only needs to be a good camera, but an awesome phone as well. I cant sacrifice on the phone internals to get a better camera and vice versa. I am anxious to hear the specs on this thing and the design but the S4 Zoom was crappy compared to the S4 and Note 3 if I remember correctly

I"m willing to sacarfice some of the internals. My main concern is email for work. I don't need to download movies or play intense games.

I cant justify spending hundreds of dollars on something that is 1 generation behind. 720p screen meh, no snapdragon meh, 2gb ram meh, Sounds like a weak S4. I need mroe than that for Apps not to lag playing and browsing to be strong. I actually get an S4 for work so I was looking to replace my Note 2.

What no Android Central live blog of the event? I am disappointed. :-) Posted via Android Central App

I just got back from Turkey, that's my excuse. Dunno what the others guys' one is :P

Lol Posted via Android Central App

Lol Posted via Android Central App
Android Central Newsletter
Get the best of Android Central in in your inbox, every day!
Thank you for signing up to Android Central. You will receive a verification email shortly.
There was a problem. Please refresh the page and try again.