Samsung may ditch the S-series branding in 2019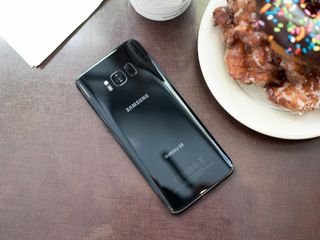 We're just a few short weeks away from the launch of the Samsung Galaxy S9 at MWC in Barcelona, and as we've seen from rumors and leaks, the phone will be a minor upgrade over the already great Galaxy S8. This would naturally lead us to believe that 2019's Galaxy S10 will be a much more exciting device, and a new report suggests Samsung will commemorate this by doing away with its S-series branding.
According to Tekz24, the Galaxy S9 will be Samsung's last phone in the S-series before moving on to something different. Samsung's been using the S naming scheme since 2010 with the original Galaxy S, and with next year being home to the release of Samsung's tenth S-series flagship, the company will reportedly ditch the Galaxy S10 name in favor of Galaxy X – not unlike what Apple did with the iPhone X last year.
Samsung's said to be doing the name change in an effort to reduce clunky naming schemes (such as Galaxy S15 and S17), but this does create for some confusion considering that Samsung's foldable smartphone has been rumored as the Galaxy X for quite some time now.
If Samsung does stick with the X branding for its primary and foldable phones, we could see something along the lines of the Galaxy X, Galaxy X Plus, and Galaxy X Foldable. Then again, Samsung could also name its foldable phone something entirely different and reserve the X branding for its primary releases instead. It's too early to say for certain but even so, it will be something to keep an eye on as we go throughout the year.
With that said, what do you think about Samsung possibly retiring the S-series brand in favor of something different?
Joe Maring was a Senior Editor for Android Central between 2017 and 2021. You can reach him on Twitter at @JoeMaring1.
A good start. They need to do away with the Galaxy Brand as well. Come up with a cool name that will come to define the next generation series of smartphones as we are ushered into the post PC age. I just wish I was creative enough to offer up some suggestions.

Doing away with teh Galaxy branding would be ridiculous. It is one of the most known and recognizable phone brands around, and probably 2nd only to the iPhone. Just about all "normal" users know iPhones and "Galaxy" phones. It would be insane for them to lose all that brand recognition ..

While I mostly agree with you, Samsung could spend half a billion dollars marketing the new name and within 6 months people will be saying "A Galaxy? Why you still using that old thang?"

This is what I was thinking... Suppose They picked a new name - say... uhhhh.... Mercury (After the Greek God of Communication and Financial Gain). If they unveiled this Samsung Mercury as a flagship, they'd get FREE PUBLICITY from the wealth of news coverage they'd have. Add in commercials that say "First there was Galaxy, now there is Mercury... the future of Smartphone tech. Mercury, from Samsung. Preorder yours today." It will sell like hotcakes.

I dont think S12 or S15 sound clunky at all. Have you noticed some of tthe monikers attached to some phones over the years? But whatever. Samsung can do as they will. When one is on top of the world one can define the playing field and make the rules. An enviable position.

The fact that some companies (well, most companies) give their smartphones long names doesn't make them less 'clunky'. Just as there is a psychological barrier between 999 and 1000$, seeing two digits instead of one may make the name less than optimal.
Besides, they shouldn't use the Galaxy S brand ad infinitum, as that would portrait them as stagnant. Samsung is the innovation powerhouse of mobiles (whether you like their phones or not), and they need to make a radical change once in a while not to become a second Apple. It's not unprecedented either, HTC and Sony changed their brandings lately (for better or worse), and it seems to work better than before that.

I think they watered down the Galaxy name by using it across the board from the most basic budget phones to the best flagships. A rebrand might be good all round

This. The Galaxy Grand Prime Echo Grand Microwave 4G is a $100 phone, while the S8 creeps close to the $1000 mark. They've done a good job with the A models, to the point where I can see the A and S models becoming their own line, but definitely not lumped in with something that Cricket sells for $75 a piece.

+1 Yes. Galaxy should have been exclusive to their flagship line.

Galaxy X is coming (with a notch)

I've always liked the Galaxy name. But I agree it makes sense to do away with the S. It doesn't add anything to the name. Just call it Galaxy 9/9+, Galaxy Note 9 and for tablets- Galaxy Tab. Also, I think the foldable Galaxy X should have the name changed. It will confuse when you have the Galaxy X and Galaxy 10 out. They should call it Galaxy Flex or Galaxy Fold or something like that.

It`s confusing anyway, I`m keeping S8+ and my U11 both are perfect phones.

« this does create for some confusion considering that Samsung's foldable smartphone has been rumored as the Galaxy X for quite some time now. » Are you kidding ?? It's a rumor! Samsung disn't come up with this name. Just uninspired peopke who thinks it will copy Apple with the branding!

It wouldn't be the first time nor the last time that Samsung copies "cough" I mean follows Apple. Actually Samsung would not be Samsung without doing it.

https://www.technobuffalo.com/2016/05/13/samsung-foldable-phone-galaxy-x... May 2016. Who is following who?

And Apple wouldn't be Apple if they didn't take credit for ideas they "borrowed" from other companies. You know, like GUIs, multi-touch, a grid of icons interface, installable apps, smart watches....

Agreed. Mind you I'm not Apple or Samsung fanboy.

So they're ditching their most successful, best selling name, the 'S' series. Stupid IMO

I don't know why they don't just call it the "Samsung Galaxy" for the "S" series. Don't need a number.

To set it apart from their other Galaxy lines (A, J, C, Note, Tab, Gear).

One thing Samsung is done right for sure is to stick with a consistent branding pattern whether makes sense or not. Yes someone already mentioned Galaxy is overused on all kinds of handsets and should be used for flagships only. We have LG, HTC, Sony, etc. With an identity problem or should I say branding LG had the G series now the V, HTC had the M now the U, Sony the Z, X, XZ and all of them started with what it looked like a random number instead of a logical sequence. M7(a weapon?) , G2, V10 (sounds like an engine) U11! You know what I mean.

You're so right. Samsung has the best naming convention (aside of the cheap stuff), with S, A and J lines. LG is a hot mess. So is Sony nowadays, their previous naming convention was just fine (Z1-Z5 era), but now they just add random combinations of letters (tribute to 2012-2013, when they were in fact using random letters, I guess), and HTC basically calls everything U11 and adds a random word to non-flagships.
Tho I disagree that Galaxy should be used on flagships only. You underestimate the power of the brand - I bet people would be willing to pay 20$ more to have a Galaxy J3 than non-Galaxy Samsung with the same specs. They just shouldn't use it on cheap stuff (Samsung Galaxy Grand Core Prime+ LTE and such), so as not to water it down. Which would leave them with Galaxy S/A/J, and a bunch of off-brand crap (albeit with one word less, which is actually positive).

In a galaxy far far away. Why not name it after a planet like Mercury, Jupiter, Venus or Pluto?

I would buy a Samsung Uranus

should i skip the S9 and wait for the rebranding next year?

Not impressed. Ppl don't like change. That clunky thing is stupid, we are at number 9, long way from 15, lots of things can happen by the time that comes around...

I loathe the over use of "X" as the next iteration. It's so overplayed...

A rumor about the name of a rumored, unannounced, unknown device that won't even be announced for at least a year. This is news?

I love Samsung. its my Favorite Android device (Note) but Samsung will do whatever Apple does. Samsung makes parts for apple so they know WAY in advance what apple is doing, before the general public does. Samsung will do what apple does in Sept. since Apple also has to come up with a new naming scheme before they have an iPhone 10 and already HAD an iPhone X (which is 10 in roman)

What did the "S" mean, originally? Credit PhoneArena.com in 2015 for digging up Samsung marketing info from 2011: - "S" (Super Smart) – Devices at the very pinnacle of Samsung's mobile portfolio. This class will only be used on flagship devices such as the Samsung Galaxy S, the award-winning smartphone that has already sold 10 million units throughout the world. - "R" (Royal / Refined) – Premium category models, a combination of power, performance and productivity for the individual who wants to be defined by the technology they carry. - "W" (Wonder) – High quality, strategic models, perfect for those seeking a balance between style and performance. - "M" (Magical) –High-performance models at an economic price-point. - "Y" (Young) – These are entry models or strategic models for emerging markets or a younger audience more sensitive to price. ...........
Obviously, Samsung didn't go on to use some of the letters referenced above. I do not deny the power of marketing. However, the truth is that if Samsung's premium android phones focus on industry leading hardware specs, display technology, & quality... What the phone is named will be irrelevant. All manufacturers have had failures. Apple IOS bugs are notorious, and their slow, slow creep to larger display sizes and insignificant year over year device updates were the brunt of endless jokes. Samsung had the combustable battery problem. In terms of name and marketing... It doesn't get much worse than the case of Google and their Pixel 2 launch. With the name "Pixel", you better have the best display in the industry... The display complaints about the LG panels were Google's worst nightmare. In fairness, "Pixel" is also associated with photos, and the Pixel 2 camera has had positive reviews. If Samsung brings a folding smart phone to market and want to keep using letters... Perhaps they will consider letter "V"... The shape of the letter V looks likes like a folding phone that is partially opened. Ie. Samsung Galaxy V. No denying the success of the Samsung Galaxy S line... The name has a long, successful run that is the envy of other manufacturers. I would be think twice about termination of the name, because it is well known even among the most uninformed consumers. The auto industry retains brand names for decades. Another option is to simply throw the year on the end of a name. Eg. Samsung Note 2018, or Samsung Galaxy S 2018. Like the auto industry, focus on the brand name, but deemphasize the model year.
Android Central Newsletter
Get the best of Android Central in in your inbox, every day!
Thank you for signing up to Android Central. You will receive a verification email shortly.
There was a problem. Please refresh the page and try again.