Samsung launches Muse 'music companion' device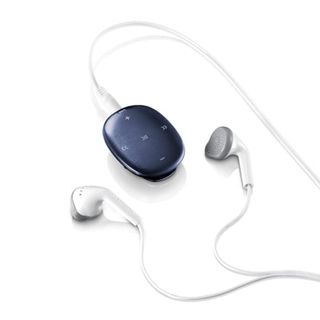 Remember when Samsung awkwardly (and unexpectedly) came out with the "S-Pebble" music player at a press conference earlier this year with the Galaxy SIII (S3)? It has chosen to finally release the device, and probably for the better, they've also decided to rename it "Muse". The basic idea is that the Muse pairs with your Galaxy S3 (or any other major recent Samsung device), and syncs music between the two so that you don't always have to use your phone for listening.
Syncing is managed with the Muse Sync app, which is now available in the Google Play Store, and the device can be purchased for a cool $49.99 -- in either blue or white -- at the source link below.
Source: Samsung (opens in new tab)(2) (opens in new tab)
Andrew was an Executive Editor, U.S. at Android Central between 2012 and 2020.
I remember trying to look up stuff for this but only got results for the s3 pebble blue. Good name change.

No, instead they've given it the same name as a 4 year old flip phone.

so its Samsung's version of an ipod shuffle only you get 4gb instead of Apple's 2gb for $50. I like the shape of this vs the ipod shuffle also. Unfortunally I see this product failing. The shuffle can be marketed to 100% of consumers where this is just marketed to Galaxy owners

I thought the point of a smartphone was to replace these extra gadgets.

I agree!! PLUS, my S3 plays music just fine! No need to clutter up my pockets.

This is very useful for runners and I have a friend who may be interested. I have a Motoactv and lack a GS3 so it's not much use to me. I have to agree that Samsung is losing a fair amount of market potential by keeping it only to Galaxy owners.

Agreed. I use a shuffle for listening to podcasts while I run (I won't dare subject my phone to that kind of torture). Syncing with iTunes is a pain in the neck. I would dig something like this.

i would lose this quicker than i could walk out the door, no thanks.

I look at the pair of BT stereo headphones sitting on my desk and wonder, "Why add a little dingly thing and an annoying cord back into the process?" -Suntan

THIS?!?!? And they still haven't released the wireless charging for the S3? UGH!

I've used a Motorola S705 Stereo Bluetooth for the last 4 years. It's about the only BT device in existence that stays connected to your phone at over 300 feet. I paid 17.00 for it online and it's been the best 17 I've ever spent. 3.5mm out means you can use your favorite head phones, plug into your home stereo, car or backyard boom box. Anything with an Aux input. Also has a built in FM Radio. Thing is that it's just never been marketed. http://www.engadget.com/2006/06/22/motorolas-s705-soundpilot-do-all-bt-a...

Muse was their 3rd choice. 2nd was S-shuffle

What I hate about devices like this is its reliance on MP3s. All of my music is in Google Play... If I wanted to use this, I'd have to first load a bunch of MP3s on my phone, and then copy them to the Muse. No thanks, Samsung. I love my S3, but this just seems silly.

@Jameson42 it syncs to Google Play from what I've read. https://www.androidcentral.com/e?link=https2F2Flink...

Pay attention, folks. This is not a bluetooth device. Comparing the Muse to your bluetooth receiver or your bluetooth headphones just illustrates that you don't get it. This device does not require your phone in order to play the music. The phone transfers the music files to the Muse and then you're done with the phone. You don't have to find a way to carry the phone with you while running and you're not sucking on the phone's battery. Creating something like this is probably exactly as stupid as creating the gigantic Samsung Note and expecting anyone to buy it. Samsung only sound a couple of dozen of those, right?

Whatever dude. The facts are what they are. It's an MP3 player that doesn't have a display and requires you to use one specific interface to use it. The people that are interested in a product like that already have ipod shuffles. -Suntan

This could be very interesting for running, or motorcycle trips. However its very limited to certain Samsung devices and doesn't cover the Galaxy Nexus or Nexus S. Seems like a great device, but I can't use it.

Can it sync audio content other than music? I'd love a small device like this that could hold NPR programs or other downloaded podcasts and similar content (which, AFAIK, the iPod Shuffle can't do).

Don't count the Galaxy Nexus in with the list of supported Galaxy devices! It's NOT on the list. Which suites me fine since this is a worthless device for me. If I wanted a cheap mp3 player without a display, I can find one for MUCH less than $50 at pretty much every walmart, target, dollar general, etc.

I'm actually curious about this, as to hold long the battery life will last and weather I'd be able to sync it with Google music. I'd love to just use my phone, if not for the fear of severe battery drain from using during a full 8 hour session when I go snowboarding. My old iPad Nano hasn't been all that useful since I shifted to the cloud.

Be great if it was more of a remote with headphones that paired with your phone and streamed the music via BT... Actually does anything like that exist already??

Where is everyone getting this compatibility info? The only requirement I can find is that the music be an MP3 on your phone and the sync app is Android 2.3 and up. Play store says it will run on all my devices. (HTC EVO 4G, Samsung Galaxy SII, Galaxy Tab 10.1, Galaxy Tab 2)

is there any chance to get it working with other phones, like htc?
Android Central Newsletter
Get the best of Android Central in in your inbox, every day!
Thank you for signing up to Android Central. You will receive a verification email shortly.
There was a problem. Please refresh the page and try again.