You can now use Samsung's browser on nearly every Android phone, but should you?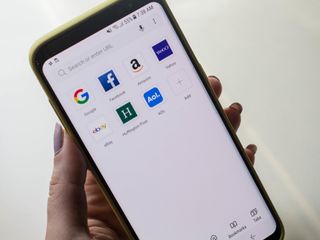 (Image credit: Android Central)
Samsung's Internet application may seem superfluous when a smartphone or tablet already has Google Chrome, but it has a few tricks up its sleeve. The most well-known feature is extension support, so users can download a separate content blocker to filter out malicious advertisements. There are also some handy features including a night mode that darkens a web page's interface, and battery life is reportedly better than Chrome, though that assertion is certainly subjective. Before today, the browser was only available for Samsung devices and the Google Pixel, but that has changed.
Samsung has announced that any user using a device with Android 5.0 Lollipop and newer (75% of all Android devices) can download the beta version of Samsung Internet and get access to those extra features. While it is advertised as a beta, the application worked just fine for me. It downloaded and installed to my OnePlus 3T without issue, and I haven't encountered any crashes or errors when browsing. One of the Adblock plugins did say it was not compatible with my 3T, but I'll wager that's an issue with that specific plugin. I was able to download a different Adblock plugin and the browser loaded pages just fine whether I had the content blocker enabled or not.
To streamline setup, Chrome desktop users can download the Samsung Internet plugin to synchronize their bookmarks and passwords. This does mean creating a Samsung ID to sync the data, but that's not too big of an issue. Once signed into the account on both mobile and inside the Chrome browser, importing bookmarks is as easy as clicking the "Import" button inside the extension's settings. The default home screen and search engine for Samsung Internet are Google, as most Android users would expect.
Do you plan on using the Samsung Browser over Chrome? Let us know down below!
Android Central Newsletter
Get instant access to breaking news, the hottest reviews, great deals and helpful tips
Nice, now I can view Android Central on mobile without four dozen ads in the way.

Also, the Samsung browser renders pages way faster without the jerkiness of Chrome. It's super smooth.

You should try the Android Central app. At most 1 ad per article, other than the Mint Sim and MetroPCS injections.

They should have done this a longtime ago. Of all the browsers out there I prefer this over all the others. Reader mode, instantly change the text size, up to 5 content blockers at one time, quick access to your favorite websites, etc.

Exactly! The Samsung browser has the best thought out UI of any Android browser and that is the reason I use it exclusively. No hand gymnastics required.

I was going to ask what the benefits are for using this browser but since you said all this, I'm curious now. I just need to find my ad blocker (unless it already blocks them). Thanks for your comment!

You need to get "Adblock Fast" from Google Play, and you are ready to go adfree. https://www.androidcentral.com/e?link=https2F2F...

I will check it out, thank you!

Primary reason I switched back to the Samsung Browser from Chrome is because the menu buttons like Home, Tabs and Bookmarks are all at the bottom now which is so much easier to get to with the new 18:9 screen ratios. Menu buttons at the top are just too far out of reach now on these phones

Launch Chrome, go to about:flags, set #enable-chrome-home to Enable, relaunch Chrome. You're welcome.

Can you please explain what this does exactly?

It puts the Chrome address bar and home bar at the bottom instead of the top like the Samsung browser

Huh, that's good to know. I remember going into that menu to make chrome faster.
But samsung browser is way better imo. No ads and it flies

I've been using this since it first showed up in beta and it's gotten really good update to update.

Well that's really handy. Thanks for that! :)

Thank you for this! Just enabled it, and it works perfectly!

I thought it was for Chrome Dev version that have the flags function, I'm not seeing it in the regular Chrome browser.🤔

Flags are in every version of Chrome, Stable included. Double check that you're typing it correctly.

I side loaded the Samsung browser on my V20 about 6 months. I've always liked the Samsung browser over Chrome.

I use it on my S8 not a bad browser at all its better than chrome for me.

Not compatible with Lenovo Yoga Tab 3 plus :-(

Like many Samsung apps they're far much better than Google's. So this is good news.

I use the Samsung Browser on my Google Pixel with ad block. It's a great browser.

The best Android browser hands down

The one and only samsung app i like is the browser

I guess I'm the only ignorant one.. I've been using Chrome for years, I guess I'll give it a try considering I'm seeing nothing but positive reviews about it. Thanks everyone!

Not the only one. I had no clue either that Samsung has their browser on the play store.

I might also- all positive comments, very unusual.

I have all of my Favorites on Chrome so I can seamlessly browse on my phone and laptop, doesn't make much sense to switch. At least in my case

Did you read the article? I assume not or you would know you can bring over all your favorites from chrome and keep the two in sync with the Samsung extension.

Hmm I have an S8 and the first thing I did is install Chrome and make it default. I didn't even try the Samsung browser. From all the positive reviews I'm really surprised and intrigued. I guess I'll have to try it out. Big question though... Will I be able to access my browsing history from Chrome on my PC? Because I like that I can access my PC Chrome history and bookmarks.

I do the exact opposite on my Galaxy devices. I disable Chrome and use Samsung's browser.

You can access all your PC bookmarks on the Samsung browser. Just download the Samsung internet chrome extension and it will sync to your phone

that's not what he asked though...because i'm wondering the answer to it also...The question is: from Chrome on my phone today, i can click Recent Tabs and see all the websites/articles that i have open on my work computer, tabs i left open at home before i put my computer to sleep, etc...and i can similarly see sites currently open on my phone from my computer. Can we somehow do that between Google's and Samsung's browsers?? it's the only reason i've stuck with Chrome everywhere for all these years...that feature makes things very convenient/efficient for me.

Omg should you. I was an avid chrome user. One day I decided to give the sammy browser a spin. I noticed how much faster it was so I never looked back after that.
The one negative, I couldn't import bookmarks so I did it manually.
Oh, the ad block extensions, gotta use them. I use adblock fast. There's like 8 in total that you can use.
I love the sammy browser

You can import bookmarks from PC

It's pretty freaking good.

It's excellent! Much like others I installed chrome on my Note 5 and didn't think twice about it. Sometime last year I got frustrated with chrome and gave the Samsung browser a try. adblock and fingerprint sign in quickly made it my default. I'll never use anything else.

The fingerprint sign-in is priceless. It's worth it for that alone, the rest is icing on the cake.

On my Pixel XL this is the browser I use. It's not perfect, at all, but the ad blocking and general smoothness make up for the issues I have with it. It's not for everyone, and I'll probably switch to chrome when it starts blocking bad ads natively, but for now it works.

It seems to not work well on my Sony Xperia XZ Premium. The touch sensitivity is off.

I've been using it on my Pixel XL for a while now, it's an excellent browser, love it. Highly recommended.

The Sammy browser is great, as almost all here agree. But, since I'm accessing bookmarks/tabs/history on my S8+, a laptop, a desktop and sometimes even an iPhone, the lack of an automatic seamless sync keeps me on Chrome.

Eh...I still use brave it is the best Android browser that I've used so far

Samsung apps I use other than the browser, calendar, Samsung health which to me is by far the most imformitive health app , obviously Sammy pay , Samsung gallery , Samsung music. Only Google app I use every day . Google now ,Gmail and gplus an one at&t app ...my at&t

Chrome sync keeps me on Chrome. Google is wise not to open that up to other browsers as I would never use Chrome again if I could easily sync with other browsers.

Good with some features u won't find in chrome but any day any time Chrome remains a browser of choice

Hell I just started using the Samsung browser on my S8. It's actually not bad, in some ways better than chrome.

The Samsung browser is the best Android browser imo

I use any portal to access the WWW - doesn't matter what door I go through - the Internet is the same for me- Sent from my BB10 KEYᵒⁿᵉ.

Samsung browser also allow users to use secret mode which is a great win for privacy...

Finally. This is fantastic news. One more reason to stick with my Note 3 on Marsh ROM and not need to upgrade to Note 8! Cause every other browser was crashing or not getting the job done well enough. Samsung's OEM browsers have always been top notch.

One thing I came across is they have added tab swiping. Like in chrome if you swipe the address bar it changes tabs. I rarely use bookmarks anymore as Samsung browser had quick access and autofill takes me to whatever site I need. One big advantage over chrome is fingerprint website login.

It's my favourite browser. Chrome is cruddy compared to it. Have adblock installed and it allows me to save form data and use my iris scanner instead of typing it in.

Oh and I love it because it's full screen!! I really missed this feature from my win phone days..

I find it interesting that Android Central doesn't like that I use an ad blocker when visiting your site ("ad blockers make us sad"), and yet the author apparently considers ad blockers as essential for a browsing experience. Just saying.

Lol... Good point...I didn't even think about that

I tried several browsers but always ran back to Chrome. None other syncs with my desktop, especially my bookmarks.
As to the ads, I don't have any either. Thanks to Adguard!

Seems like a lot of people don't know you can sync bookmarks from your desktop to the Samsung browser. Just download the Samsung internet extension on chrome..

Yeah, I want to purposefully add a piece of software from Samsung.
You guys are a hoot

I have a Samsung and I don't use it. To be fair, I didn't like it on my S3, I'm sure it's better, but just never went back. But Chrome is so laggy from ad overload, I actually installed Firefox, with uBlock Origin and White Text/Black Background extensions. Works great so far. Just need to sync my desktop bookmarks, but haven't tried very hard to figure it out yet...

Curious if non-Samsung users have access to fingerprint sign-in. One of the great advantages of the Galaxy S series is the packetization of security into fingerprint sign in that works across multiple sites and activities! Realizing not all phones have FPS, it'd sure be handy on other devices. Now if everyone's freaking email client could be as good as Sammy's - some of us might consider non-sammy devices as flagship specs and features improve.

Question: From Chrome on my phone today, i can click Recent Tabs and see all the websites/articles that i have open on my work computer, tabs i left open at home before i put my computer to sleep, etc...and i can similarly see sites currently open on my phone from my computer. Can we somehow do that between Google's and Samsung's browsers?? it's the only reason i've stuck with Chrome everywhere for all these years...that feature makes things very convenient/efficient for me.

On my OnePlus 3 it's not working correctly. When I tap on URL bar it should display recent tabs (and suggestions when typing) it's not showing anything. For split second it show up and then disappear.

Downloaded a few hours ago. Not sure I'm linking accounts but I'm giving it a try. So far it's pretty painless to use. Might be faster, not really sure yet. I'll let some history build up and see

After all the positive comments, I did the same. I'll give it a go for a couple of weeks. It's nice, sooth and fast like some have already commented on. However, I like Chrome and the way it works across all devices, and some of the features like data saver built in and incognito mode. I'll give it a couple of weeks before passing judgement, though. Nice browser.

Samsung internet also has an incognito mode ( i guess a bit better than incognito) called secret mode

Thought i was alone... loving this browser... they should bring to it to all OSes for contuinuity and vwalaaa all people using it

Hold on I was using this browser in my nexus 5x for at least 6-7 months now. What gives android central that it just came out? I don't understand.
When I installed this browser I uninstalled chrome right away.

Wish I could use it. Even though I have a Samsung Galaxy tab a. Not supported? Really? I'm using 6.0.1.

Been using Sammy's browser ever since got my S7/S7 Edge and yeah, best browser on any mobile device we've ever used. Now that is available on other devices will be replacing Chrome on my G4 for sure, if it's supported that is. Also adding in "Adblock Fast" too which I wasn't up to speed with until reading this article/comments, works wonders.

I was honestly expecting everyone to say that it sucks and that chrome is better, but it's exactly the opposite. I guess I'll check it out!

Been using Samsung internet for the past month now, when it first became available for pixel and nexus devices...since then, never had chrome installed on my device. Kudos to Samsung for this great browser.

Samsung has replaced my beautiful world with a purple Sputnik so I've uninstalled - twice. I don't really care what it does.
Android Central Newsletter
Get instant access to breaking news, the hottest reviews, great deals and helpful tips
Thank you for signing up to Android Central. You will receive a verification email shortly.
There was a problem. Please refresh the page and try again.