Samsung Gear S2 Classic will hit the U.S. in Platinum and Rose Gold tomorrow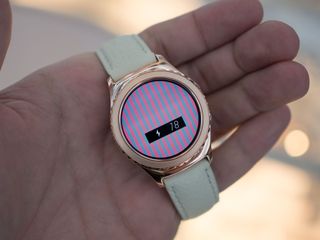 The Samsung Gear S2 Classic will be available in both rose gold and platinum tomorrow from various retailers in the U.S. The company announced the two new variants of the wearable last month, initially launching in China.
Samsung, Best Buy, Amazon, and other participating retailers will have stock available for purchase, which will set the purchaser back by $449.99. You have the choice of rose gold plating with an ivory leather strap, or a platinum finish with a black leather band. Should you be interested to learn more about the Gear S2, be sure to check out our in-depth review.
Android Central Newsletter
Get instant access to breaking news, the hottest reviews, great deals and helpful tips
They need more apps before releasing more versions of the watch. I returned mine because it just couldn't cut it. It was an awesome watch, but with limited apps, it's not worth it.

I absolutely love my Classic. But I'm not the kind of user to cram a watch with apps. I use them for notifications, music, running/exercising, weather, etc.
I don't need or want Instagram on my wrist. Posted via the Android Central App

LOL! What kind of apps do you want on a watch? Other than notifications, music, running/exercising, weather, etc. Dork.

Why is it that clowns always complain of lack of apps when they talk about a device when they always leave out what important apps are missing for the device. Case in point, @huntrowmar has decided to chime in with the same garbage without telling us how the watch didn't cut it for him other than "limited apps". So did he buy the watch and then go to the app store and after counting the total number of apps decided the number was't big enough? What is the magic number of total apps that a device needs? IMO, a device like a smartwatch is limited to what you would really want it to do and it all comes down to how much convenience it provides as an accessory to your smartphone. Sometimes I like to go places where I don't want to take my phone but still would like to be able to take/receive calls and read/reply to mail and messaging (gym, hiking, movies, plays, running, shower, garage, yard, etc). This watch accomplishes that with existing apps from the Tizen eco system with flying colors. I also like to show my airline tickes, movie tickets, etc. on my smartwatch. This watch accomplishes that. For the sake of everything honest and fair, would you bozos please tell us SPECIFICALLY where a device falls short and how that effected your ability to do exactly what you wanted to do with said device.

I had the Gear S for a year and agree with Hubtrowmar. Limited apps in my case was that i could only use Nike + to track my runs, or Samsung's own sHealth, which now holds my data hostage, because I moved on from Samsung for good. If i was lifting weights, I'd want an app to track that kind of exercise, or maybe I'd like to use a different step counter that gives me more info, or a specific fitness tracking app that I have been using for a while. People have different needs and want choices. That's why there are app stores, and that's why MS is failing so miserably in the mobile space.

Last thing I want to do is troll and bash a product without explanation. Had limited time yesterday at work. I don't really want to bash the Gear S2 at all. It's an awesome design. Maybe my favorite to date. There are some things about the watch that can be improved. I wish they'd support non-Samsung phones for tap-to-pay. They didn't have some apps that I wanted right out the gate. One of the main reasons why I bought it was to track sleep (something I don't have on my Pebble Steel) with a native app. Samsung didn't have anything that really worked without buying a 3rd party app. When I'm interacting with others with games, I'd like to be able to keep score. I use a scorekeeper app when we go out shooting clay pigeons with my buddies, play cards with my family, and various other activities with my children. There was nothing Samsung had to do this. My fear with the Gear S2 is that every year Samsung changes things up drastically with their watches. I hope they don't because I think they got it with the S2. But if they change gears (no pun intended), how long will this watch be supported since it doesn't use Android Wear? I originally had a pebble, and I went back to it. There are too many convenient features that I really missed. I literally get 7 days of battery life with my Pebble. I was frustrated with the S2 in this department. I want to be able to use the alarm on my watch without having to wake my wife every morning during several snoozes when I'm just too tired to get up....and without worrying that the watch won't make it throughout the night. I couldn't get 2 full days of battery with the S2. I love the ability to look at the time without having to turn on the watch. I loved the ability to read the time in direct sunlight easily. This is a very handy feature if you ride a motorcycle and are navigating to a place you don't know to get to. Directions were always there in direct sunlight. These things I didn't get with the S2. The S2 wouldn't turn on all the time when I flicked my wrist. And it would turn on when I didn't want it to. I have a desk job so when I lift my arms to type, it would turn on a lot. These things were just annoying....things I didn't deal with with my Pebble. Is the Pebble ugly? Yes. Is it big and "blocky"? A little too much for my taste. But I haven't found something to replace it. I really wanted to like the S2 better, because Samsung did a great job with it. It just didn't meet the needs I was looking for.

Too expensive but they look great. Posted via the Android Central App

I wish Samsung or some 3rd party would come out with more wrist straps for the non classic version.

Now this is a valid complaint I can relate to. Limited straps certainly makes this watch less versatile in terms of style. Rubber straps are nice for a sporty look and feel, but I honestly think that this watch needs 3rd party strap designs using other materials that would really make this watch the absolute top watch to beat.

I just can't get into smart watches Posted from my Nexus 6/Nexus 7 2013/Surface Pro 3

Maybe it's because I always wear a traditional watch... the S2 actually looks like a watch so it's an easy transition for me. Having the notifications there is fantastic. I still wear my classy traditional watches too though

I kind of want to but I can't either. I tried. Maybe when the hardware and software both mature.

I think they're a gimmick for now anyways. They need to become more 'smart' to be known as smartwatches Posted via the Android Central App on my Frost Nexus 6P

I thought that but now it's definitely not a gimmick. Having the 3G version is the way to go i can take calls or text and dismiss notifications from my wrist. I even leave my phone at home sometimes and use it as a stand alone device. I'm sold on smart watches now only if they have 3G capabilities though. Posted with my NOTE 5 on damn verizon!

Having all sorts of handy notifications on my wrist is more than a gimmick.

Let me just say I have $800 watches that do far less then my $300 gear s2 enough said Posted via the Android Central App

Yeah, I can't do apps on a watch. Give me style and basics and I'm happy. Posted via the Android Central App

It's not really meant for apps, but notifications and quick info....

Notifications are great on my Classic S2, and the style is great... Actually a smartwatch that doesn't look huge and chunky on my wrist... Was so happy with it I started making watch faces and they are a hit so far on Gear Apps (like Yin Yang Face - best seller!) That platinum one looks so nice. :) Posted via the Android Central App

It's all about the notification that's what there for not to replace your phones. Not sure why it's so hard for some to understand that. I own both the gear S and the s2 love them both . At work I hardly ever have to pull my phone out which save me so much on my battery. When I first got my s2 I thought the face was a little small but that's it love the watch now Posted via the Android Central App
Android Central Newsletter
Get instant access to breaking news, the hottest reviews, great deals and helpful tips
Thank you for signing up to Android Central. You will receive a verification email shortly.
There was a problem. Please refresh the page and try again.