Samsung Gear Fit2 Pro review: The best fitness tracker for most people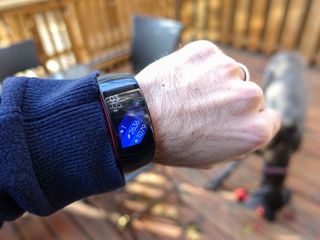 (Image credit: Android Central)
It's taken a few years, but Samsung's wearable strategy has settled — as has much of the industry — on fitness as its primary selling point. This year's crop of wrist-worn products from the Korean giant include the excellent Gear Sport, along with the Gear Fit2 Pro, both with the intention of making it easy to track steps and workouts while receiving notifications.
In other words, the value proposition hasn't changed dramatically from the original Gears of a few years ago, but the 2017 refreshes put an emphasis on durability, longevity, and comfort.
Gear Fit2 Pro What you'll love
The Fit2 Pro is the direct successor to last year's Fit2, and besides the new strap design, the two could be interchangeable — at least on the surface. With a 1.5-inch vertical OLED display that gets really bright, the Tizen-based interface — black background throughout to lengthen battery life — is easy to understand and extremely touch-friendly. Samsung has this down pat.
Swipe to scroll horizontally
| Category | Spec |
| --- | --- |
| Display | 1.5 inches 216x432 pixels |
| OS | Tizen |
| Price | $169.99 |
| Processor | Dual Core (1GHz Exynos 3250) |
| RAM | 512MB |
| Storage | 4GB |
| Weight | 34 grams |
| Size | 25 x 51.3 x 12.6 mm |
| Wireless | Wi-Fi, Bluetooth, GPS |
| Sensors | Heart rate, Accelerometer, Gyro, Barometer |
| Battery | 200mAh (three to five days) |
| Water resistance | 5ATM |
| Colors | Red+black, black |
| Compatibility | Android + iOS |
While 2016's Gear Fit2 had a built-in GPS it was only IP68 water resistant, not waterproof, which has since been corrected in its sequel. Not only can the Fit2 Pro plumb the depths of your average pool, it's certified waterproof to 5 atmospheres — even if you dive to the bottom of a pool, it'll survive. The red plastic casing has two buttons on the right, one to go back to the previous screen and the other to enter the app drawer, and they're both clicky and responsive. No complaints there.
The Fit2 Pro lives up to its name: it effortlessly tracks workouts, automatically after 10 minutes or as directed by you when engaging in something specific like a bike ride or swim, and records a number of worthwhile metrics including heart rate, steps taken, floor climbed, and more.
It actually takes heart rate measurements constantly throughout the day, similar to the latest Fitbits, and does so with accuracy; I wore a Fitbit Ionic on another wrist for a day and found the metrics to be close enough to satisfy me. I'm no athlete; I just want a fairly robust approximation of my steps taken, calories burned, and route taken. That the Fit2 Pro is comfortable enough to wear the whole day without noticing it is helpful, too.
All of those things are table stakes for a so-called fitness tracker, but the Fit2 Pro emulates a smartwatch in a number of impactful ways; it shows notifications in a dedicated area to the left of the watch face, and even allows users to action them — reply to a text message, for instance — in certain situations. Generally, if you can reply to a message on an Android Wear watch, you can do the same here (though only with a selection of canned responses or emoji).
Notifications are easily one of my favorite aspects of the Fit2 Pro; it's ostensibly a fitness tracker, but it conveys what's happening on your phone better than the more-expensive Fitbit Ionic, and about as well as its "real" smartwatch counterpart, the Gear Sport. Yes, the long-and-thin screen wraps sentences oddly at times, but it requires less scrolling as a result, and the touchscreen is capable of keeping up. I missed the Gear Sport's rotating bezel, but not as much as I thought.
Finally, battery life is the cherry on this smart milkshake. It's really, really good — like three days plus from this little 200mAh cell. Mind you, I didn't regularly run with GPS turned on because I always have my phone with me, but Samsung promises nine hours when engaging the GPS. That's pretty good, but not remarkable when compared to the Gear Sport or Fitbit Ionic.
Gear Fit2 Pro What you'll hate
I don't think you'll hate anything about the Gear Fit2 Pro, but here's what you'll leave wanting, especially if coming from an Android Wear or Apple Watch — apps. While the tracker comes with a handful of decent first-party and third-party apps from the likes of Under Armour (MapMyRun and Endomondo) for tracking runs, and Speedo Go for tracking swims, the Galaxy Apps "store" is, as it is on the Gear S series, a wasteland of expensive, poorly-designed watch faces.
The actual app downloading and update procedure is less than convenient, too, showing just how far Samsung still has to go when it comes to designing and curating its software experiences. Even the sparse Spotify app, which for some reason isn't pre-installed on the tracker, is basic to a fault and difficult to use.
On the tracking side, you'll probably find fault with the sleep tracking, should you choose to use it. I wore the Fit2 Pro to bed for a week or so and found the metrics to be almost useless.
Moreover, the screen doesn't automatically turn itself off once it detects you're snug in bed, which makes for constant disruption unless you explicitly enable Do Not Disturb — which requires disabling it in the morning. These things are automated on Android Wear.
I'm also not a huge fan of the rubbery, cheap-feeling strap. While the latch design is an improvement over the more sporty (and uglier) button clasp that shipped on last year's Fit2, the 24mm replaceable straps on the Fit2 Pro are neither robust nor attractive. Thankfully, Amazon has plenty of alternatives that look and feel better.
Finally — and this is no big deal, really — I dislike the plasticky charging dock that, somehow, always seems to fall over when the tracker is magnetically latched to it. Didn't Samsung test it?! At least, when properly supported, the Fit2 Pro dock doubles as a nice bedside clock.
Should you buy it? Yes!
I really like the Samsung Fit2 Pro. Yes, it's not as robust a smart thing as some other trackers out there, but at its current price of $170, it's a steal. The screen is out-of-this-world good, and the tracking is fantastic for those who'd rather be reinforced with kind messages and automatic number crunching than to-the-millimeter perfection.
At the same time, the notification system on the Fit2 Pro is better than some smartwatches (coughFitbitIoniccough), and even most of the negatives are nitpicks.
The Fit2 Pro goes up against the Fitbit Blaze, Garmin Vivosport, TomTom Spark 3 Cardio and a Series 1 Apple Watch, and it largely comes out ahead against all of them. If you're looking for more accurate fitness tracking or better sleep metrics, you're better off with a Garmin or a Fitbit, but nothing touches Samsung for an all-around experience.
And, wow, that screen.
Samsung Gear Sport review: The company's best smartwatch yet
Get the Android Central Newsletter
Instant access to breaking news, the hottest reviews, great deals and helpful tips.
Daniel Bader was a former Android Central Editor-in-Chief and Executive Editor for iMore and Windows Central.