Samsung Gear 2, Gear 2 Neo, Gear Fits pre-ordered on Amazon have shipped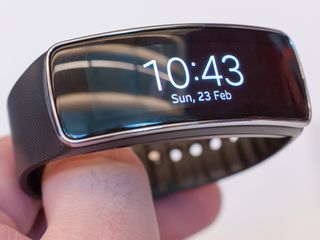 If you were among those who pre-ordered the latest Samsung Wearables on Amazon, then you can take some joy in knowing that at least some of the orders have shipped with an estimated arrival time of Monday, April 14th.
The Samsung Gear 2, Gear 2 Neo — that's the one without the camera — and Gear Fit all went up for pre-order around the same time and are still available for ordering if you've been on the fence The Gear 2 Neo and Gear Fit are each listed at $199. The Gear 2 runs $299.
Anyone know if gear fit works with other android phones? I have a nexus 5 and was able to download and install gear fit manager... but dunno if gear fit would pair with nexus 5

Nope. All the Gear's are Samsung only.

Ugh, oh well. Not going to buy a Samsung phone just for this.

Not necessarily truth as people reporting successful connection to other devices using leaked Gear Manager software from XDA...

I always answer these questions with what is officially supported with official software. I do not want to be the one responsible for getting someone to go and spend $200 on a watch they may not be able to use because some people using leaked software are having success. Posted via Android Central App

Agreed. Posted via Android Central App

Mine didn't say shipping yet :(

I have the original Galaxy Gear, and just purchased the Gear Fit. Both devices fit well into my lifestyle and don't have any regrets. However, I have decided to never pre order anything anymore. Unless it's an usual circumstance it is highly unlikely that I wouldn't be able to find what I'm looking for on launch day at a local retailer. Posted via Android Central App

Please post your experiences with both. I, also, have the Galaxy Gear but am curious to see if having the Fit would benefit me? Posted via Android Central App

i got mine from the sprint store yesterday , got the gear fit

Got the Gear Neo from At&t, but I am on T mobile. To bad T mobile cant get them in stock. The At&t reps were awesome, made me think about T mobiles horrible customer service in store. Posted via Android Central App

I hate going into att stores. I sometimes had to go in there to pay a bill and when the reps saw that all I was in there for was to use their payment machine, they acted like I wasn't even there. Posted via Android Central App

I would LOVE IT. HATE when reps are trying to lick my ass trying to sell me something I do not want...

That's a good thing though. I use their payment machine a lot, and would hate to be bothered the entire time I was there.

I had the original galaxy gear, returned it and waited for the Gear 2. I preordered from Best Buy. Amazing! Went and got a different band the same day. So much better than the first one! Posted via Android Central App

I have had mine for a week. I got it last Monday and I used the s5 apk for the gear fit and while a little buggy it worked fine. It has since been updated because of the official launch day push. No issues other than S Health being dumb, but that's nothing new Posted via Android Central App

Gear Fit is already over priced at Amazon, one week out. No wonder people are ditching Amazon Prime. Posted via Android Central App
Android Central Newsletter
Get the best of Android Central in in your inbox, every day!
Thank you for signing up to Android Central. You will receive a verification email shortly.
There was a problem. Please refresh the page and try again.