The Galaxy Watch 3 is Samsung's best smartwatch yet, now available for $400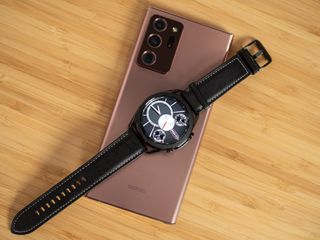 (Image credit: Andrew Martonik / Android Central)
It's no surprise that Samsung's Galaxy Watch is still incredibly popular despite being almost two years old. In fact, if you look at Amazon's rankings for smartwatch sales (opens in new tab), the Galaxy Watch is usually near the top of the list.
That sustained success is a testament both to Samsung's novel engineering — the physical rotating bezel is both functionally brilliant and satisfyingly tactile — and its adroit marketing. As Wear OS vendors like Mobvoi and Fossil have fumbled in telling consumers why they should invest in yet another Android-powered watch, Samsung's doubled down on what's made the Apple Watch so successful: health tracking.
It's why the follow-up to the Galaxy Watch wasn't a Galaxy Watch 2 but a diminutive, slim, circular, and long-lasting Galaxy Watch Active, succeeded six months later by our favorite Android smartwatch right now, the Watch Active 2. Now, Samsung's partially returned to its base with the Galaxy Watch 3, slimming down the form factor by 15% over the original while retaining the beloved rotating bezel, and purloining a few health-focused tricks from its Active siblings. (And no, your eyes aren't deceiving you: the company skipped the Galaxy Watch 2 name altogether, likely because it didn't want people confused with the Watch Active 2. Oh, Samsung.)
Samsung Galaxy Watch 3 specifications
Swipe to scroll horizontally
Category
Samsung Galaxy Watch 41mm
Samsung Galaxy Watch 45mm
Display
41mm / 1.2" SAMOLED display
45mm / 1.4" SAMOLED display
Processor
Exynos 9110 @ 1.15Ghz
Exynos 9110 @ 1.15Ghz
Memory
1GB
1GB
Storage
8GB
8GB
Software
Tizen OS 5.5
Tizen OS 5.5
Connectivity
Bluetooth 5.0, Wi-Fi, NFC, GPS, Optional LTE
Bluetooth 5.0, Wi-Fi, NFC, GPS, Optional LTE
Sensors
Accelerometer, Gyro, Barometer, HRM, ECG, Ambient Light
Accelerometer, Gyro, Barometer, HRM, ECG, Ambient Light
Battery
247mAh, 1-2 days
340mAh, 2-3 days
Charging method
Qi wireless charging dock
Qi wireless charging dock
Water Resistance
5ATM, IP68
5ATM, IP68
Dimensions
41 x 42.5 x 11.3mm
45 x 46.2 x 11.1mm
Weight
49.2 grams
43g (Titanium, 53.8g (Stainless Steel)
Colors
Mystic Bronze, Mystic Black, Mystic White
Mystic Bronze, Mystic White
Mystic Black (Titanium & Stainless)
Like the original, the Galaxy Watch 3 comes in two sizes, though thanks to slimmer bezels the displays are ever-so-slightly bigger despite the body being more compact: a 45mm model with a 1.4-inch AMOLED display, and a 41mm version with a 1.2-inch screen (the original's options were 46mm/1.3" or 42mm/1.2").
Source: Andrew Martonik / Android Central
Internally, you're looking at the same Exynos 9110 SoC that's been powering Samsung wearables for a couple years now, but it's proven more than capable of doing the job. A gig of RAM and 8GB of storage round out the specs, though Samsung says that both the 247mAh battery in the 41mm model and the 340mAh cell in the 45mm model should net over a day of usage, leaning closer to three days for the larger version. You also get standard Qi wireless charging support, which extends to the Galaxy series' Wireless PowerShare feature that lets you charge your accessories on the back of your phone.
Along with new colors and finishes — there's a Mystic Bronze colorway to match the new Galaxy Note 20 and Galaxy Buds Live, along with a lighter matte black Titanium version in the 45mm variant — Samsung's mainly touting better health tracking features in the Watch 3 that set it apart from the original.
In particular, you're looking at a new version of Tizen OS that includes better automatic fitness detection for workouts along with run coaching and recovery tools built right into the watch. Users are also encouraged to wear the Watch 3 to bed for sleep tracking, something the original already does, but the Watch 3 is supposedly more accurate and, thanks to its smaller form factor, more comfortable. Like Fitbit Premium, Samsung has added over 100 video workouts to its Samsung Health app, and owners of the company's TVs will be able to watch content directly from the app.
The Watch 3 also brings automatic fall detection, SpO2 and VO2 max readings, though the latter two features will only arrive after a software update this fall. And yes, all three of the features are already available on the Galaxy Watch Active 2. Even the ECG and blood pressure monitoring are existing features from previous Samsung smartwatches, and are still unavailable outside South Korea due to regulatory purgatory.
So what exactly is new on the Galaxy Watch 3? Well, not a whole lot. This is decidedly Samsung consolidating the popular oversized and mechanical Galaxy Watch form factory with the health features from the Watch Active line. And that's fine! Starting at $400 for the 41mm version and $430 for the 45mm model, the Galaxy Watch 3 is a full $100 more than the Watch Active 2 and $70 more than the original Galaxy Watch when it debuted in 2018.
But somehow Samsung gets away with it; the Galaxy Watch 3 is thinner and lighter than the original, and that rotating bezel is just a joy to use. And it doesn't hurt that Tizen is just that much smoother, and more feature-filled, than Wear OS at the moment, with Samsung giving its smartwatches — even those released half a decade ago — occasional new leases on life.
For Android users, and especially Samsung users, there are few better choices than Samsung's Galaxy Watch lineup, and the Galaxy Watch 3 sitting alongside the inevitable Watch Active 3 that will arrive later this year or early next is the strongest volley against the Apple Watch that we have.
The Galaxy Watch 3 arrives tomorrow, August 6, at select retailers. We'll have a full review in the coming days, so stay tuned!
The next generation
A nice-looking update
Samsung's latest line of smartwatches combines the tactile rotating bezel of the Galaxy Watch with the health-tracking features of the Watch Active line. It's a nice update that may be a bit too pricey at $400.
Android Central Newsletter
Get instant access to breaking news, the hottest reviews, great deals and helpful tips
Daniel Bader was a former Android Central Editor-in-Chief and Executive Editor for iMore and Windows Central.
Unfortunately no one should ever purchase a watch with a promise of 'software updates for launch features'. The watch active 2 NEVER got EKG features and here we are 2 years later.... Just ridiculous

What are you talking about? The Galaxy Watch Active 2 is not even 1 year old yet (released in the end of september 2019). And if you read this article you'd know why ECG isn't available ("still unavailable outside South Korea due to regulatory purgatory").

So some of the big features that the watch shares with Apple Watch aren't available yet, even after a couple of years? I was going to jump on this watch so I could use all the features. But if they aren't available yet, what's the point? Might as well keep my iPhone 11 Pro Max and Apple Watch Series 5.

Pretty sad that they didn't upgrade the processor or speed within two years. Was going to upgrade from my Galaxy watch 46mm, but going to hold off until this lowers in price because it's just not worth it. Maybe Black Friday... 🤷‍♂️

Much smaller batteries too. Especially on the larger one (was 472mAh before). I'm expecting the OG Galaxy Watch to still be the smartwatch battery life king.

no compass or offline maps.
another fail.

Are you sure? Is HERE navigation with offline maps not available for newer devices? I'm using it on my Samsung Gear Sport with offline maps and it works great.

It's available for the OG Galaxy Watch. No Google Maps or Samsung Maps. Personally I prefer Navigation Pro which relies on a phone but watches are to small for actual maps anyway.

Why describe the watches mentioned as 'favorite Android watch' when it's not running Android?

Yeah common reviewer mistake.

Shame the batteries are smaller. Especially the larger one (472mAh). Guess this means it's battery will be worse. That's: Small size = 3 days (is accurate)
Large size = 4 days

Yeh they shouldn't have made the batteries smaller. My Gear Sport with 300mah battery lasts up to 3 days, the smaller one with 247 wont likely match that. I think they're using the Apple Watch as a reference of 1-2 day battery life to determine battery size and save money. Dumb move by Samsung.

Um, IINM, these Galaxy watches don't receive calls (via connected phone) and don't integrate with Google apps, so, uh, no.

Which galaxy watches don't make call? The original active, sure. These do however.

I was hoping this was going to be an upgrade for me from my Galaxy Watch but i think i will pass. Smaller battery is never going to be a great upgrade if the processor hasnt changed. Im getting comfortably 5 days out of my G Watch so no way its changing. Just have to wait for the next one. Of all the watches out there I cant think of one thats even close to an upgrade for usability in 95% of peoples use case.

This watch looks great to me and I'm looking forward to mine arriving. The only thing that I haven't been able to find out is what is the band size on the 45 mm? I mean this thing is pushing health and fitness but only a leather band comes with it? Not exactly an ideal material for sweat

Without knowing for sure I would guess at a 20mm band, potentially a 22mm.

Glad to see the rotating bezel is back and that Tizen keeps on growing. Good job Samsung. Beautifully designed watch 👌
Android Central Newsletter
Get instant access to breaking news, the hottest reviews, great deals and helpful tips
Thank you for signing up to Android Central. You will receive a verification email shortly.
There was a problem. Please refresh the page and try again.