Samsung Galaxy Tab S2 specs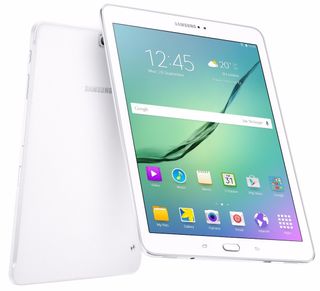 Samsung has taken the wraps off its latest pair of high-end tablets, the Galaxy Tab S2 series. Coming in 9.7 and 8.0-inch flavors, the Tab S2 packs premium internals including an octa-core CPU and 2048x1536-resolution display. What's more, both models will be available as Wifi-only and Wifi-plus-LTE variants.
For the full breakdown of specs across both screen sizes, check out the table below.
Swipe to scroll horizontally
Category
Galaxy Tab S2 9.7-inch
Galaxy Tab S2 8.0-inch
Network
LTE : 700/ 800/ 850/ 900/ 1800/ 1900/ 2100/ 2600
3G : 850/ 900/ 1900/ 2100
2G : 850/ 900/ 1800/ 1900
AP
Quad 1.9GHz + Quad 1.3GHz, Octacore application processor
Display
9.7" 2048x1536(QXGA) Super AMOLED
8.0" 2048x1536(QXGA) Super AMOLED
OS
Android 5.0 (Lollipop)
Camera
8MP AF(rear), 2.1MP(front)
Video
H.263, H.264(AVC), MPEG4, VC-1, WMV7, WMV8, VP8
Recording: QHD(2560x1440)@30fps
Playback: UHD(3840x2160)@30fps
Audio
MP3, AAC, AAC+, eAAC+, WMA, Vorbis, FLAC
Google Mobile Services
Chrome, Gmail, Google Search, Maps, YouTube, Hangouts, Play Store, Play Movies & TV, Play Music, Drive, Photos
Connectivity
Wi-Fi 802.11 a/b/g/n/ac MIMO (2.4GHz/5GHz), Wi-Fi Direct, Bluetooth®4.1 BLE
GPS
GPS, GLONASS
Sensor
Accelerometer, Finger Scanner, Gyroscope, Compass, Hall Sensor, RGB Sensor
Memory
3GB (RAM) + 32/64GB internal memory
microSD up to 128GB
Dimensions
169 x 237.3 x 5.6mm
134.8 x 198.6 x 5.6mm
Weight
389g(Wifi)/392g(LTE)
265g(Wifi)/ 272g(LTE)
Battery
5,870mAh
4,000mAh
Get the Android Central Newsletter
Instant access to breaking news, the hottest reviews, great deals and helpful tips.
Alex was with Android Central for over a decade, producing written and video content for the site, and served as global Executive Editor from 2016 to 2022.
Going backwards it seems, I'll keep my tab a 10.5 Posted via the Android Central App

indeed, the 10.5 format was perfect

Yeah, reduction in size means technology is going backwards!

If they would only add a sPen Posted via the Android Central App

Yeah they need an update to the note series. Actually I think they should have kept that and ditched the s series Sent from a phone, an awesome phone, my phone.

Maybe the 12" version will be the note series. Makes sense imo though wouldn't mind a s pen on all samsung tablets. Posted via the Android Central App

I kept being on the fence for the Tab S LTE but ATT wants over $500 off contract. I don't even want to know the tag with this. Posted via the Android Central App

I'm not seeing anything remarkably different in the specs from tab s to tab s2 other than onboard storage. I like my tab s8.4 - can anyone see a clear, compelling reason to update ?

Maybe if you have more money than knowledge?

They are selling you a new device that's basically the same just so you continue to receive updates and support. The Tab S' are all but dead in terms of continued OTA's. Sad.

I got an OTA on my Tab S 10.5 like 3 weeks ago. Posted via the Android Central App

So did I. It's a great machine. Certainly don't need this next one, but would look into an updated note tablet. Also A/C why is report right next to thumbs up? Sorry dude.

Check out the Asus Zenpad S 8 Better tablet at a far lower price.

I don't know about better. But it's Damn great for its price point. I returned it hoping they decide to release a LTE version Posted via the Android Central App

Agree. No compelling reasons to upgrade. Posted from my M9

There's a tab s 8.4 in the household. It's a great tablet. One thing I have always felt was that the the cpu in it wasn't powerful enough to push the super high res screen at a high fps constantly. You could see stutters here and there if you started heavy apps and especially if you had multi user. The pro with the tab s2 is that it has a much more better cpu and and a lower res yet still very high 2kish screen so performance should be much much better. Another pro is the touch based finger print sensor. Agree though that if you have a 8.4 and is working well than there's no reason to update. I think the only way I would get tab s2 is if I was to trade the tab s and get a tab s2 with some money on top otherwise I can't see paying £300 for a very similar spec device. Posted via the Android Central App

Ya, the exynos 5433 is far more powerful than the 5420. If you want the Tab S to run smoother though you really need to use a custom launcher. Oddly I noticed that nova seems to have more studders than apex. Apps never have any studder when opening and closing on apex launcher on my tab S

The 1st thing I did was get rid of the tw launcher. The one on the tab s was terrible. Magazine ux or whatever it is was junk. Was so easy to make it lag. I put nova on it. I saw it wasn't as smooth as my phone but still 100x better than the tw launcher. To be fair the tab s is still very fast when I use it but I suspect when you do a side by side comparison with the tab s2 it might be easier to see speed difference. The tab s2 is definitely better than the tab s but I agree don't think it's better in away that you should be running to replace your tab s. I'm looking for a new tablet. Right now looking as the Asus zenpad pad s 8.0. I myself have the nexus 7(2013) and it's 7" display isnt working for me and also performance is staring to go down. Was looking at the tab s2 but think it's too much for me when you can get the zenpad s 8.0 with 2k screen, 2gb ram, 32gb for £170. Posted via the Android Central App

Ya I'd go for the zenpad too if I was looking for an 8 in. tablet. Ya I wouldn't run to upgrade either unless I was into gaming since I have the 10.5. Then again I would t have it in the first place if I wanted a gaming tablet. The 5420 is still very snappy. I'm still pretty much certain that its the combo of touchwiz and 5.0.2 that l somewhat causes issues. I've done a bunch of forum reading and people flashing CM rave about buttery smooth performance on it.
. You start to notice animation studder after about 3 days without a restart unless you clear recents since RAM is so full at that point. But it's SO much better than TW on KK on the tab S.

Yh I'm pretty sure your right that any stutters is due to tw/lolliop problems. Hopefully Samsung upgrade it to android m and they better considering they were selling it as a premium tablet if not then never getting a samsung tablet again. Posted via the Android Central App

I would say getting Android M. But I hope that I am wrong on that and the Tab S 8.4 gets it.

Maybe if you want thinner, you upgrade. Thats why I left my wife. I upgraded from that porker to thinner and much better specs!

Haha that was sad but pretty hilarious!

I'll stick with my Dell venue 8 7840. Love that thing. Best screen in the business! Posted via the Android Central App

Also worst name in the business lol Posted via the Android Central App

lol, seriously ... i still prefer my iPad mini, but I'd get the venue if I had to grab an android tablet. Posted via the Android Central App

No mention of an IR Blaseter........

It'll have it. Every Samsung device (practically anyway) has it these days. Even the $99 Tab 7.0. I see no reason why a "top end" device such as this wouldn't have an IR blaster.

Well, apparently it doesn't have one. No flash either, and both the Tab Pros and the previous S had it.

Ok it doesn't have an IR blaster. WTF.

I don't like the low resolution in 2015, especially on the big one. However I really like the 4:3 screen format. Posted via the AC App on Note 4 N910F

Low resolution.... Man people are effin spoiled these days. That has to be the dumbest comment I seen all day. Posted via the Android Central App

No kidding. It wasn't that long ago large screen laptops were 1024x600 or 1365x768. Posted via the Android Central App

Spoiled? Sorry for spending hard earned money on products that companies put out. They put out beautiful SAMOLED screens, then in mid-2015, crank out low res panels. Yes, the current crop are budget products, but there's no denying the screens are dated looking. Guess you still buy CRTs at Best Buy? Wait, that old screen tech is outdated...my point exactly. We are all spoiled by new tech. I am putting my hard earned money towards a nice screen, since I use that part of the tablet 100% of the time. If that's me being "effin spoiled" the guess what? I'm effin spoiled.

You made no valid arguement, just an fyi. These are anything but low res...

low res for a 9 inch tablet would be 1024x768.

Cool. The "new" Tab A. For sale right now. 1024x768. 9.7" screen. My point is made. Posted via the Android Central App

Point made about a budget tablet? Posted via the Android Central App

If $300 for a modern tablet in 2015 is budget, then yes. More-so what's been on the market from Samsung for months...they only options I guess. I'm not interested in the old, now (likely) unsupported Tab S. This is a silly argument. Everyone, please buy Tab A's and such. I will wait on a modern SAMOLED screen personally.

So what's your point exactly Posted via the Android Central App

Oh Yh those devices are overpriced for the spec. Would rather get the zenpad s for 200 and much better specs. Lol you should be more specific next time, your comments made it sound like the tab s2 had low res screen. Posted via the Android Central App

Haha guys I think he thinking of the tab A at least I hope he is Posted via the Android Central App

These are not any where close to low res though are they.. They are like 2k screen panels. Posted via the Android Central App

The only people that complain about this stuff are Android users. Practically all the complaints are on here. No one complains about the iPar Air [2]'s screen resolution at those sizes. None of the people with MBA's complain about the screen resolutions on their screens. WP users had lower resolution screens since forever and none of them complained, and neither did Blackberry users complain about their 720p screens. But you come to Android Central and read about a phone getting released with a 720p screen, or something that isn't pushing the battery crushing limits of technology and they complain about the screen resolution. As if they really notice the difference in day to day use (they will always say they do though... cause they all have flawless vision and can see the pixels from a foot away).

You do realize you wouldn't be able to see a difference, AT ALL. And it'll get better battery life and better performance from not having to push so many pixels....but you are a marketing sheep, I bet you want 4k on it, right?

Who said 4k? Posted via the Android Central App

I don't like black bars on my videos sorry Posted via the Android Central App

Exactly. Posted via the Android Central App

bingo Posted via the Android Central App

Only 4000mAH for the 8 inch model? Seems a bit small for the large screen. Posted via the Android Central App

About the only real major con I saw. :/ Posted via the Android Central App

They probably did it to make it as thin as it is. Posted via the Android Central App

Wish they used the 7420 in these, I would have definitely grabbed one of the big ones

I've been looking at geekbench results, and if those are any trustworthy, there's not a big difference between the two. I'm more worried about battery life. Posted via Android Central App

Looks like a really nice iPad. Come on Samsung. First you start making iPhones and now iPads. Guess I'll be sticking with my Note 3 and 2014 Note 10.1.

not bashing it, but I really hate the iPhone/iPad argument. all of these companies copy each other, and so long as it looks nice and runs they way you want it, who cares if it looks like an iPad? Posted via the Android Central App

Samsung gets flack there because they blatantly copied the iPhone 3GS with the Galaxy S (Vibrant, especially). Not that I care, since I thanked them for providing me with a suitable iPhone alternative on my carrier, because I wasn't going to go to AT&T at that point in time. The design, a lot of the software and design language, the apps, a lot of that were blatant rip-offs. It's been a long time since then, and I don't really see the newer GS devices in the same light. This tablet, however, is just too easy to target because they completely changed the Screen Aspect Ratio to match the iPad as well as the screen sizes to match. I think people need to leave 2010 in 2010 and get over the iPhone copying thing. It's extremely old news and stretching it to every single thing the company releases really, really makes them look bad. Every company will, and should, do whatever it takes to sell more devices. If it means adopting a more familiar form factor, then why not go for it? As long as the design isn't a blatant rip off and the software isn't a blatant rip off, no one should care. The Surface Pro 3 wasn't called an iPad Rip off even though it was a square 4:3 tablet form factor with one home button on the face, because Microsoft doesn't have Samsung's past reputation. Move on.

I didn't know Samsung was installing iOS on their devices. Posted via Android Central App

I'd prefer if they kept the 10.5 size AND added the S-Pen :D (and one-touch fingerprint, which this doesn't mention but I'm assuming does have)

Why the portrait home button placement? Even Apple doesn't do that on purpose, for The ipads, unless I'm doing it wrong lol.

Quite happy with my Tab Pro 10.1. No need to upgrade for a while. Posted via the Android Central App

I forget are the exinos processors 64 bit? Posted via the Android Central App

yup. this one uses the same one as the note 4

Are there any rumors of a good note tablet coming? I am seriously considering the note pro 12.2, but I'd really want an AMOLED note if there were one coming.

How many galaxy tabs are there? Seems like a new one comes out every 3 months

They haven't launched a high end tablet in over a year

I don't think the Tab S is even a year old at this point, and if so, it's barely a year old. They also launched the Tap Pro. Did they have a Note Pro last year or something? It gets really hard to keep up with them. I seen the Galaxy A tab series device at Best Buy and liked the form factor, however I hated the capacitive buttons as they are too easy to trigger when you rotate the tablet and of course that tablet was low end and sorely underspeced (with a screen resolution *actually* worth complaining about...).

I am hoping and dreaming for a 12 inch nexus tablet this year!!

We will see. I have a Tab 3 7" and when I use it seems so s l o o o o www
compared to my phone ..but has been a champ in reliability . I bought it at the same price as a nexus but better build quality and sd card slot trumped first updates .. the new S2 8 will not be a front runner but hopefully will be at a fantastic price point to compel interest Kenny

What's up with this latest jihad of 16 by 9 aspect ratios Posted via the Android Central App

I had the tab a and brought that right back for the tab s 8.4. The tab a had low resolution and I couldn't stand it.

Still no NFC, 4:3 aspect ratio, and a smaller screen.....doesn't seem like much of an upgrade. They're clearly copying Apple and I wish they'd stop.

I'm probably the only one who doesn't mind the 4:3 screen ratio and is looking forward to getting the S2 8. I use my iPad in portrait mode for web surfing, reading, and most of my apps. I've played around with older Galaxy Tabs and found the 16:9 size a bit awkward. And yes, screen resolution makes difference if your vision is less than perfect. I also have a budget Android tablet and find it's low resolution harder to see. The only gripes I have about this device are the bloatware, battery size, and lack of color variation beyond black, white, and gold. I can at least disable the bloatware if not jailbreak it entirely. And what's wrong with preferring one screen size over another? It doesn't make you stupid or sheep-minded. It's just a preference. Use whatever you like and be done with it.