Samsung Galaxy Tab S review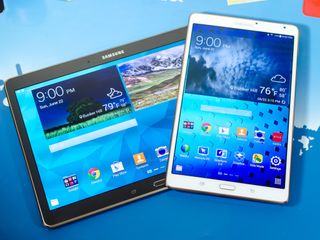 When Samsung gets serious about tablets, it makes a couple of serious tablets
Yes, Samsung is releasing another series of flagship Android tablets with the Galaxy Tab S line. The Tab S tablets will be Samsung's top of the line product in this category, so they need to reach many goals and turn out something that can compete with other high-end products, as well as lure a few people away from the inexpensive competition. It's a very tough spot to be in, but not one Samsung hasn't conquered before — remember the original Galaxy S phone?
Up until now, a lot of tablets have done a lot of things just right. A Kindle Fire HD is great for reading or doing some shopping. Likewise for the Tegra Note 7 and some serious game-time. Want to get online and be social or just surf the web? The Nexus 7 is all things Google. Add in the iPad for those niche apps that are just perfect on a tablet, and everything is covered. But even if someone had all these tablets laying around, nobody wants to keep them all up and running. So we compromise. Now, we don't have to compromise. The Tab S excels at all these things, and more.
This is how an Android-powered tablet should be.
Some hands-on
As you can see, the hardware, the software, the features and the whole package mesh pretty well. There's a real synergy here, and Samsung has paired some awesome software enhancements with great hardware, put it in a super slim and light package, then put one of the best displays on the planet on top of it all.
Hardware overview
The Galaxy Tab S line consists of two different models, in two different colors. You have an 8.4-inch model, which is incredibly thin and light, and a 10.5-inch model — which is also very thin and very light, in a larger package. Both models come in either Titanium Bronze or Dazzling White, so you have a bit of a color choice. Samsung sent us a Titanium Bronze 10.5-inch version, and a Dazzling White 8.4-inch model. Both are Wifi-only (LTE models are coming later this year) and in the 16GB internal storage option. They also sent a Simple Cover and a Book Cover for each, which we'll have a look at here as well. Before you ask — Titanium Bronze all the way.
The two models are almost identical when you're holding them in your hands, other than the size. They have the same feel, the same thin bezels, and the same controls and ports in easy-to-reach places. The only differences are the size and display components. We'll go over everything you ever wanted to know about the displays further down the page.
The Galaxy Tab S is so thin it's a bit unnerving. The light weight and slim profile give you the feeling that they are fragile, but in reality they aren't. It's just not something we're used to, especially in the 10.5-inch model. Both models are only 6.6 millimeters thick, which is thinner than even the Galaxy S5. They are also extremely light-weight; the 10.5-inch version checks in at 465 grams and the 8.4-inch version is 294 grams. The design language that went into the Galaxy S5 smartphone was safely reused here for the Galaxy Tab S series. Both models have the same dimpled "faux leather" back and plastic trim ring — coated to look and feel like metal — around the edge. The plastic backing of the white model isn't quite as soft as the bronze model's backing, which is something we're used to from most manufacturers. White soft-touch plastic gets dirty too easily if you don't alter the material to make it less porous. The takeaway here is that both feel great in your hands — the 10.5-inch model is especially nice compared to other 10-inch tablets — and that the bronze-backed models will feel a little softer and more grippy.
You have all the expected buttons, holes and slots on the exterior of the Tab S. On the front face, you have a trio of buttons on the bottom bezel, done up in Samsung fashion with a mechanical home button in the center, flanked by a multitasking capacitive button on the left and a capacitive back button on the right. The mechanical home buttons on our units have zero wiggle. The home button also doubles as a fingerprint scanner, with the same function as the Galaxy S5, plus one feature unique to the Tab S — multi-user login support using fingerprints as credentials. We're going to look deeper at this, but I did want to mention it. On the top bezel you've got a stylish Samsung logo (seriously, it looks nice) in the same copper color as the trim band. You'll also find the front facing 2.1MP camera and a cut-out for a light-sensor up top.
Around the edge of the 8.4-inch Tab S (holding it in portrait mode) you have a 3.5 millimeter headphone jack, external speaker and microUSB 2.0 port on the bottom, and an SD card slot, IR blaster, volume rocker and power button on the right. The left side is blank and the top has only a speaker. The 10.5-inch version has the same controls, with a speaker, microUSB, and SD card slot on the bottom, volume and power plus your IR blaster on the right, and a speaker and 3.5 millimeter headphone port up top.
The rear of the Tab S houses the 8MP camera, LED flash, and the two "receptacles" for the accessory covers to snap into. The snaps (at least I'm going to call them snaps) are easy to feel when holding the Tab S without any cover in place, but they aren't raised or uncomfortable in any way. You'll know they are there if you're not using a cover, but you won't care.
Image 1 of 14
Image 2 of 14
Image 3 of 14
Image 4 of 14
Image 5 of 14
Image 6 of 14
Image 7 of 14
Image 8 of 14
Image 9 of 14
Image 10 of 14
Image 11 of 14
Image 12 of 14
Image 13 of 14
Image 14 of 14
The covers themselves are very nice. Samsung sent us a Simple Cover and a Book Cover for each. They snap onto the back with a hard push and click into place. You'll need to use more force than you're comfortable using, but you won't break anything unless you do something silly like use vice-grips to squeeze them on. Just put your thumb on the screen behind the point of attachment, and press with your middle finger. They'll pop right in.
Getting them off is equally as scary, as they require plenty of force to break the snaps free. I've done it about 15 times to get the hang of it, and by now I don't let the noise bother me or worry that I'm using too much force. In any case, once you get one of these covers in place you'll probably never take it off — they are that nice.
We'll talk more about the covers after I've had a chance to use them for a bit. A quick and dirty first impression would be that I love the Simple Cover and that's the one I would order with my Tab S. In dark red, because it looks so nice with the bronze Tab. The Book Cover is just as nice, and if you need a kickstand that's the one to go for. Neither will disappoint.
In general, the Tab S is a refinement of every previous model tablet from Samsung. The construction is excellent like the Tab 4. The style is a step beyond the Tab Pro with design from the Galaxy S5 added for a more premium feel. Little things like loose home buttons have been addressed, and the band around the edge keeps the glass up and away from any surface you're laying it on. Both the 10.5-inch and the 8.4-inch Tab S are wonderful to hold and use.
Specifications
Samsung Galaxy Tab S 8.4 specifications
Category
Features
Processor
Exynos 5 Octa (1.9 GHz QuadCore + 1.3 GHz Quadcore) or Qualcomm Snapdragon 800 2.3 GHz Quadcore*
Display
8.4" 2560x1600(WQXGA) Super AMOLED
OS
Android Kitkat (4.4)
Camera / Flash
8MP w/ LED Flash + 2.1MP Full HD
Video
H.263, H.264(AVC), MPEG4, VC-1, WMV7, WMV8, VP8
Recording : FHD(1920 x 1080) @ 30fps
Playback: WQHD (2560x1440) @ 30fps
Audio
MP3, AAC, AAC+, eAAC+, WMA, Vorbis, FLAC
Content Services / Applications
Papergarden, Professional pack, Multi-user mode, Sidesync 3.0, Gear & Gear fit manager
Free Downloadable apps
Group Play, S-Note, S Translator, Samsung Link, Scrapbook, Story Album, Video Editor, Gear Manager, Gear Fit Manager, Samsung Smart Switch, Samsung Level, E-meeting, Kids Mode, Kids Piano(Ding Dong Tap), S-Console, Hanshow, Hancell, Hanwrite
Google Mobile Services
Chrome, Gmail, Google Search, Maps, Play Store, Voice Search, YouTube, Google+, Hangouts, Play books, Play Games, Play Newsstand, Play Movies & TV, Play Music, Drive, Google setting, Photos
Connectivity
WiFi 802.11 a/b/g/n/ac MIMO, WiFi Direct, Bluetooth®4.0, IrLED
GPS
GPS, GLONASS, Beidou(not supported in USA, Canada)
Sensor
Accelerometer, Fingerprint Sensor, Gyro Sensor, Geomagnetic Sensor, Hall Sensor, RGB Sensor
Memory
3GB (RAM) + 16/32GB internal memory, microSD up to 128GB
Dimension / Weight
125.6 x 212.8 x 6.6mm, 294g(Wifi)
Battery
4,900mAh
Samsung Galaxy Tab S 10.5 specifications
Category
Features
Processor
Exynos 5 Octa (1.9 GHz QuadCore + 1.3 GHz Quadcore) or Qualcomm Snapdragon 800 2.3 GHz Quadcore *
Display
10.5" 2560x1600(WQXGA) Super AMOLED
OS
Android 4.4 (Kitkat)
Camera / Flash
8MP w/ Flash LED + 2.1M Full HD
Video
H.263, H.264(AVC), MPEG4, VC-1, WMV7, WMV8, VP8
Recording : FHD(1920 x 1080) @ 30fps
Playback: WQHD (2560x1440) @ 30fps
Audio
MP3, AAC, AAC+, eAAC+, WMA, Vorbis, FLAC
Content Services / Applications
Papergarden, Professional pack, Multi-user mode, Sidesync 3.0, Gear & Gear fit manager
Free Downloadable apps
Group Play, S-Note, S Translator, Samsung Link, Scrapbook, Story Album, Video Editor Gear Manager, Gear Fit Manager, Samsung Smart Switch, Samsung Level, E-meeting, Kids Mode, Kids Piano(Ding Dong Tap), S-Console, Hanshow, Hancell, Hanwrite
Google Mobile Services
Chrome, Gmail, Google Search, Maps, Play Store, Voice Search, YouTube, Google+, Hangouts, Play books, Play Games, Play Newsstand, Play Movies & TV, Play Music, Drive, Google setting, Photos
Connectivity
WiFi 802.11 a/b/g/n/ac MIMO,WiFi Direct, Bluetooth ®4.0, IrLED
GPS
GPS, GLONASS, Beidou(not supported in USA, Canada)
Sensor
Accelerometer, Fingerprint Sensor, Gyro Sensor, Geomagnetic Sensor, Hall Sensor, RGB Sensor
Memory
3GB (RAM) + 16/32GB internal memory
microSD up to 128GB
Dimension / Weight
247.3 x 177.3 x 6.6 mm , 465g(Wifi)
Battery
7,900mAh
The units we received, as mentioned, are Wifi-only and use the Samsung Exynos 5 Octa chipset. They handled everything well, from fullscreen HD video to CPU-intensive gaming. When downloading large files, things get a little hot around the rear camera module, but it's nothing dangerous or too uncomfortable and just seems to be normal operation.
There will also be a Snapdragon version released, and most likely all LTE versions will use it. This means that different versions will have different idiosyncrasies, and users will find the little tweaks to maximize performance after a bit of use.
The system boots with 2,774 MB of RAM available after reserving what's needed for the kernel and GPU (LTE models will be different here, as well), and you'll find about 8.5GB of free storage left on the 16GB version after signing into your various accounts and syncing. Only you can decide if this is enough.
During testing, I found no show-stopping bugs with the hardware, and everything — BT LE, 802.11ac Wifi, Wifi Direct, etc. — seems to work as advertised.
The display
The two models have the same 2560 x 1600 resolution, but use different panel types. They're both Super AMOLED displays, so they have plenty in common besides the resolution. Super AMOLED displays don't seem to get the press they used to get when they were new, but this is proof of just how good Samsung has become at making them. A quick refresher of the benefits of Super AMOLED:
Because there is no backlight, blacks are true black and take no energy to display. The contrast ratio is about 1,000,000:1
The response time is about 1,000 faster than a traditional LCD
They have a very high color gamut, which means there is little distortion when looked at from an angle.
They exhibit a very high perceived luminance. This is both a benefit as well as a detractor. The screen looks brighter to our eyes than it really is. This is why you'll find applications that dim the screen into a night-time mode available on Google Play, and plenty of Galaxy S phone users rating them highly. Anything shown on the display against a solid truly black background can be startlingly bright in the dark.
They are also very thin and light, and a big part of how Samsung can get away with making a tablet as thin and light as the Tab S.
Of course, there are downsides to using a Super AMOLED panel, too. They can suffer from burn-in more easily than a traditional LCD. They typically have a shorter lifespan than an LCD — though either should outlast the life of the tablet itself. And reflective coatings on the glass (like the oleophobic compounds often used to cut down on fingerprints and smudges) can make them very difficult to read in full sunlight. No technology is perfect — even one this damn beautiful.
Now, for the differences. Besides the obvious — one is 8.4-inches and the other is 10.5-inches — they use different subpixel arrangements in the panels themselves. The 8.4-inch Tab S has a diamond PenTile subpixel structure on a Super AMOLED display at 360 ppi. The 10.5-inch Tab S has the same RGB stripe subpixel arrangement we saw in the Note 2 (with double the blue) on a Super AMOLED display at 287 ppi. Many will hear the word PenTile and start typing to say how bad it is. They would be wrong. At the high resolution and high ppi values that these tablets display, they both look incredible. If you're a fan of AMOLED panels, you'll love these.
There are your details. Consume them. Debate them to death. That's what we, as Android aficionados, do. But also let me tell you that these panels are some the best screens I've ever seen. SAMOLED screens might run a little blue and not be 100 percent color-correct, but they are tuned to be pleasing to the human eye and it shows here more than it ever has before.
I'm no stranger to high-resolution fancy displays. I work on a Chromebook Pixel every day (I'm writing on it right now), and usually have a chance to look at all the great mobile phones that get made every year. Generally, the screen on any modern hand-held device is good. Some are standouts — the HTC One's amazing LCD last year was a good example. Some just blow your freaking mind, and that's where the display on the Tab S fits in.
Pictures look incredible. Videos, even scaled back to 1080p, look better than they do on the television you have in your living room. Games and web content are awesome. Reading is just as good as a top-of-the-line e-ink reader. And Samsung's Papergarden app — we'll talk more about that later — takes it all to another level.
This is really important when you step up to the 10.5-inch model. With a piece of glass that big in your hands, it had better look good. And it does. The stunning color and true blacks of a Super AMOLED panel at WQXGA resolution is something you have to see to believe.
Cameras
Tablets have traditionally never given us much to get excited about when it comes to the camera. The Tab S follows the same vein. The cameras on both models are adequate but they don't knock your socks off the same way the rest of the device does. Specifically, images are grainy unless things are very well lit, colors are off substantially on the yellow end, and white balance is all over the place.
The camera user interface is very much like the Galaxy S5, with the same shooting modes and adjustments. We like the way Samsung has been refining their camera application, and think it makes getting good pictures easier. That's what's important. You can take still images at up to 3264 x 2448 8MP image size, or shoot 1080p HD video. The cameras are typical for a tablet, so don't expect the same quality image you would get from a Galaxy S5 or any other 2014 high-end phone. We're OK with all of this. The interface is good, and the pictures will work in a pinch.
Have a look at a couple samples. They show you why you should never be holding up your tablet for pictures at your kid's dance recital.
Image 1 of 5
Image 2 of 5
Image 3 of 5
Image 4 of 5
Image 5 of 5
Software
Both the 8.4-inch Tab S and the 10.5-inch Tab S run the same software. It's very much like we see on the Galaxy S5 or the Tab 4 from earlier in the year, but it's also different. it's still a bit resource-hungry, but we saw no extreme lag spikes nor any unexpected slow-downs when doing the things we normally do on a tablet.
My Magazine and the whole Magazine UI concept has been revisited, and Samsung really gets it right on a tablet this time. You have your basic home screens, completely customizable with widgets, app shortcuts and folders. Samsung has included their own set of widgets to place on your home screen, some of which we've seen before, some of which are new, and some are revamped. In general, they all look and work well. They may or may not be your cup of tea, but they're fully functional, pretty damn good looking, and you don't have to look at them if you don't want to.
You also have the signature software features that Touchwiz is known for on-board. Multi-window is great — especially on the 10.5-inch model. Smart stay is getting better and mostly works with my glasses on now. The floating toolbox is handy, and all the motion control software works fine. I've said it before and I'll say it again — Touchwiz has matured nicely, and while it may not be to your liking, it's feature-rich, robust, and most importantly the software seems to work as designed. We've come a long way since the Galaxy S4.
Samsung has also bundled the "Galaxy Gifts" program into the Tab S, and you'll find things like a partnership with Marvel and other software freebies and trials included. Be sure to have a look, there is plenty of stuff in there to suit most tastes.
Quick Briefing
My Magazine, as mentioned, has been transformed, and we now have what Samsung is calling Quick Briefing as a catch-all for your most used content and information you'll want to see at a glance. The Magazine style page layout is a little like HTC's Blinkfeed, a little like Flipboard, but with completely customizable content blocks and a fluid, beautiful design. I found myself actually using it, and it's an "application" that I would pay for if it were offered in Google Play. It feels so right as a gateway to your content on a tablet, and the fact that it has a beautiful high-resolution user interface, on a beautiful screen makes it even better.
Papergarden
This is my favorite new software feature from the Tab S. Yes, it's duplicating software that Google pre-installs. Yes, Google Play Newsstand is rather nice (if you read magazines or other publications). Yes, a lot of people are going to call it bloatware. But I love it.
It's a reader app for magazines with an odd name. When you buy a Tab S you'll get a chance to look at a few free issues from popular publications like Architectural Digest or Allure. A quick tap will download an issue to your tablet, and once finished you simply tap the issue to open it in the Papergarden app. It sounds just like Google Play Newsstand, doesn't it? There's a big difference — the app itself and the content are designed and rendered with the WQXGA screen in mind. The experience is immersive and beautiful.
I'm a big reader, and it just so happens that Architectural Digest is one of the magazines I read monthly. This is easily the best way to read it I've ever come across, and one of the best applications I've ever seen for an Android device. More manufacturers need to ship with apps and content designed for the device you bought. Even if you're not a big reader or don't like to read on your tablet, give this one a look. You'll see why I'm so enamored with it, and come away impressed at what Samsung has done.
SideSync
Image 1 of 3
Image 2 of 3
Image 3 of 3
SideSync is a feature that lets you use your phone from your tablet. Right now, it only supports the Galaxy S5 but we wouldn't be surprised if this opens up a little after launch. It's a lot like LG's Q Pair, but it's fully integrated into the software as a multi-window object. Once your phone and the Tab S are linked up, you have a window of your phone and you can do anything through it. Surf the web, play a game, answer a call, it all works.
It's not something everyone will use, but it seems to work well. I plan on spending a day using my phone this way, and we'll look at this one again. My first take — it's pretty cool. Something I would use in the evening when I'm lounging in front of the TV, provided I was using a supported phone.
Usability and final thoughts
We've seen the physical characteristics of the Tab S, and ha a look at it's software. The question is how does it all work together? The answer is pretty damn good.
Audio is a little lacking from the small external speakers. It's plenty loud, but it's also flat. A set of headphones sounds as good or better than any other tablet, and a Bluetooth speaker works well. Invest in one or both if you have a need for "good" quality sound.
Bluetooth works well with the expected range of about 25-30 feet. Wifi performance — both standard Wifi and content sharing with other Galaxy devices works well after an initial hiccup connecting with my Galaxy S5 Active. Nothing a reboot of both devices didn't fix.
GPS works as expected, though that will be a bit more important (and likely better with an assisted-GPS system) once the cellular models are released.
The Tab S runs KitKat. You may not like how the SD card works. There's nothing I can say or do to make you like it any better.
Battery life is fair. The 10.5-inch model lasts about a full day with me using the Tab on and off all day long. The 8.4-inch model needed to hit the charger at 10PM after being on most of the day. I haven't had time to do my usual full 10 hour battery tests, but I can say that if you use the Tab S hard all day long (and you can) you'll need to charge it every night. If you use it casually, expect to charge it a couple times a week. There is a lot of bright beautiful screen here, and it takes juice to run it. Being AMOLED helps a lot, but keep your expectations reasonable and you won't be disappointed.
The software has been stable and solid, even with all the TouchWiz features turned on. Apps, games and web-content seem to "work" just fine, and I've seen no glitches or bugs that make me scratch my head and worry.
Two Tab S tablets wearing Book Covers get a little funky and randomly turn the screen on and off when you lay one on top of the other. Magnets — how do they work?
You'll need to use the USB cable that came with the Tab S to charge it. Any wall adapter of reasonable output (1.5 Amp or higher is reasonable to me) will work, but the only cable I've found that works with my equipment is the one bundled in the box. I'll see if I can get an extra to cut open and see if there is any circuitry in the connectors.
In short, things work as they are supposed to work. Whether you just want to consume a little Internet, watch a video or two, play a game or read a book, the Tab S performs great. It truly is one device that does it all very well. Android purists may be put off by the operating system and extra features, and that's OK. There is no one product perfect for everybody.
Folks who are fans of what Samsung has done with Android and mobile in general (queue the chants of NOTE 3! NOTE 3!) will absolutely love the Tab S. I'm guessing that folks who are ambivalent to the whole mobile OS war thing will be, too. Samsung has delivered a tablet to rival the best of the market with the Tab S, and there is plenty here to love.
Image 1 of 9
Image 2 of 9
Image 3 of 9
Image 4 of 9
Image 5 of 9
Image 6 of 9
Image 7 of 9
Image 8 of 9
Image 9 of 9
Jerry is an amateur woodworker and struggling shade tree mechanic. There's nothing he can't take apart, but many things he can't reassemble. You'll find him writing and speaking his loud opinion on Android Central and occasionally on Twitter.
So beautiful... I can't wait to get the 10.5 LTE version to replace my iPad Air. Buying that was the worst mistake! Posted via the Android Central App on my Nexus 5

I'll take it off your hands if you want. I will even pay for shipping!

What turned me off to Apple is how limited and dumbed down iOS is. I've been waiting for an Samoled tablet since their 7.7".

Its a pity that these tablets dont come with an S-Pen. Does that mean that Samsung are going to release a 2015 version of the Note tablets later this year? FFS.....
http://www.amazon.com/gp/product/B00KHAFI9G/ref=as_li_tl?ie=UTF8&camp=17...

When I called Samsung directly, a guy working there told me that they gonna release a Note version of the Tab S 10.5 - End of 2014 ~ Early 2015 !!!

I'm wondering if Samsung are going to release a "Note" version of the S, alongside the S6?
It's just a thought.
The fabulous screen on the Tab S 10.5 (which is amazing to watch films on) would be absolutely brilliant with S pen functionality. It's the only thing I feel is missing from the S tablets.
Having had both the Note 3 & Note 4 "phablets" (I can't stand that expression, but it serves only to differentiate from the tablets Samsung make with the Note moniker). I feel that an S pen on one of these S tablets...next generation, would put this tablet in a category all of it's own for a second time. Fantastic for consumption and amazing for enterprise, a good all rounder. I feel that Samsung needs another big hit tablet to go head to head with the latest iPad air 2 (already accomplished in my opinion), but more importantly a tablet which can hold it's head up high standing next to the "new iPad pro"...fingers crossed :).

The Exynos is a deal-breaker and anyone who was unfortunate enough to buy a Note 10.1 2014 can attest to that. Lag city.

Both will also have Snapdragon variants. So finish reading the sentence you saw mention of the "lag city" processor before commenting. And also, I think I'd take his word on the lack of lag, Samsung seems to be trying to fix the image It gave Lagdroid. Posted via Android Central App

The LTE models with be Snapdragon and cost a premium over the Wifi models, so no. The fact is that the only Samsung device I ever had that didn't lag badly was the Note 3, which had the Snapdragon 800. I owned it at the same time as the Note 10.1 2014. Every single device they have produced with the Exynos Octa has lagged. I would know, because I have owned most of them. This wouldn't be the first review that claimed a device was "mostly lag free" and was wrong about it. These reviewers only use the devices for a week or so. They don't load them up with their programs and use them as a daily device like those of us who buy them.

Yeah. We should trust you, who's never even held the device instead of the guy who's been reviewing it for more than a week... Right.... The logics of Internet Astroturfers is mind-boggling.

I wish I cared whether you trust me or not, but I honestly don't. Go ahead: Buy one. Enjoy the lag. I have owned almost every Samsung flagship phone for the last 4 years, as well as many of their tablets, specifically Exynos Octa models. I tend to think that I have quite a bit of experience, despite the fact that I didn't write a review on a blog site. I am willing to bet that I used the devices much longer than he did. I have not used this tablet, for obvious reasons, but I have also sworn off the Exynos thanks to my previous experiences with it in both the phones and tablets. It's a turd. It's that simple. The Snapdragons are much better processors. I do currently own the Tab Pro 8.4 and despite having a Snapdragon 800, it also runs less than perfect, so I'm basing my opinion on an obvious trend here. You reach a point where you don't need to buy every single device just to be sure that it will live up to your expectations. At some point, you have to look at how many times you've been burned and stay away. At best, the software on the S series is based off of the GS5, which I currently have. It also runs less than perfect with a Snapdragon 801. In fact, many of the stutters and delays are simply inexcusable on this device. So looking at all the Samsung devices that I have owned and currently own and their relative performance, one thing becomes obvious to me: Samsung has no idea how to optimize their software and their devices will never perform the way they should until they do, even with a Snapdragon 800 (or better).

TL:DR You're as all other Astroturfers really desperate to say you are more trustworthy than a review on a major site, because you have owned all other Samsung devices ever made, even though you've always hated them... :D

TL:DR If you read any of my comment, you'd see how stupid your own comment really is... :D

Well, I believe it is something to take into consideration, considering this site tried to defend the lag on the Galaxy S5 by saying the lag is below the perception threshold of most people or some nonsense like that. When the fact is that the S5 is so laggy and choppy it is frustrating to use day in and day out. Touchwiz is a POS, period. There has never been a good version. So maybe these tablets are OK as far as that goes but you need to realize AC has little to no credibility left on that front. Why this is so, I don't know, as they are typically pretty upfront about stuff like that. But I do know I won't take the comment "we saw no extreme lag" as an indication that it is better. Note he didn't say noticeable, he said extreme. Telling, I think.

Anybody claiming a device, no matter if it's a $30 Chinese no-name tablet or a 20-core Xeon workstation with 4TB RAM is without any noticeable lag at any point is outright lying. All tablet, and I mean ALL, can lag at times. Doesn't matter what brand or operating system it's running. I mean, you're the one being sad here, so obsessed with it just because it's a Samsung, but when you use whatever brand you like yourself, you just pretend it's not noticeable.

I've got a Tab Pro 10.1, it also has an Exynos Octacore. It's not horribly bad, but yeah, it is noticeably laggy. If the rumors about a new large Nexus turn out to be true, I think I'm going to regret having bought one. The saving grace is the SD slot which the Nexus is not going to have.

I had no issues so far as lag with my Tab s.....

Tab Pro 8.4 wi-fi model has Snapdragon 800, and is already cheaper.

I, and a couple of people in my G+ circles have the wifi Galaxy Note 10.1 2014. Other than a slight 1-2 second 'wake up' lag on mine (which the others don't seem to have), all of ours run very smooth. I also have the Tab Pro 8.4, and there is absolutely no lag on that at all that I can discern. So while I don't doubt your claims, it seems that your mileage may vary with these tablets. We all installed Nova Launcher immediately (as we do on every Android device we own), so perhaps that makes the difference... not sure.

tab 8.4 does have the Snapdragon 800 cpu

I own one.. No issues here after 4.4.2 update...well..a d I do use the Google now launcher. O lag.. Posted via Android Central App

I'm one of those people (Note 10.1 2014) and yep, lag city. It's a shame as the screen is stunning and the tablet is well built and designed. I've all but given up looking for ways to improve it. Custom launchers make no difference really, and besides, that's just the home screens. Question for the reviewer - Is the Tab S 10.5 a marked improvement (performance wise) over the Tab Pro 10.1? I'm struggling to believe the lag issues have suddenly disappeared given this is fitted with the same processor and running the same version of Android.

I had zero issues lag wise on the note 10.1 2014 edition no any on my Tab s but that is just me

Not sure what version of Android you guys were using but I got my Note 10.1 2014 in April and as soon a i turn it on it updated to Kit Kat. I have ZERO lag on this device. Maybe check out one with KK.

My Tab Pro was/is running KitKat 4.4.2 out of the box - I've never experienced it FREE of lag. Not sure what the dude referencing the use of Google Now launcher is going on about, unless he's just installed the APK manually.

I wouldn't install the Google now launcher on a 10.1 tablet lol.... Some apps already sized wrong on my Note 3 but is ok... Love it on my note 3

Mine was on 4.3 because I was rooted and wasn't willing to give it up (this is before Towelroot), but I'd be surprised if it was completely lag free with Kitkat. Nice to hear that it may have been better, though. That being said, my Pro 8.4 is on Kitkat and it's less than perfect in the performance department (though nowhere near as bad as my Note 10.1 2014 was), so I tend to think this is a trend that will continue.

Wow. The dude says it runs perfectly. Stop whining like a 12 year old girl. Posted via Android Central App

Are prices somewhere in this review?

$399 for the 8.4" 16GB, $499 for the 10.5" 16GB.

The issue I'm having is locating a 32GB 8.4 inch model.

You will have this issue forever because it doesn't exist :( I was thinking of getting the 8.4 but since it didn't have a 32gb option i went with the 10.5

I really like the form factor of the 8.4, if I was going to get one of these, that would be my choice.

+1 Posted via Android Central App

Seems like a new Samsung tablet comes out every week. I know that literally they don't but with the amount of new releases, updated releases, software updates, modified version, etc etc, just let me know what Sammy hasn't released yet for a tablet to save us the time. I'm starting to wonder if the marketing ploy is to just brainwash people so that nobody even realizes there are other tablets available and assume Samsung is the only choice. Whatever works I guess.

It doesn't help that we get first looks, previews and a reviews of the same tablets so it seems like there are a ton of articles.

No thanks keeping my tab pro 8.4 got it brand new at best buy 249

How did you get it for that price??

Currently on sale.
Steal of a price Posted via Android Central App

Yeah! I think I may buy that over the Tab S, actually. I'll take a look at both in store but that's a big discount.

The Tab s is better imo SuperAMOLED > LCD any day of the week imo. But at $249 I would probably take the tab pro 8.4

Please fix the Tab Pro 8.4....with an update not a successor

Sorry, whats wrong with the Tab Pro 8.4? I have one, without complaints.

Just the replicable lag from app drawer to home screen. It isn't an issue when I'm using Nova, but I like to go back to the stock launcher every here and there.

...don't think they listened. They've released 9 tablets this year. These new tablets are numbers 10 and 11.

Jerry - Are there any plans to offer a replacement back for optional wireless charging like they have with the S5? Having this capability to leave the tablet on a charging pad so its always fully juiced when you pick it up would be awesome

Tablets don't have removable backs, so no, it won't have wireless charging. Posted via Android Central App

God that would take forever

Good review, but "the only cable that charges is it is the one it came with?" seriously? I have all samsung products at home (tab pro 8.4, galaxy s4, etc.), and all the Samsung cables. I will be upset if all my cables around the house don't charge this tablet. i WOULD assume you tried the galaxy s5 cable...etc. from Samsung.

It's not the "S5" cable, it's the USB 3.0 cable. If these tablets have the USB 3.0 port then yes it should work with the other micro USB cables. The note 3 sported the 3.0 port first. Even though it's fragile as hell. Posted via Android Central App

Ok. Thanks. Good to know. I read somewhere that the tab S 8.4 has a USB 2.0 cable. Not the 3.0 cable. So I don't know. I thought they were backwards compatible.

fragile as hell lol..surely you jest

In my 8 months with the Note 3, the microUSB 3.0 port is MUCH sturdier than the microUSB 2.0 port on my N7 2013, N7 2012 and especially Galaxy SIII are/were. I definitely wouldn't buy a Samsung product now without 3.0, in fact.

Fragile? My Samsung galaxy s2 skyrocket had to be replaced after a month of owning it because I couldn't charge the phone ... Never had an issue with my Note 3

I really want the 8.4 but I want the LTE version. Hopefully it doesn't come out much later than the WiFi only version.

I would guess an end of July release for it

When will my preorder be shipping from Samsung?!?! I want it now!!

Wow u guys have them already im impressed

Looks nice, but the Note 2014 is ostensibly the same tablet with wacom support...Amoled is nice...but give me wacom support or give me death! Posted via Android Central App

These Samsung tablets do look quite amazing. Posted via Android Central App

They didn't even use the newer processor. The nexus 5 and a bunch of other phones have had the Snapdragon 800 for over a half a year. If I am going to pay that much money it needs to be the best. Same goes for Google's new Nexus tablet. 2GB ram? Yeah right. And that physical button on a tablet...Get with the times Samsung...Tablets out of any device are best with onscreen buttons. Oh and a pentile screen...Every phone since the Galaxy S has come with the statement that the pentile isn't even noticeable and every device since then is filled with forum posts of people who are annoyed by how it makes text and certain colors (like orange) look. I would never get a device with a pentile display. All of these faults (what I see as faults anyway. Everyone is different) I suppose could be overlooked if the tablets end up at around $250-$300. Will that happen? We'll see.

so are you gonna buy it or not?

The SD800 is almost identical to 801.you can OC it to 2.5ghz, GPU to 575Mhz and it'll perform the exact same as a 801. Posted via Android Central App

Given the $100 price difference (for the 10" versions), I think the Tab Pro is a far better deal for most people right now. If you're going to put any kind of cover on it, which is advisable to protect that huge slab of glass, you'll probably never notice the difference in weight and thickness.

I Would love this tablet if it had a Windows OS.

Did you come on an Android website just to say that? I bet you're so pleased with yourself. Funny stuff.

No microUSB 3.0 (like the Notes & Pros), no Qi wireless charging and now to find out that we have to use the bundled cable to charge it? They may as well go ahead and license the Lightning connector from Apple since NONE of the benefits or convenience of microUSB is provided. It's one thing to charge slowly but It's another thing entirely to simply not charge! Probably another criticism due to Samsung's decision to use an Exynos SoC instead of a Qualcomm SoC

I have this tablet and I can say it charged with all of my chargers at home, including the cheap ones from ebay

Check out the Anandtech review Battery life results:
http://www.anandtech.com/show/8197/samsung-galaxy-tab-s-review-105-84inch/2 15hr+ of 720p video playback on Tab S 8.4!!!!!! Things that will make me embrace Touchwiz:
1. 4:3 Nexus Tablet!!!
2. Samsung AMOLED tablet with absurd viero playback battery life!!
3. Insanity.
4. Brainwashing.

Great review, Jerry. I've been holding out for a tablet n was just about to settle for the tab z, but I love me some super amoled, looks like I can stop waiting. Posted from my caseless GS5, because I believe in myself

Nice looking hardware, but I'll be waiting for a new 10-inch pure Android tablet. I keep tablets longer than phones and I need something that will be updated and supported longer than 2 years.

Speaking of...I'm anxiously awaiting some news to come out of Google i/O. I really hope there's another Nexus 10 or Android Silver 10 inch...something...anything. I know there's an 8.9 supposedly coming, but I've found problems reading magazines on anything smaller than 10 inches. There's far too much scrolling and zooming to make the experience pleasant.

Pretty sure Samsung could make an Android device that cures diseases, ends world hunger, & prevents war but people would still complain about the physical buttons or something else. 8.4 model looks pretty sweet to me. As long as there aren't touch responsiveness issues(like on my '13 Nexus 7 that still haven't been corrected) might consider this one. Posted via Android Central App

People love to jump on the Anti-Samsung Hatewagon even though most of them have never even used a Samsung product. Posted via Android Central App

Does SideSync give the tablet access to the phone's data connection? I.e. give you what is, essentially, tethering without having to run Mobile HotSpot on the phone? I have Unlimited data with Verizon, so I don't get tethering for free. And FoxFI is just a bit of a PITA to turn on. Being able to replace FoxFI with using SideSync seems like it would be really nice! Possibly even a reason to replace my S4 with an S5, if Samsung doesn't release SideSync for the S4.

It is mentioned on other reviews that it does not offer tethering through sidesync Posted via Android Central App

Thanks for the info, Wunderbar. That's a bummer - but no surprise. It was probably an option and Verizon said "not on our phones!"

One negative (for me) about Samsung tablets is what I learned regarding my Note 10.1 2012. They made all the replacement batteries for it at the same time as the tablet. So, now, 18 months on, my battery has lost a noticeable amount of capacity and I cannot get an OEM replacement that is any better (since the batteries lose capacity even when they're just sitting on a shelf). I got 2 OEM replacement batteries and returned them both because the date codes were as old and older than the date code on the original battery that came in my Note. Kind of sucky on Samsung's part. Eventually, this will pretty much force me to retire my Note 10.1 even though it's still perfectly functional (exceptional for the battery no longer lasting long enough).

Extremely nice tablets. And not crazy expensive either. Posted via Android Central App

These seem really nice! Not in the market for a new tablet just yet but I wouldn't mind having the 8 inch one. Posted via Android Central App

"SAMOLED screens might run a little blue and not be 100 percent color-correct" Wow, I'm glad someone has finally said this. I was starting to think there was something wrong with my eyes- these two issues have been my biggest problem with SAMOLED screens, so much so that it's a deal breaker for me. I just can't stand looking at them, and I can't imagine I have some kind of super sensitive eyes. The flexible OLED on the G-Flex doesn't seem to have these problems, though, and when I see that screen I get as excited as most people do over the SAMOLED.

According to this, these tablets set new records for, among other things, color accuracy. http://www.androidcentral.com/analysis-finds-galaxy-tab-s-has-best-ever-...

Best buy has the tab pro 8.4 in store for 249 best deal for an great tablet

PenTile??? REALLY Samsung? Woooow...pass.

These aren't the pentile displays of 4 years ago. But hey, if you want to continue in ignorant bliss, go right ahead.

Im surprised no one has noticed that with many movies from the play store barely fill 1/2 the screen on my 10.5 " Tab S.
Same with some Netflix selections. And it's not just a few that look crappy by being waaay too small for the screen.
Christ......I purchasd a 10.5" tablet with a gorgeous screen primarily to download movies, and many do not even look close to correct on the screen....they are so small.
This is supposed to be a CONSUMPTION tablet. Why didnt Samsung do it's homework concerning this issue??????

And btw.........go ahead and download the free movie_ Gravity.
This is what I'm talking about.
You would think Samsung would have at least WATCHED the free movie themselves so that MAYBE they could have picked a free movie that FILLED THE SCREEN.

Ive had the Tab S for a week now. Everything's Great.......especially the gorgeous screen. Should also be productive as well..(already paired it with a Samsung EVO 32g micro SDHC card and Logitech type S bluetooth keyboard/case).
But givin the superior screen........(purchased this to ALSO be a consumption device).....why on hell didnt Samsung design in this a screen aspect adjustment?? First hint:
The free playstore movie Gravity barely filled 1/2 the screen. Then I explored other movies........(watching trailors), and found many that also were not formatted to get close to filling the screen. Same with many Netflix selections.
Hell.....My old Sansui LCD cheapo television has menu adjustments for adjusting screen size.
Obviously......not well thought out....Samsung.

This tablet is AMAZING!!!
I got it as a gift and haven't touched my iPad since. And actually Gravage your dead wrong for somebody who has a ton of senseless information drooling over the Galaxy Tab S and have held one in Best buy only you sure seem so knowledgeable. Your so wrong on your comments on lag and blah blah this and that..It doesn't lag at all,colors are absolutely amazing and I get tons of jealous people just like yourself who seem to point out things they don't like about a tablet that's got a stronghold on the market..Only difference I'll give YOU is they don't touch mine so you've one upped them by drooling in store or posting comments with 0 validity. Make sure when your in the store again to get your senseless information,you don't shake the tablet to hard hoping for lag-You'll just set off the alarm in the store..Moron

Hi guys
No doubt that my Samsung 10.5 is a very gud tab.but may be mine is a problem at battery charging or battery consumption. It takes 9 hours to be charged from 30% to 90%. And if u just keep it for a day battery gets again to go on 40% within 3 hours to 5 hours but without using .I don't know if I will use it how much time it will remain alive.but investing 43000., was it a gud decision or I he just helped samsung to minimize their stock by 1 piece.?If samsung can read it please reply

Hi Jerry
I've just read your review and couldn't agree more. This is my first tablet and all I can say is its pretty fantastic. However, I do have an issue with the sd card, I can't figure out how to get my media to go over to it instead of the internal memory. Can you throw any light on this please.
Kind regards
Paul Davidson
Android Central Newsletter
Get the best of Android Central in in your inbox, every day!
Thank you for signing up to Android Central. You will receive a verification email shortly.
There was a problem. Please refresh the page and try again.