Samsung Galaxy S9+ vs. Galaxy S7 edge: Should you upgrade?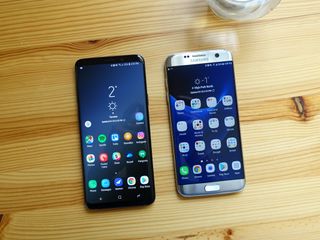 The Galaxy S8 changed a lot about Samsung's design language, but looking back on it, it wasn't as fundamental a change over the Galaxy S7 as it initially appeared to be. The Galaxy S7 series — and especially its curved edge variant — was the culmination of many years of maturation on Samsung's design, engineering, and software teams, and proved to be among the best smartphones released in 2016.
Now that the GS9 is out, it's worth deciding whether the Galaxy S7 — specifically, the Galaxy S7 edge — is worth swapping out for this year's model. We're going to be comparing apples to apples as much as possible in this piece, so we're going to focus on the larger GS9+, but many of the arguments apply to both the smaller and larger variants.
What a difference two years makes
The Galaxy S7 edge, while certainly not Samsung's first foray into curved glass displays, showed Samsung settling into a nice groove of differentiation. By then, after the tech demo that was the Galaxy Note Edge and the quiet success of the Galaxy S6 edge (and later that year, the strange and superfluous Galaxy S6 edge+), Samsung seemed to understand its audience, and applied its focus to blending aesthetics with functionality.
The Galaxy S7 series re-introduced many fan-favorite features that the S6 lost, like waterproofing, expandable storage, and a sufficiently sized battery, while further refining the software experience that alienated far fewer people than in years past.
Specifications
Swipe to scroll horizontally
Category
Samsung Galaxy S9+
Samsung Galaxy S7 edge
Operating System
Android 8.0
Android 7.0 Nougat
Display
6.2-inch AMOLED
2960x1440 (18.5:9)
5.5-inch 2560x1440
AMOLED
Dual edge screen
Processor
Snapdragon 845
or Samsung Exynos 9810
Snapdragon 820
or Samsung Exynos 8
Storage
64GB
32GB
Expandable
microSD up to 400GB
microSD up to 200GB
RAM
6GB
4GB
Rear Camera
12MP Super Speed Dual Pixel
OIS, f/1.5 or f/2.4
12MP f/1.7
1.4-micron pixels
OIS
Secondary rear camera
12MP, f/2.4
N/A
Front Camera
8MP, f/1.7, auto focus
5MP f/1.7
Connectivity
Wi-Fi 802.11ac MIMO
1.2 Gbps (Cat-18) LTE, Bluetooth 5.0 LE
ANT+, NFC, GPS, Glonass
Wi-Fi 802.11 ac MIMO
Bluetooth v4.2 LE
ANT+, USB 2.0, NFC
Audio
Stereo speakers
Dolby Atmos
3.5mm headphone
Mono bottom speaker
3.5mm headphone
Charging
USB-C
Fast Wireless Charging
Micro-USB
Fast wireless charging
Battery
3500 mAh
3600 mAh
Water resistance
IP68 rating
IP68 rating
Security
Fingerprint sensor
Iris scanning
Face unlock
Samsung KNOX
One-touch fingerprint sensor
Samsung KNOX
Dimensions
158.1 x 73.8 x 8.5 mm
150.9 x 72.6 x 7.7 mm
Weight
189g
157g
But when you look at the Galaxy S7 edge today it shows its age, largely thanks to the bezels atop and bottom the 16:9 Super AMOLED display and the physical home button that was such a mainstay of Samsung phones until 2017. I still have a fondness for Samsung's mechanical mastery, especially since it didn't preclude unlocking the phone as it lay on a table, but it's difficult to argue that the company made the wrong decision moving the fingerprint sensor to the back in exchange for additional screen real estate. The Galaxy S7 edge also forced users to accept Samsung's traditional navigation button scheme, which placed the back button to the right of the home, and given their permanent status, could sometimes pose a problem when accidentally tapped in landscape mode.
The Galaxy S7 edge was also the final year of the Micro-USB port. Even though USB-C was around in 2016 when the GS7 series was launched, in retrospect, given the unreliability of the standard at the time, Samsung made the right decision holding onto the reliable-but-ungainly legacy port another year.
The 2016 flagship is also significantly smaller than this year's equivalent: at 5.5 inches, the usable real estate pales next to the S9+'s 6.2-inch surface, though the difference is entirely vertical; the two phones are practically the same width. Still, the S9+ is a much taller phone, which makes it more difficult to use in one hand, something that I've partially solved by using a case (which, unfortunately, increases the phone's overall volume and weight even further).
And while the S9+ is a bit more monolithic in design, featuring a sparser front and symmetrical body due to its also-curved back, in picking up the 2016 flagship it's clear the two phones are of the same engineering lineage. In other words, the S7 edge is still a beautiful, functional piece of hardware, even by today's standards.
The more things change, the more they stay the same
Given the two years between them, you'd expect the Galaxy S9+ to trounce the S7 edge in terms of specs, and you'd be right. There are two generations of improvements to system-on-a-chip speed and efficiency, and the Snapdragon 845 handily beats the S7's Snapdragon 820 in both aspects. The S7 edge features 4GB of RAM to the S9+'s 6GB, and the latter also comes with 64GB of storage standard compared to 32GB, a nice bump in out-of-box usability. Both devices sport fast wireless charging, IP68 water and dust resistance, headphone jacks, and expandable storage, but the S7 edge lacks the facial biometrics (that are of questionable utility) of its younger sibling.
There's also a decided lack of Bixby anywhere to be seen on the Galaxy S7 edge, which is more of a feature than a bug, in my opinion.
Lest we forget, the S7 edge's 3600mAh battery is actually larger than the S9+'s 3500mAh cell, though the additional efficiency of the Snapdragon 845/Exynos 9810 means battery life should be better on the newer model. And then there are the stereo speakers on the Galaxy S9+, which are nice-to-haves but certainly not essential.
Galaxy S9+ (left) | Galaxy S7 edge (right)
The main difference between the two phones, however, is in the rear cameras. While the S7 edge introduced Samsung's 12MP sensor and f/1.7 lens combo that it maintained in the Galaxy S8, the S9+ takes things to another level by introducing a second sensor with a telephoto lens and a brighter f/1.5 lens on the main 12MP sensor. While the brighter lens mainly helps in low light situations, Samsung has learned a thing or two over the years, and I find the S9+ to take better photos in almost every situation, regardless of condition. If you're serious about mobile photography, the camera improvements alone are worth the upgrade to the Galaxy S9+.
At the same time, you can tell by the shots above that in ideal conditions, both indoors and out, the two phones are largely a wash, with white balance and HDR the only differentiating factors. Not bad for a two-year-old phone.
On the software side, the Galaxy S7 edge is still running Samsung version of Android 7.0 Nougat, which we just left behind on the GS8 and GS9. The differences between the two are minor, but if you want the latest and greatest Android version (for now) you're going to want a newer device. Samsung has said that it will bring Oreo to the Galaxy S7 series, but we'll likely be waiting until the summer for it.
Should you upgrade? Probably
The obvious answer is yes, of course you should upgrade to the Galaxy S9+ if you're still using a Galaxy S7 edge. That is, if you're looking to upgrade at all.
See, the Galaxy S7 edge is still a heck of a phone. Despite its aging design, there are still reasons to love its front-facing home button and fingerprint combo, and the software and camera experience is nothing to sneeze at. It may lack Bixby (hah!) and a few niceties like face scanning and stereo speakers, but unless you absolutely need to upgrade your phone right now, I'd be tempted to wait until we see what Samsung unveils later this year with the Note 9, or even until 2019 with the next-gen Galaxy S (if it's called that at all).
The Galaxy S7 edge has a bit of life left in it, and that speaks to Samsung's achievements in design, manufacturing, software and, of course, camera. If you can't wait, and don't want to spend so much on a new phone, the Galaxy S8 gives you most of the newest generation at just over half the cost.
What do you think? If you're using a Galaxy S7 edge, are you planning to upgrade to the Galaxy S9+? Let us know in the comments!
Get the Android Central Newsletter
Instant access to breaking news, the hottest reviews, great deals and helpful tips.
Daniel Bader was a former Android Central Editor-in-Chief and Executive Editor for iMore and Windows Central.