Samsung Galaxy S9+ vs. Galaxy S7 edge: Should you upgrade?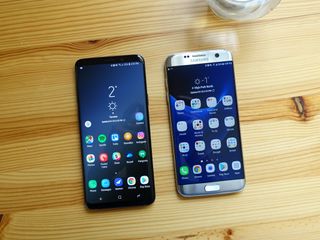 The Galaxy S8 changed a lot about Samsung's design language, but looking back on it, it wasn't as fundamental a change over the Galaxy S7 as it initially appeared to be. The Galaxy S7 series — and especially its curved edge variant — was the culmination of many years of maturation on Samsung's design, engineering, and software teams, and proved to be among the best smartphones released in 2016.
Now that the GS9 is out, it's worth deciding whether the Galaxy S7 — specifically, the Galaxy S7 edge — is worth swapping out for this year's model. We're going to be comparing apples to apples as much as possible in this piece, so we're going to focus on the larger GS9+, but many of the arguments apply to both the smaller and larger variants.
What a difference two years makes
The Galaxy S7 edge, while certainly not Samsung's first foray into curved glass displays, showed Samsung settling into a nice groove of differentiation. By then, after the tech demo that was the Galaxy Note Edge and the quiet success of the Galaxy S6 edge (and later that year, the strange and superfluous Galaxy S6 edge+), Samsung seemed to understand its audience, and applied its focus to blending aesthetics with functionality.
The Galaxy S7 series re-introduced many fan-favorite features that the S6 lost, like waterproofing, expandable storage, and a sufficiently sized battery, while further refining the software experience that alienated far fewer people than in years past.
Specifications
Swipe to scroll horizontally
Category
Samsung Galaxy S9+
Samsung Galaxy S7 edge
Operating System
Android 8.0
Android 7.0 Nougat
Display
6.2-inch AMOLED
2960x1440 (18.5:9)
5.5-inch 2560x1440
AMOLED
Dual edge screen
Processor
Snapdragon 845
or Samsung Exynos 9810
Snapdragon 820
or Samsung Exynos 8
Storage
64GB
32GB
Expandable
microSD up to 400GB
microSD up to 200GB
RAM
6GB
4GB
Rear Camera
12MP Super Speed Dual Pixel
OIS, f/1.5 or f/2.4
12MP f/1.7
1.4-micron pixels
OIS
Secondary rear camera
12MP, f/2.4
N/A
Front Camera
8MP, f/1.7, auto focus
5MP f/1.7
Connectivity
Wi-Fi 802.11ac MIMO
1.2 Gbps (Cat-18) LTE, Bluetooth 5.0 LE
ANT+, NFC, GPS, Glonass
Wi-Fi 802.11 ac MIMO
Bluetooth v4.2 LE
ANT+, USB 2.0, NFC
Audio
Stereo speakers
Dolby Atmos
3.5mm headphone
Mono bottom speaker
3.5mm headphone
Charging
USB-C
Fast Wireless Charging
Micro-USB
Fast wireless charging
Battery
3500 mAh
3600 mAh
Water resistance
IP68 rating
IP68 rating
Security
Fingerprint sensor
Iris scanning
Face unlock
Samsung KNOX
One-touch fingerprint sensor
Samsung KNOX
Dimensions
158.1 x 73.8 x 8.5 mm
150.9 x 72.6 x 7.7 mm
Weight
189g
157g
But when you look at the Galaxy S7 edge today it shows its age, largely thanks to the bezels atop and bottom the 16:9 Super AMOLED display and the physical home button that was such a mainstay of Samsung phones until 2017. I still have a fondness for Samsung's mechanical mastery, especially since it didn't preclude unlocking the phone as it lay on a table, but it's difficult to argue that the company made the wrong decision moving the fingerprint sensor to the back in exchange for additional screen real estate. The Galaxy S7 edge also forced users to accept Samsung's traditional navigation button scheme, which placed the back button to the right of the home, and given their permanent status, could sometimes pose a problem when accidentally tapped in landscape mode.
The Galaxy S7 edge was also the final year of the Micro-USB port. Even though USB-C was around in 2016 when the GS7 series was launched, in retrospect, given the unreliability of the standard at the time, Samsung made the right decision holding onto the reliable-but-ungainly legacy port another year.
The 2016 flagship is also significantly smaller than this year's equivalent: at 5.5 inches, the usable real estate pales next to the S9+'s 6.2-inch surface, though the difference is entirely vertical; the two phones are practically the same width. Still, the S9+ is a much taller phone, which makes it more difficult to use in one hand, something that I've partially solved by using a case (which, unfortunately, increases the phone's overall volume and weight even further).
And while the S9+ is a bit more monolithic in design, featuring a sparser front and symmetrical body due to its also-curved back, in picking up the 2016 flagship it's clear the two phones are of the same engineering lineage. In other words, the S7 edge is still a beautiful, functional piece of hardware, even by today's standards.
The more things change, the more they stay the same
Given the two years between them, you'd expect the Galaxy S9+ to trounce the S7 edge in terms of specs, and you'd be right. There are two generations of improvements to system-on-a-chip speed and efficiency, and the Snapdragon 845 handily beats the S7's Snapdragon 820 in both aspects. The S7 edge features 4GB of RAM to the S9+'s 6GB, and the latter also comes with 64GB of storage standard compared to 32GB, a nice bump in out-of-box usability. Both devices sport fast wireless charging, IP68 water and dust resistance, headphone jacks, and expandable storage, but the S7 edge lacks the facial biometrics (that are of questionable utility) of its younger sibling.
There's also a decided lack of Bixby anywhere to be seen on the Galaxy S7 edge, which is more of a feature than a bug, in my opinion.
Lest we forget, the S7 edge's 3600mAh battery is actually larger than the S9+'s 3500mAh cell, though the additional efficiency of the Snapdragon 845/Exynos 9810 means battery life should be better on the newer model. And then there are the stereo speakers on the Galaxy S9+, which are nice-to-haves but certainly not essential.
Galaxy S9+ (left) | Galaxy S7 edge (right)
The main difference between the two phones, however, is in the rear cameras. While the S7 edge introduced Samsung's 12MP sensor and f/1.7 lens combo that it maintained in the Galaxy S8, the S9+ takes things to another level by introducing a second sensor with a telephoto lens and a brighter f/1.5 lens on the main 12MP sensor. While the brighter lens mainly helps in low light situations, Samsung has learned a thing or two over the years, and I find the S9+ to take better photos in almost every situation, regardless of condition. If you're serious about mobile photography, the camera improvements alone are worth the upgrade to the Galaxy S9+.
At the same time, you can tell by the shots above that in ideal conditions, both indoors and out, the two phones are largely a wash, with white balance and HDR the only differentiating factors. Not bad for a two-year-old phone.
On the software side, the Galaxy S7 edge is still running Samsung version of Android 7.0 Nougat, which we just left behind on the GS8 and GS9. The differences between the two are minor, but if you want the latest and greatest Android version (for now) you're going to want a newer device. Samsung has said that it will bring Oreo to the Galaxy S7 series, but we'll likely be waiting until the summer for it.
Should you upgrade? Probably
The obvious answer is yes, of course you should upgrade to the Galaxy S9+ if you're still using a Galaxy S7 edge. That is, if you're looking to upgrade at all.
See, the Galaxy S7 edge is still a heck of a phone. Despite its aging design, there are still reasons to love its front-facing home button and fingerprint combo, and the software and camera experience is nothing to sneeze at. It may lack Bixby (hah!) and a few niceties like face scanning and stereo speakers, but unless you absolutely need to upgrade your phone right now, I'd be tempted to wait until we see what Samsung unveils later this year with the Note 9, or even until 2019 with the next-gen Galaxy S (if it's called that at all).
The Galaxy S7 edge has a bit of life left in it, and that speaks to Samsung's achievements in design, manufacturing, software and, of course, camera. If you can't wait, and don't want to spend so much on a new phone, the Galaxy S8 gives you most of the newest generation at just over half the cost.
See at Samsung (opens in new tab)
What do you think? If you're using a Galaxy S7 edge, are you planning to upgrade to the Galaxy S9+? Let us know in the comments!
Android Central Newsletter
Get instant access to breaking news, the hottest reviews, great deals and helpful tips
Daniel Bader was a former Android Central Editor-in-Chief and Executive Editor for iMore and Windows Central.
I'd say this is a great upgrade from the S7. Considering all the hardware and software changes and features

Damn skippy you should upgrade.

Um.... Yeah you should upgrade. It's a better overall phone. This isn't the S8 where outside of the camera and fingerprint scanner placement there's not much of a difference.

Was very, very close to upgrading, but I'll hold out another few months for the note 9...

As someone who upgraded from the S7 to the S9, this is what I say: - Do NOT upgrade UNLESS the camera is important to you AND you shoot manual. The S9 has the best camera on Android BUT you have to know how to use a camera. If you don't, in daylight the S7 will get more balanced shots (well, it does have 2 years of updates and improvements on it). In everything else the S7 is better. The size is better the fingerprint placement is better and even the software is better. As for the performance... Well... The S9 is snappier, sure. But there are more important things, I believe, than the fractions of a second an app takes to open. The S9 does have a good thing: the Bixby button.
Not Bixby, no. She still s*cks. The button. With an app from the Play Store you can remap it and get yourself something ALL phones should have : a dedicated camera button (you can remap it to do something else like open Google Now but... Don't be stupid. Put it opening the camera).

Double-tapping the power button already opens the camera. I've remapped the Bixby button to open Spotify on one tap, flashlight on double-tap, and Google Assistant /voice search on a long press.

Yeah. But it has never been a good replacement for a dedicated camera button and it'll never be ;) Of course, people should remap to whatever suits their needs best. I remap it to open camera on one press and open Google Now on a long press (because Google Assistant is f*cking useless where I am and I only ever use it for quick searches).

The software is fundamentally identical, save for bixby and the removed edge functions so i'm not really sure what you're talking about.

Oh that's very simple to answer: on the Nougat version Substratum worked without the need for Andromeda or a PC at all.
You just needed Sungstratum and you could theme everything without root or PC. Then on 8.0 it became a sh*tshow and on Android Poop, unless Google stops being a bunch of c*nts, it's likely to be killed off. So, basically, the S7 software allowed you to do more with your phone.

Ya I want to see what Samsung does with the Note. By then my options should be better and phone paid off.

I thought I was fine hanging on to my S6. But the S9 blows it away in every way imaginable. Still getting use to doing the fingerprint thing on the back though. And that fingerprint reader is super fast now.
S6 owners should most definitely upgrade to the S9 ASAP.

My S9+ is in the mail but I'm already having a hard time letting go of my S7 edge. So many memories together 😔

Awh man me too! Arriving tomorrow. I'm typing this on my Note 7 though 😆. S7 will hang around with my daughter... She used my M8 til it died.

Gonna try to hang onto my s7 Edge for another year. Besides, if I upgrade now, I'll miss this pink line going down the screen, and not being able to charge past 84%

I've got the same pink line but I can still charge to 100% (assuming the charger actually physically connects) but the phone is slowed almost to a crawl sometimes. I find myself hitting the app switch button and closing all applications every 5 minutes.

The pink line failure is widely documented issue that manifests on S7s and the S7 Edge that have have been carefully handled - meaning not dropped. And yet Samsung doesn't acknowledge the delicate connector issue that is the main root cause of failure. Ranking 2nd to the battery issues of the Note, Samsung managed to keep the pink line issue off the radar = failed commitment to it's customer base. Hence why my next device is either a OnePlus, LG or perhaps a Pixel.

I have an unlocked S7 edge that I bought in September 2017 for $475. It already wasn't the latest greatest but met my needs. My dad just got an S9+ from his job (nice perk). I got to play with it and honestly it's a little too big for me. He has smaller hands than me so he uses his S9+ mostly 2-handed while I use my S7e mostly 1-handed. I feel like the assorted 6.0" 18:9 phones are about the sweet spot for my hands. But I'm still going to keep my S7e for at least a couple years.

Go with s9 then. And nows a good time to get it cause of the $300 trade in offer still going on

I prefer the wider screen of the S7e over the taller/narrower non-plus S8 & S9. Plus even with a trade offer, that's still spending money vs. not spending money if I keep my S7e.

I really like my S7 and would like to upgrade, but I have a big reason holding me back. I have a wireless charger at work, wireless charger at home, and dock in the car. In all 3 locations I unlock the phone while it is resting in the cradle with the front finger print scanner. Having to constantly pick it up to line up my eyes or use the back fingerprint scanner is a deal breaker for me so I will be holding out. Its a shame because i'm ready for a new phone.

I have the exact same issue. Not only that, but I have a wireless charging pad in my car (new Prius model), and there's a little cut out that the phone needs to rest to get a good wireless charge on it. I'm afraid the s9+ will be too large for that cut out :(

Holding out for what? It's not like Samsung is going to reverse course and start putting the fingerprint sensor back on the front.

Unless they put the fingerprint sensor in the display, of course.

Yeah, I hate that. Specially because "intelliscan" on the S9 s*cks a lot. So the phone is pretty much useless most of the time. Unless the camera is REALLY important to you, do NOT upgrade. I sort of regret having upgraded for that exact same reason. Only the camera is preventing me from selling the S9 and getting another S7. Under-the-display scanners can't come soon enough.

"Samsung has learned a thing or two over the years, and I find the S9+ to take better photos in almost every situation, regardless of condition" Really? When it comes to photography, I don't find that the difference between the two devices is flattering for the S9+. I would even say that the S7 Edge is much better than the S9+ in daylight pictures, with much less yellowish pictures, and fewer overexposed areas. The only times when the S9 is better is at night, but there isn't a night and day (hehe) difference either.
I'm not a fan of the S9's photos at all.

I was thinking the same thing after looking at his photos.

Coming from an s7 edge to the s9+ I'd say absolutely. I have had mine for about a week now and completely changed my usability. Besides obvious stuff like its faster and has a better screen these were the biggest changes I've experienced. 1. The finger print scanner & face unlock are extremely fast. Small details you might not know coming from s7e (I didn't) is that from screen off as soon as you touch the finger print scanner it unlocks an takes you to home screen, wayyy faster than unlock on s7e. Also there's a pseudo front button that you can set to unlock
on hold ( for those people really wanting front button unlocks) AND you can set it to stay unlocked while charging, or in trusted places. 2. The camera is a night and day better. I'm an instagram-aholic so I use them all the time. YES in ideal conditions they both shoot great pics from the rear cam, however front cam is no comparison even in ideal light. The added ability of low light photography, 2x optical zoom and that awesome bokeh effect give me tons more variety. I didn't go for the s8+ because I felt it too similar, not enough hardware changes. s9+ delivers.
ONLY reason I would hold out would be for next years s10 (or whatever they call it) as its slated to be samsungs first 5G ready phone as 5G rolls out, also supposed to have in screen fingerprint scanner.

I'll keep my front fingerprint scanner and compact design. Just wish I didn't have a pink line....

The trade in offer alone makes it a great time to pick up one.

I have my s7 for a year and a bit and I wanted to upgrade but I decide to stick with my s7
The only complaints I have so far are that the battery is not like it used to be (Im going to reset maybe that will help), and some scratches on my screen ( fixeable with car wax from what ive heard)
Everything else works perfect!

I have a S7edge and was considering the S9+ having skipped the S8 due to the terrible fingerprint scanner location and there just not being enough value for me in the upgrade. Now the S9+ is out, I'm still not upgrading, because again, there just is not enough value for me. I hope the Pixel 3 when it comes out later this year has just enough extra time for new capabilities though new hardware that the S9 series didn't have available, and they don't do anything too radically stupid (similar to removing headphone jack which I can live with, but I'd prefer to have one), to give me an upgrade that is of value to me.

I purchased the black 256gb S9+ because of its huge storage. I still use my dual SIM S7 edge as my main phone but I won't use it for taking photos when traveling because it ran out of storage space quickly. I'll use the new S9+ as the photo taker and also for watching videos, and of course for GPS or map navigating. My S7 edge will conserve more battery and is still great for phone calls, Samsung Pay with my Gear S3 and light internet browsing.

I just upgraded to the S9+ from the regular S7.
Between the extra RAM, storage, stereo speakers, and upgraded Bluetooth specs, I am truly a happy camper.
I won't say I needed an upgrade, but having a ton of extra features and a better chance of not being left behind in the upgrade cycle was well worth it.

Hanging on to my S7E . still a gorgeous phone imho. I actually like the curved edge, more than on the s8/9 Gonna try to hold on some more, either jump on Note9 or (if google sells it in Europe) the Pixel 3. Unless the Xiaomi Mi Mix2s turns out the power house it is rumoured to be.

I still think that the S7 Edge was one of the sexiest phones ever made. Especially in silver.

Interesting article as it's close to home. My wife has an S7 edge and is due for an upgrade this fall. Well...she can upgrade without it costing us a pile of money. I may wait until christmas to upgrade her, but it is odd going from my Note 8 to her S7 edge to do something and the functionality just seems....archaic. And slow.

Perfect timing for this article. I know it's not exactly the American way but I'll be waiting until my S7 edge is paid off to consider another upgrade. I finally have it fine tuned to work great. Google assistant, Android Auto and Google Maps now link well with my Chevy Volt, audio and visual. I'm scraping XM Sirius for Pandora and downgrading my Onstar plan since I don't need their directions or hands free calling. The cost savings by dropping those plans pays for the S7 Edge. I'm extremely happy with how well my phone and car now work together. While I know the S9+ should also work, I've only just gotten OK Google to work from the steering wheel buttons and with the car's video display, so really don't want to "hope" Bixby will work as well. I know all of this is a combination of updates from Chevrolet, Google and Samsung but as the expression goes "if it ain't broke don't fix it. Thanks for the well balanced article.

I just moved from Galaxy S7 edge to S9 plus.
I prefer the physical button on the front with the fingerprint sensor!
It's really uncomfortable on the back.
And you can't open the phone when it's stay flat on the table.
The iris /face recognition dosnt always work well

S7 Edge is still full-on capable. I own one. And when I do upgrade, it will be to a different mfg because Samsung's customer service is sub-par. True story bro !

I went from a Galaxy S3 to a S7 edge two years ago. In another year I'll probably look at the S10+ (or whatever they call it). I find the performance of my S7 edge to still be acceptable and I hope the next phone generation will move to an under the glass fingerprint sensor.

I still love my S7 edge! Maybe when the Note 9 comes out or next year when the S10 or whatever comes out.Have no complaints about the S7 edge.

Absolutely keeping my S7 edge until the Note 9 comes out this summer.

« it's difficult to argue that the company made the wrong decision moving the fingerprint sensor to the back in exchange for additional screen real estate.« Well the scanner is not an ideal position especially on the s8 so they kind of took the wrong decision initially And for the android button being on the wrong side, it depends. For me there is no wrong order as Samsung is the main oem on the android space And both camera are not a wash, the differences are quite obvious
Android Central Newsletter
Get instant access to breaking news, the hottest reviews, great deals and helpful tips
Thank you for signing up to Android Central. You will receive a verification email shortly.
There was a problem. Please refresh the page and try again.