Samsung Galaxy S9 apparently in development, because of course it is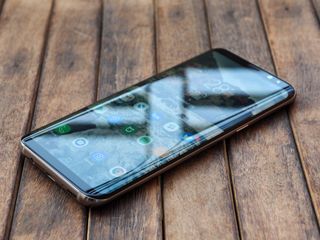 Once again, your shiny new Samsung Galaxy S8 is OLD NEWS. According to reports from the Korean press, development of the Galaxy S9 and S9+ is apparently already well underway, under the codenames "Star" and "Star 2" respectively. That's entirely unsurprinsing in itself — you'd certainly expect next year's phone to be in the works by now, as we approach the midway point of 2017.
But what's supposedly different this time around, according to The Bell, is that the production schedule for the Galaxy S9 is reportedly some three to four months ahead of previous flagships. According to the outlet's sources, that means the GS9 could enter mass production before the end of 2017, which could point to an earlier launch window in 2018 — which in turn could make a public unveiling at Mobile World Congress 2018 a real possibility.
At the same time, it's worth taking unconfirmed reports like this with a pinch of salt, especially when they come from a single source. Even if the Galaxy S9's production timeline is ahead of previous releases, we're still a good nine months or more away from seeing the fruits of Samsung's efforts.
As for the codename itself, "Star" fits into the standard pattern of telling us basically nothing about the phone itself. Previous Samsung codenames have included Dream (GS8), Grace (Note 7) and Zen (GS6 edge+); the upcoming Note 8 reportedly goes by the codename "Great."
The only other nugget of GS9 info we have thus far is that Samsung is reportedlt working with Qualcomm on the next-gen Snapdragon chips that'll power the phone in some regions. Again, no surprises there.
Alex was with Android Central for over a decade, producing written and video content for the site, and served as global Executive Editor from 2016 to 2022.
Let's talk about Samsung Galaxy 10.

Hey, I'm still waiting for the LG G Flex 3 :D

I always assume companies like samsung LG, apple etc, never stop developing their phones. Car companies do the same thing, it's constant development of components, design refinement etc.

The Samsung Galaxy 11 is going to be the best phone.

I'm holding out for the Note 13 cuz i feel lucky.

I'm expecting Samsung to step up its camera game, as in offer dual cameras on the S9 and S9+. Also, I expect them to have that fingerprint scanning technology embedded into the screen. Other than that, I suppose we'll see some incremental upgrades but nothing too crazy. I think Samsung will ride out the infinity display for quite some time. They need to figure out what the heck to do with that Gorilla Glass though.

Meh. The Galaxy S10 will be able to take Xrays, perform mass spectrometry, and have negative bezels that warp the space-time continuum.

I feel bad for LG. I like them a lot but I feel like they are able to get sales because they always launch a bit before the S phone. Once Samsung announces what S# we are at, everything shifts. If Samsung announces early like LG, it's going to hurt. Maybe LG would be wise to try and out the V30 before the Note # to get a head start there in the future instead?

I think at this point, Samsung is only in competition with themselves in the Android world. Each year they try to one up their previous device, and no matter what they do, they'll move a huge number of devices. People love Samsung Galaxy phones and its a brand they trust. So, $700, $800, $900...it really doesn't matter when financing options are available. Samsung is like a huge locomotive moving down the tracks. As far as LG goes (and other manufacturers of Android devices). They know what Samsung is. The best they can do is stay in their lane and continue to build solid devices with fantastic value. Luckily, there's an Android for everyone.

Slow news day I suppose !!!

With how impressed I am with the S8 I will be keeping it for a few years.

the lag you're currently experiencing will get worse and worse..

Galaxy s9 will deploy snapdragon 845 if Samsung was supposed to make it the next lineup.

What about the Samsung Galaxy S100? Can't wait for that one!

You need to keep that under wraps..probably get a lawsuit for thinking about such device perversions

Yahooo! I will be buying the S9 since owning the S7 Edge!

Pretty soon the screen will wrap around 360 degrees and break when you look at it. Samsung junk. Just like Bose and iSheep. People buy because everyone else does. Doesn't matter.

I hope this rumor turns out to be untrue. I'm sure that there are people (like me) who simply ignore one half of Samsung's flagship release schedule, but placing the release of the S9 so close to the Note 8 will cause confusion and "wait-and-see" difficulties for anyone who doesn't. ("Do I buy the Note 8 or wait for the S9?") Putting the respective releases half a year apart helps to limit that confusion.
Samsung always adds a few additional hardware updates in each new flagship. If you put this little time between Note and S series, there will be fewer extras that can be worked in, making the S9 seem less exciting to buyers.
All told, I think it's a losing proposition.
Android Central Newsletter
Thank you for signing up to Android Central. You will receive a verification email shortly.
There was a problem. Please refresh the page and try again.