Samsung Galaxy S5 Mini review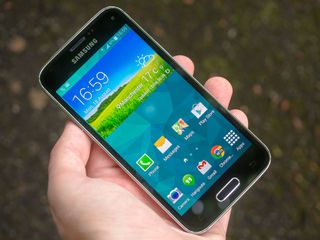 Another year, another Samsung Mini — is this one any better?
Even with the arrival of smaller flagship-level handsets like the Samsung Galaxy Alpha, "mini" Android smartphones typically occupy the mid-range space. This was the case with last year's Galaxy S4 Mini, and many miniature flagships since, including HTC's One Mini 2. And the same is true of the Samsung Galaxy S5 Mini, which downsizes its specs as well as its display.
But unlike last year's model, 2014's Samsung mini brings over some of its big brother's headline hardware and software features, meaning the user experience is much closer to the premium Galaxy S model this time around. But the GS5 Mini, like the phone upon which it's based, faces more competition than ever at its current price point. So how does it compare? Join us after the break, as we give the Samsung Galaxy S5 Mini the full review treatment.
About this review
We're publishing this review after two weeks with the European Samsung Galaxy S5 Mini — SM-G800F — on the Three network in the UK, on LTE and HSPA. Our review unit was running software version U1ANG7.
Thanks to Clove Technology (opens in new tab) for proving the Galaxy S5 Mini for review. Clove is currently selling the GS5 Mini in black, white and blue, with prices starting at £360 inc. VAT.
Video walkthrough
Samsung Galaxy S5 Mini hardware
Externally, the Galaxy S5 Mini is true to its namesake. From the rounded rectangular design to the dimpled battery door and the faux-chromed trim, this is a dead ringer for the full-sized GS5. That's both a blessing and a curse. For all the hype surrounding it, the Galaxy S5's design didn't exactly wow us, nor was it the most exciting handset we'd ever used. It's a fairly pedestrian-looking plastic Android smartphone, and the same can be said for its little brother. While there's nothing really wrong with this design, the plastic-centric construction and hefty bezels don't exactly scream quality.
By the same token the Galaxy S5 Mini isn't a bad-looking phone. From the front it's inoffensive enough, and the matte-textured back of the black model we're using is a vast improvement upon the slimy, glossy plastic used in previous Samsung designs. It feels solid, but not special.
There are a few physical changes worth noting, however. The Galaxy S5 Mini is waterproof (rated IP67), but unlike the full-sized version its microUSB port isn't hidden behind an annoying plastic flap. Finally, it seems, we've arrived at a mainstream smartphone that's impervious to a dunk in the bath, but without the annoying, fiddly trade-off we're used to seeing. The plastic battery door still has a rubbery seal on the inside, so you'll want to make sure it's securely snapped on each time you replace it. (And yes, the phone still reminds you to do this each time you start it up.)
Around the back of the GS5 Mini, the 8-megapixel camera protrudes ever so slightly through the battery door — it's very nearly flush with the surface of the back panel, but not quite. And underneath it sits the single LED flash and heart rate sensor. That's right, that feature you're probably not using on your Galaxy S5 is back on the Mini.
Similarly, the home key also doubles as a fingerprint sensor, allowing the GS5 Mini to inherit the full version's biometric security capabilities — and the Mini's smaller size means swiping the home key to unlock the device is a little more convenient than before. The positioning of the button is still somewhat precarious, and the accuracy rate far off 100 percent, but we had a much easier time using it on the Mini than the regular GS5.
On the front you'll find a 4.5-inch 720p SuperAMOLED display — a panel using a diamond PenTile subpixel arrangement, as most leading Samsung phones do. That irregular subpixel pattern means text appears less sharp than an equivalent 720p LCD, and if you look closely you can make out the dreaded PenTile matrix pattern around on-screen fonts. However for the most part, the screen looks perfectly fine.
Colors are as bright and vivid as we'd expect from a modern SuperAMOLED display, and while there's some artificial contrast-boosting going on, it's not excessive. What's more, the Mini's display is perfectly visible outdoors, an area in which previous-gen AMOLEDs have struggled.
There's one odd quirk with the Mini's screen, though. Like the GS5, it activates a super-high brightness mode when in direct sunlight, sacrificing some contrast and image quality in order to make the screen more visible. On the GS5 the change isn't that drastic, but the Mini's sunlight mode is completely nuts, blowing out colors and making the already colorful TouchWiz UI pretty psychedelic. If you didn't know better, you might think the screen was broken.
Beneath the screen you've got the traditional mixed Samsung button setup — a big clicky home key, flanked by capacitive back and task-switching buttons. Curiously, though, there's no haptic feedback for the capacitive buttons, nor is there any option to switch it on. The vibration motor works in other apps, it just doesn't seem to be tied to the back and multitasking buttons. It's not a deal-breaker, but it is a rather odd design choice.
On the inside, the European GS5 Mini we're using runs a quad-core Samsung Exynos processor, made up of four ARM Cortex A7 cores at 1.4GHz and a Mali-400 MP GPU, backed up by 1.5GB of RAM. On the whole, the phone performs around the same as HTC's One Mini 2, a device with a different CPU, though one using the same Cortex A7 cores. It's fast enough as to not feel slow, but there's a tangible difference compared to the top-level Android phones of the moment — particularly in more demanding apps and high-end games.
The GS5 Mini model we're reviewing has 16GB of onboard storage, of which an ample 11.8GB is available to use. Samsung also provides a microSD slot, naturally, which works with cards up to 128GB.
On top of that, Samsung's got the S5 Mini loaded up with all the connectivity features you'd expect from a modern Android phone — quad-band HSPA and support for the main European LTE bands, along with Bluetooth 4.0 and 802.11 a/b/g/n Wifi support. All of that functions as expected, and the GS5 Mini's LTE reception was comparable to that of other current Android phones.
More: Samsung Galaxy S5 Mini specs
Samsung Galaxy S5 Mini software
Samsung's TouchWiz UI has improved substantially in the past year, flattening things out and bringing an altogether less cartoony visual style than Samsung phones of old. It's still bright and bold, with a few questionable design choices and unwelcome holdovers like the incessant "bloops" that punctuate each touch of the screen. Nevertheless, Samsung's "kitchen sink" approach means TouchWiz is unmatched in its sheer number of features, both useful and superfluous, it can offer. And this is one area in which the GS5 Mini maintains a surprising level of parity with its big brother.
At first glance, the UI is essentially identical to what you'll see on a full-sized Galaxy S5. Same bright, colorful widgets, dark teal color schemes and labyrinthine settings menus. TouchWiz has grown to the point where if you can imagine it, there's probably a feature buried somewhere in that maze of colored circles that'll let you do it.
Want a high-sensitivity mode for when you're using gloves with the touchscreen? That's there. Want the phone to watch out for when you look away, using its front-facing camera, and keep the screen on even if you're not touching it? That's a feature, too. Biometric security through the built-in fingerprint scanner? Check. (Though we'd still like to see more supported apps.)
Conspicuous in its absence is Samsung's Multiwindow feature, which lets you run two apps on-screen at a time — likely due to the Mini's smaller screen size, or its lack of hardware muscle.
Besides that, just about everything of consequence from the GS5 has made the transition into this smaller, leaner handset. Smart Remote uses the built-in IR blaster to control your TV, an increasingly common feature for modern smartphones. S Voice is Samsung's personal assistant app, which coexists somewhat awkwardly with Google's own voice-activated features.
There's also the full suite of S Health features, and Samsung's fitness hub — or rather "wellness" hub, since it now incorporates a baffling stress-sensing feature. Everything you'd expect for tracking every aspect of your health is here, including your weight, diet, exercise — including step count — and even your sleep pattern, should you possess a compatible Samsung wearable. We ran into a few issues using the GS5 Mini's smaller heart rate sensor, though.
The sensor failed far more frequently than the Galaxy S5's, and often required several runs before taking an accurate reading, even when holding the device completely still in a quiet room. The heart rate sensor is also used for S Health's stress level measurement, which we had to try about a half-dozen times to complete. Notionally it's supposed to give you a measurement of how stressed you are, but we always recorded a minimum stress level. (Which is reassuring — if only the process of getting that reading weren't so stressful in itself.)
That's all built atop Android 4.4.2 KitKat, which is still the latest version of Android we've seen on a Samsung phone in the West.
Bottom line — a bewildering array of features, many of which you'll probably never use. But they're there if you need them, and presented in a way that's more attractive than earlier Samsung efforts, even if TouchWiz isn't quite as polished as HTC Sense or Google's Material Design.
Samsung Galaxy S5 Mini camera
The Galaxy S5 Mini sports an 8-megapixel rear camera and 2.1-megapixel front-facer, and both are relatively competent mid-range shooters. The layout of the camera app largely mirrors that of the GS5, the main exception being that the HDR (or "rich tone," as it's called) now lives in the "modes" menu, as opposed to being accessible from the grid layout. At the same time you don't get a real-time HDR previews, and HDR shots take longer to process.
Elsewhere, you'll find a similar grid of photographic options, including metering modes, image effects, white balance and EV (exposure value) tweaks. The "modes" menu also houses some of Samsung's more exotic shooting modes, including Shot & more, which can be used to capture a series of shots before applying an effect — for example, merging several frames of a moving object, or selecting the best face for each person in a group shot.
But despite the hardware and software limitations, the GS5 Mini's rear camera generally takes good-looking shots — better than the HTC One Mini 2's 13-megapixel camera, at any rate. Most of the time you'll get pleasing shots without any of the aberrations associated with low-quality smartphone sensors: visible noise, mushy over-processed images, artefacting or washed-out color. On the whole, particularly in daylight, the Mini captures decent-looking photos with a plenty of fine detail. Look up close and you'll see evidence of software sharpening, but even that's not too obnoxious.
However the GS5 Mini is much more susceptible to hand motion than most other smartphone cameras, and we unfortunately ended up with more than a few blurry shots, even in well-lit scenes, due to movement of the camera. The camera app does have its own software stabilization feature, like the regular Galaxy S5, however this only kicks into action in much darker scenes.
When it comes to video, the GS5 Mini will capture 1080p footage at up to 30 frames per second, and again, footage is generally decent-looking, with no real complaints. Dynamic range is noticeably narrower than on the Galaxy S5, but that's true of most smartphone cameras, particularly mid-range models.
Samsung Galaxy S5 Mini battery life
Samsung's packed the Galaxy S5 Mini with a 2,100mAh — a removable cell seated behind the water-resistant battery door. The capacity is the same as the fixed battery sealed inside HTC's One Mini 2, and Samsung's Mini closely matches HTC's in terms of longevity. (Not surprising given the hardware similarities elsewhere in these devices.)
Your mileage may vary, but we never found ourselves running short of juice during our couple of weeks with the GS5 Mini. Standby time was excellent, with the device using almost no juice when left to sync on its own for Wifi for several hours. And even with continuous LTE usage we found it difficult to really tank the battery in a short space of time.
Samsung's optional Ultra power saving mode makes a return too, switching off some of the phone's higher functions, turning the display to a darker greyscale mode and eliminating background data transmissions in order to extend the battery's useful life.
By the end of a day of moderate use hopping between Wifi, LTE and HSPA on the Three UK network, we managed over 17 hours of time between charges, with a little over four hours of screen-on time. With more conservative usage patterns, including use of Samsung's Ultra power saver mode, you'll make it into a second day with relative ease.
We're rapidly approaching a situation where most mid and high-end Android phones are basically good enough for the vast majority of users, and the Galaxy S5 Mini is another handset that leaves us with no concerns over its longevity. What's more, Samsung's low-power modes — and the fact that the battery itself is removable — gives it a slight edge over some rivals.
Samsung Galaxy S5 Mini — The bottom line
The Galaxy S5 Mini is yet another competent mid-range phone from Samsung, and one that incorporates the majority of the hallmark features of its current flagship. It's a phone which retains much more of its namesake's headline features than its immediate predecessor, the Galaxy S4 Mini, making it a more faithful recreation of its big brother that handset.
That said, if you weren't a fan of the full-sized Galaxy S5, you won't find much here to sway you. The user experience is, for the most part, exactly the same as using the GS5 — only in a smaller form factor with slightly less power at your disposal. For all its quirks, though, and the great many features which most users will surely ignore, there's really not a lot to complain about. The GS5 Mini doesn't do anything particularly badly.
The Mini's main problem might be its launch price — in the mid-£300s range in the UK — is the biggest barrier to adoption right now. For that money you could pick up a Sony Xperia Z1 Compact — still a high-end phone by any standard, boasting faster performance, a better camera and longer battery life. For around £100 less you could also buy the year-old Moto X — no longer cutting edge, but still a fantastic phone with performance to rival the GS5 Mini. HTC's One Mini 2 also offers slicker software and premium build quality, though without many of Samsung's hardware and software extras.
Like the Galaxy S5, the question of whether the GS5 Mini is worth the money comes down to how much value you place on its standout features — waterproof credentials without plastic flaps, biometric security, the various health features, and the gazillions of other software tricks lurking within TouchWiz. If you place value on features, you'll find plenty to like here. But when it comes to the core experience, the in-hand feel and the hard-to-pin-down qualities that make a handset seem like a special, premium piece of technology, Samsung's Mini does little to raise its head above the competition.
Alex was with Android Central for over a decade, producing written and video content for the site, and served as global Executive Editor from 2016 to 2022.
Just like other Sammies, this one will sell like the others because its Samsung

There is a problem with that? If it meets the need what is the big deal with who makes it? That said, it is not the best mini out there but it is better that last year's. Not quite as gimped Posted via Android Central App

+1 Posted via the Android Central App

The problem is that it sells because it's Samsung and not because it is one of the better phones. /Simon from http://www.consumertop.com/best-phone-guide/

I did not mentioned that it was a problem...

ok then I am at a loss as to the meaning of your comment. HTC sells because people like HTC and so on... The voices in my head equated your comment "It is a crap Samsung phone that will sell like other crap Samsung phones because its Samsung

The article is about Samsung and we all know that Samsung devices are king here in the U.S. If this article was about any other brand, I would have not made that comment. This is just fact: More U.S. consumers love the Samsung brand more than any other.

ok I am sorry for jumping to a conclusion like that

No need to be sorry...I'm sure we not see eye to eye on some article in the near future...lol

No dual multitasking? Posted via the Android Central App

What's the point of these minis anyway, they all are overpriced Posted via the Android Central App

Good point. You can find a used mini (all brands) on auction sites for a little less in price but for the most part, I would pass on a mini.

For someone like me who likes to keep my phone in my front pocket without worrying about breaking it when I bend over, it is perfect. A big screen is nice, but that's what I have a tablet for. I want my phone to be pocketable and not have to have it clipped to my belt or carry a bag around just to carry my phone with me.

Moto g Posted via GS4 on CM11

Hey if you are worried about the overpriced? you can get discounts here Couponchief .com/androidcentral

The z1c is still better IMHO, not perfect but better. And the z3c should be great. Shame there's little coverage of Sony on AC- though it makes sense seeing as the majority are American Posted via Galaxy ace plus running Speedmod 2.5 with Xposed

It's not an opinion, it's a fact that its better.

Maybe someone prefers TouchWiz or Sense Posted via Android Central App

Wrong. Posted via Android Central App

I miss the spec list that you use to do. Not going to buy i just like a quick look at the specs and screen resolution and dpi. Posted via Android Central App

Another poor spec phone riding on its higher spec namesake. Why would anyone buy this when the One Plus One, Moto G and Oppo Find 7a are all cheaper?! Posted via Android Central App

Screen size, UI. Features. Same reason anyone buys any phone over those. Posted via Android Central App

I agree with the moto g part, but let me know when you can get the 7a or one plus one easily in the us Posted via GS4 on CM11

I'd like more information on the USB port cover and the waterproofing solution employed for this phone. The Note 4 will likely be similar to this. Posted via Android Central App

Not for me i prefer the full fat version of any phone BUT for some these devices are great not everyone wants needs a very powerful phone and these mini versions are great for people in that category.

Will wait till the price drops which it will. Everytime these mini phones come with some over the top pricing. My guess they are hoping to cash in as much as possible with people who think it really is a mini version with equal specs etc Posted via Android Central App on nexus 7 (2nd gen)

I think you are right. Most people presume that the mini version only differs in the screen size. Which is a bit dishonest on account of manufacturers. Not just Sammy, but HTC too. Posted via Android Central App

Design :s HTC Desire S»HTC Desire HD»HTC One S»HTC M8 (Naked)

Im a Samsung fan, currently own the Note 3, waiting for the Note 4. I refuse to buy any phone with less than a minimum of 32gb of int storage with sd-card. Without sd-card a minimum of 64gb of int storage is a must. That kept me away from the S5. Throw some damn int storage on these phones, it costs pennies to install int storage during the manufacturing process.

Water resistant without the flap FTW. Everything else is meh. Posted via Android Central App

Typical Samsung . . . over-priced. Much better choices available! Posted via Android Central App

Sharing this big base of tips for S5:
http://smart-phones-how-to.blogspot.com/2014/04/samsung-galaxy-s5-tips-a...

I purchased this phone 3 mos ago and really love the size and features of this phone. My son got the Galaxy S5 when it came out, I loved all of its features and Apps I just didn't like the size! I'm pretty happy with my purchase the only drawback I found when playing music is the Volume and or Speaker is somewhat on the low side which could be boosted to a higher sound level. Other then that the features are great and the size is perfect for those of US that want all the Android features in a smaller Phone

Pish phone, these minis are a waste of money. Would rather spend that amount of cash on an LG G2, which is actually cheaper Posted via the Android Central App

The Samsung Galaxy S5 mini has the worst camera I used for the last 5 years. The Android user interface is inconsistent: the same icons are once in the top right corner, on the next screen opposite, in the bottom left corner.
I dont understand the craze for this operating system, absolutely intransparent what an app is accessing and a lot of blurb to read for every application installed.
Android Central Newsletter
Get the best of Android Central in in your inbox, every day!
Thank you for signing up to Android Central. You will receive a verification email shortly.
There was a problem. Please refresh the page and try again.