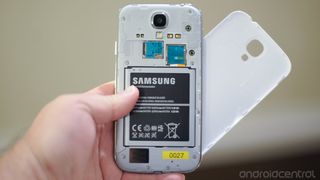 Truth be told, the Samsung Galaxy S4 hardware isn't really the star of the show. But that's not to say the Galaxy S4 specs aren't impressive. They most certainly are, and it's even more impressive considering that Samsung's built everything into a device that's in nearly the same footprint as its predecessor, the Galaxy S3.
On the hardware side, there's really nothing too surprising. The Galaxy S4 broad strokes are a 5-inch display, 2 gigabytes of RAM and Samsung's usual mix of physical and capacitive buttons.
We've got the complete official Galaxy S4 specs after the break. Note that some specs, such as processor, will change depending on region.
Samsung Galaxy S4 hands-on
Official Samsung Galaxy S4 specs
Network: 2.5G (GSM/ GPRS/ EDGE): 850 / 900 / 1800 / 1900 MHz; 3G (HSPA+ 42Mbps): 850 / 900 / 1900 / 2100 MHz; 4G (LTE Cat 3 100/50Mbps) : up to 6 different band sets(Dependent on market)
Display: 5 inch Full HD Super AMOLED (1920 x 1080) display, 441 ppi
Processor: 1.9GHz quad-core processor / 1.6GHz octa-core processor (will differ depending on market)
OS: Android 4.2.2 Jelly Bean
Rear Camera: 13 Mega pixel Auto Focus camera with Flash & Zero Shutter Lag, BIS
Front Camera: 2 Mega pixel camera, Full HD recording @30fps with Zero Shutter Lag, BIS
Video: Codec: MPEG4, H.264, H.263, DivX, DivX3.11, VC-1, VP8, WMV7/8, Sorenson Spark, HEVC; Recording & Playback: Full HD (1080p)
Audio: Codec: MP3, AMR-NB/WB, AAC/AAC+/eAAC+, WMA, OGG, FLAC, AC-3, apt-X
Camera Features: Dual Camera: Dual Shot / Dual Recording/ Dual Video Call
Drama Shot, Sound & Shot, 360 Photo, Cinema Photo, Eraser, Night, Best Photo, Best Face,
Beauty Face, HDR (High Dynamic Range), Panorama, Sports
Additional Features: Group Play: Share Music, Share Picture, Share Document, Play Games
Story Album, S Translator, Optical Reader
Samsung Smart Scroll, Samsung Smart Pause, Air Gesture, Air View,
Samsung Hub, ChatON (Voice/Video Call, Share screen, 3-way calling)
Samsung WatchON
S Travel (Trip Advisor), S Voice™ Drive, S Health
Samsung Adapt Display, Samsung Adapt Sound
Auto adjust touch sensitivity (Glove friendly)
Safety Assistance, Samsung Link, Screen Mirroring
Samsung KNOX (B2B only)
Google Mobile Services: Google Search, Google Maps, Gmail, Google Latitude, Google Play Store, Google Plus, YouTube, Google Talk, Google Places, Google Navigation, Google Downloads, Voice Search
Connectivity: WiFi 802.11 a/b/g/n/ac (HT80), GPS / GLONASS, NFC, Bluetooth® 4.0 (LE), IR LED (Remote Control), MHL 2.0
Sensors: Accelerometer, RGB light, Geomagnetic, Proximity, Gyro, Barometer, Temperature & Humidity, Gesture
RAM: 2GB
Internal Storage: 16/ 32/ 64 GB User memory + microSD slot (up to 64GB)
Dimensions: 136.6 x 69.8 x 7.9 mm, 130g
Battery: 2,600 mAh
Android Central Newsletter
Get instant access to breaking news, the hottest reviews, great deals and helpful tips
Which processor will we get in the good olé U S of A?

If it follows suit with the S3, the US version will be packing that quad-core SOC (most likely a Qualcomm 600).

What do you mean if it follows suit with the S3? The US/JP version of the S3 was given a dual core while the international version was given a quad core. So if it follows suit with the S3, we'll get a dual core again...

Because the S3 came out in dual core and quad core versions and the U.S. got the dual core, it would follow suit to assume that the U.S. would once again get the lesser of the two options for the S4 - this time between quad core and octo core.

Yeah...With the Galaxy S2, most US Versions Used the inferior Qualcom S3-APQ8060(1.2Ghz Scorpion and Adreno 220) as opposed to the Exynos4(1.2Ghz Cortex A9 with Mali-400MP4 Graphics). Then with the Galaxy S3, we got screwed again, with a Dual-Core S4-MSM8960(1.5Ghz Krait and Adreno 225 Graphics), instead of the Quad-Core Exynos(1.4Ghz Cortex A9+Mali-400MP for graphics) . Now we get screwed a THIRD TIME. Why is the US treated like a second class citizen when it comes to Samsungs phones? We always get half the cores the rest of the world gets. Now, it isn't the "moar cores!!" thing that's bugging me. The dual-core Krait is a beast, but on the GPU side on all these US models are seriously gimped compared to the international ones. The Mali series of graphics chips were beasts and outclassed most other phone GPUs at it's prime. We were denied that. Now we get to have an Android phone that has the SAME GPU as the iPhone5, but with a vastly superior CPU to back it up. Instead, we are given a phone with the same exact GPU as the Nexus4. I won't be getting a Galaxy SIV due to Samsungs complete disrespect for their American customers. I'd rather get a Nexus4 as the GPUs are identical, and the Nexus4 doesn't have the STANK of TouchWiz polluting it.

Actually it was the APQ8060 at 1.5ghz

With the Galaxy S2, the T-Mobile version used the Snapdragon S3 because the Exynos, at the time, didn't support T-Mo's HSPA+ 42 network. When the Galaxy S3 came out, the Quad Core Exynos did not support LTE until later on. They went with the S4 for the US variants because it supported LTE. I think the reason they're doing this again because the Exynos Octo doesn't support US LTE bands (or some other strange reason). Qualcomm is more advanced in LTE technology than Samsung, so using a Snapdragon makes more sense. I could be wrong though.

That`s what we`ll we getting 1.9GHz quad-core processor.

Ditto x2 Yawn ... I'll stick with my S3, so when is the S5 coming out. Bigger display ... been there, done thar ... yawn
More memory ... been there, done that .... yawn
A couple of apps ... just like S3 ... who actually uses Svoice ... yawn

Personally, I'd go for the HTC One over this.

Happy about the s4, thought bugger screen and battery would mean bigger and thicker phones but they managed to actually make it tad smaller and thinner... Design I have no issues with I never had an issue with the s3 so don't have an issue with this...

apart from the finger hovering thing this looks weak compared to the HTC One

HTC One - no removable battery and no expandable SD slot. You must take it into a authorized device service center to replace the battery and when the memory is full of media, you must delete something in order to put more files on it. To some, this is a deal breaker.

With a 64GB version of the HTC one available, I'd say the SD card thing isn't much of an issue for the vast majority of users, I acknowledge that die hard external SD people still exist. Non-removable batteries are becoming almost standard, Motorola, HTC, LG all have gone for non removable batteries, to get a removable battery from a major manufacturer you have to buy what samsung puts out these days. Personally thinner phones with bigger batteries is more important to me and probably the majority of users than a removable battery. I've never had to replace a battery in a smartphones average 2 year lifespan. My work S2 still has the original battery and it still works well.

htc phones are good but its about time htc made the volume work properly i havent come across a htc phone yet that has a ringtone no louder than a wisper, sought it out htc its stupid having a great phone that you can not hear people ringing you. I will never have another htc until i hear it perform like most phones.

Not sure why I'm getting so excited with this phone. It def wont replace my N4, but dayum, Samsung is winning me over and they aren't really do much to get me. I'm suffering from shiny ball syndrome.

Nope, not ditching my LG Optimus G for S4. Out of current new crop of phones, S4 really is underwhelming - the look is the yesteryear S3 variant, hardware specs no better than the rest of the crop; and touchwiz is one of the first thing to go when custom Rom available. I'd take HTC One or Sony Xperia Z any day of the week over S4.

The larger battery is the only thing that has me on the fence between this and the HTC One. Will need to wait for some proper review results before I pull the trigger. Oh, and actual availability...

Your comment is frankly laughable in every regard. Whine about the looks all you wish but the fact remains the hardware and software combination far outstrips any other device on the market with the exception of the Note 2 for productivity and content creation.

geez, finally found a touchwiz fan... and how many people have whined about the look of S3...cheap plastic, awful design etc... I'm sure S4 will sell like hotcakes to folks like you. Have fun when it makes landfall here.

sweetheart, you're the one with a S3 rip off... LOL just a better screen, software and all, it screams NATURE UI... yes, i have used an Optimus G, and i used it longer than i expected why? i couldn't believe that i was playing with a S3 rip off!!! I had the S3, got the Note 2, Optimus G Pro, a Note 2 rip off too, well, better screen again, but, still, not as useful as the Note 2... lets see how long it takes you to get the eye scrolling feature that LG, just announced a few days back... you too, are an owner of a S3, from a different brand

You're like the "Samsung copied Apple" crowd… how the heck does the Optimus G look like an SIII?! Silly fanboy-sheep…

exactly what I was thinking. I was expecting that to be a standard for phones this year. Yet now neither of the top two android flagships have it. I'm honestly shocked. These companies are scavenging for ways to differentiate and they ignore an easy one like wireless charging.

True. That would have been an interesting feature to see. With all the phones that have/not wireless charging it makes me wonder why. Especially with phones like the Note 2, where some markets got wireless charging and some didn't. Why would a carrier specifically *not* want a phone to have wireless charging? Which also makes me wonder, are we not seeing this feature because the OEM's are leaving it out to try and shave off a millimeter of thickness, or are the carriers refusing to carry phones with wireless charging?

Possible will be available as accessory. It looks it has pins for it.

Wireless charging will be available via the QI technology, just like the S3. You can tell from the picture of the back (the two little dots above SD card slot, below camera, on left). I doubt Samsung will provide this themselves, but you can buy the accessories for it online. If you already have a charging pad, it'll probably cost you around $30 for the accessory.

They have wireless charging but it depends on the carrier

wireless charging is for the birds. there's a reason it's so popular in WP8 phones... they're all using 18 month old snapdragons and have a ton of budget space to cram in value added stuff nobody really uses.

It hilarious to me how many people say it's underwhelming because it looks like the S3. What did you people expect? Honestly? The S3 and Note 2 both have pretty much the same design style. Not to mention the multimedia docs and MP3 player that Samsung has come out with recently that look similar. I get that some people want the milled aluminum body and such. Personally, I'll take substance over style. Especially since most people put their phones in some kind of case. I thought there was some really cool new features. Some are "gimicky" but fun. I would use the *hell* out of that Drama Shot thing taking pictures of the kids. Maybe they'll back-port it to the Note 2 :) And I like the idea of the phone being able to collect health data and such. Honestly, I'm surprised it's taken this long for an OEM to actually push those features themselves and not just relying on the 3rd party accessories.

Some people don't understand brand identity, the lack of which is one of the things killing HTC. Talk about having an identity crisis...lol! As for the material, I prefer the Polycarbonate. Once they drop their aluminum HTC One, they'll understand why Poly is better. Aluminum dents, the clear coat will chip and peel, and they won't be able to just order a new cover for $20. I also have a sensitivity to touching metal, so I have to factor that in too. Believe me, I love the look of aluminum, but for phones I think Poly is just better and nobody does it better than Samsung...their fit and finish is impeccable. I too hope that some of the features (especially for the camera) end up on the Note 2!

Wait what? Nokia and HTC have the best constructed polycarbonate I've seen (IMO). Samsung slathering plastic with a high-gloss finish is a joke at best. Let's not forget painting plastic to simulate metal.

Brand identity means that all of your devices are instantly recognizable as your devices. It's like making the phone itself a logo. By keeping the design of all the different devices similar, you instantly recognize a Samsung device when you see someone using it. As you see more people using a Samsung device, you are subconsciously drawn into the "bandwagon" style of marketing. "It must be a good phone. Everyone has one." HTC has been trying to figure out what they want their phones to look like. They tend to change drastically between revisions, and that has undoubtedly hurt them. As for what the phone is actually made out of, that's purely subjective. Personally, I thought the "painted" plastic on my Note 2 actually looked kinda nice. For about 2 days, before I figured out what case to put it in.

I agree with the brand identity. That makes perfect sense. I was hoping for a change though. I'll be keeping my Note II until the III(just imagine what that will have) and pick up a HTC One in the mean time. I love HTC and really want to try the One. My Note will be very similar to the GS4 once the updates come out. I love it now as it does virtually everything. For me its not worth the upgrade.

indeed. at least Nokia has an identity. HTC ... they confuse me. what is their goal?

would use the *hell* out of that Drama Shot thing taking pictures of the kids. From what I've seen Zoe does everything the S4 tried to copy and then some.

Not quite. I really like the way it combines multiple images into a single one. Kinda cool for action shots. Especially since my ex-wife's a dance teacher, so my daughter has been in dance literally since she could walk. That said, I'm one of those who is going to have to draw the line at no SD Card. I do like to tinker with my phone a bit. My Note 2 is actually the first Android phone I've owned that I kept stock, but I still want to be able to store content on external storage. As sexy as the HTC One is, they lost me at hello.

I'm glad that they still have a removable battery. I still don't get why every oem has embedded batteries.

Embedded battery means they can make the battery larger, the phone smaller, and make it feel more solid.

My Nexus 4 is thicker than the S3 and doesn't feel as solid (although it is pretty sexy). I think your point is moot. Samsung does removable batteries well. You really can't even tell that the S3 has a battery cover until you see it with it off.

That's BS as Samsung just did everything you said with a removable battery and microSD card slot? So what is your excuse now?

but the GS4 has a larger battery and is smaller than everything with a 5" screen except the ZL.

No wireless charging? NFC?

It definitely has NFC, since that's what they used to initiate that multi-phone music playback.

it has NFC. Wireless charging requires a replacement back cover, just like the GS3 and Note 1/2.

Wireless charging reported by Engadget . Nice looking touch stone.

Not too impressing. The only thing that is new is now i can hover my finger over the screen to do something. Not that big of a deal, I will probably never use any of the hover gestures. I think i will go with the HTC One.

S-Health is definitely new, along with the SoC, camera, and screen. S-Health piqued my interest since I can use it to track my fitness progress and keep tabs on blood sugar levels.

That is just an app though. Once it is released someone can easily the the apk and put it on a website for anyone to download on any phone if you really want that specific app that bad. Cameras and Screens are always getting better but any high end phone that is getting released will have a similar screen. And just because the camera has more mega-pixels doesn't mean it is going to be better, it just means bigger picture files.

Pentile display? Wireless charging? Where's the IR that they use to control a TV? Battery life? So many questions, but the SD card slot and removable (and larger) battery than the HTC One have sold me on the S4 already. It looks like they've both got the Qualcomm 600 (although the S4 is clocked faster), so it boils down to other features.

The specs say it has IR LED.

Why wont the US get the 8-core version? Means I might have to get an international version. Lame.

Because the US carriers want to water it down so its cheaper for them and can make money money.

Innovation,innovation and more innovations. Samsung made a 5 inch SGS4 with much better specs and over sized battery fit inside the same real estate as the SGS3. I love it, I hoped they kept the physical home button and they did. There isn't anything they didn't improve. How can anyone complain about making a fantastic device the SGS3 into a super phone. This thing is a fucking beast. I think this camera will blow away the HTC One's camera by a long shot. I am now going to have to wait until this phone makes it to the US Carriers. Just hope it isn't too long.
Thank You Samsung, the most dev friendly manufacturer.

Question. Why do you think that the SGS4 camera is going to blow away the HTC One?

Hi,
Nice to see the galaxy 4... but whts d new n unique they have given?
Compared to htc one and xperia z (this one in my wishlist! :) ) where galaxy s4 stands..? i felt features are few ups n downs, dats it.
is there any reason should i change my choice or which one is better?
thank you

Will the Verizon version support SVDO (i.e. simultaneous voice and 3G data)?

we won't know until it hits the FCC... won't Verizon have a 100% LTE footprint this year?

That's a good question! But, color me highly skeptical that they'll have LTE EVERYwhere they have 3G data - in 2013.

Honestly, the thing that jumps out at me the most is the IR LED (Remote Control). Does that mean what I think it means? We'll never lose the remote control in the couch again? We can just use our phone as a universal remote and keep it in our pockets and never have the kids lose it/break the battery cover off/lose all the batteries again? That is more exciting than anything else about it and enough to make me want it.

That's what I'm hoping.
I like the Temp/Humidity/Barometer sensors too.

If it's anything like what the Note 10.1 has it will be able to control all of your audio/video equipment. With one touch I can power up my Onkyo, DirecTv, and Samsung TV. It also has an interactive guide that will change the channel to whatever show you want to see.

I guess that battery is just a bit bigger in physical size than a s3's. A 2600 would be nice in my S3.

can't believe they got this smaller than the s3. It's not a big enough upgrade over the s3 for me to upgrade this year but it is nice. Samsung is taking a note from Apple here with not changing the looks I see. nut sure I like that. I kind of like my new phone to look different.

Of course its jellybean. The s3 has S Voice and Google Voice with jellybean.

I want to know release dates for the US carriers.
Nevermind
http://www.androidcentral.com/samsung-galaxy-s4-be-available-end-april-1...

Don't care much for TouchWiz's look, but the bigger removable battery and SD card slot instantly puts it in the lead compared to the HTC One..

Why would you need an SD card slot when the One has 64GB of storage? Do you really use that much space?

I have yet to have a smartphone whose memory card I was unable to fill

So is it dual-sim ?? Or do I have to go to Europe to get one of those?

welcome to the new apple brand samsung...same sh!t for the masses to buy

Call it the S3 S? I see little reason to dump the S3, outside of grabbing more market share! Go Samsung!
Android Central Newsletter
Get instant access to breaking news, the hottest reviews, great deals and helpful tips
Thank you for signing up to Android Central. You will receive a verification email shortly.
There was a problem. Please refresh the page and try again.