Samsung Galaxy S3 Mini render leaks ahead of announcement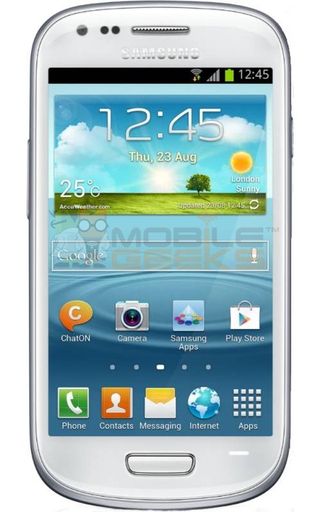 Samsung confirmed the existence of the Galaxy S3 Mini just a few hours ago, and now it seems we have a leaked press render and purported specs to go with it. According to German blog MobileGeeks, which obtained the render above, the S3 Mini will sport a 1GHz dual-core ST Ericsson U8420 CPU, along with 1GB of RAM, 16GB of storage and a microSD card slot. That's apparently packed behind a 4-inch WVGA SuperAMOLED display, running Android 4.1 Jelly Bean and Sammy's TouchWiz Nature UX. Other notables include a 5MP rear camera and 1500mAh battery.
So it's not quite a Galaxy S3 packed into a smaller shell, as some had hoped, but the Galaxy S3 Mini could be successful in its own right, assuming the price tag isn't too high. Speaking of which, the site reports that the Mini will go on sale from €399 SIM-free in the eurozone, which isn't terribly expensive.
Would you be up for this kind of miniature, mid-range, Jelly Bean-based handset at this price point? Let us know in the comments.
We'll know more about the Galaxy S3 Mini after tomorrow's announcement.
Source: MobileGeeks, via: Slashgear
Alex is global Executive Editor for Android Central, and is usually found in the UK. He has been blogging since before it was called that, and currently most of his time is spent leading video for AC, which involves pointing a camera at phones and speaking words at a microphone. He would just love to hear your thoughts at alex@androidcentral.com, or on the social things at @alexdobie.
LMAO - it's the same size as the iPhone5 and they've tagged it with "mini". I love it.

It's like they're trolling Apple at this point. 4" screen? -- we can do that too!

And because they used the term "mini" first on a product, they can sue apple if they release an ipad mini too. Because if samsung is smart they can trademark it or copyright it for their product, or it might be another way. They may not get any money but it will force apple to choose another name other than "mini" because samsung will say the "mini" is related to them, same as pentile is related to apple. Even though you can't own common words, if you can associate it to your product others can't use it.
If you could just own common words corporations would just copyright/ trademark, and so on, all the words in the dictionary for royalties only.

I would choose the dinc 4G instead.

While I can't see this coming to Verizon, my answer to your question "Would you be up for this kind of miniature, mid-range, Jelly Bean-based handset at this price point?" is an emphatic "Yes!" Having shifted my content consumption almost entirely to my Nexus 7, I would welcome a capable and reliable handset in this form factor.

Exactly. I have a 7 inch tablet and I'm in front of a desktop/workstation most of the day, so I need my phone to be primarily a phone, not a replacement for my tablet or desktop. I would absolutely be interested in a phone with this form factor, although if confirmed, the specs of this one is a little disappointing. There are already other phones of this size with better (and sometimes far better) specs. If this had truly been a S3 Mini, it would definitely have been my next phone. In any case, I'm glad manufacturers haven't abandoned this form factor. Not everyone wants to carry around a tablet in their pocket, and despite some people's insistence, a 4 inch smartphone is an entirely usable device.

No way. The leak yesterday from Samsung itself suggested the S3 Mini would be nearly as powerful as the S3. Clearly, looking at these specs, that's not even close to true. Moreover, the bezel and the size indicate it will be comparable in size to -- if not larger than -- the Motorola Razr M / Razr i. Both of those phones have vastly better high-end specs than the S3 Mini. Why would anybody get an S3 Mini? It's bordering on the low-end. Doesn't even have a QVGA screen. Ridiculous.

right. lets wait till tomorrow and find out this is a lie.

Agreed. Love the form factor of the Razr M/I. However, if Moto continues to lock the bootloader, this S3 Mini still has a shot.

and you make an special event for this??

Well, if it had a more powefull processor, yes, i would go for it, but with a 1Ghz Processor, no thanks. Still, a nice phone.

what are they trying to sell? the "Galaxy S3" tag?

Its stupid to call this the s3 mini. The S3 is the high end phone to have. This is the same old tech that has been in android phones for 3+ years. 480x800 really? I though we were done with that resolution. There is a place for a 4 inch high end android phone. This is not that phone.

hit nail on the head my friend...i for one am a big fan of the 4" screen size.

This is a Galaxy Advance with a S3 design and Jelly Bean nothing more.

And the S Advance is getting Jelly Bean.... So, it's the same phone with a different name...

Pretty shameful marketing move by Samsung, IMO. This phone, from it's throttled specs to it's low res screen, does not belong in the same breath as the Galaxy SIII. Just a money grab at the low end market and hedging the high end name to do it. Crappy move.

Missed opportunity. Can you imagine if they had crammed a higher res screen into this thing?

Well if these specs are true then NO I would not move from my S3 to this phone. If the specs are in line with the S3 I would change to the smaller form factor

Honestly they are just watering down the galaxy S brand when they do things like this. When I read these specs I think 2009 :(

The specs are horrendous! Won't be recommending this to anyone.

The battery, too small. Look at the Razr M and the reported/actual battery life. I see this phone aimed at mid-range (teen for me) market. They are at school, band, football, etc. practice all day and away from a power source. A 9-12 hour battery that can handle texting and web surfing is a must. Might as well get them an Iphone 4S at $99.

1ghz doesn't bother me. what version arm is at the core and what graphics core are on this SOC. i would take a cortex a15 at 1ghz over a cortex a9 at 1.5 ghz any day. and if it has a powerful graphics chip on board then the interface shouldn't lag at all. huge pet peeve when people whine wah wah it is only 1ghz. 1 ghz means absolutely nothing without the rest of the specs. its kind of like the megapixels with a camera. mp only stands for the size of the picture and means nothing to picture quality

That's a Cortex A9 with a Mali-400MP GPU (same graphics chip as the Galaxy S 2). In other words, this thing doesn't even match the SOC of the last generation Galaxy S II.

so i was able to find more specs on this processor and its architecture looks to be the same as the exynos 4210 but under clocked 200 mhz. what's interesting is the u8500 outperforms the exynos in several tests. http://gadgettechasia.blogspot.com/2012/04/ste-u8500-benchmarks.html?m=1

The story say U8420 not U8500.

Did they move the front facing camera?, I thought it was on the right hand side.....

One more example of them taking a phone size I'm happy with and putting in last year's components. I suppose it's inevitable that I'll be forced to move up to a larger phone... ~sigh~

My Nexus S is a ~4" Jelly-bean based handset and it would take a really phenomenal device to get me to switch from it right now. Sorry, Samsung... this won't be it. And 4" is "mini" now?? Seriously?

I sure hope doesn't find out that Samsung is calling 4-inch "mini" now!!!!

I think its more of a marketing jab...

Very nice phone. More storage than the new powerful Nexus that is coming,Jelly Bean out of the box, like the look and good size for one handed use. It is in the same boat as the new I-Phone 5 but it is Android and it is better. If I had to choose between this new phone or the I-Phone 5 it would be the Samsung mini. I think there is a market for it and it will sell. Not everyone wants a big phone. Isn't that what the I-Phone users always say, but they buy whatever Apple sells.

Price, CPU, & screen resolution are all "mini", this stacks up better against the iPhone 4S, not the 5.

You're missing the point entirely.. Yes, many people do like smaller phones and I am one of them but not at the expense of quality. It's one thing to make smaller phones but it is an utter piss take to keep filling them with shit cameras etc. My Xperia Ray is proof that you can have a very nice looking phone with an extremely small form factor but still have 1 of the best cameras of any phone, except the new Sony ones and the 808 Pureview of course. It just irks me that the phone giants seem to be focusing more and more on making any decent phone, specs wise, the size of a tablet so I agree that a huge phone isn't for everyone but why should the size of the handset dictate what specs it has when my phone is proof that you don't need a phone the size of a brick to have a good phone with a very good camera but then some people seem to be obsessed with screen sizes getting larger and larger.

I'm going to throw out a prediction that the camera will be a fail as well compared to the non-mini S3.

Seriously... this has Jellybean on it already? How about some Jellybean love for the original S3 before they pop this out with it already on board?!?!?

Any idea of when it will come to the original s3?

They already have your money. Now they want someone else's.

Wait. Isn't the Galaxy Stellar basically this same phone with a larger battery (or actually better)? What makes this an S3, the design??

I know these are not official specs but if they are how many leftover parts does Samsung have from the Galaxy S line? Every 4" phone they have released since the Galaxy S, has the same AMOLED screen and the same 5mp camera. Hell the Epic has been released at least 5 times on various carriers so the keyboard phones have the same damn keyboard too. I can't imagine Samsung not using their own powerful Exynos chips in a phone they are putting the Galaxy S3 name on for non LTE devices, I figured a 1.2 Snap Dragon S4 on American LTE devices would make sense for the mini. At least update the display to an AMOLED+ with those extra sub pixels or small resolution bump. The 4" screen Samsung is using is nice as I had one on my last device but Apple has an amazing 4" screen. Samsung has been gunning for Android domination and pulling iPhone users over to the Samsung Galaxy S name and should only settle for amazing on their flagship lines. This should not be a throw away phone and from the specs I saw it seems to be just that.

Huh? I know that this isn't Google doing this, but what the hell is going on with Android phones? It like 1 step forward, then 3 steps back with hardware? I understand not everyone can afford the "reg size" S3, but to put these specs in a "mini" version of the S3 is a damn joke. The possible new "LG Nexus" is almost as bad. Hopefully everyone is touting these lame phones to misdirect us from what they are really planning on dropping. This might just be my push to get a pre-paid dumb phone, and leave Verizon if these are the kind of thing the Android platform phones are going to continue to do. Does it affect me directly, no, I can still get an awsome phone, but if I give anyone money and they can turn around and put out stuff like this, then obviously they have too much money. Don't get me wrong I love the openness of Android, but they are getting as bad as Apple with their bullshit. /rantover

Thats not the right specs . Those are old soecs for a phone that already came out. And thjs is the source http://m.samsung.com/cn/consumer/mobile-phones/mobile-phones/smart-phone...

Cant bloody wait alreadyy, let Cupertino chew on this a little bit Regards, HD and 3D Android Games

I really hope these specs are wrong. I was wanting the same specs as the VZW GS3 with a smaller screen to replace my aging OG DInc.

If these specs are correct it is totally overpriced! for €399 there are better deals out here! It nearly buys you a HTC one S, for €499 you have the Xperia T, for €525 I can find a Galaxy SIII... The price doesn't match with the specs mentioned here. I would consider it a low-end device with these specs and only a price of +/- €250 would be justified! I think we better wait till tomorrow, because I don't believe this rumour.

any rumors of nfc on this????

1500mAh... When are they going to learn.

Would have bought this phone in a heartbeat if it was out a month ago. I only went ahead and got the iPhone 5 because all the top-tier Android phones are way too big for my taste. Still struggling with how locked down iOS is. :/

Just be patient and jailbreak it and everything is great.

They bash Apple because it has a small screen but release the same thing because not everyone wants to look like a douche with a huge phone.

It's both gratifying and sad to read these comments from S3 users wondering when they're going to get Jellybean. As a former S1 advocate (Captivate, anyone?) now turned renegade, I feel validated at my predictions of Samsung continuing to screw customers while pretending they can sniff Cupertino's jock, but it's sad to see so many Android users screwed over by the Samsung (korean for "sucker") experience. It's time for Android fans to admit what we don't seem to want to admit: not all of the Android manufacturers are equal. One of them seems determined to sink the whole market by flooding the market with crappier variants of the same phone. And then they discredit Android users altogether by getting exposed in court as having been more concerned with copying Apple than creating a truly great original mobile phone experience (even Google said so). Why can't Samsung make a great 4" phone? Because they want to look like Apple, but do it on the cheap and cut corners. They don't want to spend the money and effort it takes to have well made product at that size. Let's face it: it's easy to design a great phone when you don't worry about it actually fitting next to a human-sized face. Ultimately, they want to launch their own OS (using Android bits, of course) and are going to try and create their own ecosystem like Apple. Unfortunately, they seem to have not noticed that Apple was not Westinghouse or Panasonic. They were a unique company that held to a unique vision for their unique products for over 20 years before they ever entered the mobile phone market. What area of tech did Samsung claim any loyal following or unique build quality? DVD players? Microwaves? Please. Google taking the Nexus line away from them is a step in the right direction. When they ultimately unwrap their plans for a Galaxy-only App store, you'll know we've reached the "cocaine downward spiral from Goodfellas/Boogie Nights" phase of Samsung's story.

I'll definitely buy it if it has an 8mega pixel camera.
Android Central Newsletter
Get the best of Android Central in in your inbox, every day!
Thank you for signing up to Android Central. You will receive a verification email shortly.
There was a problem. Please refresh the page and try again.