Samsung Galaxy Note 4 camera tips and tricks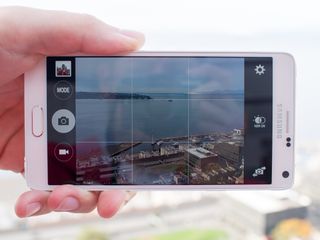 This handful of tips can help you get the most out of your Note 4's camera
Samsung has made strides in improving the quality of its cameras with the Galaxy Note 4, and we want to help you get the most out of it. As the camera quality has been beefed up the software has scaled back some, and while you don't get extreme granular control over your shots you do have a few different buttons to push to make the most of what the Note 4 has. Read through our full list of Note 4 camera tips and tricks — they may just help you take that next great picture or video.
More: Read our Samsung Galaxy Note 4 review
Drag often-used settings out to the side panel
It isn't immediately apparent when opening up the camera app, but you can drag over your often-used camera settings to the side panel to access them quickly. With the settings expanded, press and hold the setting you plan to use often and drag it over to the edge. Available spots for the setting will illuminate showing you where you can place it. You can put up to three of your own settings there, and switch them around whenever you please. Having quick toggles like HDR and slow motion video can save you those precious seconds the next time you go to take a shot.
Turn on HDR
We've mentioned this before on the Galaxy S5 and Note 4, but there's really little reason to use the standard automatic mode when the HDR mode is so darn great on this camera. It doesn't slow down capture speed by any noticeable amount, but it'll make your pictures pop with that extra bit of color and contrast. You lose the ability to manually set the exposure, ISO and metering spot, but that's worth it in nearly all situations, particularly when you don't want to fiddle around with the camera before shooting.
The HDR toggle will be on the left side of the viewfinder when you're in the camera, or if you happen to have removed it from the bar you can find it in the settings.
Use the 'wide selfie' mode
While many of us still refuse to recognize selfies as an appropriate form of photography, if you're going to do it you might as well do it right. When you switch over to the front-facing camera, hit the "mode" button and switch to the "wide selfie" option to show off what the Note 4 can do. Just like when you take a panorama, the wide selfie option lets you hit the shutter key and then pan back and forth to get a super wide-angle shot with the front-facing camera.
The results are actually really great, giving a wide-angle fisheye type shot that can fit everyone (or a lot of the background) into the frame.
Download additional shooting modes
Rather than ship the camera with dozens of different shooting modes that few people will actually use, Samsung has broken out the less-used camera modes into the Galaxy Apps store for you to download only if you want them. You can get there by hitting the "mode" button in the camera, scrolling down and hitting "download."
There are six more shooting modes — sequence shot, animated photo, surround shot, sports shot, sound & shot and food shot — to choose from, which you can pick and choose to install. Once you've grabbed a few they'll show up under that "mode" button so you can switch back and forth as you see fit.
Check out slow motion and UHD video
Putting still images aside, the Note 4 is capable of some neat video tricks as well. Not only can you record video at UHD (3840x2160), but you can also shoot super slow motion video at 1/2, 1/4 or 1/8 speed. Both high frame rate and high resolution video benefit nicely from the included optical image stabilization on the camera as well.
Just keep in mind that when you switch to UHD video recording you lose the ability to use "Dual camera mode," as well as HDR video, real-time video effects and capturing stills during video. But thankfully you won't need to worry about video stabilization, as OIS keeps things smooth regardless.
When trying out slow motion, keep in mind that the slower the speed the darker your video is likely to be — capturing at high frame rates limits the amount of light each frame can take in, darkening the video. For example, maybe 1/8 speed isn't the best choice for an indoor evening scene. Also remember that slow motion video playback gets long quickly. Take a quick ten second shot or less, because at 1/8 speed that's now 80 seconds, or 1/4 speed 40 seconds when you play it back.
Press and hold the shutter key for burst mode
When you press and hold the shutter key in the camera, it'll lock focus and string together up to 30 shots in a row so long as you hold the key down. Those pictures can be reviewed after the fact frame-by-frame so you can select the ones you want, or you can have it play back as an animated scene instead.
Android Central Newsletter
Get instant access to breaking news, the hottest reviews, great deals and helpful tips
Andrew was an Executive Editor, U.S. at Android Central between 2012 and 2020.
In before 'not another Note 4 article' or Samsung/tw sucks' It is the best, cross carrier phone on the market. Deal with it Posted by my soon to be retired Note 3

"TouchWiz SUCKS!"
-why?
"Because....it's.........<checks for old Android Central articles to see what one of the writers said 2 years ago>......Because it's heavy and ugly and lags."
-What is the last Samsung you owned?
"Samsung Galaxy S2"
-Shut up. I get so tired of the people who regurgitate that TW sucks. All of the skins suck to a degree. Android is too flexible to keep your phone the exact way it was out of the box no matter what you buy.

Dallas Cowboys suck as long as Tony Chokmo is quarterback Posted via the Galaxy Note 4

Shush, we do not want them to know that and change things December is coming Posted by my soon to be retired Note 3

We already know it, but Jerry Jones won't fix it. When the games begin to matter, my cowboys will choke.

So much truth in this statement. Happens all the time.

Loser Posted via Android Central App

The Note 4 camera is the best smartphone camera I have ever used. That includes the iPhone 6/6+. It is also better than a $500 Nikon digital camera I tested. Color me impressed! Posted via the Android Central App

I have iphone 6 plus and note 4 i like my note better but the 6 plus blows the camera out of the water Posted via the Android Central App

Try taking photos with the Google camera app and report back. Seems to bring photos neck and neck with the IPhone 6 plus.

I will try thanks i was kinda bummed out Posted via the Android Central App

How does that make a difference?? Posted via the Android Central App

Samsung has terrible image processing.

The 6+ pics look darker than reality. Also, the 4:3 ratio drives me up the wall. I want my pictures filling my big screen, not just a square in the middle. Posted via the Android Central App

I hate that too, hold your phone sideways & you will get a lot better pics & videos. That's the way the camera is made to be used. Posted via the Android Central App

No way the iphone 6 plus blows the note 4 out of the water, quite the opposite.

Only the camera Posted via the Android Central App

Nokia 1520 RAW shots are the best I took as well as night shots but the note 4 is right there Posted via the Android Central App

Shooting in RAW means nothing to the picture taken. It can mean a better finalized picture after edits. So, shooting in raw means nothing for most people.

Did you not read what I wrote? Or did you just focused on the word RAW? Posted via the Android Central App

There is almost no way the note wins to a DSLR, which is what I'm assuming your comparing. Bigger sensor, lens, just no.

Completely butchered a paragraph.

HDR disables OIS. No thanks!

HDR DOES NOT disable OIS. Posted via the Android Central App

+1 Posted by my soon to be retired Note 3

HDR does disable video OIS but not for stills. Turn it on and then tap the settings button. You will see that video stabllization is turned off and grayed out. Choosing video modes with higher resolution than Full HD also turns off video stabilization.

Video stabilization is software stabilization, not OIS. Posted via the Android Central App

Another great tip is to tap and hold to adjust exposure relative to that area. Great when exposure darkens due to a bright light source.

I need that for s5 !! :( any ideas ?

I would just put HDR on the quick toggles. When shooting HDR with flash, specially night shots or in really dark almost no light area, pictures becomes brighter and slightly washed out. As if you turned the exposure to +2.

Android camera King. Posted via the Android Central App

Software enhancements are only one part to taking great photos but I find that I get more flexibility and creativity from using clip on lens adapters. I got a set like this and its great for capturing different scenes http://www.amazon.com/gp/product/B00FDLNR7E/ref=as_li_qf_sp_asin_il_tl?i...

A little late to the party, but when you record in slow motion, is there sound available or does that disappear? Posted via the Android Central App

Just a tip for some. I think the selfi photo is non sense, but taking a selfi has a practical use. Take a selfi and store it someplace on your phone you can find it easy. Then if your phone is lost or stolen you have more proof that it is your phone if it is recovered. This will probably only work if you don't know the person who stole it though. Posted via the Android Central App

There are much better options to use for "proof" rather than the selfie storage method. Oh wait... This was a joke right lol. Next-us

I have the Note 3 and like the camera but low light has always been an issue. Is low light photos really that much better on the Note 4? I would not buy the iphone but the dark scene photos looked a lot better to me on the iphone compared to the Note 4. At least from the reviews I have seen. If low light performance is really that much better I might be interested in the Note 4.

They are great. Posted via the Android Central App

Smartphones take snapshots, it takes a real camera to get a good photograph.

And 99% of people will never need a real camera for what you're defining as photography. And while we're on the subject, if you're going to invest in a real camera you might as well take some photo editing classes to make the most of the technology, otherwise you should have just stuck with a point and shoot smartphone camera. Posted via Android Central App on my Nexus 7

Might be being dense but is there a macro setting for the camera?

manky, i use camera mx for macro photgraphy. i think as a camera app it does the best quality picutres in that field. https://www.androidcentral.com/e?link=https2F2F...

just came to know that there is no settings icon in my note 4 camera?. What's wrong with it? http://imgur.com/qOoRR69

Having problems with my note 4...I've noticed that there is no settings button on camera mode..anyone having the same problem? How can I fix it?

How can i turn on and turn off night vision or night mode in my galaxy note 4 ?

I have the same problem. HELP!!!!!!! Please
Android Central Newsletter
Get instant access to breaking news, the hottest reviews, great deals and helpful tips
Thank you for signing up to Android Central. You will receive a verification email shortly.
There was a problem. Please refresh the page and try again.