Samsung Galaxy Fold specifications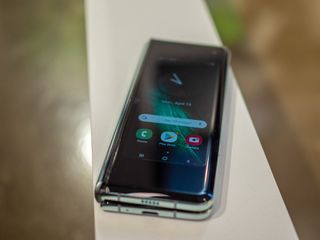 The Samsung Galaxy Fold is, without a doubt, one of the most exciting smartphones we've seen in a long time. It's one of the pioneers of what'll likely be a very exciting craze of foldable phones to come in the near future, and in order to pull off a device of this caliber, Samsung had to outfit it with the best specs around.
A gadget like the Galaxy Fold stands out because of its unique form factor and experience, not so much its processor, but it's still pretty impressive just how much bleeding-edge tech Samsung managed to cram into a phone like this.
Without further ado, here are all of the specs that make up the Samsung Galaxy Fold!
Category
Samsung Galaxy Fold
Operating System
Android 9 Pie
Samsung One UI
Main Display
7.3-inch
4.2:3
2152 x 1536
362ppi
Dynamic AMOLED
Cover Display
4.6-inch
21:9
720 x 1680
399ppi
Super AMOLED
Processor
7nm 64-bit octa-core
2.84GHz + 2.41GHz + 1.78GHz
Memory
12GB RAM
Storage
512GB
Cover Camera
10MP selfie camera
f/2.2
1.22μm
80 ̊
Front Camera 1
10MP selfie camera
f/2.2
1.22μm
80 ̊
Front Camera 2
8MP RGB depth camera
f/1.9
1.12μm
85 ̊
Rear Camera 1
16MP ultra wide camera
f/2.2
1.0μm
123 ̊
Rear Camera 2
12MP wide-angle camera
f/1.5-f/2.4
1.4μm
77 ̊
Rear Camera 3
12MP telephoto camera
f/2.4
1.0μm
45 ̊
Security
Capacitive fingerprint sensor
Face recognition
Connectivity
Wi-Fi 802.11 a/b/g/n/ac/ax
Bluetooth 5.0
GPS
Audio
Stereo speakers
USB-C
Battery
4,380 mAh (LTE model)
4,235 mAh (5G model)
Charging
QuickCharge 2.0 wired charging
Fast Qi wireless charging
Payment
MST
NFC
Dimensions (Folded)
62.9 x 160.9 x 17.0mm
Dimensions (Unfolded)
117.9 x 160.9 x 7.5mm
Weight
263g
Colors
Space Silver
Cosmos Black
Martain Green
Astro Blue
Something new
Carving a new category in the smartphone space.
The Samsung Galaxy Fold is really, really special. It's not the first foldable phone to be created, but it is the first to launch in the U.S. and easily one of the best we've yet to see. There are still some first-generation quirks, but for early adopters, there's nothing quite like the Galaxy Fold.
Joe Maring was a Senior Editor for Android Central between 2017 and 2021. You can reach him on Twitter at @JoeMaring1.
Those huge bezels on the cover screen is such a massive joke.

Aspect ratio would be ridiculous if it were any bigger. The idea is to provide a one-handed experience, unlike the Mate X, which is massive any way you use it.

People complain about bezels, and they complain when bezels go away. Bipolar Android fans...per usual.

Maybe, just maybe those two groups aren't made up of the same people.

Or maybe...some people will "adjust" their opinions when it suits their narrative. Wouldn't be the first time...🤔

Pretty sure this is accurate

It's true....I've adjusted my attitude on certain features I once held high.

It's cool and all. Maybe in a couple generations it will even be compelling, but never, NEVER will I spend $2500 on a bloody phone. (Canadien)

Cannot agree more I don't know why reviews don't talk that much about the sky high price it's shocking phones are enough as it is.

I don't spend more than 500, especially with those great Xiaomi out there. And they have to last me 2 or 3 years.

I have never had a need for a tablet but something like this is what I always wanted. It's too rich for my blood. There'll be other cheaper versions just like any other new electronics. This will eventually kill tablets.

No expandable storage, no deal.

Expandable storage for what?

So people can hoard all their stuff.....lol

$2K for a phone is stupid. Do you have any idea of how much computer/laptop you can get for $2K? Wake up Android Central. Time to join the real world.

Is that a computer/laptop in your pocket, or…

That's only because it's too much for you. I would spend it if it was better executed but it's not ready for prime time as far as I'm concerned.

$2000.00 for a phone?
I FOLD! If it doesn't sell well, they can always call it the Galaxy Flop.

I love Samsung Galaxy with fold specifications.
http://www.mobile-phone.pk/samsung-mobiles/
Android Central Newsletter
Get the best of Android Central in in your inbox, every day!
Thank you for signing up to Android Central. You will receive a verification email shortly.
There was a problem. Please refresh the page and try again.