Samsung announces new Galaxy Tab A, available November 1 for $229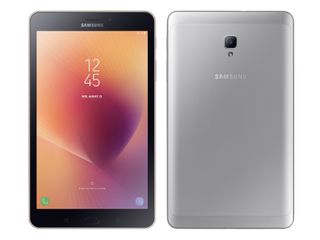 Tablets have lost a lot of traction over the past couple of years, but that's not to say the market for them has totally died out. Samsung is one of the few companies still releasing tablets in 2017, and following the high-end Tab S3 that came out earlier this year, we now have a much more affordable option with the latest entry (opens in new tab) in the Galaxy Tab A series.
Simply referred to as the Galaxy Tab A (8.0"), Samsung's latest tablet is being targeted at families with kids in search of a big-screen entertainment solution that won't break the bank. The Tab A comes outfitted with an 8-inch 1280 x 800 display with a brightness level of 480-nits. It's surrounded by relatively thick bezels, and near the bottom is a physical home button with two capacitive buttons flanking it.
The Tab A features a metal frame to allow for a more premium feel in the hand, and small touches like USB Type-C and 32GB of internal storage that can be expanded with a microSD card are always great to see with less expensive gadgets.
Other specifications include Qualcomm's Snapdragon 425 processor, 2GB of RAM, 8MP/5MP rear and front-facing cameras, Android 7.1.1 Nougat, and a 5,000 mAh battery that's rated to offer 14 hours of usage.
You'll be able to purchase the Galaxy Tab A in Black and Silver from Samsung.com on November 1 for just $229.99.
Joe Maring was a Senior Editor for Android Central between 2017 and 2021. You can reach him on Twitter at @JoeMaring1.
About time the base storage and ram got increased, if only it had a better cpu

Still missing on screen nav bar. Cant buy until they fix that.

At least you won't have to worry about a burned in NAV bar.

Isn't the SD450 available by now? if so they should have gone with that or at least the 435. 1080p would have been preferable too.

5000 mAh and acheap price might make for a decent travel companion.

I bought the last tab A and it was never updated out of lollipop. Very reticent to buy another Samsung tab.

Strange. Mine got Marshmallow almost a year ago and Nougat yesterday. I'm in Canada though.

Yeah mine got updated a few days ago. I was very surprised. It's a decent tablet.

So did my wife's I think you might want to make sure you have the same tablet

Still loses to the 2013 Nexus 7...except for storage.

I'm still using my Nexus 7 2013 also. I have the 32gb version.

Rather buy an iPad (2017) for $100 more. You will get a better build, fingerprint scanner, better performance and much better software support.

I had given up on Android tablets. I've seen the iPad go as low as $300 and almost bought it. I ended up getting a 10" FireHD, for basic tasks it works well and I was able to side load the apps I needed. I don't think you can get a better tablet for the price. YMMV of course.

I've owned a couple of Samsung tablets that never got any love out of the box so no more for me. Own an iPad Mini 4 for that exact reason and couldn't be happier. My wife owns 1st, 4th gen iPads and the iPad 2017 edition, stellar devices.

I rather buy a tab S3 with a pen . That's a better tab then the base ipad. I much rather have a tab that sinks with my Note 8

Why would I get this over the Huawei Mediapad M3? Serious question as looking for an upgrade to my wife's aging N7 2013 if a reset doesn't help it (it helped mine in some ways)

There is no good reason, the new media pad is better in every way

I have the 2016 tab A with SPen and I really like it. Battery lasts forever mine big screen and plenty fast enough. Very happy with it.

Bought this for my 4yr old last yr. Downloaded Nick Jr, Samsung kids and Disney Jr! It has held up to multiple drops, spills and sticky substances... It has great battery life!!

Thanks for that input. I'm looking at getting one for my 7yr old so they can use some of their apps for reading and math for school. Tab A sounds like a good compromise between price and functionality.

I bought the 2017, 8 inch Tab A here in Sydney during the week. Be very wary, the screen is like a mirror, and over reflective. I definitely do not recommend it for children's eyes, or adults for that matter.

I'll hang on to my 2017 Sprint Galaxy Tab A 10.1 with 1080p screen cellular data for the good old price of $284.
Yeah, it's running 7.1 when I bought it.
Android Central Newsletter
Get the best of Android Central in in your inbox, every day!
Thank you for signing up to Android Central. You will receive a verification email shortly.
There was a problem. Please refresh the page and try again.