The Galaxy Tab S3 is worth buying just for its S Pen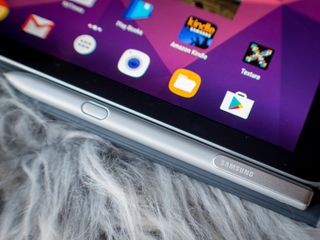 It's been years since a major tablet release from Samsung came bundled with a stylus. The last S Pen-equipped device was the Galaxy Note 10.1 2014 Edition (say that in one breath). But now that the Microsoft Surface and Apple iPad Pro have become mainstays with their stylus-equipped tablets, Samsung is throwing its S Pen back into the ring.
The S Pen became an attractive reason to choose a larger Galaxy Note smartphone over smaller devices, and now that technology has been bundled with the Galaxy Tab S3. If you're considering a tablet with a stylus in tow for your next purchase, here are a few reasons to consider Samsung's latest tablet over the competition.
It's compatible with a ton of apps
Image 1 of 2
The most important thing to know about the S Pen is that it's compatible with any mobile application that supports the stylus input. I tested it with apps like Microsoft OneNote (opens in new tab), Google Keep (opens in new tab), and Adobe Draw (opens in new tab) and all three applications recognized the S Pen's pressure sensitivity, though not all of them registered it fully. Drawings apps will be more precise than productivity-focused ones, for instance, because they're programmed to recognize the nuance in the direction of the S Pen. The point is, you can get professional-grade work done with this tablet.
The Galaxy Tab S3 also comes with its own Samsung Notes (opens in new tab), which is good for quick hits and jotting down random notes when other apps aren't immediately available. But I preferred to use the S Pen with OneNote, which is where I typically scrawl notes throughout the work day. I appreciated, too, that the S Pen's 0.7mm tip helps make it one of the most accurate styluses I've ever used.
Program it, however you like
Maybe you don't want to use the actions set by default in the S Pen's Air Command — that's fine! You can program the Air Command menu as you like, whether to pin oft-used apps and services or to rearrange the order of some of the S Pen's default abilities. You can add up to a maximum of ten shortcuts or as few as one — the one shortcut to rule them all.
Easily translate words
I like to read German website and I'm continuing my education in my parent's native language. It helps to have a built-in translation feature that doesn't require I copy and paste text into another app, as is typically the case with using Google Translate.
On the Galaxy Tab S3, you can enable a mode that translates the language on screen with just a hover of the S Pen over the word. The feature works in most apps with clear text, including Texture (opens in new tab), the magazine reading app. I like to use this feature when I'm reading Romanian websites because then I can translate any of the words I'm stumbling on without having to translate the entire page into English. It forces me to practice.
Make animated GIFs
This isn't a necessary feature per se but it is a fun feature to have readily available. You can hover over the screen and select Smart select from the Air Command window to create an animated GIF from a non-DRM video file. It works fine with YouTube videos and most videos displayed in the tablet browser, though you won't be able to use it inside apps like Netflix and Hulu — that's considered copyrighted content.
You can also use Smart select to crop out a portion of the screen and save it as a separate image file. This is helpful if, for instance, you need to share quick information with coworkers through chat. You can even use this feature to extract text from an image and then paste it into another note taking app. These are helpful multitasking abilities to have built into the interface.
Write with the screen off
The Galaxy Tab S3 doesn't actually work when its screen is off, but it does come enabled with a feature that lets you easily pen a note without having to endure unlock hell. Simply grab the S Pen, click its button, tap it to the screen, and get to writing. The note will be saved in the Samsung Notes app, where you can then export it to other applications as you need. It's a good feature to have if you're living a life that's constantly on the go.
Would you like a stylus?
Would you like a stylus with your next tablet? Got any other questions about the S Pen's abilities? Sound off in the comments!
Florence Ion was formerly an editor and columnist at Android Central. She writes about Android-powered devices of all types and explores their usefulness in her everyday life. You can follow her on Twitter or watch her Tuesday nights on All About Android.
Ok ok ok AC talking about milking the cow are should I say beating a dead horse what is this , the 6th article with the same topic. This is click bait at I finest . Cause you no the haters are just lining to say the same damn thing they've repeated over over again already......That they can't afford this tablet and tht they don't think it's worth the asking price blah blah blah . Let me help them apple will love to sell you less for more ,so just go buy it !!! , oh and that watered down $350 iPad is just that a rehash of a older model .....Ok let the flame wars begin now

Grab a cookie, my friend. You're in for a wild ride.

I miss my note 7... is it august/sept, I want my Note 8.

Is there palm rejection while writing on the screen?

Of course. they had that feature ever since Note 1 (the phone).

Yes there's​ Palm rejection. This tablet is on display at your local best buy . I tried it and and it's a beast of a tablet . The pen is say better then the one in my note 5

I had the original Tab S. I switched over to iPad though. Mostly because of the carrier incentive and I needed the LTE function. I find myself not in much need for a tablet lately though, especially with phones being so large.

For that price I'd go with a lower model Surface Pro or one older model. You get a lot more functionality for a similar price. Also, you will get OS updates for years longer than you will with a Samsung tablet.