Samsung announces Galaxy S5 LTE-A for Singapore, launching later this week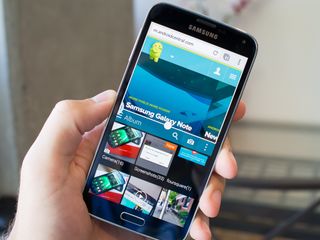 Samsung has announced a new variant of the company's flagship smartphone for Singapore. The Galaxy S5 4G+ will launch on SingTel's new LTE-A network. Both the network itself and the new mobile device will launch on August 23 with the Android device available on multiple plans. Like other models of the S5, there are some unique features to the Singapore variant.
This version of the Galaxy S5 is fairly similar to the US model with a Full HD display, but uses the Snapdragon 805 chipset (just like the Korean variant, which also supports LTE-A). While it sounds like a trade-off, owners will be able to make use of the advanced LTE network offered by SingTel.
Will you be picking this device up once it launches in the region? Let us know in the comments.
Source: GSMArena
I wonder how many are gonna come here and say 'Samsung launches too many phones' but don't visit the LG thread? Posted via Android Central App

Not me Posted via Nexus 7 2013 or Galaxy S5

In reality their just releasing a phone that works on a new lte network. Posted via the Android Central App

Yeah...with the 805 processor that everybody wanted in the S5..... Posted via Android Central App

You mean the one that wasn't avaliable yet when the s5 was released? Posted via Nexus 7 2013 or Galaxy S5

I think I'm done with Samsung. I have had the Galay Nexus, Note 2, GS4, Note 3, and GS5. They said no premium S5 was coming, then they release this, along with a metal framed Alpha. I paid full retail for my S5, and the port cover broke a month after I bought it. I can't stand LG. I may be forced to get an iPhone. Posted via Android Central App

HTC? If you don't mind the camera. Or the z2- though if you live in the U.S then many you can't get it. Posted via Galaxy ace plus running Speedmod 2.5 with Xposed

Just get a Windows phone. Posted via HTC One on Sprint

Do they sell them with both apps available included? Posted via Android Central App

NEVER! Posted via Android Central App

The alpha is a step behind and this is in one market. I don't see the issue Posted via Android Central App

This is now the 2nd market. It's about not being in all markets, and sooner. The fact that they put out the Alpha with lesser specs, is all the more reason to be done with them. Posted via Android Central App

I have a question... If you're content with your purchase and bought a S5 for full retail, then why are you here? Do you visit TV Central and do the same thing and kick yourself when a new TV comes out 6 months from now? I'm not a techie by any means necessary, Android Central said a hundred times that the 805 processor was NOT ready for mass shipment until like... July. Samsung came out the S5 when? March? That's not their fault. Also the premium feeling phones are being released after the earnings went down and they took a loss. Like "Oh crap! We have to make this like that and better." Samsung was considerate enough not to make the Alpha spec'd out in order not to piss people off like Tim whom bought an S5 full retail. I mean seriously, if the alpha was like the rumored Prime I wouldn't even comment on this but C'mon... I didn't upgrade because I was biding my time to see what happened at IFA. But next time you say you're done with such company please realize car manufacturers release more than one type of a car a year. You could buy a Cadillac January 1st and I promise you a better one will be out by November.

You are comparing a phone, to a car. Enough said. Posted via Android Central App

You completely ignored 90% of his comment. Obviously you and reasoning don't go well together. Posted via Android Central App

I couldn't agree with you more. I'm so tired of hearing complaints every time a manufacturer (usually Samsung) comes out with a new device. When you bought your phone, NO ONE promised you that it would be the only one released that year. You can't even argue based on a company's track record that you expected it to be the only phone released that year. Nothing about a future release should take away from a phone you bought and are otherwise happy with.

You did that to yourself. I wanted the S5 32 GB version and it never came so, I do not have one not to mention all the S5 rumors that were going. Posted via my OnePlus One!

This sucks I kind of like what apple does dosent f the customers and comes out with different specs in the same dam model three months after the original release. :( Posted via Android Central App

dont worry people.... LTE-A won't be in America for a long time!
Android Central Newsletter
Get the best of Android Central in in your inbox, every day!
Thank you for signing up to Android Central. You will receive a verification email shortly.
There was a problem. Please refresh the page and try again.