Samsung announces free apps for Galaxy Note 10.1 owners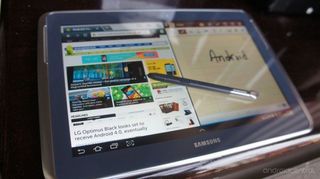 Good news for Samsung Galaxy Note 10.1 early adopters -- Sammy's announced that it's teamed up with a number of high-profile developers to bring free apps to its new stylus-toting ICS tablet. In addition to Adobe Photoshop touch, which is bundled on the tablet, Samsung's offering Note 10.1 owners, there's rhythm creation app Drop the Beat, Spot the Difference and Where Is It? for the kids, and Need for Speed and Sonic 4.
The full list is fairly exhaustive, and spans both the Google Play Store and Samsung's own app store, so check it out after the break. All apps, Samsung says, have been optimized for use with the Note 10.1's Wacom-based S Pen.
Source: Samsung (opens in new tab)
Samsung Apps --
· Drop the Beat
· Geotag
· Stargazer
· Spot the Difference
· You Draw
· Need for SpeedTM Hot Pursuit
Google Play Store --
· Where is it?
· Trace a Face
· The Official Top 40
· Easy Phone Sync
Android Central Newsletter
Get instant access to breaking news, the hottest reviews, great deals and helpful tips
Alex was with Android Central for over a decade, producing written and video content for the site, and served as global Executive Editor from 2016 to 2022.
The official top 40 app is free anyway, or at least it is on my tab 10.1.

Well, nevermind. UK only. Hopefully they do something like this for us folks in the states.

Sonic 4 has been optimized for use with the Wacom S-pen?

Nowhere to be found....this is just for the UK... :(

Why the shiz do these companies offer so many differing things for UK vs. US? Seems like we should all be pretty well connected in terms of tech.

Often it's because of licensing. It's not that there some hardware difference or something that prevents one country's version from getting what the other country's had. It usually because the license that the manufacturer or developer purchased only covers one country. Licensing for more than one country is much more expensive, and sometime impossible for legal/copyright reasons. Unfortunately laws aren't keeping up with technology.

how is the screen being divided between two apps? is that a note 10.1 feature or a downloadable app?

It's a feature of the Note 10.1. It comes in very handy, in my experience. I have owned the tablet since Sunday, and the multitasking feature is extremely useful in my everyday use.

Great, so we're getting slightly higher quality bloatware. (Wow, I'm cranky today.)

Quite a few reviews are pretty scathing about this thing. I'm intrigued by the S-pen and the floating apps but I might wait until it comes down a little in price...

Watch this review, it's the only one I've seen that's been fair and balanced. Every other reviews -- including the one on this site -- have been greatly skewed by the reviewer's bias and ignorance -- Wired flat out lied about it in some areas: http://www.youtube.com/watch?v=0y6m7ZLetMo And here's a bit of my own opinions and biases: I own 9 tablets including the Note 10.1" and it's by far the best all around for what I've always wanted in a tablet; which is an ultra portable digital drawing pad that also does everything else we expect from these devices. With programs like LayerPaint, I can actually do desktop level illustration work on this thing; it's a real tool, not some overpriced toy. I'd prefer Google's stock OS for some areas -- like folder handling -- but Samsung's UI hasn't got in my way -- and of course it's needed to take full advantage of the Wacom pen for those that want to take notes and so on; Their SNote app works really well, I used it to scribble out some ideas that normally I'd do on paper. The price was just fine for me. It's the most powerful tablet on the market for the moment and it's been combined with a Wacom that's on par with a Bamboo. The Wacom does add cost. I'm guess this tablet would be about $100 less without it. Anyways, try it out for yourself.

That s-note app pulled up next to a browser window in the picture attached to this article... Very cool. For business and student use, I can see that being a killer feature versus an iPad. I'm an Android phone user but still a heavy iPad user for work purposes. I picked up a Nexus 7 on impulse at Staples a few days ago and I'm really kind of digging it. It's even inspired me to pull my Galaxy Nexus out of mothballs (had been using a Galaxy S3) and start using it again. The Nexus 7-to-GNexus UI consistency has been very nice. Hopefully the Note 10.1 isn't super TouchWizified. Maybe I'll have to give it a look.
Android Central Newsletter
Get instant access to breaking news, the hottest reviews, great deals and helpful tips
Thank you for signing up to Android Central. You will receive a verification email shortly.
There was a problem. Please refresh the page and try again.