Samsung announces five new colors of the Galaxy S4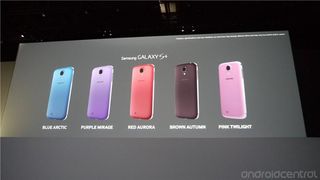 Step up your style with new color options of the Galaxy S4
We're taking a look at what Samsung has to offer at its Premiere 2013 event live in London, and the manufacturer has just rolled out five new colors of the Galaxy S4. As you can see above, the new colors available are Blue Arctic, Purple Mirage, red Aurora, Brown Autumn and Pink Twilight (yay, pink!).
The colors are matte or pastel rather than glossy, and keep the same shiny plastic on the edges of the device. No specifics just yet on the availability of these colors, but you can expect to see at least a few of them hit your carrier of choice soon.
Android Central Newsletter
Get instant access to breaking news, the hottest reviews, great deals and helpful tips
Andrew was an Executive Editor, U.S. at Android Central between 2012 and 2020.
Its just to much Posted via Android Central App

No but giving more choices after most people have already made their purchase is a bit much. It's not like they just realized more colors are possible. Posted via Android Central App

Most people have not made their purchase. People are still buying the S3. People still buy the iphone4.

Eh, if they're going to make their purchasing decision based on what color it comes in, they should just buy an iPhone :P Stupid is as stupid does.

Users are just going to slap a case in it anyway, so I don't get it. Just joking just joking. Posted via Android Central App

"...case on it...." Posted via Android Central App

I would love a purple GS4, but I think that Samsung is just driving it into the ground with TouchWiz. I used to prefer it over stock Android, but after my GS3 updated from 4.0.4 to 4.1.1 and 4.1.2, each time I hated it more and have never thought, "Yes, this update made it better." (With the exception of Google Now)

Pink twilight tho? Oh my twilight fans gonna love it lol Posted via Android Central App

Twilight is purple goddammit. >_>

For some reason I've never been big on the way Samsung's "colored" phones have looked. I like the way HTC's and Nokia's brightly colored phones have looked much better. I guess it's nice they're giving people the choice.

I am still waiting for the SGS4 to come to my Carrier with more than 16gb of int memory. If that doesn't happen than I'll wait for the new Note 3, hopefully Samsung will smarten the fuck up and drop that pathetic 16gb of int memory as their Norm. That bugs me more than anything else with all new phones. I just won't buy a new phone with 16gb of int memory, sd-card or not. I want at least 32gb with sd-card or 64 without and that is just the minimum. I have the SGS3 with 32gb and many other Android phones and yes I will admit I own the iphone 5 with 64g of int memory. If Apple can give their customers the choice in hardware than so can Samsung and other Manufacturers.

I too hate the pathetic spec of 16gb on the highest end phones available. I don't mind is offered because most people probably don't use even close to the 16gb, but it's crazy not to offer at least a second option. I've gotten used to it on my N4 but I much prefer the 32gb my Gnex has. My next phone will at a minimum have 16 + SD but I'd just prefer 32 or 64gb internal. As for the colors why not, it may stop someone from buying a colorful windows phone I suppose.

I would rock a green phone. Posted via Android Central App

Mutagen green coming soon (I wish).

The real question I have, what color will be up front? Notice how they only showed the back...

The color on the back is the color on the front. AT&T has been taking pre-orders for the Red Aurora S4, for about 2 weeks now. In the pictures it's red front and back.

Yuck, I could go with the colour on the back but keep the front black or white.

Nobody liked the two color iphone 3g and 3gs' so they made one colour whites, this may have affected Samsung's decision.

They did not specify anything about the memory of these devices. I hope they are of 32 gb!!!

They are 16 GB models, 32 is only available in black and white.

Where do they specified that?

Brown autumn? More like Underwear Streak.
Except for the underwear streak, what feminine colors.
At least we know the target market.

This is great! Same colors as iOS7. Posted via Android Central App

What Samsung needs to do is concentrate on building 32GB / 64GB S4's FOR *ALL* CARRIERS in the USA, and stop worrying about color cases on a phone that will most certainly be covered with a case to protect it.

Usually I go googoogaagaa for purple as I am obsessive (yes I publicly admit it) of the color. And much to my dismay with the demise of the CliqXT, that was the last purple phone I will ever own ever, ever again. Now, if the NOte 3 comes in purple... well I might change my mind. MIGHT.

As much as I like the red the other comment hit the nail on the head. I am just going to slap a case on it. Posted via Android Central App

I'd rather have more storage. Posted via Android Central App

still love the black mist

Samsung copying apple iPod so innovative let's put out everything under the sun in a month so we can say people copied us how stupid r u going to look with a camera up at your ear saying hello Posted via Android Central App

They should make a shoe phone like the TV show get smart Posted via Android Central App
Android Central Newsletter
Get instant access to breaking news, the hottest reviews, great deals and helpful tips
Thank you for signing up to Android Central. You will receive a verification email shortly.
There was a problem. Please refresh the page and try again.