Samsung adds new features to S Health to make exercise more fun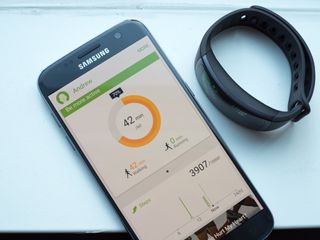 Samsung launched an update for the company's S Health app to coincide with the release of the Gear Fit 2. With this latest release, the company aims to make exercise more enjoyable and fitness goals more attainable. Having trouble getting into shape? Perhaps with Samsung adding some game-like elements to S Health, this will provide the motivation required to get going.
With the latest release of the app, you'll be able to challenge friends to a one-on-one match. A target can be set and the first to reach the agreed goal will be named winner. During the match, S Health will monitor just how much you'd need to do to take the lead, providing automated support to pour yet more effort into keeping fit. No one wants to miss out on obtaining ultimate bragging rights.
The steps total displayed in the app can be compared against friends, those in your age group or from all around the world to see just how you rank against other S Health users. It's a neat system that takes step counting to the next level. From the announcement (opens in new tab):
As well as adding game-like functionality to S Health, Samsung also feature improved organization and user experiences. With detect workouts activated in the background, the app will automatically detect and log specific exercises, be it walking, cycling or even hiking. When you're preparing to set out into the environment, the S Health dashboard can be configured and personalized to your liking.
A detailed weekly summary, rewards received, history of programs and a catalog of personal bests can be found on the updated My page. The app will even use this data to suggest goals and targets to work towards, so there's always something new to keep things fresh.
Finally, S Health will enable you to measure your own heart rate without having to launch the app itself. Simply activate Quick Measure and you'll now be able to place a finger on the heart rate sensor and wait for a reading. It's a solid update, especially for those who rely on the app for fitness tracking. More details on what's new can be found on the Play Store (opens in new tab). This latest update is compatible with the Galaxy S6, Note 5 and S7.
Android Central Newsletter
Get instant access to breaking news, the hottest reviews, great deals and helpful tips
My opinion one of the best health and fitness apps to date Posted via my note 5 are gs7 edge

If only it worked with Android Wear!! I agree it's by far the best I've seen, but I own an Android Wear watch, and S Health won't incorporate data from it :( -- Posted via my Titanium Silver Galaxy S7 edge --

I aggree with you it needs Android Wear support then it might be a my go to app.

No. Samsung has done a wonderful and cleaner job with Tizen. I couldn't be happier going back after my Huawei watch. AW is so clunky and swiping nightmare. It does a horrible job with step tracking. I have yet to have an AW watch that will not track my motorcycle as steps and completely throws my tracking off. Posted via the Android Central App

I love S Health Rodeo time, time to get er on down the road

Do you if there's a SHealth for PC so I can also enter information on the desktop? Thank you.

Auto detect is crap on the GF2. It'll detect my motorcycle ride as cycling. I did a hard reset and deactivated auto detect in SHealth and resync'd the GF2 and it sorta fixed the issue. Weird occasion it "may" pick up cycling but has much much improved. They also need to have the option to delete activity out of the GF2. Also need better GPX file exports instead of just cycling. Posted via the Android Central App

I take stroller walks with my kids occasionally. GF2 auto detect registers it as cycling. I guess I understand why it would. Posted via the Android Central App

I'll be riding in my car and my Gear s2 will register cycling... not just a GF2 issue... weird schtuff

I'm still waiting on an S Health app w/RPG elements for the nerds like me that allows us to level up an avatar & have fun after the work out. Posted via the Android Central App

I like S Health but I really wish it had a desktop program or website to access it on my PC.

Now they just need to add sleep tracking to the Gear S2

I wish the app was compatible with Accu Check glucose meter

Great app imo... I like the ability to challenge your friends in the amount of steps one takes a week. Galaxy S6 Edge Plus - TMO

Give me customizable workouts I can download to the GF2 and I'll leave my Band 2 behind.

I needS health to include yoga, calisthenics, mopping floors, cleaning bathroom completely

I have been using the app for about four months and really liked it. I am very disappointed that the in the newest version. There is no apparent means to manually enter workouts. I swim two to four times a week and have been entering the length/distance of my swims manually. I cannot find a way to do that now. I do not take my phone anywhere near the pool deck, phones and water don't mix...
Without the ability to manually enter those workouts, this app is no longer useful to me.
Android Central Newsletter
Get instant access to breaking news, the hottest reviews, great deals and helpful tips
Thank you for signing up to Android Central. You will receive a verification email shortly.
There was a problem. Please refresh the page and try again.