Samsung has a boring new 8-inch tablet that you'll probably get for free with another purchase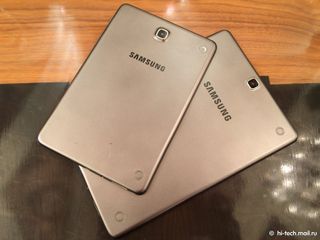 (Image credit: Android Central)
What you need to know
The Galaxy Tab A 8.0 2019 is a new 8-inch tablet from Samsung.
It features a 16:10 1280x800 display, quad-core 2.0GHz processor, 2GB of RAM, and 32GB of storage.
It comes in white or black but availability and pricing have not yet been announced.
Google may be done with tablets but Samsung's latest 8-inch Android tab shows that it sure isn't. However, the new Samsung Galaxy Tab A 8.0 2019 isn't much of a head-turner when it comes to specs.
It features an 8-inch 1280x800 16:10 display, and is powered by a quad-core 2.0GHz processor, 2GB of RAM, and only 32GB of storage. Thankfully, it also includes a microSD card slot with support for up to 512GB of storage.
While it's not a powerhouse of a tablet, you can take solace that it at least comes with Android 9 Pie out of the box and a long-lasting 5,100mAh battery. Also, due to the 16:10 display, it should be great for enjoying videos without huge black bars on the screen.
Image 1 of 8
On the back of the Galaxy Tab A 8.0 2019, you'll find an 8MP camera with autofocus, while on the front is the 2MP snapper for all your selfie needs.
Included on the tablet are a couple of Samsung software features, such as the new Kids Home mode and Family Share. With Kids Home mode enabled Samsung says it "delivers fun and interactive features with a child-friendly interface." While Family Share will allow you to share schedules, notes, photos, and reminders with each other for up to six members in a family group.
Along with the purchase of the new Samsung tab, you'll receive a two-month subscription to YouTube Premium and three months of Spotify Premium.
At this time, there is no word on availability or pricing for the Galaxy Tab A 8.9 2019, but we know it will be available in white or black with a Wi-Fi and LTE model when it is released.
Android Central Newsletter
Get instant access to breaking news, the hottest reviews, great deals and helpful tips
Perhaps, but this tablet is way better than any other brand tablets that can't even play movies well...so yeah. If you want something better SAMSUNG has the S4 or just wait for the S5...not the S5e. That's if you have the money for it.

I got the LTE 2018 model for "free" from AT&T. It's an all around mediocre tablet. It's a good size for reading books. It's slow to launch apps and YouTube/Netflix is barely tolerable on it. There's also no way to turn off automatic night mode! Will it ever get updates or the next version of Android? Seriously, just buy an iPad. You'll get better performance and regular updates.

Swipe from the top for the list of toggle switches, choose the second menu, click on night mode.
I bought the tab s4. Updated to android 9. I think the tablets are similar.

You're obviously an Apple user if you can't even change NIGHT Mode. Seriously, just buy Samsung's HIGH End tablet instead of bashing this one. Maybe it's projected at people who don't have much money. Since your talking crap and are telling people just buy an iPad, I'm assuming you have the money right?

They're more of a kids tablet than a mid range tablet

Why would I buy something like this?! The specs are worse than my current handset in every which way...with the exception of the screen...which to me is not that big of a deal...😱

A forgettable tablet that nobody needs

You'll understand if you have kids...lol

I have kids and I don't understand.

Another mediocre low end mid range Samsung tablet. No thanks.

How can it be both low end and mid-range?
I agree it's a crap tab.

Haha...low end, mid range....lol

The worst part of this is that Samsung has a MUCH better 8 inch tablet they released to other parts of the world but not here. The one other countries get has higher resolution, more ram, better processor and even s pen support. What the heck!?!

Although I agree this tablet is not a good one, it is perfect for a durable children's tablet. Had the past couple "freebies" for my kids and they worked great for them. People always say just buy an iPad they work better. Well when your comparing an 800$ device to a 150$ device I'd sure hope so. I personally don't like crapple due to limited app availability and apples lovely user restrictions anyways. So I'd find a nice hight end Android tablet instead of an apple anyday.

Same here...I still have my Note Pro 12.2 and wouldn't buy an ipad. I would rather wait for the S5...I'm a proud user of Samsung's Note 9...so S-pen is a plus for any tablet. I don't think I should buy that separately like that Ipencil crap...hahahaha

Does an Android tablet need to have heavy specs? All you can do with them is watch videos, play basic games and...what, check the weather, a map or make a note? Seems like more than competent specs to handle all of those functions. The comment about black bars watching video was a stupid one. Unless you enjoy watching movies cut to fit a screen any and all 16:9 displays will have black bars as well...or do you not know how to set up TVs and monitors?

Not really...plus I stream my videos to My SAMSUNG TV. So I'm positive this tablet will be able to do that. In regards to people saying it opens YouTube slow is just B.S. I own a FREE Tablets that's like 2 years old and it still plays well.

A good Android tablet in the 7-8 inch range would be welcome and sell hand over fist. The catch is no one has ever made such a tablet except for the Gogle Nexus 7. The OS was less demanding then and the required hardware was at hand. In today's market the top tier Samsung meets the hardware requirement but it's north of $400. I've only seen the 10 inch S series model in stores recently. To be successful in the 7-8 inch platform it must be 1) thin, light, easy to hold, 2) state of the art processor, adequate RAM and internal memory, 3) SD card slot unless adequate internal memory available, 4} wifi ready with an optional wireless unlocked option, 5) current Android version with updates including the latest versions with unlocked boot loader, minimal to no OEM bloatware and 6) priced accordingly which implies parity with Apple tablets of similar size. I have purchased numerous Android brands in this range with uniformly unsuccessful results. Samsung S series has meet most requirements except for unlocked bootloader, their heavy handed launcher, poor OS upgrade history and otherwise unjustified premium price - else their price on parity with Apple would have been reasonable. Experience suggests only Google is capable of such a tablet and they're no longer interested.

Samsung had the note lineup, they made a one time run of the note 8 tablet, 2013?. Spendy but was top of the line and had both WiFi, lte, and phone versions. I still have mine, battery is shot and I can't find a replacement, but otherwise runs a bit slow using resurrection remix. If they would remake that tablet I would drop the money.

Have you checked up on the S5 not S5e? They said it will be announced with the Note10...🙂

I think most here are really missing where this tablet intends to fit in and that is against the likes of Fire 8 tablet. I believe most miss what most people use their tablets for. Reading, streaming movies, and playing a few games. A Fire 8 can do all of this so well and easily. My late 2016 Fire 8 still does all of this so well without a hiccup . Took me all of 5 minutes to load Google Play Store. This Samsung needs nothing out of the box to do this. It will be cost effective, run Pie have full Google Play Store and Drive connectivity. Many core updates will soon be through Google Play so probably a win there as well. Smart play by Samsung. Costs are moving lower for all tablet and mobile phones.

Samsung needs to clean up their tablet lineup badly, it's convoluted and messy. Give us three tablets. One high end with top specs, like how the Note 10.0 used to be, $6-800, mid $3-500, and a base $100 ish. And no need to come out with seven different models every year, just keep them updated for years. There is a reason the iPod cleans up the tablet market

iPad sells because people just want that little Apple logo in the back. I've heard many people say their iPads have locked up, stopped charging or just can't do anything with them. Apple makes you jump rings just to unlock it...plus how can Apple people forget their password is beyond me. I'll stick with Samsung here....🤗

iPad sells because they are solid tablets. Of course they have issues, they all have issues. But I hate ios so much.

I don't even know where to start here....S5e, S4, Tab A...granted you can get either Tab A with 10 or 8 Inches of fun but this is how it goes. How many did you say they had?

This tablet sounds great for kids. It's not intended to compete against high end tablets.

My tab series 4-8" lte is still going strong.

I bought a Fire 8 HD tablet just for reading ebooks and comics that are not really suitable for my Kindle (large pages, many colored images etc). It suits my purpose fine. Depending on the price, I guess this Samsung tablet could serve that need too
Android Central Newsletter
Get instant access to breaking news, the hottest reviews, great deals and helpful tips
Thank you for signing up to Android Central. You will receive a verification email shortly.
There was a problem. Please refresh the page and try again.