Nexus 6P likely to receive Android Oreo on Sept. 11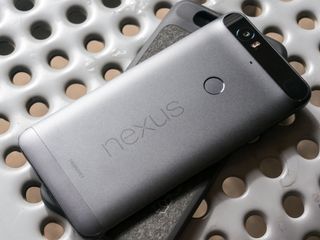 (Image credit: Android Central)
According to Canadian carrier Rogers' OS Upgrade Schedule, Android Oreo for the Nexus 6P will be released on September 11.
When Android Oreo was initially released by Google, only phones that were currently enrolled in the Android beta program received the update. This isn't surprising, as the people who helped test the software all along should be the ones to give a gold master version its last test. A week or so later, Oreo was pushed to everyone's Pixel but we've heard no word on a wider release for the Nexus 6P or the Nexus 5X.
We have heard some whispers that Huawei and LG need to tweak a few things, mostly with the radio firmware, to get Oreo closer to perfect for the last of the Nexus line. If true, this would give more weight to a carrier announcement as the release date because they are the companies doing the final network testing.
There is also the off chance that this will be a point release and we'll see Android 8.0.1 for the 6P next week. Whatever happens, we hope the release is good, OTAs go smoothly, and our inbox and forums aren't filled with reports of boot loops and bricked phones.
Are you running a Nexus 5X or 6P waiting for Oreo? Let us know in the comments below!
Senior Editor — Google Ecosystem
Jerry is an amateur woodworker and struggling shade tree mechanic. There's nothing he can't take apart, but many things he can't reassemble. You'll find him writing and speaking his loud opinion on Android Central and occasionally on Twitter.
Good. My nexus 6p is unusable.

I feel ya...but u gotta be doing better than me on my 5x...no?...I need to make a move.

Unusable? What's the issue?

Mine was too. Factory reset, and all good now. 6P and 5X.

Ya me too, it was so sluggish and then i factory reset and installed oreo and im good to go

I'm on AT&T in the US, but I've already received my Oreo update.

Same here. System prompted me to update 2 days ago.

Same. Got it last night OTA. Actually running on a FreedomPop data-only AT&T LTE SIM. I'm not rooted, and not in the beta program.

Ditto, I got mine the same day the factory images came out.

How's battery life nowadays on this beauty?

Terrible but I flashed the wrong image file since this isn't working well with T-Mobile radio bands 100% to 78% in 32 minutes of just on screen time

Don't know how it would work out normally but since I have replaced it with new one I would recommend it to anyone after that much time. Brings a new life to the phone.

My 6P in on the beta and no update so far.

Strange to be on beta and not to have received update alert by now. My 6P was on beta and got update alert precisely 24 hours after Oreo launched. Check to be sure you have the final beta version before Oreo launched.

Same here, i unenrolled and enrolled multiple times and still nothing even though I'm on dp4.

I'm not on the beta but I got the update to my Nexus 6P like 3 days ago.

Got 0re0 yesterday. All's working well. :)

Have an unlocked 6P, got the final update two weeks ago.

Me too....wonder if us beta testers will still get the newer actual release patch?

I wouldn't know because I got mine with nougut 7.1.2 then beta program. So can't really compare....,but it's really good especially when you're not using the phone it stands still. Pretty good.fast and fluid as well

I have an unlocked 6P and have been enrolled in the beta program. I got the Oreo Dev Preview Version 3 a couple of weeks ago. I love it. The battery saver option is awesome and the phone is running like a champ.

6P on Project Fi - I've been mashing that update button since Oreo dropped but no update yet. I did notice that the OTA and Factory image files for the 6P say "Not for TMO/USCC/Fi" so they might be working on some issues still.

That's what I hear. Lots of folks with Carrier versions and models with T-Mo, Fi, US Cellular, and Wind SIM cards registered are still waiting. Probably just a radio tweak like they had to do for nougat.

I flashed this on my Nexus 6p and it's having battery issues so I have to wait for the official TMobile radios because it's draining my battery very quickly. It goes to 100% to 78% in 32 minutes on screen but if I have it under Wifi it's perfectly fine.

6P on Fi and I don't think I've even received my August security update yet.

JGarrido, I'm on Fi as well and never received the August security update.

I haven't received the August security update either. I assumed they just held it back since they knew the Oreo update was coming with those fixes in place anyway.

Yeah you may be right, it's just disappointing considering THEY are the carrier, and we haven't received *either* yet. I'm guessing the August security update may have introduced some kind of bug or regression specific to Fi service (which is also rolled into Oreo), and they're still trying to work it out.

I finally got the August security update a couple days ago - the same day the factory and full OTA images for Oreo with September security update were posted online. Unfortunately, I'm still waiting for the OTA to show up on my device.

Ughhhh... I took mine apart, swapped out the battery and screen, and now I can't get the rear casing back on and my power and volume buttons are squishy :(

On AT&T unlock and got my update three days ago.

My 6P is unlocked using MetroPCS. No update yet except for the August security one.
I hope Oreo improves it because it's been freezing up and lagging alot. Smh..

I'll bet it's apps you have installed that are causing the lag.

I have been using a 6P on Verizon. I opted not to get 7.0 because the OTA option had too many reported problems which Verizon never corrected as an OTA option. I would like to get Oreo but will wait to see how it shakes out with Verizon. My 6.0 may not have the latest and greatest but at least it does all the things it is supposed to do.

I have a Pixel XL with Project Fi, no update yet. Has anyone with a Pixel XL received Oreo yet? How about one with Project Fi?
scPat

I bought my Pixel XL straight from Google and using it with T-Mobile but no update for me either. I've heard of many people getting it on Sprint, Verizon, Canada but nothing for T-Mobile so far.

Their twitter handle stated that they've already started rolling out the OTA for project Fi. So you should probably get the update in coming weeks.

Pixel XL on Verizon, I enrolled in the beta program after the revealing and received it within two hours.

I got Oreo the day after I complained about not getting it on my Project Fi Pixel XL. It seems to be working fine. One thing I noticed is that I can now run a full time 3rd party VPN (Nord). This would not work previously.
scPat

6P direct from Goog, running beta program on TMO but no final release as of yet, mashing update daily!

I have already have Oreo on my Nexus 6p got it over the air on 9/30/17

Where did you get the time machine?
😉

I've had 8.0 on my 6p a day after it was released. Of course I'm unlocked and I manually installed the image myself but all good here.

rberry is back from the future

I unlocked my 6p a week ago and manually installed O. Feels like a new phone, no issues so far. I'm on project Fi and haven't experienced any issues. Seriously considering keeping this phone another year.

Got Oreo on the Google Beta program using Project Fi. Battery life has taken a couple of charges to get out the wonkiness.

How is the processor handling the update?

The Oreo update files for the 5X and 6P are on Google's site ready for sideloading if you're impatient.

Unlocked 6P on Sprint. Manually flashed final factory image the day it dropped and not a single issue. Haven't noticed an increase nor a decrease in battery and the phone seems a little less laggy than it did on Nougat. Loving how easy it was to restore all my app data, the picture-in-picture mode for YouTube is hella sweet and the new Bluetooth codecs seem to have made a noticeable difference in audio quality. Not bad for a point-zero release

LOL, I didn't know this was still a thing. I've been on the Beta Program and I got the OREO update the day that it was pushed to the repo. I didn't buy mine from VZW either. My N6P's been going strong. Anyone who says that they have terrible battery life should actually replace the battery. That's the culprit. After replacing my battery, I noticed excellent battery life.

My exact experience as well. New Battery and Oreo on the day of announcement (from the Beta track).

I'm not on the beta program. Got my unlocked 6P update 3 days ago. Don't see much difference in battery or performance.

Got mine within an hour of the announcement (was on dev preview 4). Battery life is MUCH better on stable version.

Running it on a 5X and all is well.

Nexus 6p from Google. No update yet, but from past experience I seem to be in the last group to receive any update. I'll see how it goes and honestly if phone still works next September I might keep it another year and skip the next upgrade from Oreo. My 6p has been nothing but a good phone and I am not at all interested in AR. Might wait for a phone with a chip designed by Google if that comes about.

My N6P has been on the final beta since it was released and it hasn't been updated to the final version yet. I hope l receive it soon.

I got my update yesterday on my Nexus 6P. Performance is solid. New integrated software improvements are phenomenal. I noticed quicker and fluid experience. Performance has significantly improved as well all improved notifications, Google Assistance, solid Bluetooth connection, etc.

Pixel C and Nexus 5x got Oreo Aug 29

I'm still waiting for the update for my N6P and I was apart of the beta.

My 6P's battery seems to be getting tired... it's not really making it through the day anymore. Maybe it'll improve with Oreo...?

Loving Oreo on my Nexus 6p. I have a patience issue, so I loaded duty on my phone from the Developer site. 2 complaints: Battery life is so far not better and so no Pixel Launcher. I'm sure battery life will be addressed in future versions... But is the current Google launcher ever coming to the 6p? The phone is just not that old.

You can download the pixel launcher...

I got my 5x 2 weeks ago and I'm not on beta. If I did sign up a long time ago and forgot, I haven't downloaded a beta in several years. Odd luck?

It is 8pm on September 11th and no Oreo for my Nexus 6P on Rogers. 🤔 Hopefully I'll get it tomorrow.

The 11th came and went with no upgrade

So now it is September 12th at 11am and still nothing. Interesting that my brother's Nexus 6P got Android Oreo (8.0) yesterday on Freedom Mobile. Come on Rogers, keep to your published schedule!

When I manually checked my 6P for an update today around 11 a.m. it briefly indicated that the device was up-to-date at first, then the Oreo 8.0 OTA appeared. It downloaded & installed smoothly and seamlessly.

Finally got 8.0.0 with September 5 security patches today on my Rogers Nexus 6P. Aboot time 🤔
Android Central Newsletter
Thank you for signing up to Android Central. You will receive a verification email shortly.
There was a problem. Please refresh the page and try again.