Rogers Samsung Galaxy S II LTE ICS update now available through Kies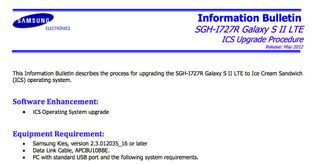 As we're all looking toward the Samsung Galaxy S III, Rogers in Canada has managed to slip out the Android 4.0.3 Ice Cream Sandwich update to the Samsung Galaxy S II LTE available on their network. Sadly, there is no OTA update to be found here though meaning, you'll have to fire up Kies on your computer to get the party started but overall that's a minor issue. Need to know the process for updating via Kies? No worries, head on over to the Samsung site using the link below. You'll see the Samsung Galaxy S II LTE SGH-I727R (Android 4.0.3) PDF available for download.
Source: Samsung
Android Central Newsletter
Get instant access to breaking news, the hottest reviews, great deals and helpful tips
ATT. get your butt moving

I've been waiting for this since February, got sick of waiting and flashed CM9 3 days ago and I'm not looking back.
4.0.3? TouchWiz???
No thanks.
CM9 is amazing.

4.0.4 and Touchwiz isn't that bad. Glad you like CM9.

To anyone who has not yet had a chance to upgrade their Rogers Galaxy S2 LTE - it is improvement in 95% of important areas. My only concern was around a slight lag I noticed when calling certain applications, but I believe removing an app and reloading (or simply updating through PlayStore) takes care of things.
My battery life is tremendously improved.
Under medium-level use prior to upgrade (I talk very little, perhaps 15 minutes a day, but including Bluetooth for a couple of hours, significant downloads through LTE or WiFi on occasion, GPS for 30 minutes a day) I would get 12 hours of battery Oddly enough, with Skype running in the background, I would get no more than 3-4 hours. The Skype app (though very important to me) seemed to kill my battery like nothing else - I could almost see the battery indicator go down.
After upgrade, I truly get 18-24 hours and Skype being on or off does not seem to make the slightest bit of difference - I could probably get 18+ hours with Skype on as well.
Visually, I was expecting more, but it's not that ICS is worse than Gingerbread - it's just not much better. Certain icons have better detail, but it's still too early to fully comment on all the changes. The Settings screen is now divided into sections and not all the choices show fully, until you click more. I don't really care for this change, I did not mind flicking my finger once in Gingerbread to scroll as needed. One other minor annoyance - in Gingerbread, when hitting the phone icon, you could hit the green phone button again to get the call log - now you have to hit the Call Log tab, which I don't necessarily find a helpful change. All in all, battery life is vastly improved - and I truly kept EVERY SINGLE ONE of my apps intact, still using them in the same manner, so this is just better code in ICS, not anything I am doing differently.
Android Central Newsletter
Get instant access to breaking news, the hottest reviews, great deals and helpful tips
Thank you for signing up to Android Central. You will receive a verification email shortly.
There was a problem. Please refresh the page and try again.