Rogers now offers add-on data when you're close to your monthly limit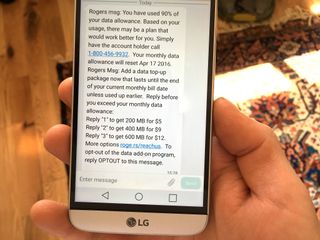 Rogers has begun reaching out to customers on the verge of exceeding their monthly data buckets, asking over SMS whether they'd like to add a one-time data add-on to their monthly plan.
At 90% usage, users will get the option of adding 200MB for $5, 400MB for $9, or 600MB for $12, which extrapolates roughly to the standard 1GB / $20 rate that carriers charge these days.
Because Rogers charges overage fees of $0.05 per MB, or $50 per gigabyte, the add-on options, while pricey in isolation, are good hedges against excessive overage fees. And that they are easy to apply — merely reply using a pre-determined number, and have the charge added to an account — adds a convenience factor.
What do you think about these add-ons? Are they useful, or just greedy? Let us know in the comments!
Daniel Bader was a former Android Central Editor-in-Chief and Executive Editor for iMore and Windows Central.
An extra gigabyte if you go over only cost 15$ / gigabyte. Source: I'm a rogers customer. So clearly that is a rip off by rogers. Just reply **** you to that text and go over like you usually do. 15$/gig is far better then the disservice rogers is offering. Posted via the Android Central App

You must be on an older plan, because data overages on Share Everything plans are $5/100MB, which works out to $50/GB.

I'm on a business plan.... Oh wow I thought 15$/ gig was a rip off. They actually charge more? We still don't have marshmallow either. Rogers aka Robbers Posted via the Android Central App

Wtf? Is Rogers? Never heard of it. Posted via the Android Central App

the hugest rip off for mobile service in the world.

Aka just one face of the triumvirate of Canadian telecom tyranny. The other two aren't much better. Posted via the Android Central App

Where are you even from even people in the USA know what Rogers is a company that steals people money Posted from my Moto X 2nd gen and my Nexus 9 both on Android Marshmallow

AT&T and Verizon do the same thing Posted via the Android Central App

We have the worst cell phone plans and phones in the world, and the most expensive. This is another way for Rogers to try to extort more money from unsuspecting customers. Shameful. Posted via Android Central App

This is ridiculous. $20 a gig is outrageous. I have a grandfathered 6 gig/month plan that I'm holding on to. $5 per gig people. Data costs them nothing after a certain point. LG G3.. waiting for Marshmallow...

This reminds me of way back in the day when I paid 25 bucks a month for 0.25 MB of data. Younger (and modern people of any age) don't give a damn about voice minutes and texting. We want data, and this nickle and diming by Canadian carriers who think we give a dam about proprietary non-data-based services has got to end. Wake up Canadian carriers. The market has moved on and you're living in the past. LG G3.. waiting for Marshmallow... Got it! :)

Also looks like your on a relic of a phone lol. Good luck when you need to upgrade. It's either give up that plan or pay 1000$ for a new device. They got ya either way Posted via the Android Central App

I buy my phones outright now. In fact, now that I'm not tied to them by contract, they started adding free stuff to my account like unlimited nationwide minutes, just so I don't switch carriers. As for my phone, I use an LG G3. Not new, but definitely not a relic. With maximum 2 year contracts, you now have to pay a lot more up front, so there is even less of a reason to (1) lose a good data plan and (2) sign up for a multi year contract *just* to get a *small* subsidy on your phone. Not worth it at all. LG G3.. waiting for Marshmallow... Got it! :)

Lol soon they will give you an ultimatum and kick you off that plan or raise the data price. You can't hide from the rubbers forever. You just jinxed yourself by bragging about it haha Posted via the Android Central App

In my country, 1GB averages at 1.50$ Posted with ❤Love❤

Wow Posted via the Android Central App

I hate Rogers as much as the next person, but I'm very happy about this - as it warns you when you are close to going over your limit - SOMETHING THAT THEY KILLED OFF

TBH, this is good only if you're not on a share everything plan. Otherwise, you can upgrade the data part of your plan for usually $10 for double the data. And it's retroactive. And you can go back to your previous level at your next billing cycle. Posted via the Android Central App
Android Central Newsletter
Get the best of Android Central in in your inbox, every day!
Thank you for signing up to Android Central. You will receive a verification email shortly.
There was a problem. Please refresh the page and try again.