Rogers NHL GameCenter Live lets you stream the hockey season to your phone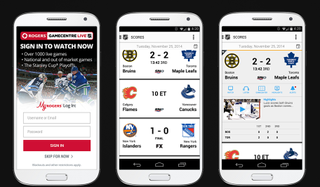 Rogers has announced the launch of NHL GameCenter Live. GameCenter is a new way for Rogers customers to keep up with the NHL season using their smartphones or tablets. Rogers customers can get a free subscription to the service until December 31, 2014, and with it, they will be able to watch all of their favorite teams face off on their phone or other device.
Accessed through the Rogers website or the NHL mobile app, NHL GameCenter Live gives you access to over 1,000 live regular season NHL games on your device. Non-Rogers customers can subscribe for $199.99 for the full season. The app will be available to download in October, while streaming will begin on October 8. Many of the viewing blackouts have been lifted, and customers can subscribe to a French-only package if they choose for $59.99.
Are you excited for the upcoming hockey season, and for Rogers NHL GameCenter Live? Let us know in the comments below.
Source: Rogers
Get the Android Central Newsletter
Instant access to breaking news, the hottest reviews, great deals and helpful tips.
Depends on if they actually improved the app or just slapped their branding on it. It was pretty buggy last year on all platforms I used it on. Posted via Android Central App

Spelling mistakes in your article, the company is actually called "Robbers"

This. They've jacked my bill up by about $8/month as of recently. If I sign a new contract, I'd have to get an even more expensive plan to keep my 6GB data limit

let's go leafs Posted via Android Central App

LEAFS
Losers
Even
After
Forty
Season

I'd like to see a detailed list of what blackout restrictions have been lifted. Blackouts are the only thing keeping me from using the service.

When they say that over 1000 games will be available, and the NHL season is about 1250 games total, the games that are blacked out will be few and far between. I'd be willing to bet it'll mostly be Wednesday Night Hockey, the Sunday game of the week thingy, and some other "marquee" national games only.

The price increase is a bit hard to swallow, but I'll probably still end up spending the money, especially since most of the blackouts have been lifted.

In the UK all the last few rounds of playoffs get blacked out still. Thanks to premier sport. (who don't even broadcast in HD) Posted via Android Central App

Are the 111 French broadcasts included in the $199 package?
Will my Rogers $199 Gamecenter live subscription work when I go south this winter?