Everything you need to know about Rick and Morty: Virtual Rick-ality for PlayStation VR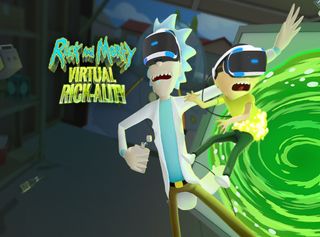 (Image credit: Adult Swim)
Rick and Morty: Virtual Rick-ality has been available on Steam for $29.99 since April 20 of last year. Super soon it's coming to PlayStation VR for the same price. Like, April 10 soon. So now that your long anticipated wait is almost over, it's time to go over all the cool things you can do in this game when it reaches your console! Yeah, I'm talking Easter Eggs and mini-games. Surely you want to find them all, right? If not I'm sure Rick has some handy advice.
Created by Adult Swim Games and Owlchemy Labs (the people who brought you Job SImulator) this title is sure to get you riggity wrecked with excitement. So, without further ado let's get down to business and defeat the GIANT ALIENS.
The Easter Egg line-up
Available mini-games
Unlocking a photo of the Job Simulator robot
Finish the main story task and complete the 10 crafting challenges to get a photo of Rick and the robot from Job Simulator!
Rick's got jokes
Here we see where the creators have added a little jab on VR, and we gotta admit the irony of it did give me a little giggle.
Guardians of the best mixtape
Now it could be pure speculation, but I'm only left to assume this is a pun directed toward our beloved Guardians of the Galaxy.
Awkward times in the bathroom with Jerry
Unlock a monolog from Jerry and the "Love Hurts" achievement.
This was an achievement for Oculus and may not be an achievement on PS4
Go to the bathroom and attempt to open the door.
You'll hear Jerry give a lengthy speech.
Get the hemorrhoid cream from under the sink
Slide it under the door.
You'll hear Jerry trying to talk to you again when you try and leave the garage!
St. Gloopys medicine
Snap back to the "Temping Fate" episode of season 2 when our favorite duo talks about the galaxy's best hospital, St. Gloopy Noops. Well, you may never know what Rick is being treated for, but you can find his medication on the bench! Good LORD are those huge pills!
Finding the good family photos
Inside the bathroom, you can find two note-worthy pictures! Mr. Poopy-Butthole, who's sorry you never had a bad memory with him, and Snuffles, who probably promises to not try and take over the world again.
Real Fake Doors
Remember the "Rixty Minutes" episode from Season 1? The company "Real Fake Doors" (a real fake company) was advertised in this episode. This is relevant to the game because any of the rooms you can't access will always have the doorknob pop off in your hand. If you hold up the doorknob you'll see "Real Fake Doors" written on the tag!
Ooooh aprove!
Another reference from the "Rixty Minutes" episode, you can find a bottle of Baby Legs Baby Powder in the bathroom. Baby Legs the detective would be mighty proud of you for this find.
Plumbus ahoy
Under the computer board on Rick's workbench, you'll find a Plumbus. No matter how you pick it up or what you do with it, Rick's gonna call you and give you crap for not using it right. Furthermore, you can find the instruction manual for one on the shelf inside of a plastic sorter!
Jerryboree Form
In a direct reference from the Mortynight Run episode from Season 2, you can find a Jerryboree Form. It's located under the TV cabinet on the left side. Be sure to make sure your Jerrys are properly taken care of in your absence!
Using other life forms to fuel your basic needs
Nothing screams Rick quite more than the blatant disregard for any other form of life more than using that form of life to simple odds and ends. You know that device that allows you to recharge batteries? Does it remind you of the Ethically-Dubious Microverse creation unit?
Yup. You're using entire miniature worlds to power your gear!
Every reference found in the books
In the bathroom
Eyehole Man comic
Advertisement for the Ball Fondlers movie sequel.
Under the TV
3 different Rick and Morty comics
Fanciful Horse
Prosthetic Alien Penises catalog (Interdimensional Cable 2: Tempting Fate episode, season 2)
Oh, slam it's Blim Blam
From the Auto-Erotic Assimilation.episode in Season 2 you can find the hidden hatch hiding away a terrible monster.
Go under RIck's workbench
Open the hatch
Realize you've found the prison for Blim Blam the Korblock is going to try and eat your baby if you left him out.
Close the hatch and never open it again.
Demons in your head again
Combine the demon box (with the tape) with your hand, head or youseeks.
Get the item that comes out.
Listen to the ridiculous banter about the government.
Put the demon box to your ear.
Hear it begging you to let it out.
Cry yourself to sleep and move on to the next task.
Where to find the 13 cassette tapes
Squim Squam Rap
Use a Youseeks to get it from next to the board
The Best Mixtape
Bottom shelf in the garage, next to the gas.
Gender Ambiguity
Next to the crown in the garage smash open the demon box and the tape is inside.
Snuffles
Use a Youseeks to get it from outside the window of the garage.
Ice Cream
When you open the portal to the Satellite there is a drawer behind the panel you can unscrew. In the drawer is the tape.
1% Visible - Courier Flaps
Order the tape from Rick's computer and it will arrive in the delivery zone.
Clones?
Open the Planet 840-3GG portal and walk over to the scoreboard. Pick up the weird blue triangle, underneath it is the tape.
Summer's Audio Diary
In the bathroom under the sink open the right drawer. Move the toilet paper aside, the tape is there.
VR Forever 100 Year
Play the Troy mini-game for 100 years, this is your prize!
Dear Future Lawyer
Open up the monster's hatch on the floor and he'll ask for a Metal Candy Bar. Combine two food items to make a Candy Bar. Combine the Candy Bar with a Wrench to make a Metal Candy Bar, feed that to the monster.
Interdimensional Radio
This tape is in the area where you charge the different batteries. Look under the panel and you will find the tape there.
Mixtape
This is the only tape that you cannot find in freeplay. Start off by loading disk 05 where you will need to fix Rick's engine. Look underneath the engine and you will find the tape attached.
Looks like I only listed 12. Weird. Guess it's time to GO THERE and see what's up.
YOU WENT THERE
Talk about being silly. This one you literally stumble upon when goofing off.
Find at least one of the hidden cassette tapes
Use the combination machine to combine the tape with any other item
Recieve another tape.
Add this tape to any other tape.
Recieve "Tape-Tape-Tape" cassette tape.
This unlocks a tape that is a message from the developers to you! BUT IT DOESN'T STOP THERE.
Combine "Tape-Tape-Tape" cassette tape with another copy of "Tape-Tape-Tape" cassette tape
Recieve an alien tape.
The Insert-Object-Name-Here will now say "DANIEL REMEMBER TO INSERT ITEM NAME".
Recieve achievement "You went there."
This was an achievement for Oculus and may not be an achievement on PS4
You ever say a word so much it starts to look weird and feels wrong to say? I'm there right now. Tape, tape, tape, tape. Oh, geeze.
Tiny Rick
You can unlock a tiny Rick figurine that will appear by your DVD player in the main menu! All you have to do is finish all the story tasks.
OH NO TINY RICK WHAT DID YOU DO
Let's get schwifty.
Complete the main story.
Return to the main menu.
Pick up your newly aquired Tiny Rick and get yelled at by Rick.
Suffer from inception like symptoms by realizing you're actuall a Jerry Clone watching DVDs of a Morty clone.
Have an extesnsial crisis.
Just make sure not to mess up
We all know Rick just doesn't care. He's the boss who runs this show, so make sure as a friendly Morty clone you doa good job! If not.. Well.
Welcome to Purgitory.
This part is just a quick jab to the ribs showing you just how many Mortys you have watched die over the course of 10 seasons. Enjoy!
Mini-games
Troy: A Life Lived
In the Mortynight Run episode in season two Rick and Morty visit Blips and Chitz which is a popular arcade on the Chucina planet. While there Morty ends up playing a virtual reality simulator called "Roy: A Life Well Lived" where he lived the entire life of a man named Roy. Well, in Rick-ality you have the chance to play "Troy: A Life Lived" which is just a knock-off of the original game from the series.
You can find this game by flipping a switch behind the washing machine in the garage! The arcade game will replace the machines and all you have to do is put the headset on the top of the machine on to play! Due to the many choices you can make in this game, there's actually several endings for you to wind up in. So be sure to give if a whirl a few times!
Charge battery
Charging batteries in this title is a challenge in itself. This fun mini-game is available in the garage for you to use when it comes time to charge the batteries for your guns. As you can see in the video, the purple lights will come on to tell you what you need to do in terms of making the machine work correcttly. There was even a "Fully Charged" achievement if you were able to get your battery to 900.
I for one was not capible of this as that game just made me look like the gif above. It gets super difficult so let us know in the comment section below what your high score was! To get to this game, shrink yourself down with the battery lever on the worchbench!
This was an achievement for Oculus and may not be an achievement on PS4
Shoot Gromflomites
Get the real experience of feeling just as much of a monster as the real Morty felt in the pilot episode. One of the mini-games available gives you the chance to shoot at Gromflomites for a high score. Don't worry if they scream about their wife and children. Remember, they're just robots, Morty!
Endless fun
Honestly, there are hundreds of Easter Eggs in here refrencing something from an epsisode that has aired before. While I have listed the most obvious and note-worthy, there are still plenty more to fine. Both teams of developers have done such a spectacular job creating a game with this much immersiveness in it. Kudos! So now it's your turn, put on your PSVR headset and go know what it's like to live a day in the life of a Morty clone!
What are you most excited for? Or, if you're reading this after it's come out, what were your favorite Easter Eggs I didn't mention? Tell us in the comment section below!
Be an expert in 5 minutes
Get the latest news from Android Central, your trusted companion in the world of Android
Essa Kidwell is an expert in all things VR and mobile devices who can always be found with an Oculus Go, a Pixel 2, and an iPhone 7+. They've been taking things apart just to put them back together for quite some time. If you've got a troubleshooting issue with any of your tech, they're the one you want to go to! Find them on Twitter @OriginalSluggo or Instagram @CosmeticChronus.