Reminder: Canadian sales of the Samsung Galaxy S III start today!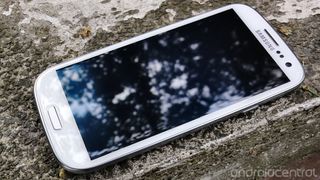 If you live in Canada and have been waiting for the Samsung Galaxy S III to arrive, today is the day you can pick one up in store. If you didn't pre order though, you'll want to get into a retail location of your choosing as soon as possible as many are noting that supply is remaining limited at this time. Where can you pick one up? Have a look at the list below:
As you can see, most retailers kept pricing consistent across the board so it'll come down to whatever carrier you are with or decide to go to. If you're not ready to jump just yet, have a look at our Samsung Galaxy S III review for more information.
I'm home from I/O on Saturday. Will pick one up from Rogers and unbox that bad boy. Want to see which I like better.. the One X or the SIII.

Picked one up this morning from Bell. I decided on the pebble blue, and i love it already. its a little time consuming to set up at first but its worth it. lol

Glad you can get yours still waiting on best buy here for mine in arkansas

And I bet you paid more than they will.
Android Central Newsletter
Get the best of Android Central in in your inbox, every day!
Thank you for signing up to Android Central. You will receive a verification email shortly.
There was a problem. Please refresh the page and try again.