The Red Cross Hurricane app is our go-to storm tracker this season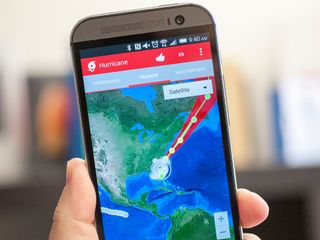 Plus more tips and tricks for using your phones during severe weather
We've got our first hurricane of the year — Arthur — and he's starting to make his way up the eastern seaboard. That means it's the perfect time to talk a bit, as we do every year, about how your smartphone can help out with the summer scourge.
This year, I'm using the Red Cross Hurricane app as my go-to tracker. There are a bunch of hurricane apps available in Google Play, but most of them just repurpose data from the National Hurricane Center. There's nothing wrong with that, but I can visit the NHC site for free. For those new to tropical weather, the Red Cross app also has a wealth of preparedness information, including what to do before, during and after a storm, traditional tracking maps, and shelter information. It's basically a one-stop app for severe storm information.
In addition to that app recommendation, let's also take a look at a few ways your smartphone can help you during a storm.
Tips for using your phone before, during and after a storm
Charge your phones. Now. Keep them charged. And once the storm starts, keep them off. You'll likely lose power at some point, and there's a good chance your local cell network will go down for a bit, even with generator backups.
Spare batteries. If you got 'em, make sure they're charged, too. If you still have time to get some, do it. Then make sure they're charged as well.
Car charger. Get one. Get a couple, actually.
While you still have power and internet access, be it on your phone or broadband, take advantage of features like instant uploading on Google+ or Dropbox or similar service to make sure those pictures get somewhere that can't be destroyed by the storm. Better to be safe than sorry in that case.
If you're worried about damage and don't have a traditional camera, use your phone to take a few pictures of your home and your belongings. It'll make insurance claims much easier, should it come to that.
After the storm, text messages may work best. If the network's up, it's going to be clogged, and calls might not go through. Text messages have a much better chance. Remember that if you're using Google Voice, it sends text messages through the traditional data channels and not SMS.
If you just have to use Instagram or some other picture-sharing service during a storm, don't use a damn filter. Folks wanna see what's happening, and filters don't help that.
Use apps like Evernote to help keep track of your emergency supplies.
Before the storm, use those gas-finder apps to track down the cheapest fuel. That won't help you with the lines, but it may save you a few bucks.
See if your phone can serve as an AM/FM radio, if you don't have any others around. (That's not out of the question in 2013. Some can do it, some can't.)
The official source for the latest storm info is from the National Hurricane Center. I also recommend Weather Underground, and Dr. Jeff Masters' blog.
Get the Android Central Newsletter
Instant access to breaking news, the hottest reviews, great deals and helpful tips.