How to re-adjust your VR space after decorating for the holidays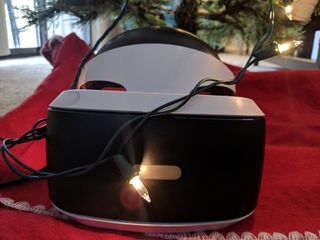 (Image credit: Android Central)
December is here and it brought holiday cheer, parties, and decorations. Don't let all those lights, trees, and stuffed stockings get in the way of sharing your PlayStation VR (PSVR) with the family. Here's how to set up your virtual reality (VR) space during the holidays!
Products used in this guide
Play while sitting down
Normally the PSVR requires 6 feet by 6 feet of space in order to be used, but if you're playing in a sitting down mode you only need enough space to move your arms. When you're deciding which games you want to share with your family during the holidays your best bet is to make sure they have one of these options on the main menu.
Start the game from the Main Menu of your PlayStation 4.
Go into the Settings options from the Main Menu of the game.
Most games that offer a play while sitting down mode will have it mentioned directly on the menu line up. If not, check the gameplay options.
From there you can turn the settings on and off as you see fit.
Once you have these settings configured the only thing left to do is set up the play space.
Make sure there is a small clearing in the center of the room that your PlayStation Camera can see. Moving the coffee table to the side will give you just enough room!
Put a computer chair in that clearing. If you have hardwood floors you should place an area rug down underneath of it to prevent unwanted sliding.
Press and hold the PS button on your Dualshock4 or PlayStation Move controllers.
Select Adjust PlayStation VR.
Select Confirm Your Position.
A screen will appear that shows you everything your PlayStation Camera is currently seeing. Center the view to whoever is sitting in the chair.
There you have it! Sharing your favorite games with friends and family is so much easier with a sitting down option. Now you don't have to clear out the living room for one person to play at a time. Everyone can watch and enjoy!
Use lights that are a solid color
We all love the bright, vibrant, and multicolored Christmas lights that spread a certain kind of cheer around the world. Well... all of us except your PlayStation Camera. The PlayStation VR tracks your movements by the lights that shine from the headset and Move Controllers. The blue tracking light of the headset can never change, but the lights on the Move Controllers calibrate themselves each time you use your PSVR.
The calibration works like this; The PlayStation Camera looks around your room while your Move Controllers flick around to different colors. When the camera decides which color is best for the environment around you it will set that color to your controller for that session. If you have multicolored lights you will suffer drifting problems from the camera picking up the lights on your tree because it gets mixed up with the colors of your Move Controllers.
Decorate your tree with solid color string lights or move your tree so it's not in the PlayStation Camera's view. This will stop any issues of tracking and drifting because your Move Controllers can easily find a setting to combat a single color as opposed to multiple.
Our top equipment picks
It's the holiday season! The perfect time to share your PlayStation VR is while all your friends and family are visiting. Let them enjoy the same love of VR that you found and share the joy of this holiday season with one of the best family consoles out there.
Best Family VR Experience
PlayStation VR - Astro Bot Rescue Mission + Moss Bundle
The family bundle
This bundle includes the PlayStation VR headset, two Move controllers, the PlayStation Camera, Astro Bot Rescue Mission, and Moss. These games are perfect to share with friends and family of all ages!
The PlayStation VR has plenty of games that are perfect for the whole family. Nothing is more entertaining than putting Grandma, or your young niece/nephew, in a VR headset for the first time and seeing their reactions to a revolutionized form of gaming. Share the smiles of saving adorable robots with Astro Bot Rescue Mission or solving puzzles with Quill in Moss!
Additional Equipment
Here are a few other things you should add to your shopping list to make sure you can enjoy your PSVR this holiday season.
Indoor String Light Christmas Lights - Solid White Color ($15 at Amazon)
Solid white Christmas lights are perfect for combating the color confusion between the PlayStation Camera and your Move Controllers. You'll only need one set of string lights for your tree since these are 49 feet long!
Essa Kidwell is an expert in all things VR and mobile devices who can always be found with an Oculus Go, a Pixel 2, and an iPhone 7+. They've been taking things apart just to put them back together for quite some time. If you've got a troubleshooting issue with any of your tech, they're the one you want to go to! Find them on Twitter @OriginalSluggo or Instagram @CosmeticChronus.
Android Central Newsletter
Get the best of Android Central in in your inbox, every day!
Thank you for signing up to Android Central. You will receive a verification email shortly.
There was a problem. Please refresh the page and try again.