Reader's Choice Smartphone of the Year 2018 — Vote for your favorite phone and win!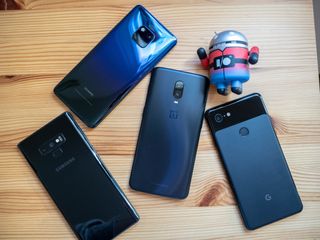 What a year it's been for smartphones. We've seen companies bring their best to the smartphone game — and then some — as the race to 5G approaches. Ahead of the next technology revolution, 2018 has seen companies push the boundaries of what we can expect from a flagship smartphone.
Samsung brought its best Note ever in the Galaxy Note 9; OnePlus released two incredible smartphones in the 6 and 6T; and Huawei showed its camera prowess with two of the best camera smartphones ever made, the P20 Pro and Mate 20 Pro. LG made its most feature-rich smartphone ever in the V40; BlackBerry cemented its return to the smartphone space with the KEY2; and Xiaomi showed that great phones don't have to be expensive. Then there's Google, which, with the Pixel 3, continues to show that more cameras don't necessarily make better photos.
There were many great smartphones launched this year, but some stood out much more than others. We've whittled down all the phones we've reviewed this year to a shortlist of just eight, and we want YOUR votes on which phone you think is the Best of 2018.
As part of our end of year awards, we're launching the first Android Central Reader's Choice Phone of the Year award and your vote counts. Here's the eight you can pick from:
Google Pixel 3
OnePlus 6T
Samsung Galaxy S9
Samsung Galaxy Note 9
Xiaomi Mi 8 Pro
Now you've got the shortlist, it's time to VOTE! In the widget below, cast your vote for your phone of the year and we'll reveal the winner in a couple of weeks alongside the rest of our Best of 2018! Voting closes next Thursday (December 21st) at 23:59 Eastern time so get your vote in NOW!
We're also giving away the winning product — one lucky winner will get the Reader's Choice Phone of the Year! To enter the contest, vote for your winner below and fill in your details. There are also additional ways to gain entries, which you can find in the contest widget below! The contest closes at the same time as the voting, so you don't have long to enter!
Win the phone voted Top Choice in the Android Central Reader's Choice Awards!
Nirave Gondhia has been writing about the mobile industry for over a decade and began his career selling and fixing phones in the UK. He's used every flagship smartphone over the past five years and carries at least two phones at all times - currently, he's using the iPhone 11 Pro, [Samsung Galaxy Fold and Motorola RAZR. Say hi to him on Twitter at @nirave.
Many great phone for 2018. My choice is the note9. Every premium feature including the kitchen sink. The swiss army knife of all. It does everything well!

For me personally, the Note9 is the best overall phone for my purposes.

I came close to trading up my S8 to a Note 9, and also play around with them whenever I go to Best Buy. So, the Note 9 gets my vote

Best feature loaded phone is Huawei mate pro 20 and best value for money is OnePlus 6t.

I didn't buy a phone this year but came closest to a Sammy S9 around black Friday. I play a ton of music so quality speakers and a headphone jack are a must. The S9 has all of that and won't break the wallet, so that's my vote for phone of the year.

Note 9 hands down for many reasons

My vote goes to the Note 9

Note 9 takes the number 1 spot

Meh. My choice isn't even listed, so I'm skipping voting this year.

I voted with my wallet on Black Friday, and picked up a Note 9. It's not perfect: I'd rather not have the curved screen, and I prefer a bit smaller phone with closer-to-vanilla Android; but it checked the most important boxes for me: on Verizon, headphone jack, big battery. I considered both the Pixel3/3XL and 6T; but the notches turned me off, and I refuse to replace all my headphones (or carry around a dongle), so that made up my mind. Too bad, poor design choices lost them a potential sale.

I hear you. The dongle complaint is really not that big though. Get a few dongles and attach them to your favorite headphones. Nothing changes.

I could... I could also use my heaphones with other devices that don't have USB-C, so I have to swap between the dongle or not. The dongles could become another object to clutter my junk drawer. I could also buy a phone with a smaller battery and just carry a battery bank around with me. I could... but the point is, I shouldn't have to. A smartphone is supposed to be that one device that does everything so we don't have to carry around a bunch of devices like we used to; instead, the trend is to take away useful features, and make us buy accessories - and I'm not supporting it. I'm sure I will need to buy a phone without that jack eventually, just like I have to buy a fragile phone that requires a case to keep it safe. Until then, I could... but I'm not.

For sure. Just my take on it.

Oh yeah, I totally understand your point of view. There are trade-offs you have to make with every smartphone out there, and it all comes down to personal preferences of what a person is willing to accept. For you, the lacking headphone jack is something you'd be willing to work around, while I find it to be an unnecessary inconvenience I just don't want to deal with.

But, what about replacing the 3.5 jack with something that's better? Something that would give you the best out of box audio experience in the world, bar none? Something that makes Samsungs and iPhones sound weak, and even the V40 meh in comparison? Such an animal exists.

Note 9 - best featured android phone by far.

There's a lot of great phones on the market, but I still believe the Note series has a big advantage over the other flagships with it's S-Pen. Having been 'Noteless' since the recall of my silver Note 7. I bought a Cloud siler Note 9 at Best Buy on Black Friday. Its amazing what a few grams of baked-in Wacom goodness does to the Note 9's capabilities. AFAIK there is no other smartphone that has anything close to the Wacom active stylus and it's software built into the OS on the Note series. So many ways of accurately selecting, manipulating and annotating images and data with much more control than just a finger.

Nothing on the list that stands out as one that I'd want besides the Mate. I use a Note at work on a regular basis, and I'm not really impressed, but that's probably because I'm into music more than the S pen.

Excellent options in 2018. Sadly most of them are not for sale in Brazil. I voted in the Galaxy S9 to know the device since my daughter has one. It's a great device.

Definitely have to throw my hat in for the Mate 20 Pro. Fully featured with some of the best specs all around and new features.

OnePlus 6 or 6T (I have both) for the WIN! No better phone for the price point that gives you everything that these 2 do (IMO)

Need S9 now to replace my s7

I bought the Samsung S9 in April and the OnePlus 6T a few weeks ago and hands down...the OnePlus 6T is my favorite smartphone. I don't have all the Samsung Bloatware installed and I'm not waking up to another notification about a new application that I can't uninstall that Samsung decided that I should have on my phone. Next is 8 GB or RAM over 4 GB? Yes please...I see a huge improvement on that front alone. Don't get me wrong I think Samsung S9 is a great phone but it's my phone and I should be able to decide what apps I want on my phone and not Samsung.

I agree, 4GB just doesn't cut it for a flagship these days - nothing in that price range should stutter like that. Experienced it both on the S8 last year and the G7 this year. I have never noticed any slowdown with any phone with at least 6GB though (Note 8 & V40 are the two I've used most), which I do feel is the sweet spot on a device today.

That's one more thing I really like about my Mate 20 Pro. There were a couple of apps I did not want, but unlike many other phones I simply uninstalled them. I did not have to play the game of blocking them or hiding them.

Huawei Mate 20xl love the huge screen

Where's the S9 Plus? The regular S9 is a completely different phone compared to the S9 Plus that has 2GB more RAM, a bigger battery, and a second rear camera. That'll be my 2018 Phone of Year based on specs and value.

Dongle's & notches really suck. I love using my wired headphones. The note9 is the best equipped for just about everything. I use the s9+ because I really have no use for the s-pen. All the premium features I could ever want or need especially the display!

I voted for the V40 as my personal favorite of the year as an audio nut's dream device, but I'm sure the Note 9 will win and well deserved - loved my N8 and it was a tough choice to make the switch to LG this year. No regrets though!

I have the s9+ & luv it. I also use the V35. It's very comparable to the 9+. I got them both for the exact same price 529.00. Verizon with the 9+ & Amazon with the V35. I enjoy both very much. But my vote goes
to the note9, due to the fact it has all the premiums and does everything very well. Kinda the swiss army knife of all flagships of 2018!
Two great phones for the price of ONE iPhone. Yikes!

I really like my Galaxy S9+, good solid phone.

My vote is for the Moto X4 Android One!!

S9 for me. Best bang for the price

I can see why this was buried. The Pixel 3 didn't win.
Android Central Newsletter
Get the best of Android Central in in your inbox, every day!
Thank you for signing up to Android Central. You will receive a verification email shortly.
There was a problem. Please refresh the page and try again.