Razer Phone 2 vs. ASUS ROG Phone: Which should you buy?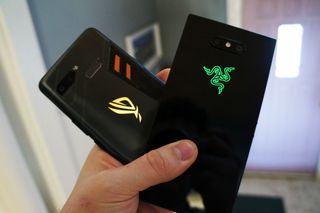 Razer Phone 2
(opens in new tab)
Razer has done a great job building on the successes from its first phone and the Razer Phone 2 stands out for all the right reasons among the phones released in 2018. It's a powerful performer for gaming and watching media, looks cool as hell in your hand and also functions quite well as a daily-use smartphone.
Razer Phone 2
Refined design
Reasons to buy
+
Top specs provide best gaming experience
+
120Hz display is vibrant and bright
+
Battery life is still great
+
Added water resistance and wireless charging
+
Front-facing speakers with Dolby Atmos
Reasons to avoid
-
Camera is better but still unimpressive
-
Magnet for dust and fingerprints
-
No headphone jack
ASUS ROG Phone
(opens in new tab)
ASUS has taken its Republic of Gamers brand philosophy and delivered a solid gaming smartphone that brings a ton of features to the table — both for gaming and for daily use. It's great to see ASUS experiment with untraditional design ideas and I hope they continue to develop and refine their vision as Razer has.
ASUS ROG Phone
Premium features
Reasons to buy
+
Great specs with the ability to optimize everything
+
Headphone jack included
+
Game Genie features are impressive
+
AirTrigger controls can be a game-changer
+
Outstanding battery life
Reasons to avoid
-
ZenUI is cluttered and buggy
-
Steep pricing
Gaming smartphones are still a relatively new concept, but 2018 saw the first true competition in this emerging product space between the ASUS ROG Phone and the Razer Phone 2. These are two phones that follow vastly different design philosophies in an attempt to serve hardcore mobile gamers with the best specs and the most comfortable gaming experience — and the genuinely exciting part is how both are very successful at this in unique ways.
Razer Phone 2 vs ASUS ROG: Specs and design
Razer and ASUS are common competitors in the PC gaming marketplaces, so it's somewhat fitting to see these two companies compete in the emerging gaming smartphone space as well.
Razer is still a relative newcomer to the smartphone industry making it clear to see how they addressed and fixed the issues that held back the first Razer Phone from being a reliable daily-use device. ASUS, on the other hand, is no stranger to the smartphone market. The ASUS ROG Phone is branded separately from its ZenPhone lineup, but it uses a skinned version of its ZenUI software and went all-in with the Republic of Gamer brand philosophy to create a gaming smartphone that packs in so many features, many of which you will likely never see on another phone. .
Beyond the radically different design choices on the outside, these two phones are remarkably similar in terms of core internal specs and as you'd expect they're quite impressive.
Swipe to scroll horizontally
Header Cell - Column 0

Razer Phone 2
ASUS ROG Phone
Operating System
Android 8.1 Oreo
Android 8.1 Oreo
Display
5.72-inches Sharp IGZO
2560 x 1440 resolution
120Hz refresh rate with UltraMotion sync
Wide Color Gamut (WCG)
Corning Gorilla Glass 5
6.0-inch 18:9 AMOLED panel
FHD+ (2160x1080), HDR
90Hz refresh rate
Corning Gorilla Glass
Chipset
Qualcomm Snapdragon 845
Octa-core Qualcomm Snapdragon 845
GPU
Ardreno 630
Adreno 630
RAM
8GB
8GB
Storage
64GB
128GB / 512GB
Expandable storage
microSD
No
Battery
4000mAh
4000mAh
Rear Camera
12MP AF ƒ/1.75 Wide
12MP AF ƒ/2.6 Zoom
Dual PDAF
Dual tone, dual LED flash
Value
Front Camera
8MP f/2.0
8MP f/2.0
Connectivity
802.11 a/b/g/n/ac
Bluetooth 4.2
NFC
802.11 ac 2x2 MIMO
Bluetooth 5.0
NFC
Biometric
Fingerprint scanner (side power button)
Fingerprint scanner (back of phone)
Face detection
Charging
USB-C
QuickCharge 4.0+
Qi wireless charging
USB-C
QuickCharge4.0
ASUS HyperCharge
Water resistance
IP67
IPX4
Both phones are absolute beasts when it comes to hardware and computing power, offering the latest available Snapdragon 845 processors with 8GB of RAM. These are both bigger phones with the ASUS offering slightly more screen size, and both phones offer really fast performance for gaming with Razer delivering up to 120Hz refresh rate and ASUS offering up to 90Hz. Lastly, both phones feature front-facing speakers which are great for both gaming and media streaming purposes.
Image 1 of 4
The Razer Phone 2 is unapologetically large and monolithic with its all-black look that's complemented nicely by the glowing Chroma logo on the back. It features a glass back to allow for wireless charging and feels heavy and solid in your hand. Despite all that glass, the good news is that the corners and edges are entirely aluminum, meaning you should avoid the front or back glass shattering if your phone drops and lands on a corner.
ASUS went for a far more futuristic look — where other phone makers aim for an unbroken look where everything seamlessly flows together, ASUS has opted for stylish lines and mixed materials on the back while also incorporating a customizable RGB logo. Another standout feature is the tandem USB-C ports located on the side of the phone, which are used to connect some gaming accessories ASUS launched alongside the ROG Phone. I've only tested the optional fan accessory that comes with the phone and it's interesting, if only for the convenience of being able to charge your phone and plug in headphones while playing a game without the cables getting in the way of your hand.
I want to discuss how each phone incorporates the fingerprint scanner because I really love Razer's decision to carry on the Nextbit design legacy of building it into the power button on the side of the device. My thumb just naturally lands on the scanner whenever I pick up the phone and that's exactly what I want from a fingerprint scanner. In contrast, I've found it's too easy to lose track of the fingerprint scanner on the back of the ROG Phone. It's fast when you find it but the placement feels a bit little off in my opinion. To compensate, ASUS has also included superfast face detection as an alternate way to unlock your phone.
ASUS and Razer really diverge when it comes to handling internal storage. Razer offers just 64GB with a microSD card slot for storage expansion, while the ROG Phone is offered with 128GB and 512GB storage options — but no microSD slot. Including more storage might in part explain why the ASUS ROG Phone is more expensive, but not including support for microSD might have been a big misstep since Razer Phone 2 users can add an extra 256GB of storage as needed for well under $100. (Why you would ever actually need that much storage is its own separate question.) ASUS does include support for dual SIM cards instead, which is a popular feature in India and other Asian markets but of no particular use to me.
Razer Phone 2 vs ASUS ROG Phone: Software