Qualcomm readies Snapdragon 820 processor for phones and cars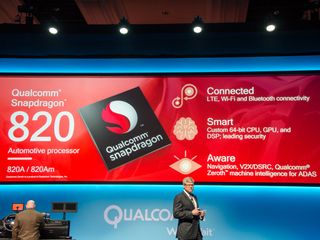 2016 is sure to be an important year for Qualcomm, and the biggest Android chip maker kicked off the year with its CES 2016 press conference in Las Vegas today. Top billing was given to the new Snapdragon 820 processor, widely expected to make it into the next wave of high-end Android smartphones.
Qualcomm CEO Steve Mollenkopf described the 820 as "the most powerful, most advanced SoC in the world," with the new Kryo CPU architecture purportedly delivering up to twice the performance of Krait, Qualcomm's most advanced 32-bit architecture. Snapdragon 820 is currently being designed into some 80 products Mollenkopf says, up from 60 in November 2015.
The first of these to break cover comes from Chinese firm LeTV. The Le Max Pro was shown on stage at Qualcomm's CES presser, sporting a metal unibody design and rear-mounted fingerprint scanner. The phone is also the first to use Snapdragon Sense ID, which the Qualcomm boss described as "the first ultrasonic fingerprint sensor." This new technology allows manufacturers to more easily implement fingerprint scanning under different material types, such as metal or glass.
And in another smartphone first, LeTV has implemented gigabit-capable 802.11ad Wifi in its Snapdragon 820 phone. You'll still need a new router to use that fancy new Wi-Fi, though those are getting announced here at CES 2016 as well.
Qualcomm also dedicated a great deal of time to automotive tech in today's press conference, including the announcement that Audi will implement its Snapdragon 602A automotive SoC in its 2017 model vehicles.
However the most impressive demo spot was reserved for the automotive variants of the 820, dubbed Snapdragon 820A and Snapdragon 820Am. Steve Mollenkopf describes Snapdragon 820A as a blend of technologies similar to the regular 820, only "optimized for the form factor and requirements of auto applications," and the power of the chip was plain to see in the demo rig on-stage.
Qualcomm showed Snapdragon 820A powering a rig with four displays, including a 4K infotainment touchscreen and HD "hybrid instrument cluster." The main instrument cluster was able to show smoothly animated speedometers or 3D navigation info, while the infotainment touchscreen allowed the driver to set navigation markers. Meanwhile in the back, passengers can follow route information or stream media over LTE.
The company was keen to promote Snapdragon 820A's ability to deliver "multiple concurrent capabilities," in contrast to smartphones, which generally focus on one screen at a time. This even extends to managing multiple interior cameras — one demo involved a driver-facing camera being used to track when a driver might be becoming distracted.
And as vehicles' computer systems become more personalized, Qualcomm showed how driver settings and preferences could be customized depending on whose smartphone is paired with the in-car system.
In other developments, Qualcomm announced the first Snapdragon Flight-based drone from Chinese firm Tencent. Dubbed "Ying," the product will include high-res video streaming over LTE, as well as autonomous navigation thanks to Qualcomm's drone technology.
We'll begin to see more Snapdragon 820 products at Mobile World Congress in Barcelona next month. Until then, the details revealed at CES serve as a taster of what we can expect from Qualcomm in 2016.
Alex was with Android Central for over a decade, producing written and video content for the site, and served as global Executive Editor from 2016 to 2022.
Well, hopefully there will be no repeat of last year for them. Posted via the Android Central App

I remain skeptical about the 820 because the 810 was so terrible.

Oh yes, it was oh so terrible. Let's forget the fact that one of the best Android phones of the year utilizes it extremely well, with virtually no downsides to performance for normal people. Posted via the Android Central App

The Note 5 uses an Exynos 7420 processor.

*One of the best*
Reading and understanding context is important. I've had a Note 5 since launch, and I still love it. Recently got a 6P and it's equally as great, in my opinion. Absolutely nothing wrong with either CPU in both devices. Posted via the Android Central App

Good for you. Enjoy your throttled phone.

Oh dear, how will I ever survive knowing a device throttles? Oh that's right -- I use my phone like a normal person. I don't run benchmarks back-to-back-to-back to see the numbers go down. If you push a smartphone to the point of throttling, you seriously need to reconsider what exactly you're using it for. The 6P runs just as cool as my Note 5 on a daily basis. Posted via the Android Central App

Best comment ever, fellow 6p user and lover here Windows is great and all..... I used it to download Linux

You only had to play need for speed for three minutes to see the throttle. The 810 was good for using your phone as a phone. Everything, nope, not at all Posted via the Android Central App

Not on the 6P. Google coded it to perfection and unleashed the 810's full potential. There are NO performance issues and its the fastest, most consistent performer available on android.

The 6P actually does throttle, but far less than earlier 810 devices. It's considered relatively normal by now, especially since it doesn't affect normal usage.

Dont worry about that Retinella dude....he has the subject matter knowledge you'd expect from a 12 year old

If the 6P is throttled then I'd hate to see it at full blast because this phone rocks. I've see nothing in the last 2 months that has slowed it down during my usage of it. Maybe you shouldn't be all butthurt and cranky .. it's a damn fine handset.

But imagine, if you will, just how much better it would be if the 810 hadn't been ... well ... not great.

the 810 is not what makes the 6p such a good phone. you can hardly tell a difference between it and the 801/805 'for normal people'.

This chip is nowhere near ready for phones. And it's expensive. Well see, but watch for a revised 810 & 808 to continue to dominate. Posted via the Android Central App

Will the chip overheat the cars? Posted via the Android Central App

I'm willing to bet a broken radiator and a hole in the hoses will overheat the car far more seriously than a piece of silicon. I mean, an overheating chip will throttle. A broken radiator/hose/water pump won't cause the engine to throttle so much to save itself. It'll just overheat.

I'll wait for the 840 via the Moto X Pure on AT&T

No you won't .. you'll complain about it as well. We've very little info on the 820 so saying it's a bad chipset is just silly at this point.

It was a joke.... via the Moto X Pure on AT&T

The 840? sheesh, I am waiting for the 1540, supercharged edition lol

All these 800 series SOCs and I am here with a 410... Posted via the Android Central App

The camera alerting you when you become distracted might be nice for teenagers driving in groups and laughing and moving around in the car all over the place .

I don't mind saying it, I am pretty excited. crossing my fingers that something is released in the opo/moto x price range very very soon.

Why is it a 32-bit processor when the 810 was 64-bit? Posted on my Idol 3 via the Android Central App

Reread that paragraph. This new chip is twice as powerful as krait, the most advanced 32bit chip they have Posted via the Android Central App

ok thanks for clarifying that for me Posted with my Idol 3 via the Android Central App

The Qualcomm snapdragon 820 SoC would be the first choice of the smartphone makers who want to make the best devices in the upcoming year. say http://www.shiwam.in/
Android Central Newsletter
Get the best of Android Central in in your inbox, every day!
Thank you for signing up to Android Central. You will receive a verification email shortly.
There was a problem. Please refresh the page and try again.