PSA: There's an insane amount of plastic on your Galaxy Note 9 you need to remove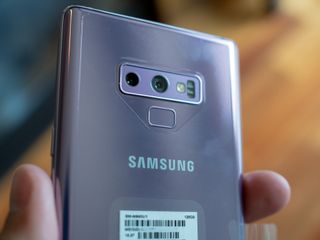 Most phones come out of the box with a protective coating of some sort, typically a plastic sheet that wraps around most of the phone to protect it from the moment it came off of the assembly line until you set your hands on it. Typically, you can peel it off in one smooth motion. But in the case of the Galaxy Note 9, Samsung went all out with dozens of tiny individual pieces of plastic stuck on the phone rather than one big piece that comes off easily.
I'm sure there's some reason for doing it this way, protecting the metal and glass as this $1,000 phone makes its way to you, but it sure is annoying to peel it all off. If you're not paying attention, it's very easy to miss one or more of these sticky little pieces. Here's what you need to look for when you unbox your Note 9 to make sure you get it all.
Image 1 of 2
The big ones are easy to see and remove — Samsung gives you a tab in the top-left corner of the screen to peel that sheet off, and another tab jutting out of the side to peel off the back plastic. But under that plastic is another sticker with the IMEI information — you'll want to remove that. Then, there are the sides ... with about 10 different pieces of clear, sticky plastic to remove. Each edge has its own piece and in some cases multiple segmented pieces, covering the flat portions of the metal. Go around the phone once, then go back around and find the piece or two you inevitably left behind. I sure did.
And then there's the dang "Qualcomm 4G" sticker on the top of the phone. I can't quantify the number of times I've seen people using 6-month-old or year-old phones that still have this on the top — you don't want to be part of that group. For whatever reason Samsung keeps agreeing to put this sticker on the top edge of its phones, and it's actually underneath the other protective stickers. It also always seems to have considerably more staying power than the rest as well — which really just annoys users. I beg of you, Qualcomm, please stop doing this.
Image 1 of 3
Not only does it just look goofy to keep using your phone with the out-of-box plastic on it, but it saves you extra hassle down the road. By removing the plastic from the start, you reduce the amount of dirt and grime that will inevitably build up around the edges of the stickers and be tough to remove later. I know it's tough to stop your unboxing process to pick away at little pieces of plastic, but it's something you can easily do in a few minutes while your phone is setting itself up and downloading apps after sign-in. Then, you'll be able to enjoy the Note 9 in all its beauty.
Once you get the out-of-the-box plastic all removed, consider getting some real protection on the Note 9 with a case. It won't be as thin as that plastic, but it sure looks a whole lot better and will actually save the glass and metal from scuffs and scratches over time.
Get the Android Central Newsletter
Instant access to breaking news, the hottest reviews, great deals and helpful tips.
Andrew was an Executive Editor, U.S. at Android Central between 2012 and 2020.