PSA: Galaxy S6 heart rate sensor still causes issues with Google Fit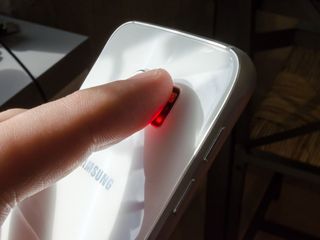 Update, May 14 2015: The bug now appears to have been fixed.
There's a well-documented issue with Samsung phones running Android 5.0 Lollipop, where the heart rate sensor seems to be active all the time. Whenever you touch the sensor it'll light up, even when you're not taking a reading in S Health — and sometimes even when the display is off.
We've noticed this issue on the latest Lollipop firmware for the Samsung Galaxy S5 and Galaxy Note 4, and unfortunately the issue is alive and well in the Galaxy S6 as well. The good news is there's a very easy fix. The (potentially) bad news is it means killing off Google Fit's activity detection feature.
If your device is affected, here's how to stop the heart rate sensor lighting up all the time:
Find "Google Fit" in the app drawer.
Tap the menu icon (three dots in the top-right corner) and select "Settings" from the menu.
Scroll down to the "Google Fit data" section, and uncheck "Activity detection."
Exit out of the app using the home or back key, then reboot your phone. (Long-press the power key and select "restart".)
The bug seems to be caused by compatibility issues between Samsung's biometric sensors and Google Fit. That means you can't use Google Fit's automatic activity detection without running into this issue, rendering the app largely useless. Samsung's S Health app works just fine, of course, however it doesn't integrate as neatly into other Google properties like Android Wear.
Hopefully the bug will be fixed soon. We've reached out to Samsung for comment, and we'll update this post with any new information.
Alex was with Android Central for over a decade, producing written and video content for the site, and served as global Executive Editor from 2016 to 2022.
I had been hoping Google would have fixed this issue by now... Had to uninstall Google fit, and that worked best with my moto 360 Posted via the Android Central App

So you are saying that it is not limited to Samsung phones? Serious question there, I honestly have no idea. Posted by my soon to be retired Note 3

it's samsung phones with the heart rate monitor only But since Google makes the fit app I was saying they could update the fit app to remove this issue Posted via the Android Central App

How is this Google's fault?

It only happens with the Google fit app, not any other health app that I've ever installed.. So something with the Google fit app itself interacting with the phone differently than every other app is causing the issue.. So Google (since they make/ release the fit app) would be the ones to fix this? I guess samsung could also issue a fix, but seems more likely and easier for Google to just tinker with their fit app than samsung to roll out an updated rom to every carrier Posted via the Android Central App

Google puts out the API, that's it. It's up to the software/hardware developer to properly integrate that within their software/hardware. This is a Samsung issue, not a Google issue.

But it's with the actual fit app. No other health or activity app causes this issue.. Yes Google has an api, but they also make the application that is part of this issue Posted via the Android Central App

The sensor works fine with S-Health on my Note 4 Posted via the Android Central App

Sounds like something that needs to be patched. Hopefully, Google and Samsung can work this out. Posted via Android Central App on a HTC One M7 running Sense 7.0

Never used nor cared for Google Fit. Never knew it was even causing issues. Posted via the Android Central App

Isn't it supposed to light up when you touch it? Posted via the Android Central App

Only when an app is ready to measure your heart rate. Posted via the Android Central App

Oh gotcha! Posted via the Android Central App

Just uninstall/disable all of Samsung's apps and happily use Google Fit or Run Keeper. Google+ All Day Everyday

You did not read the post. Did you? Posted via Android Central App

I did read the post. I just find things easier and more efficient to use Google apps. That's all. Google+ All Day Everyday

About the menu button, it's called "overflow" button, because it's where all the extra actions that couldn't fit on the action bar go to.

Other than it lighting up when touched, is it causing any other problems? Seems to be a bit drastic to uninstall Google Fit over a minor glitch otherwise. Posted via the Android Central App

It was dominating my battery Posted via the Android Central App

Stuff like this is EXACTLY why I switched to Apple this year after YEARS of being a diehard Android guy.

This was the one of the things that mekes me thing about the upgrading S6. Google or samsung must fix this.

I disabled S-Health, sideloaded Google Fit and seems to be working fine. Galaxy S6 Edge on 5.0.2.
Android Central Newsletter
Thank you for signing up to Android Central. You will receive a verification email shortly.
There was a problem. Please refresh the page and try again.