U.S. Cellular signs on to help boost Project Fi's coverage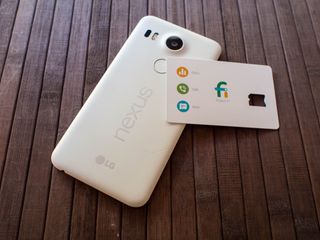 Google's Project Fi will soon have more coverage options, with U.S. Cellular joining the project as a cellular partner. The carrier joins Sprint and T-Mobile in providing cellular coverage for Project Fi customers.
From Google:
Project Fi works by trying to connect customers to the best signal possible, whether it's cellular or Wi-Fi. The service will automatically adjust your connection if it recognizes that you're experiencing issues.
U.S. Cellular service will be rolling out to all Project Fi customers in the coming weeks.
An excellent rural coverage provider, that's who

Agreed. I hated when US Cellular pulled out of the St. Louis area.

If I didn't use so much data, I would really love this. Would make the coverage all the better at the one place I get bad coverage (my brother's in northern MN).

That's how I feel. I was interested at first then I saw the pricing. This works very well for ppl that don't chew up data I'd imagine. So it Tmo for life for me Posted via the Android Central App

I have an ancient Sprint plan with truly unlimited data. In May I used 26GB of data due to being unable to get Charter out for an "install" for 4 days after I moved.

Charter has the worst customer service. Posted via the Samsung Galaxy Note 5 or Samsung Galaxy S6 Edge.

But where I live its Charter or DSL..........

26gb of data is nothing Posted via the Android Central App

More than I want to pay for on Fi though.

Tmo kicks azz in MN Posted via the Android Central App

Sadly, where my brother lives (just north of Park Rapids), AT&T has the best coverage.

AT&T has the best coverage in Minnesta, period. No questions about it. AT&T Galaxy S7 Onyx Black with Unlimited Data

There's no USCC coverage in Northern Minnesota. AT&T Galaxy S7 Onyx Black with Unlimited Data

The one bad thing about Project Fi that I have is that I live in a well coverage area by T-Mobile yet Project Fi favors Sprint in my area, and I travel to my parents house way out in BFE where only Sprint reaches . . . and guess what? It tries to put me on T-Mobile's network, then fails to cut over without waving a magic wand and saying "A la peanut-butter sandwiches". that hand-off is slow and annoying (Sometimes it doesn't hand-off at all and leaves me in 'no service mode' until I intercede) However, I work from home so my data usage is nil-to-non-existent so $24-$26/month bills outweigh the annoyance of the fore mentioned.

I figured Fi would have annoyances like that. On a normal carrier sometimes when you're in a weak WiFi area it seems like you basically have no data but the signal is strong enough that it won't switch to the wireless network which would give you fast LTE. It happens when I leave my house or a business that I was connected to with WiFi but I get almost out of range. It's like the signal just keeps holding on even though no data can pass... I can imagine that is very frustrating when you are dealing with data AND voice doing that same sort of thing but you don't have an easy way to tell it to switch over the way you can by turning off WiFi in the situation I was talking about. Project Fi doesn't have a carrier toggle or anything that you can just turn off or change to connect to your preferred network does it?

Actually I found this app awhile back, it's not perfect but it does allow me to force the switch and tack it to stay until I need to switch back https://www.androidcentral.com/e?link=https2F2F... (In Case the link doesn't post search for FiSwitch in Play Store)

There are dialer codes that allow you to do some things.
*#*#FINEXT#*#* switches to the next option
*#*#FIAUTO#*#* goes to auto switching
*#*#FIINFO#*#* displays info about the current network
*#*#FIXME#*#* attempts to perform an automatic repair
There are a few more.. https://productforums.google.com/forum/#!topic/project-fi/IkOy8ZGNyPk;co...$3Ashare-a-tip%7Csort:relevance%7Cspell:false

The app signal spy is very good and does the same for free. https://www.androidcentral.com/e?link=https2F2F... It was developed by the Top Mod on the project fi reddit who actually helps with project fi customer service problems and gets peoples cases resolved very fast. I think he secretly works for google lol.

You can manually switch carriers if you need to with dialer codes. I've found it to be very good at keeping to the best service available where I am. Posted via the Android Central App

yes, that's basically what FiSwitch does, however it does have the added benefit of (optionally) adding a widget that tells you what network it is currently using and the signal strength in dbs)

Isn't Fi still a beta project? I can deal with things like this from time to time because, for me, overall service has been really good. Posted via the Android Central App

Get Signal Spy or Fi Switch, set it to force T-Mobile or Sprint as needed, done.

There are dialer codes you can use to switch between carriers. Use this code to switch to T-Mobile : *#*#34866#*#*
And this to switch to Sprint: *#*#34777#*#*
Hope this helps!

Do you get all of the binge benefits like from T-Mobile? With that FI

no.....but here's hoping Google can get something arranged to get unlimited google services at some point! Posted via the Android Central App

No. The only T-Mobile benefit you get is similar international roaming deals.

I'd like FI to kick in ONLY when my normal Tmo service is weak.

From what I hear, that's pretty much how it works. Posted via the Android Central App

Haha that one made me laugh.

Sweet! Getting these small carriers on board will only make for a more flawless experience. T-Mo covers most of LA....but I've had sprint more than a few times....one more carrier will make it even sweeter. Now lets get AT&T on board and it will be the ultimate plan! Posted via the Android Central App

Pretty neat how this one little company is looking at connection in a new way. My poor little 6p is just gonna be grabbing signal all over the place. Posted via the Android Central App

Living in Iowa, this is awesome news to me! Verizon coverage is great but that monthly bill though.... Can't wait to switch carriers Posted via the Android Central App

That's what i was thinking. I had US Cellular for years but switched to verizon with some friends for cheaper bill. But US Cellular had better service in my town. Posted via the Android Central App

Yeah but comparing the Fi plans to my US Cellular plan FI is way more expensive. I have 4 Smartphones with 10Gb of data my bill is 142. Fi would be like 180 what are you all paying for Verizon?

One month left on contract, $89/month. Verizon and Fi would be nearly identical once I'm out of the contract and I would switch to a new plan but I'm not a heavy data user so I believe Fi would be a better match to my needs. Posted via the Android Central App

I really hope the next Nexus handles the handoff better than the 6p. I usually lose people when I hand off from wifi to cellular. Posted via the Android Central App

I'd love to see project Fi in the UK some day. I know that's not likely to happen for a couple of years at least, but the fact they've added another US carrier shows they're committed to the project and expanding it. Posted via the Android Central App

Maybe one day they will have service in my area and this will actually be a good thing :-)

Too bad U.S Cellular was gobbled up Verizon in my area. Posted via the Android Central App

So they don't need to send out a new SIM card in the mail with added US Cellular? It's just a server-side addition? That's cool. Posted via the Android Central App

They might the announcement wasn't clear. Rolling in a few weeks could include shipping new SIMs. Wouldn't be the first as Nexus 6 Project FI users had to change SIMs when Nexus 6p and 5X started shipping. Server-side would be seamless, but swapping SIMs is quick and painless. Posted via nexus 6p project FI

No new SIM needed. Likely just an update to the Fi app or it's server-side.

My question is roaming - US Cellular uses a lot of roaming for their LTE coverage. Will that flow through to Fi users? I'm guessing not.

I noticed that too pretty much all of where I am is roaming/partner coverage if Fi doesn't have access to that then this is pointless for me

T-Mobile roams on Sprint for LTE, which you already get, plus T-Mobile. You won't get 1x roaming on Verizon though.

Well, Fi already gets T-Mobile and Sprint's roaming agreements, so yes Fi will also be getting U.S Cellular's. Not right away, but it will happen for sure in the future. That means that since U.S Cellular has roaming coverage in most of the U.S, Fi will as well.

Unless that changed recently... I was told by the Fi rep that the Sprint and T-Mobile roaming agreements don't apply to Fi... Wish it did. I have excellent Verizon service but Fi DOES NOT use it. .. It's unfortunate but my coverage with Fi (Sprint/Tmobile) is not that great where I travel. Fi should take a lesson from StraightTalk and get Verizon/ATT on board for coverage. Hopefully Fi won't be another Google project that falls by the wayside and they put some effort into improving coverage. I like the concept of switching between carriers on LTE on one phone.

Thought they were an MVNO Posted via Techmology

I'm confused....unless I'm reading their coverage maps wrong their coverage sucks anyway?

Yes. For some areas, however, that is literally the only option. No other carriers exist. In others, it's USCC or Verizon and that's it. So now that USCC is officially a part of Fi, those areas of TMO and Sprint deadness are now covered as well.

That's awesome! US Cellular is one of the only companies that has decent coverage in my area. The other is Verizon, which I have now only because it's the cheaper option. I'll probably go with Project Fi when my current phone dies.

Maybe they can get a deal with regional carrier SouthernLINC because the only others that cover where I live is Verizon and AT&T and I don't see them being willing. LINC has better coverage than VZW and AT&T in some places in Alabama and Georgia but it will be a while though because they are still upgrading their iDEN network to LTE. Posted from a Droid Turbo that still lacks Marshmallow

People in Maine will be happy :) Posted via the Android Central App
Android Central Newsletter
Get the best of Android Central in in your inbox, every day!
Thank you for signing up to Android Central. You will receive a verification email shortly.
There was a problem. Please refresh the page and try again.